World news today: Trump threatens to cut funding to WHO, accusing it of bias toward China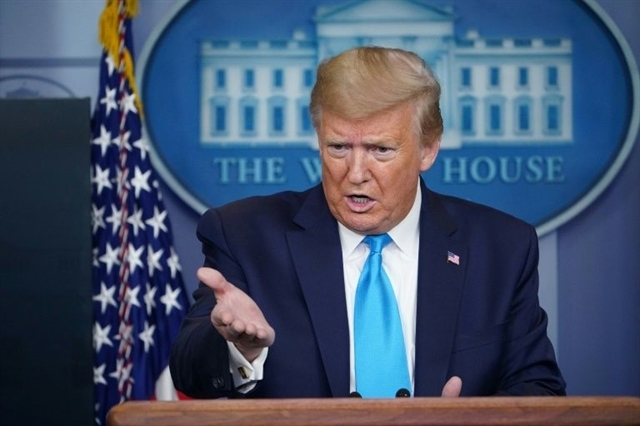 US President Donald Trump threatens to hold WHO funding. Photo : AFP
US President Donald Trump on Tuesday blamed WHO for getting coronavirus wrong, threatening to withhold funding from the international organizations.
"They could have called it much earlier," Trump said. "When they call every shot wrong, that's no good."
According to the Washington Times, Trump said the U.S. pays a disproportionate amount to the public health arm of the U.N., so he wants to see if it's worth committing the money. The president is no fan of spending U.S. dollars around the world instead of at home, but withholding funding from the WHO amid a global pandemic is likely to spark criticism.
"I'm not saying I'm going to do it," Trump said.
The coronavirus was discovered in Wuhan, China, in December and the WHO issued its first situation report on Jan. 20.
More than 12,800 Americans have now died from COVID-19, according to Johns Hopkins University, and with nearly 400,000 cases the country has the most in the world.
A record total of 1,939 people died in the United States in the 24 hours up to Tuesday evening.
World news today: China lifts lockdown on Wuha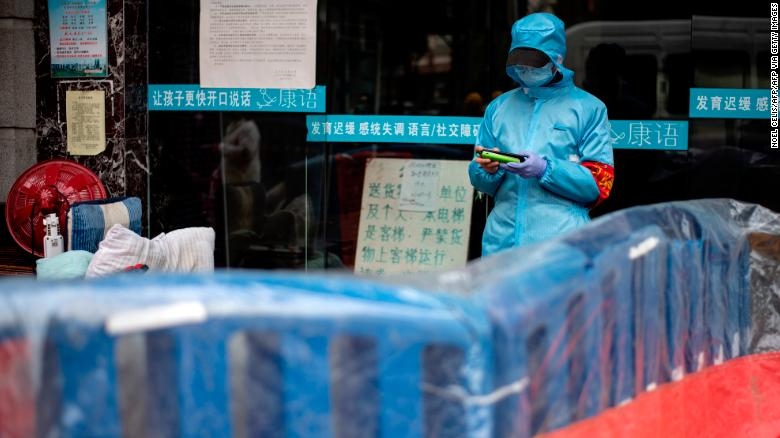 A community volunteer uses her mobile phone near a barrier separating a residential compound in Wuhan on April 2. Source: CNN
After 76 days, China finally lifted the lockdown on Wuhan, where the coronavirus outbreak began.
The city and its 11 million people had been under a strict lockdown for over 10 weeks. On Jan. 23, China blocked the borders of Wuhan — not allowing anyone in or out — a couple of days prior to China's Lunar New Year, a holiday that typically prompts millions of people to travel, Live Science previously reported.
Accordingly, train service and flights resumed and roadblocks were removed, prompting an exodus by residents wearing protective clothing and masks.
China's National Health Commission said on Tuesday that no new deaths had been logged in the preceding 24 hours, the first fatality-free day since the country began publishing figures in January.
China's official tally is some 81,000 overall infections and more than 3,300 deaths but there are suspicions Beijing has under-reported the real numbers.
Read more: China ends lockdown on Wuhan after 76 days
World news today: Top 10 richest women in the world 2020 unveiled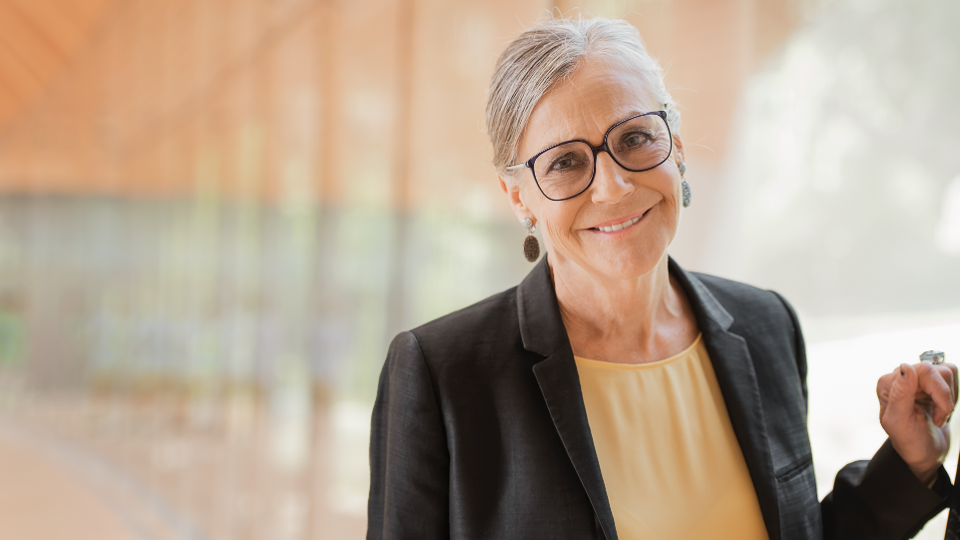 Alice Walton
Forbes on Tuesday released its 34th annual World's Billionaire list. There are 234 women on this year's list.
Here are the top 10 richest women in the world; Net worths are as of March 18, 2020.
#1. ALICE WALTON
Net worth: $54.4 billion. Country: United States. Source of wealth: Walmart
#2. FRANCOISE BETTENCOURT MEYERS & FAMILY
Net worth: $48.9 billion. Country: France, Source of wealth: L'oreaL
#3. JULIA KOCH & FAMILY
Net worth: $38.2 billion. Country: United States, Source of wealth: Koch Industries
#4. MACKENZIE BEZOS
Net worth: $36 billion. Country: United States. Source of wealth: amazon.com
#5. JACQUELINE MARS
Net worth: $24.7 billion. Country: United States. Source of wealth: candy, pet food
#6. YANG HUIYAN & FAMILY
Net worth: $20.3 billion. Country: China. Source of wealth: real estate
#7. SUSANNE KLATTEN
Net worth: $16.8 billion. Country: Germany. Source of wealth: BMW, pharmaceuticals
#8. LAURENE POWELL JOBS & FAMILY
Net worth: $16.4 billion. Country: United States. Source of wealth: Apple, Disney
#9. ZHONG HUIJUAN
Net worth: $14.6 billion. Country: China. Source of wealth: Pharmaceuticals
#10. GINA RINEHART
Net worth: $13.1 billion Country: Australia. Source of wealth: mining
Read more: Forbes 2020 world's billionaire list calls four Vietnamese names
Word news today: US company poised to start COVID-19 vaccine test
A second US company is poised to start a small safety test of coronavirus vaccine.
Inovio Pharmaceuticals said Monday that it has Food and Drug Administration permission for the study in 40 healthy volunteers in Philadelphia and Kansas City, Missouri.
"Inovio plans to inject its first volunteer test subject with the INO-4800 DNA vaccine candidate it has developed, following promising results from preclinical studies performed on animals that did indicate increased immune response," Tech Crunch reported Monday.
"This is a significant step forward in the global fight against COVID-19," Dr. J. Joseph Kim, INOVIO's president and CEO, said in a statement.
The study is a first step to see if the vaccine appears safe enough for larger tests needed to prove whether it will protect. Even if the research goes well, it is expected to take over a year before any vaccine could be widely available, ABC news said.
Last month, the first safety test in people of a different vaccine candidate began in Seattle. It was developed by the National Institutes of Health and Moderna Inc.
Numerous other research groups are attempting to make vaccines against COVID-19 using a variety of different methods in hopes at least one will offer protection.
World news today: US folk singer-songwriter John Prine, dies at 73 from coronavirus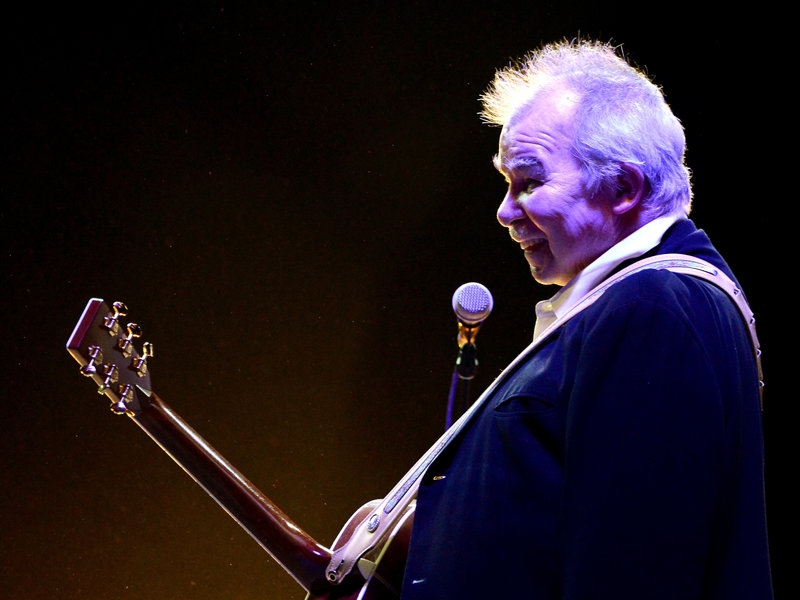 John Prine, performing during Coachella on April 27, 2014. Frazer Harrison/Getty Images
John Prine, the ingenious singer-songwriter who explored the heartbreaks, indignities and absurdities of everyday life in "Angel from Montgomery," "Sam Stone," "Hello in There" and scores of other indelible tunes, died Tuesday at the age of 73.
A statement was released on his behalf to confirm John had been hospitalised after showing symptoms of Covid-19 on March 17 as his health deteriorated in the days afterwards
He died on Tuesday at a hospital in Nashville, Tennessee, his management said. The cause of death was complications from the virus, they added.
Prine was born on October 10, 1946 in Maywood, Illinois. He was taught by his brother how to play guitar at age fourteen. John worked as a postman for five years and did a two-year stint in the Army prior to beginning his musical career as part of the folk music scene in Chicago. Prine garnered a lot of accolades from critics for his outstanding self-titled 1971 debut album.
Jennifer Tran