World Vision Vietnam Continues Support For Vietnam's Fight Against Covid-19
World Vision Vietnam is one of the non-governmental organizations conducting active and effective activities to assist Vietnam in the fight against Covid-19. Than Thi Ha, World Vision Vietnam country program director, said the organization would make efforts to continue this work.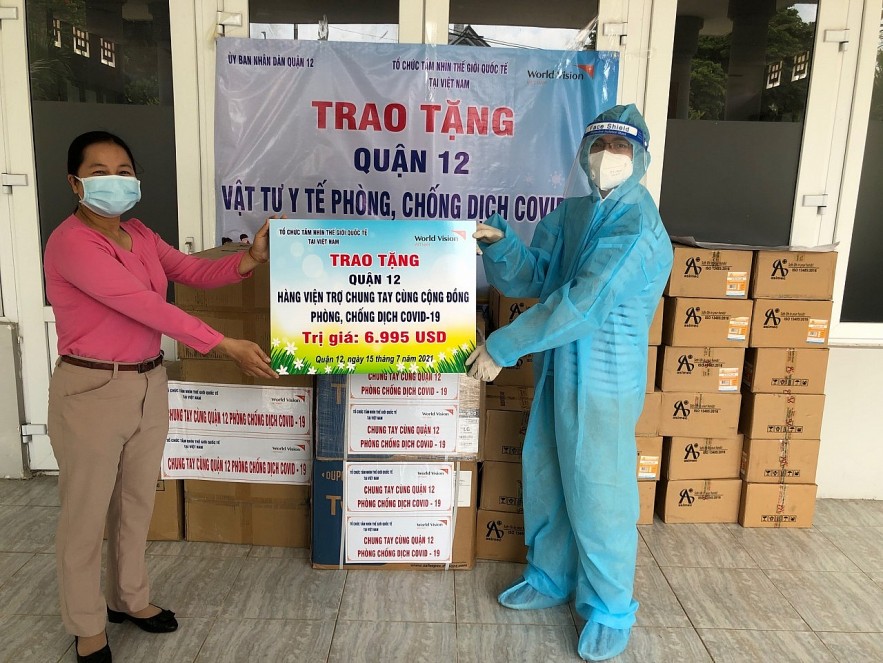 World Vision Vietnam donated an emergency supportive package worth nearly 7,000 USD to Ho Chi Minh City's District 2 in July 2021. Photo World Vision
Talking to Vietnam Times, Ha said since early 2020, World Vision Vietnam had carried out emergency response activities belonging to 36 area programs in 14 provinces and cities.
She mentioned five specific goals of the assistance including Covid-19 prevention and control.
Communication work has been stepped up to change hygiene behavior, raise public awareness about Covid-19 vaccines against, spread out the Government's 5K message through various forms such as handouts, communication campaigns, and community-based sessions, she said.
World Vision Vietnam has also donated medical supplies, set up hand wash basins at schools and public places, and improved water quality.
Other goals of World Vision Vietnam are to provide food, vegetable varieties, animals like chickens, ducks, goats for households severely affected by the pandemic and to advocate for policies to protect children from risks of violence, harassment in the pandemic, she said.
In the context of the evolving pandemic, World Vision Vietnam has stayed side by side with localities not belonging to the organization's area programs. Through emergency support packages, the organization has supported medical staff and frontline service workers in quarantine sites in Dien Bien, Bac Ninh, Can Tho, Dong Nai provinces, Ho Chi Minh City's District 12, 4, and Thu Duc City.
The emergency support packages include medical masks, antiseptic liquid, and specialized protective suits.
Thanks to the sponsorship of Kim Bongjin, CEO and founder of multinational corporation Woowa Brothers, the operator of delivery app Baemin, World Vision Vietnam has donated VND 20 billion to the Covid-19 vaccine fund of Vietnam Fatherland Front and Ho Chi Minh City's Vietnam Fatherland Front Committee.
The total value of World Vision Vietnam's emergency support activities in response to Covid-19 has mounted nearly VND 66 billion or almost USD 2.9 million, benefiting more than one million people including 580,000 children.
According to Than Thi Ha, in the fiscal year 2022, the organization will continue to support localities within its area programs, focusing on restoring local livelihoods after the pandemic.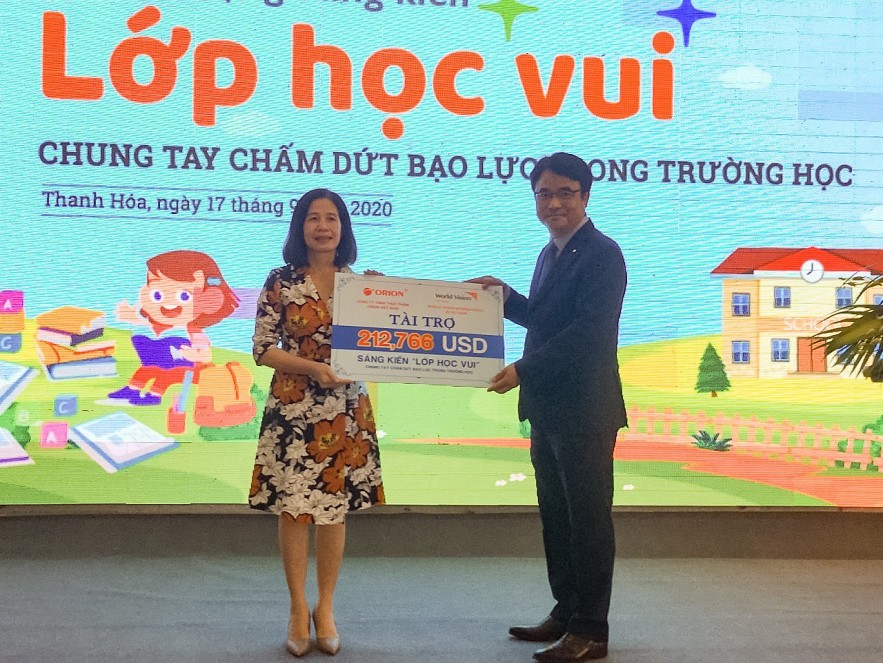 Than Thi Ha (left) at one of World Vision Vietnam's activities in 2020. Photo World Vision
Responding to Vietnam Times' question over proposals on Vietnam's Covid-19 prevention and control work, Ha recommended that besides stringent preventive measures, Vietnam needs to accelerate the vaccination campaign to soon achieve herd community on the national scale.
"The vaccination campaign should give priority to people prone to high infection risks such as those living in the pandemic-hit areas, the elderly, those with chronic diseases, poor people, and freelance workers," she said.
She highlighted the need to carefully conduct surveys on Covid negative impacts on vulnerable groups such as children and the poor in order to devise effective and sustainable supportive plans and interventions during this time.
"It is necessary to mobilize personnel and to support mental health not only for people with Covid-19 but also for those who have been quarantined for a long time at home," she said.