WWF Malaysia welcomes tougher sentencing applied for wildlife crimes
WWF-Malaysia lauds a Court in Malaysia for the use of the Wildlife Conservation Enactment (WCE) 1997 toward a case of possession of marine turtle eggs as illegal wildlife trade is considered a serious crime and is vital in ensuring the survival of marine sea turtles.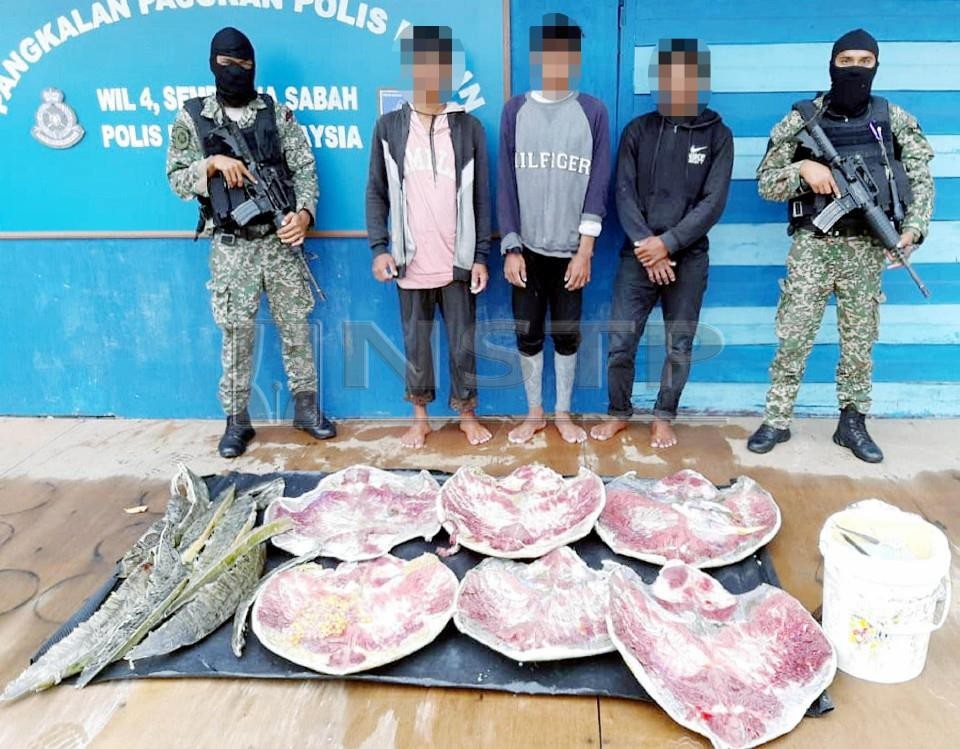 A turtle poaching arrest by the Marine Police in Semporna (Malaysia). Photo: Semporna Marine Police
A conservation organization has given its full support for harsher sentencing against wildlife crimes in Sabah as reflected in a recent case that saw an online trader sentenced to jail for possession of 20 turtle eggs.
WWF Malaysia said the sentencing that followed the guidelines on wildlife crimes was ideal in efforts to counter illicit trading and poaching of wildlife in the state.
In a statement, WWF Malaysia welcomed the Sabah court's decision, saying that it showed the importance placed in preventing wildlife crimes.
The online trader was slapped with a year's jail and a fine of RM200,000 ($46,767), in default of two years jail from the date of arrest, under Schedule 1 of the Wildlife Conservation Enactment 1997 by the Sessions Court.
The sentence imposed was in reference to the guidelines on wildlife crimes developed by the judiciary, which was done in collaboration with the Sabah Wildlife Department and WWF Malaysia.
Wildlife trade is considered a serious crime and is vital in ensuring the survival of species unique to the state, including the iconic marine sea turtles.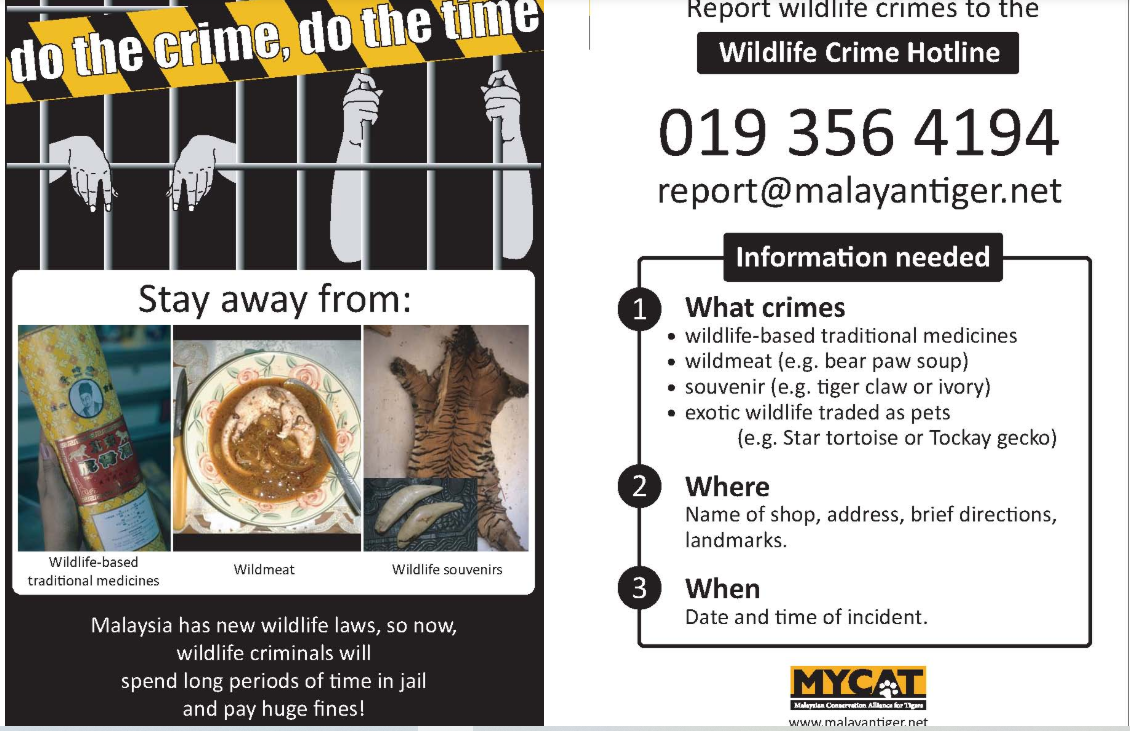 Wildlife trade is now considered a serious crime in Malaysia. Photo: mycat.my
Based on a 2019 Traffic's report, the WWF Malaysia said an assessment on the trade involving marine turtles in Indonesia, Malaysia and Vietnam, some 129 cases of marine turtle eggs were seized in Sabah between 1999 and 2017.
WWF Malaysia head of marine Monique Sumampouw said the green, hawksbill and Olive Ridley turtles were totally protected under Schedule 1 of the state enactment.
"It is important for all stakeholders to ensure the survival of Sabah's marine turtle population, including the critically endangered hawksbill turtle.
"Found either nesting, seeking for food or migrating along the coasts and waters of Sabah, these marine turtles are threatened by various human threats, particularly egg and turtle poaching," Sumampouw said on Tuesday (July 7).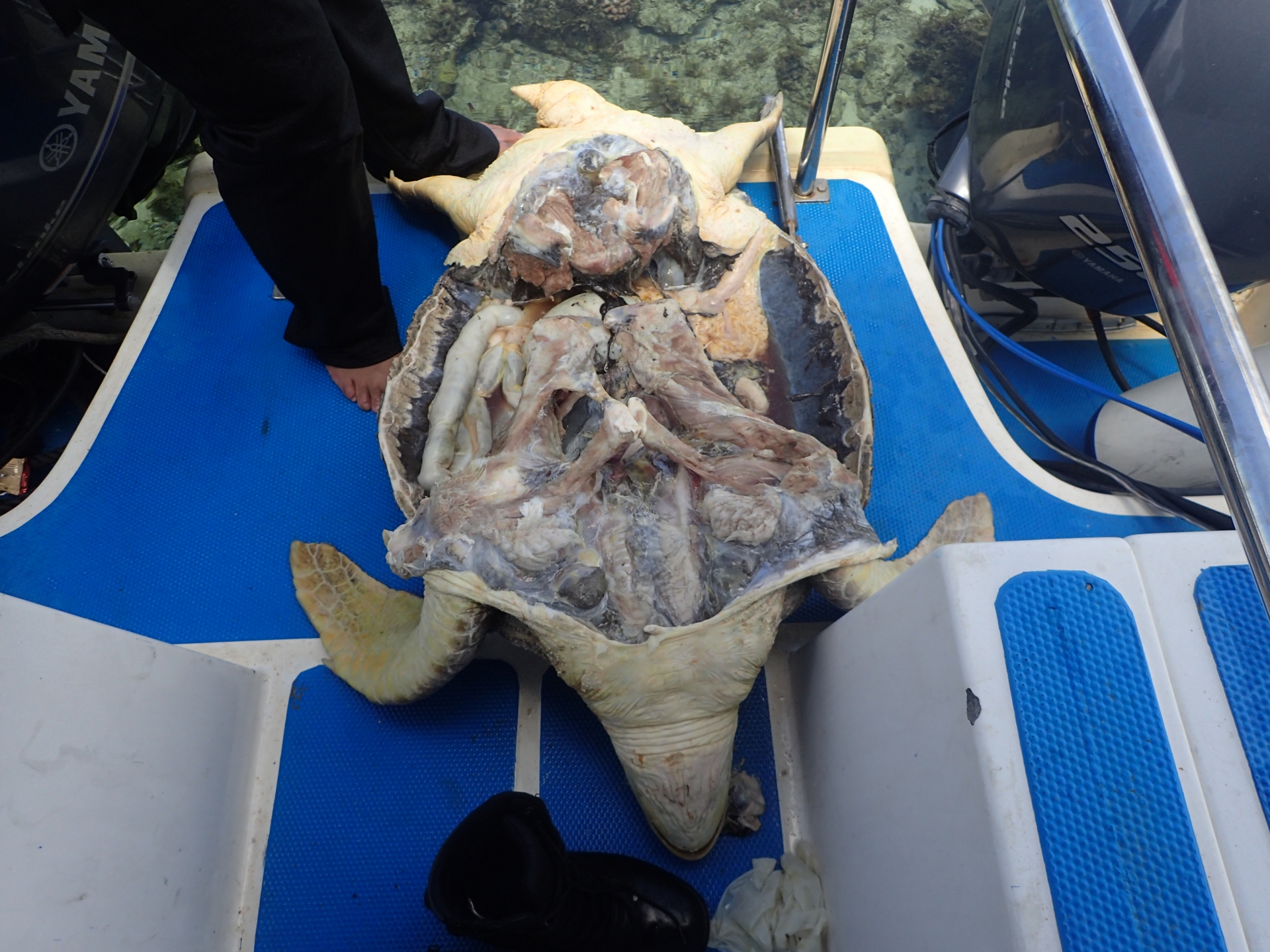 A slaughtered turtle in Semporna, showing the plastron and marginal scutes removed. This was taken during a turtle patrolling and monitoring activity by Sabah Wildlife Department and WWF-Malaysia, accompanied by Eastern Sabah Security Command (ESSCOM). Photo: WWF Malaysia
She said the green turtles helped to maintain seagrass beds while hawksbill turtles assisted in preserving coral reefs.
"When green turtles graze seagrasses or hawksbill turtles forage for sponges among coral reefs, they increase the productivity of these habitats.
"Commercially important species such as shrimp, lobster and fish thrive in healthier and productive seagrass beds and coral reefs, which are known to be important breeding and nursery areas for many species of fish and other marine life, " she said.
Sumampouw said marine turtles contribute to healthier habitats, which in turn lead to better marine harvest, which then benefits the fishery industry.
"For a turtle population to be sustained, every turtle egg should be saved.
"It is important to conserve marine turtles as they play a vital role in maintaining healthy marine ecosystems, which in turn, contributes to human survival in the long run," she added.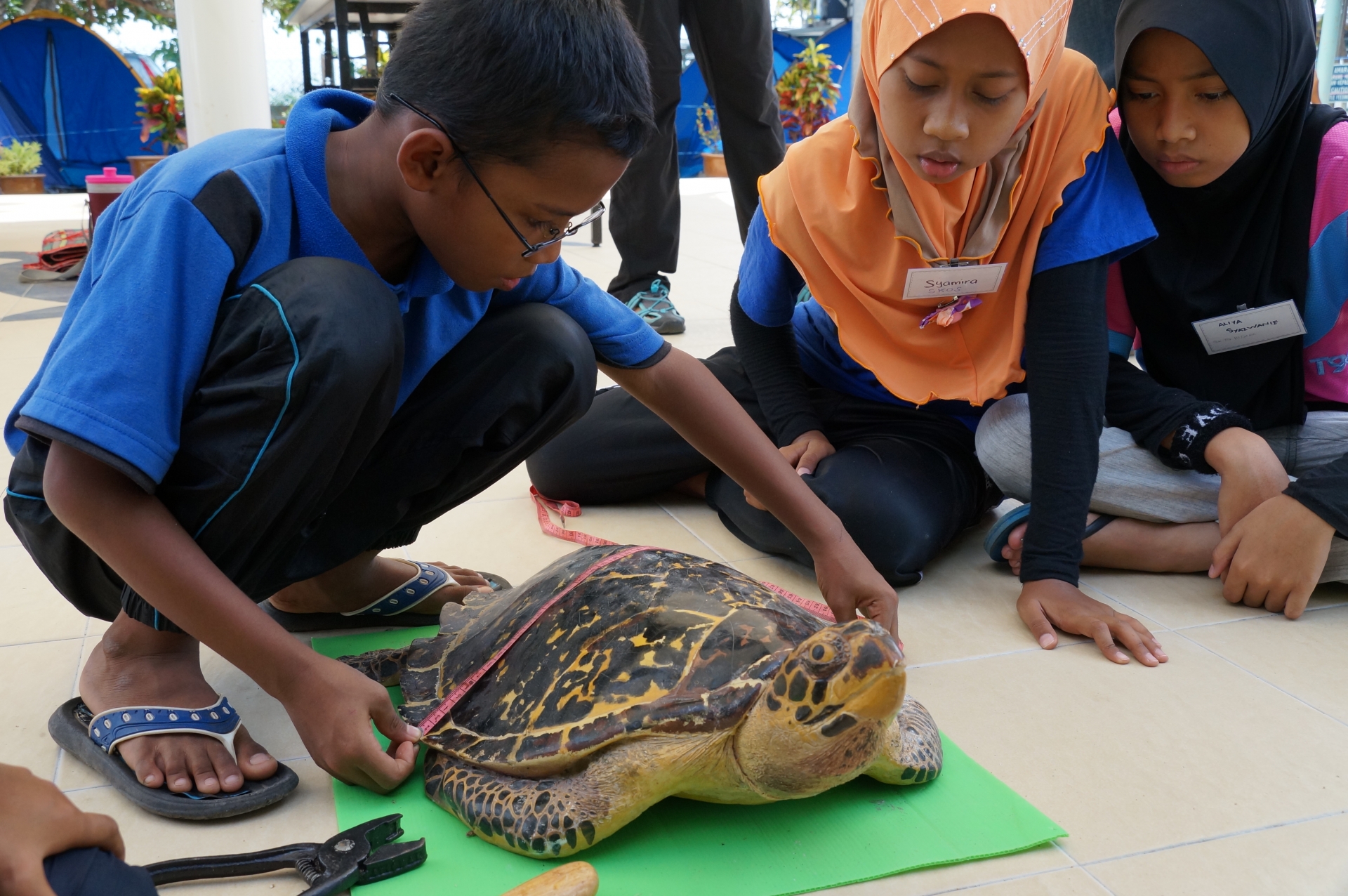 Children during one of WWF-Malaysia's activities for World Sea Turtle Day in Malaysia. Photo: WWF Malaysia
Recently, a new report has found an alarmingly high rate of coronaviruses in wildlife about to be served at restaurants in Vietnam.
While the country is looking to stop importing imperiled animals to eat, it has yet to do so, and there are still "wildlife restaurants" that have rats, bats, civet cats, snakes, bear, monkeys and pangolins on the menu.
In a study that appears in the pre-print journal bioRxiv, researchers found 56 percent of wild rats were infected with a coronavirus by the time they were ready to be served at restaurants — double from when the animals were first caught.
Coronavirus detection rates in rodent populations sampled in their "natural" habitat were around 0 to 2 percent, jumping to 21 percent by the time they had been caught by traffickers. Due to confinement conditions, by the time the animals hit "wet" markets, they had a 32 percent contamination rate before rising even higher at restaurants, where they are killed and immediately served to diners.
According to the study, "researchers collected samples at 70 sites in Vietnam, and detected six distinct taxonomic units of known coronaviruses. There is no current evidence to suggest these particular viruses were a human-health threat, but the laboratory techniques used in the study can be utilized to detect emerging or unknown viruses in humans, wildlife and livestock in the future.
The study was put together by scientists from Wildlife Conservation Society (WCS), the Department of Animal Health of the Viet Nam Ministry of Agriculture and Rural Development, Viet Nam National University of Agriculture, EcoHealth Alliance and One Health Institute of the University of California, Davis.
(Source: New York Post)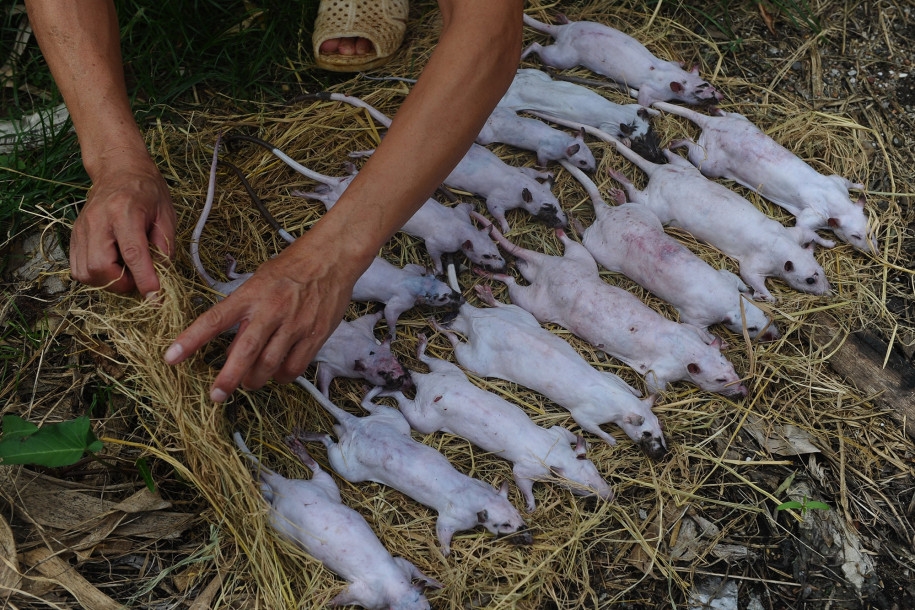 Slaughtered rats placed on rice straw for roasting in Dan Phuong on the outskirts of Hanoi. Photo: Hoang Dinh Nam/AFP via Getty Images
(The Star, WWF, NY Post)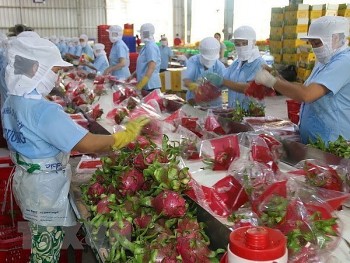 Make in Vietnam
Denmark and Vietnam strengthen cooperation in production, certification and management of organic products