Young Artist Donates VND 3 Billion to Support Covid Fight
Young artist Pho Van, nicknamed Xeo Chu, recently donated all profits from an auction of his paintings to support frontline medical staff in Ho Chi Minh City, drawing admiration from many
Xeo Chu is a familiar name to art lovers in Vietnam and abroad. The young artist is known for his semi-abstract paintings reflecting what he feels in everyday life. Despite his young age, the 14-year-old artist has 10 years of experience and has sold more than 300 paintings in Vietnam and abroad.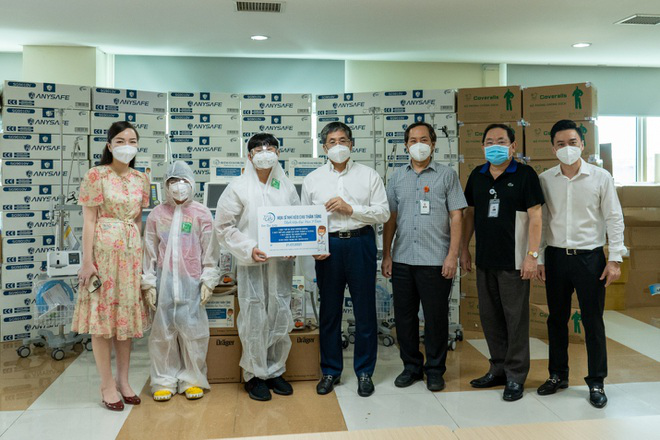 Leaders of the University of Medicine and Pharmacy in Ho Chi Minh City sent a letter of thanks to Xeo Chu. Photo: Dan Tri
Xeo Chu and his family recently held an online exhibition, combining art and remote-control robots.
During the two exhibitions on July 18 and 20, Xeo Chu introduced 20 paintings on the theme of flowers, Mu Cang Chai and sunset on the beach, which he drew while on vacation with his family.
Xeo Chu (in white) and his brother introducing Xeo Chu's paintings online. Photo: Dan Tri
All profits from the auctions of his paintings, valued at roughly VND 3 billion, were donated to frontline medical staff via the University of Medicine and Pharmacy in Ho Chi Minh City. The young artist hopes to contribute to supporting the staff in fighting against Covid.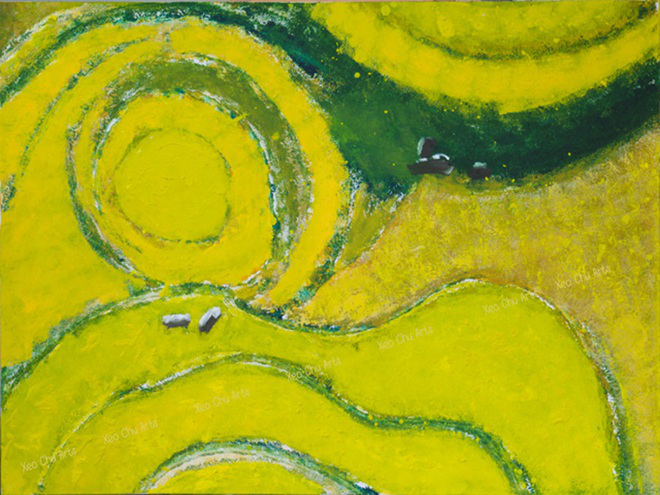 Terraced fields by Xeo Chu. Photo: Xeo Chu
"Seeing the doctors and nurses working so hard to take Covid tests in such airtight protective clothes, I was very concerned, and want to do something to help everyone battling the pandemic," Xeo Chu said.
Thu Suong, Xeo Chu's mother, said similar to other students, the young artist had to study online at home due to the Covid outbreak in Ho Chi Minh. Because of this, he has had more time to draw.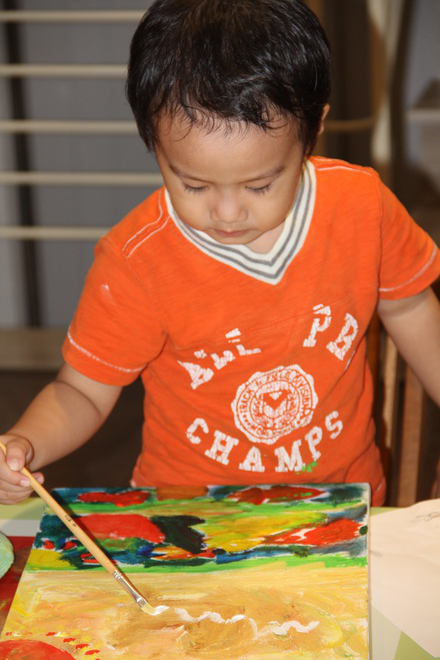 Since he was 4, Xeo Chu had been passionate about painting. Photo: Dan Tri
Suong said Xeo Chu showed his talent for painting at just 4-years-old when he followed his brother to an art center. Whether on his hands, paper or even clothes, Xeo Chu could draw anything.
"Xeo Chu drew his first painting when he was 4. We were so surprised because his painting, a self-portrait, was simple but authentic. We decided that we would let Xeo Chu follow our family's art tradition," Suong said.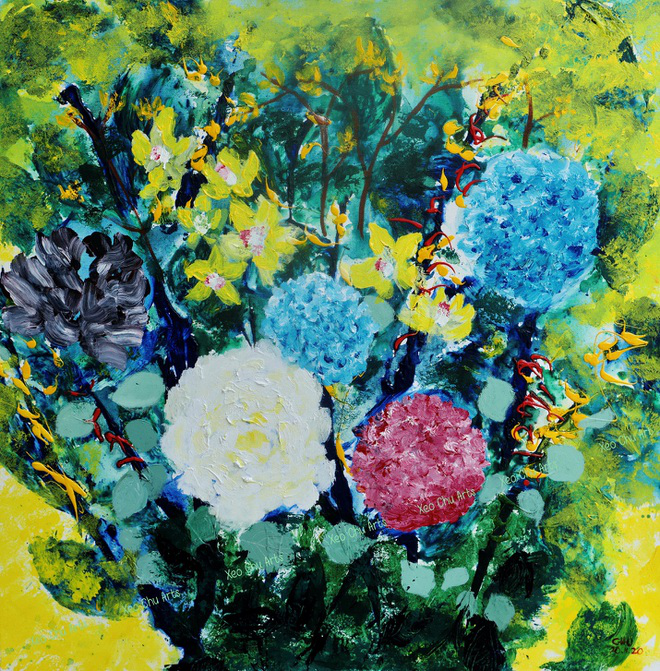 Xeo Chu's painting of flowers in full bloom. Photo: Xeo Chu
According to Suong, "Xeo Chu's paintings reflect life, from a vase that I use to arrange flowers, the tomato garden in our front yard or the Mai flower blossoming in spring or the neighbor's bitter gourd. Xeo Chu's childhood a visual diary that records what happens in his everyday life."
Xeo Chu has been hailed by foreign media as an "art genius" and "young Jackson Pollock" – one of the most influential names in the abstract art school of the 1940s. Xeo Chu's "A cave in Ha Long Bay" is praised by experts and valued at US$ 150,000.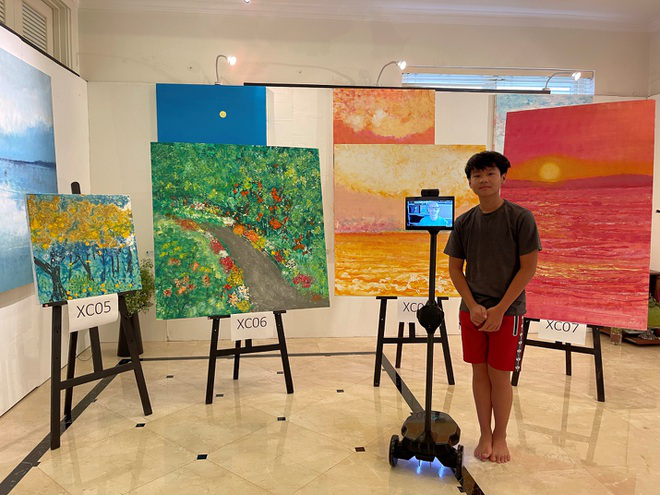 Xeo Chu's online exhibition combined art and remote-control robots. Photo: Dan Tri
Talent is not the only thing that Xeo Chu has. Inspired by his mother, the young artist often partakes in activities to support disadvantaged children. In November 2020, Xeo Chu used all the money he earned from selling paintings to support disadvantaged children in seven schools in Quang Tri province.
"I am so glad to be able to help others with my passion. I donate all the profits I gain from selling my paintings to assist less privileged people. Covid in Vietnam is still highly dangerous. I would like to send my best wishes to everyone, particularly the frontline staff," the young artist said.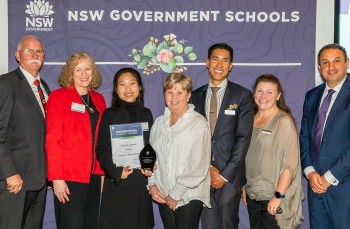 Overseas Vietnamese
The award for international students studying at New South Wales state schools (Australia) honors excellent ones from many countries, including a Vietnamese female student.