People Entering Hanoi Face More Stringent Quarantine
With new coronavirus clusters scattering across the city, Hanoi is imposing stricter preventive measures to contain the virus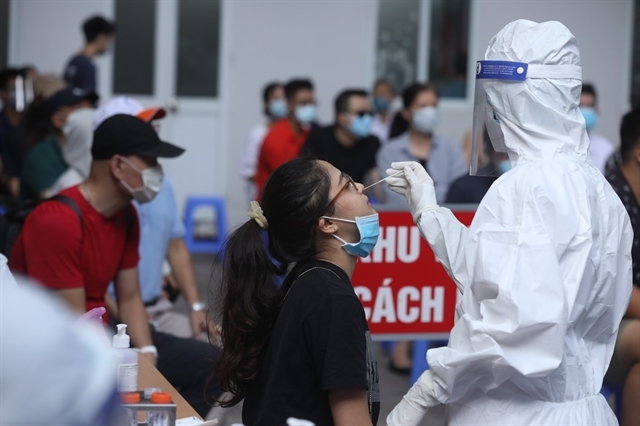 Medical workers take samples for one returnee from HCMC. Photo: VNS
All entrants to Hanoi from socially distanced localities must undergo centralized quarantine instead of two-week self-isolation at home starting July 22, said Chu Ngoc Anh, chairman of the municipal People's Committee.
The stringent order is to curb the spreading of coronavirus from other cities and provinces.
Hanoi has been receiving thousands of people traveling from outside, thereby facing a higher risk of community infection. The numbers of entrants via air and other routes on July 19 alone reached over 1,300 and 3,000 respectively.
The chairman has tasked the Health Department to further check and improve the operation of all medical facilities, ensuring enough capacity and expertise to give treatment to a high influx of Covid-19 patients, especially critical ones.
Hanoi has had 761 infections since the fourth wave began in late April. It now urges people not to go out except to buy food or medicines or for emergencies. It has banned gatherings of more than five in public places.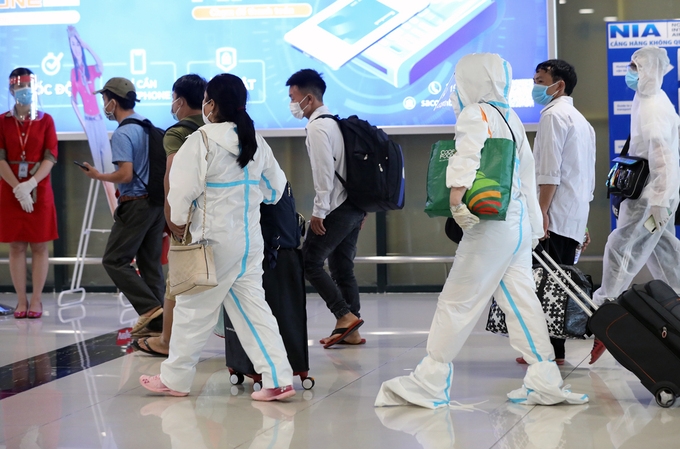 All entrants from socially distanced provinces and cities will have to undergo centralized quarantine. Photo: VNE
Hanoi to administer 200,000 vaccine doses a day
The city is set to administer 200,000 doses of coronavirus vaccine a day to its residents. It has formed over 1,200 medical teams to work at 820 vaccination sites across 579 affiliate localities.
The Hanoi Center for Diseases Prevention and Control (CDC) has prepared two cold storages and six specialized fridges to preserve the vaccine. The center will work with authorities to distribute the batch to each locality, according to Truong Quang Viet, deputy director of Hanoi CDC.
Deputy Health Minister Truong Quoc Cuong said thorough preparation was instrumental in the success of the vaccine rollout, citing the city's large population and key location.
"We must prepare for the worst-case scenarios to promptly respond during the vaccination," he said.
The city also ordered all citizens to stay at home and only go out if absolutely necessary.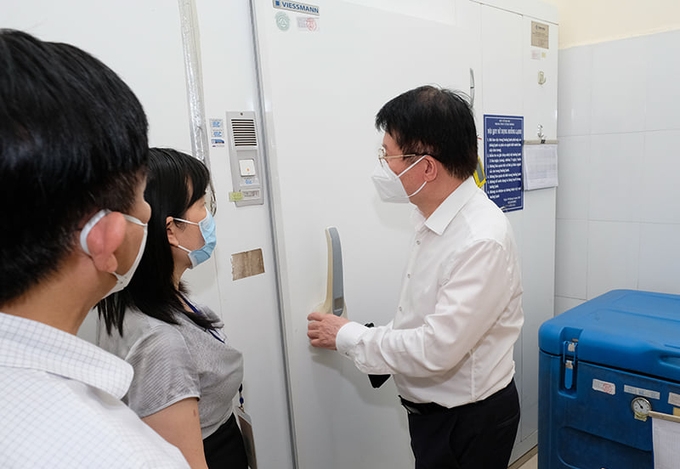 Deputy Health Minister Truong Quoc Cuong checks the cold storage at Hanoi CDC on July 20 afternoon. Photo: VNE
The novel coronavirus first detected in Wuhan, China's Hubei province late 2019, has spread to 220 countries and territories, claiming over 4.1 million lives. The United States, India, and Brazil are topping the world's total infection chart.
In Vietnam, at least 67,422 people have been infected since the recurrence on April 27. Ho Chi Minh City remains the hardest-hit locality, with daily tallies sometimes reaching over 5,000 cases. The city and 18 other southern provinces are socially distanced under Directive 16. Hanoi is also struggling with new clusters. The pandemic in the central region, however, has been basically contained.
Vietnam reported 5.357 new infections of Covid-19, including 14 imported cases on July 21. Among the new domestic infections, 1,081 cases were detected in the community and the remainder in quarantined facilities or sealed-off areas.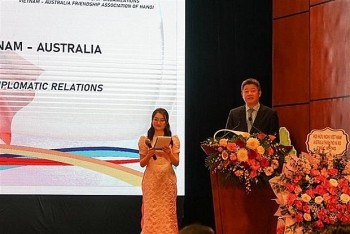 Friendship
A friendship exchange programme has been held recently in Hanoi to celebrate the 50th founding anniversary of the Vietnam-Australia diplomatic relations (February 26).