Hotel-hospital, New Model to Ease Covid-19 Burden
The hotel-hospital model applied in Thailand could be exemplary for Vietnam, especially when the country's daily tally is soaring
At the lobby of the Pullman Grande hotel in Bangkok, Thailand, medical staff wearing full-body protective gear greet Covid-19 patients with a smile. About 250 rooms at this 5-star hotel were converted into a temporary facility of the Thonburi private hospital when Covid-19 re-emerged in Thailand. Vietnam could learn from Thailand's experience.
Overloaded hospitals
Thailand is experiencing the third wave of the epidemic, with more than 5,000 new infections per day since the beginning of July and along with the emergence of the new virus variants such as Alpha, Delta and Beta. Experts warn that the Delta variant is spreading rapidly throughout Thailand.
As reported by Vietnamnet, the sudden increase in the number of infection cases has put heavy pressure on the Thai health system. In Thailand, all Covid-19-positive patients are hospitalized, including those without symptoms. This policy has raised concerns about the risk of overburdening of the health system in case the number of severely-ill patients skyrockets.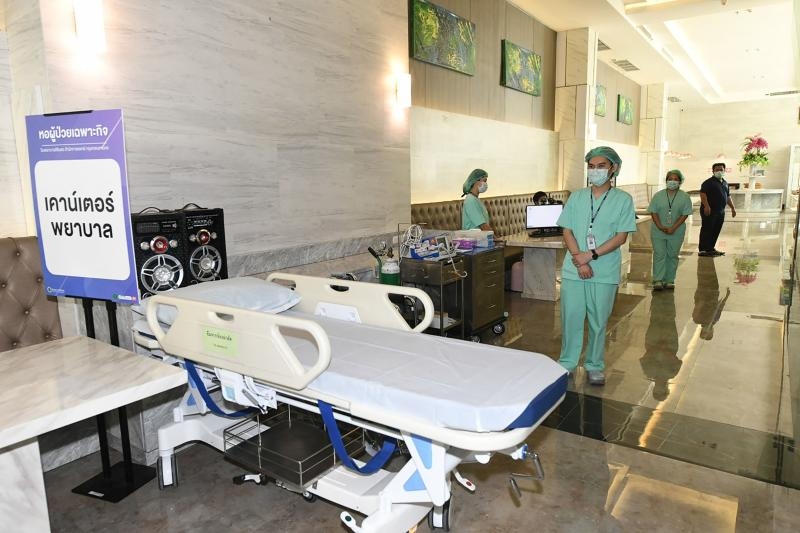 Medical staff at the Elegant Airport Hotel, a hotel converted into a field hospital for Covid-19 patients in Bangkok. Photo: AFP
Many patients tested positive but were not immediately admitted to the hospital because they had to wait for empty beds. Field hospitals were criticized for their service quality.
Chalerm Harnphanich, president of the Thai Private Hospital Association (PHA), admitted that many Covid-19 patients had to wait to be hospitalized because some private hospitals were unable to arrange beds for them.
Bangkok Metropolitan Authorities (BMA) spokesman Pongsakorn Kwanmuang confirmed that the Thai capital still has enough hospital beds for Covid-19 patients, but acknowledged that the capacity to bring patients to hospitals is limited.
BMA has a total of 9,183 beds for Covid-19 patients and currently has about 4,244 beds available. The government is also arranging more beds at Bang Khun Thien Geriatric Hospital and two field hospitals at Chalerm Phrakiat Bang Bon and Bangkok Arena stadiums.
While hospitals lack beds, the hotel industry in this country is sluggish. According to Kasikorn Research Center (K-Research), before the third Covid-19 wave, it was estimated that about 2 million foreign tourists will visit Thailand in 2021.
According to Thai Tourism and Sports Minister Phiphat Ratchakitprakarn, total tourism revenue for 2021 has been revised down from 1.218 billion baht to 850 billion baht ($27 billion). The government expects that international arrivals to the country in 2021 will reach 3-4 million, only about half of the previous prediction of 6.5 million.
Hospitel model
In that situation, Thailand has turned 23 hotels into hospitals. These hotels operate similarly to field hospitals, but with better amenities and services. To participate in this program, hotels must comply with strict health regulations: have at least 30 rooms and coordinate with a hospital to offer standard medical services and be able to monitor Covid-19 patients.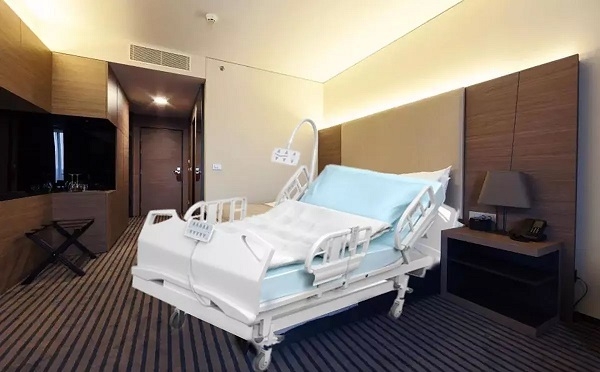 Photo: The Thaiger
Patients are treated in a hospital or field hospital for at least 5-7 days before being transferred to a hotel of this type. They must all be under the age of 50, not have severe symptoms, and not be infected with the new variant of Covid-19. Patients will check out of the hotel after they have recovered and are isolated for at least 10 days.
Each patient must be provided with a digital thermometer and pulse oximeter, and must have a portable X-ray machine. Hotels must be staffed like hospitals, with at least one physician, one clinical psychologist, one pharmacist, one radiologist, and one infection control nurse. One in every 20 patients must have a resident nurse at the hotel.
Under Thailand's universal health care program, Covid-19 patients are treated for free at public hospitals, but if they stay at "hotel hospitals" like Pullman Grande, they have to pay up to 12,000 baht ($384) per night. The program offered by Bumrungrad Hospital costs from about $150,000 for a 14-day stay, excluding spending for medications, services, and medical equipment.
The authorities of Bangkok are planning to open more "hotel hospitals" to provide an additional 4,424 beds for Covid-19 patients in the green group or those with mild or no symptoms. This kind of service makes foreigners more comfortable, thus encouraging them to go there for treatment instead of being sent to centralized quarantine facilities.
The situation in Vietnam
In the current context, the hotel-hospital model helps authorities to reduce the pressure on hospital beds, and private hospitals can join hands with the health sector to participate in the fight against the epidemic. At the same time, hotels can earn income instead of being abandoned.
As for people, those who can afford to pay for the services will enjoy better treatment conditions. Receiving treatment in a safe, private and high-quality environment, people are encouraged to voluntarily participate in treatment.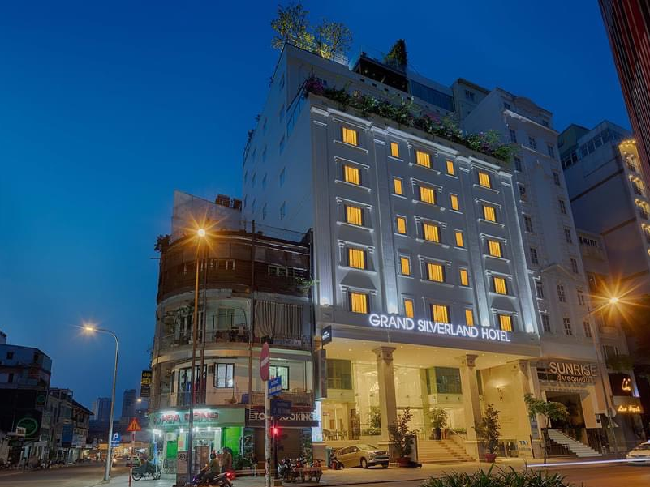 Grand Silverland in District 1, HCMC is repurposed into a quarantine center. Photo: ND
In Vietnam, some hotels have been used as quarantine facilities. According to the Department of Tourism of Ho Chi Minh City, 46 hotels with a total of 3,173 rooms in the city have been turned into paid quarantine sites for those who return to HCM City from abroad.
Meanwhile, private hospitals are not allowed to treat Covid-19 patients. Some eligible private hospitals are licensed by the Ministry of Health to provide Covid-19 tests. Currently, there are 212 private hospitals in 46 of 63 provinces and cities in Vietnam, accounting for 16% of the total number of hospitals.
The epidemic situation is increasingly complicated, and policies and regulations for the treatment of Covid-19 patients are gradually changing. In the future, the participation of private hospitals and hotels will help add a great resource to the medical industry in Covid-19 treatment.
On July 16, the Ministry of Health proposed that the Prime Minister approves the establishment of more temporary facilities to treat Covid-19 patients, including military or police barracks, dormitories, housing areas of factories and enterprises, new and unused apartment buildings, hotels, motels, guest houses, resorts, schools, sports halls, stadiums… This model has been piloted in Bac Giang and now in Ho Chi Minh City, with good results.
Field hospitals play an important role
Since the onset of the Covid-19 outbreak in Vietnam early last year, a number of field hospitals have been set up across the country to help shoulder the large influx of coronavirus patients.
HCMC alone has built 6 such makeshift facilities as it battles its biggest outbreak yet. The field Hospital No. 6, the newest one in the city, was set up at Binh Khanh resettlement area in An Phu ward, Thu Duc city, and started operating on July 11.
The 6,000-bed hospital is treating more than 4,100 patients.
(Video: SGGP)
Patients are classified into elderly, those with chronic disease, children, women pregnant and in labor.
The facility is run by medical staff from the Hospital for Rehabilitation, Cho Ray Hospital and the University Medical Center. Though the field hospital No. 6 has just been established, it already has a laboratory and a subclinical department to support treatment. About 3-5 percent of inpatients in field hospitals have shown worsening symptoms.
At Field Hospital No. 6, a team of doctors and nurses on duty to examine and screen F0 subjects were brought in. The militia team cooperates with medical staff to maintain security and order, distance, coordinate, and deliver food and necessities to patients during the treatment process.
At field hospitals for inpatients, all supplies have been provided by HCMC departments and agencies, and a large portion comes from benefactors, SGGP News reported.