Satellite Made in Vietnam Ready to Launch
Vietnam's NanoDragon nanosatellite was sent to Japan on August 11 for transferring to the Uchinoura Space Center, a space launch facility located in Kagoshima Prefecture of Japan.
Vice Director General of the Vietnam National Space Center Le Xuan Huy said NanoDragon would be handed over to the Japan Aerospace Exploration Agency (JAXA). The satellite is expected to be launched before March 2022 under the Innovative Satellite Technology Demonstration-2 program. The 2022 demonstration will launch into space RAISE-2, a satellite weighed at 100kg, 4 surface-microlayer satellites measured at 50kg and 4 CubeSats like NanoDragon.
NanoDragon is a CubeSat, a nanosatellite for space research, that weighs about 4kg and measures at 3U (100x100x340.5mm). NanoDragon was developed by the Vietnam National Space Center (VNSC) under the Vietnam Academy of Science and Technology. The entire process from researching and designing to incorporating and testing the satellite's functions is conducted completely in Vietnam by VNSC researchers. NanoDragon's mechanical structure, distribution circuits and other auxiliary circuits are also made in Vietnam.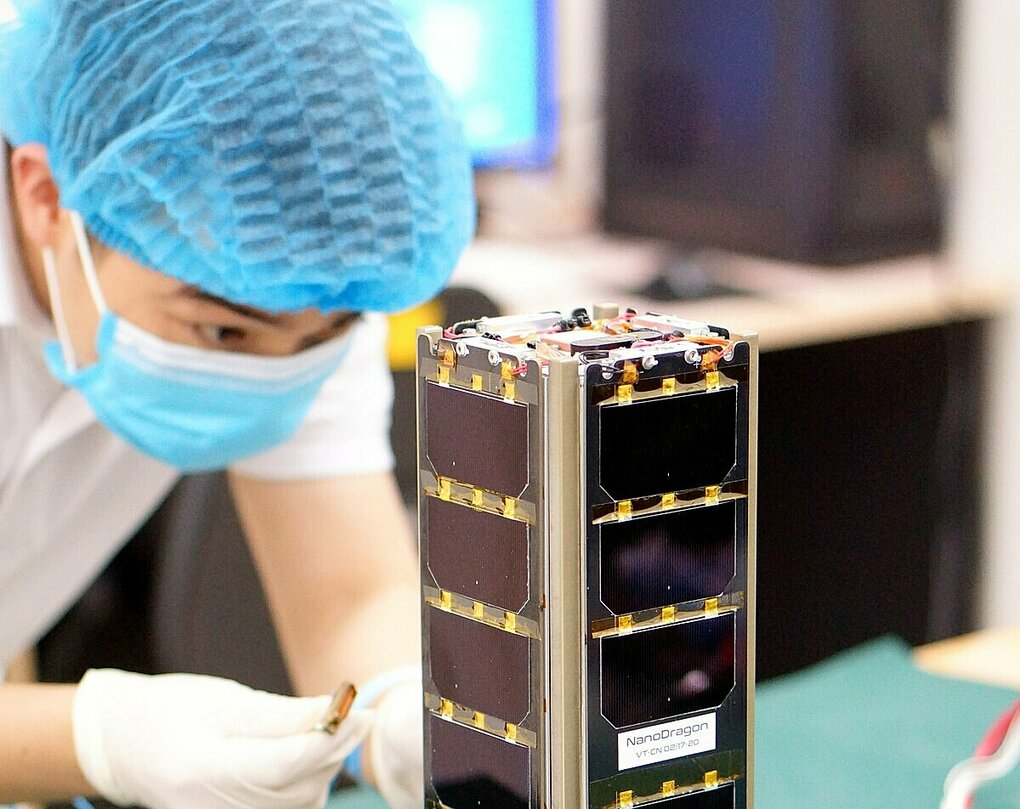 NanoDragon satellite inside the cleanroom of the Vietnam National Space Center. Photo: Vietnam National Space Center
NanoDragon is designed to prove it is possible to use miniatured satellite constellations to receive automatic identification signals, thereby enhancing the tracking and monitoring of waterborne vessels at sea. In addition, it can verify the quality of the satellite controlling system, identify the posture of satellites and facilitate the design of advanced computers for small satellites. NanoDragon is expected to operate in a Sun-synchronous orbit at a height of 560km.
In early March, the satellite completed the pre-launch test at the Kyushu Institute of Technology's Center for Nanosatellite Testing. NanoDragon was tested in the space thermal and vacuum environment to determine its ability to survive shock and vibration; the satellite met the criteria set by the launching center and design requirements. NanoDragon was then transported back to Vietnam to wait for the official launch into space.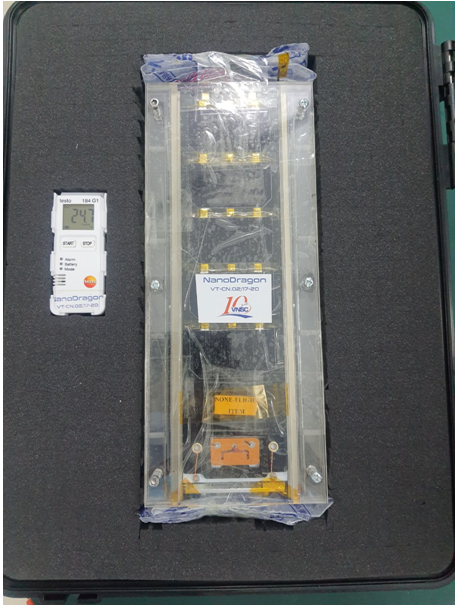 NanoDragon packed and sent to Japan for testing. Photo:

Vietnam Academy of Science and Technology
NanoDragon is a product of the project "Research, design, manufacture, launch and trial operation of nano-scale satellites" under the "National Science and Technology program on space technology in the 2016 - 2020 period."
Along with the development of a nanosatellite made in Vietnam, a ground station to operate the satellite after launch was installed at the Vietnam National Space Center, located in the Hoa Lac Hi-tech Park.
Before NanoDragon, Vietnam developed and launched into orbit PicoDragon, a super micro-satellite weighed one kilogram. With support from experts from Japan, 36 researchers at VNSC later successfully designed the 50-kg MicroDragon satellite, which was launched into space in January 2019. MicroDragon sent to the ground stations data on Vietnam's coastal areas, specifically the water quality and marine resources, for use in the aquaculture sector.
The development of NanoDragon is the next major step in Vietnam's strategy to master small satellite technologies and self-design and manufacture small earth observation satellites.