Zero-dong canoe squad provides aid for people in flooding areas of Vietnam's central provinces
The zero-dong canoe squad led by Mr. Tran Dang Vinh has been operating at full capacity to provide aid to many people in flooded areas.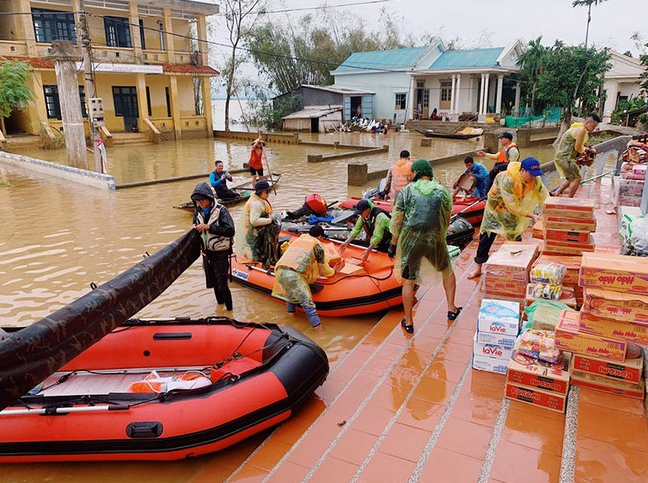 Photo: PLO
Currently, the squad has about 20 members in Da Nang and is calling for recruitment in each central province. Each team member is instructed on how to use canoes, life jackets, flashlights, rescue equipment, and medical.
Care for central people over their own lives
Right after the flooding happened in Quang Tri, many people helplessly called for support on social networks. Therefore, Mr. Vinh and his squad decided to bring two canoes and six boats to rescue the people in need. Although not having so many canoes, they did their job effectively, contributing in ensure residents' safety.
In Hai Lang (Quang Tri), the squad provided food, water, lamps and lighters to isolated residents. According to Mr. Dinh Khoa (a member of the 0-dong canoe squad), who has been with the team since the first days, "During my food supplying mission, there was a family with a dead member, whose coffin could not be transferred to the grave due to flooding. So they asked me to help. At that time, the road to the house was deeply flooded, but the team was still enthusiastic to help".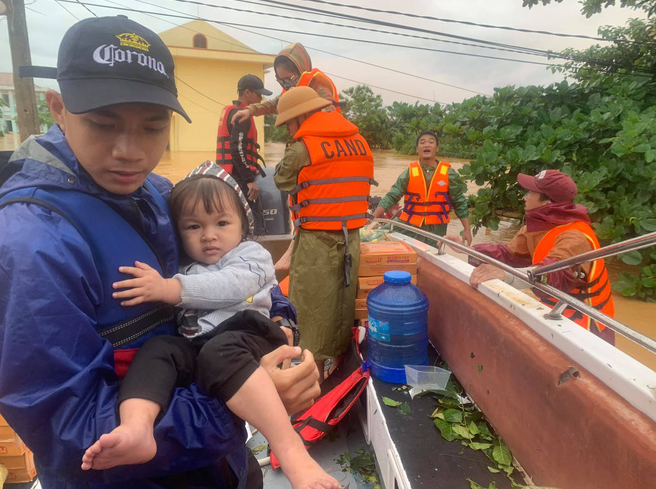 Photo: Kenh 14
After that, the team eagerly transported food reinforcements to Thua Luu (Hue) and Huong Hoa (Quang Tri). At midnight, the team was resting in Dong Ha (Quang Tri) when there was a phone to report that the water level rose suddenly in Huong Hoa. Everyone immediately moved together to Huong Hoa to save people at night.
Due to the limited number of canoes and boats, the whole team prioritized saving the children and the elderly. "Fortunately, we got help from a policeman who was knowledgeable about the terrain. If not, there would be a possibility that the ships got punctured"- Mr. Khoa said.
A boat was broken while the men supplied food for the people of Quan Hau bridge (Quang Ninh, Quang Binh). They have been trying to reach areas where no relief teams have yet arrived, where people suffered seven days without electricity, food, or drinking water.
Mr. Khoa shared emotionally: "At that time, we were, try to remove waters spilled into the boat, and, at the same time, heading to the gathering place. We did our best to quickly fix the broken canoe and continue bringing food to the people. Everyone worried about danger, but we worried more about isolated people that do not have access to food or drinking water".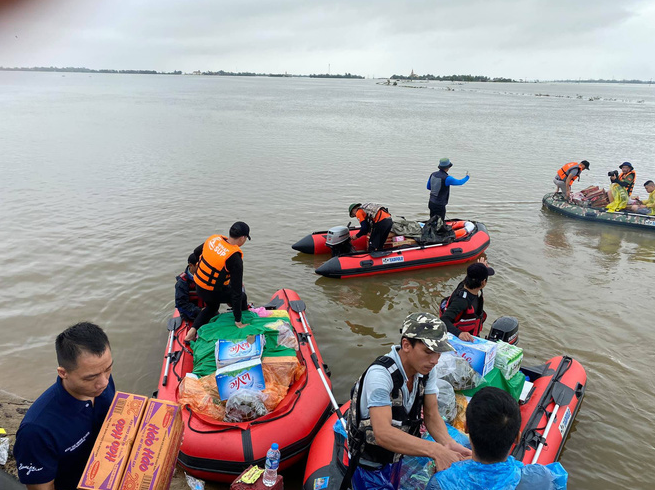 Photo: Kenh 14
Dive into the dangerous water, open door to door to save lives
Returning from Quang Tri, realizing the lack of rescue forces, Mr. Tran Dang Vinh came up with the thought of mobilizing his squad across the country to support people. "Many of our members have difficult backgrounds but still manage to overcome the floods for many days. The biggest problem is the health of our members as they have to fight continuously for many days without stopping ", Vinh said.
The squadron repeatedly approached areas that small boats did not dare to pass because of high winds and fast-flowing water. By phone, team members will grasp the position of the people trapped in the flooded area. In areas that are severely flooded and rained, the search for people must be quick and accurate, so each team member must be alert.
During the mission in Huong Hoa (Quang Tri), at first, the flooding level was not dangerous, so people loosened their caution, so it was difficult for the team to convince people to evacuate. After taking two families out of the flooded area, the water suddenly rose quickly and the heavy rain started, creating a very difficult rescue situation.
Many families do not know that flood would happen at night, so they lock their doors. To rescue them, many of the team had to dive into flood water to open doors and enter houses to save people. Mr. Khoa said: "At that time, the cry and the flashlight signaled for help were seen everywhere. The team did not hesitate, we just hoped to save as many people as we could".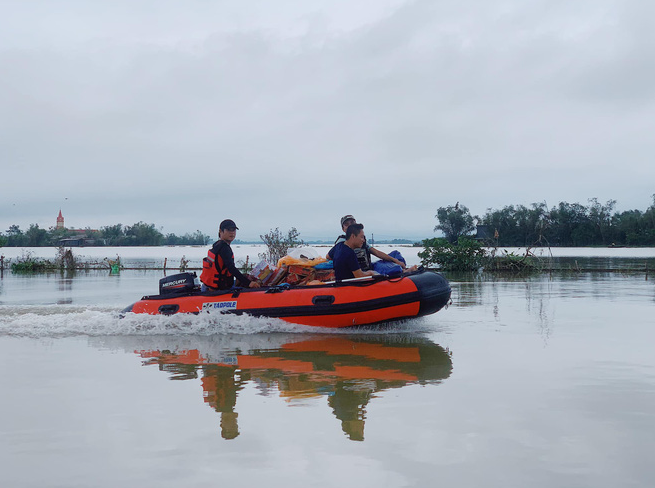 Photo: Kenh14
Expand the operation areas
When it was first established, the canoeing squad has just a few members and limited resources. They have to use their own money to maintain the operation. Up to now, the team has received a lot of support from the sponsors, so it has bought more canoes to serve the rescue work. The team sent nearly 20 canoes and boats to Quang Binh and Quang Tri.
Most of the brothers in the squad are members of the inflatable boat club and water sports athletes. They are in good health but still facing dangers in the relief work.
Mr. Vinh said: "The squadron will be a professional rescue force, investing in skills and equipment, to ensure safe and effective operation in the relief of flood victims. At the same time, the team will coordinate with many other teams, groups, and clubs to effectively work together to help people on a large scale.
At present, the squad is focusing on supporting Tra Leng (Nam Tra My, Quang Nam) in providing food, blankets and drinking water for the search and rescue forces and people in this area. The team also carried out the transportation of elderly people, pregnant women, children, and adults in Nam Tra My who are trapped by water.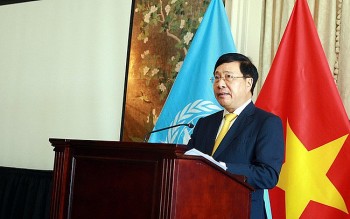 Friendship
Deputy Prime Minister Pham Binh Minh has asserted Vietnam's strong support for and commitment to the UN's role in leading and coordinating multilateral efforts to respond to global challenges.