11th Covid-19-related death confirmed in Vietnam, over 270 citizens return from Saudi Arabia and Cyprus
Vietnam has recorded the 11th death relating to Covid-19 in the afternoon of August 9 with Covid-19 patient tally hitting 841. Meanwhile, nearly 300 Vietnamese citizens repatriated home safely from Saudi Arabia and Cyprus.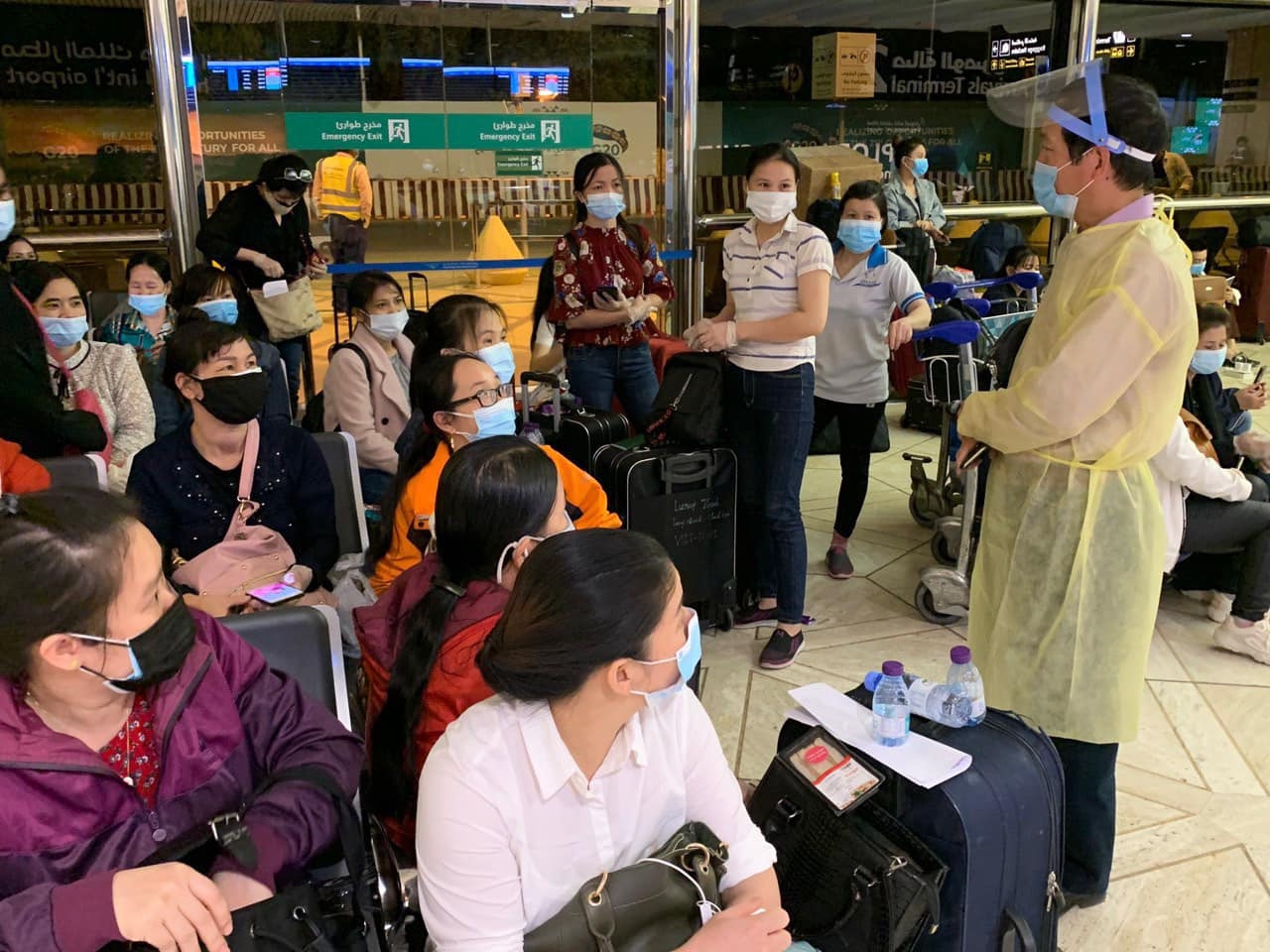 Vietnamese Ambassador Vu Viet Dung in Saudi Arabia personally went to the airport to bid farewell and assist citizens. Photo: Vietnamese Embassy
Vietnam Airlines, in collaboration with Vietnamese Embassy in Italy (concurrently accredited to the Republic of Cyprus), Vietnamese Embassy in the Kingdom of Saudi Arabia and host countries' agencies, on August 8-9 has brought home 266 Vietnamese citizens left stranded in two Middle East countries due to the impact of the COVID-19 pandemic.
The majority of passengers on board the flight were minors under 18, the elderly, pregnant women, people suffering from underlying health issues, in addition to others in exceptionally difficult circumstances.
In order to successfully organize the planned flight, the Vietnamese representative agencies have guided citizens to carry out the necessary procedures; coordinating with local authorities to facilitate citizens during their travel to two airports in Cyprus and Saudi Arabia.
On the night of August 8, the Vietnamese Embassy in Saudi Arabia supported 196 citizens living and working here fly back to the homeland. This is the first flight to bring our citizens in Saudi Arabia home in the context of the COVID-19 pandemic spreading around the world.
Ambassador Vu Viet Dung personally went to the airport to bid farewell and assist citizens, mostly domestic and unskilled workers in Saudi Arabia. They were extremely excited and grateful for the evacuation flight.
The Vietnamese Honorary Consulate in Cyprus also sent staff to the airport to directly assist citizens in completing the necessary procedures.
Once the aircraft landed at Can Tho International Airport on August 9 afternoon, all crew members and passengers underwent medical check-ups before being transferred to quarantine facilities in Bac Lieu province in line with regulations regarding COVID-19 prevention and control, Vnexpress reported.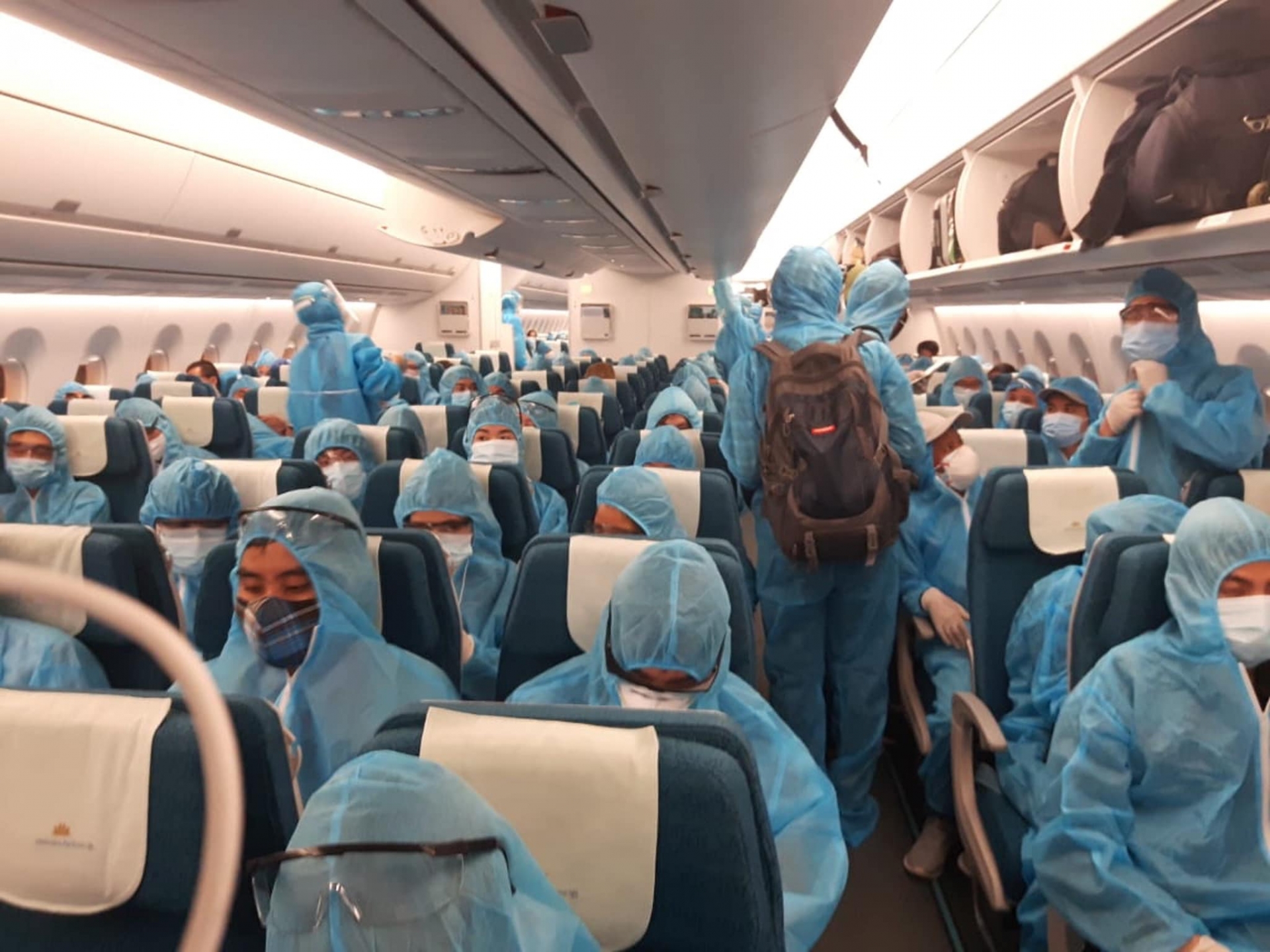 To prevent the spread of COVID-19, disease prevention measures were carried out during the flight.
Vietnam records 11th Covid-19 related death
The coronavirus pandemic has claimed over 723,600 lives in 188 countries and regions since it originated in China last December. The US, Brazil, India, and Russia are currently the worst-hit countries in the world.
More than 19.4 million COVID-19 cases have been reported worldwide, with recoveries exceeding 11.78 million, according to figures compiled by US-based Johns Hopkins University.
More than 1,500 people were diagnosed with COVID-19 in Saudi Arabia in the last 24 hours, bringing the case count to nearly 285,800, official data revealed on August 7.
The death toll from coronavirus reached 3,093 with 38 new fatalities, while 248,948 patients have recovered so far.
On the other hand, Vietnam has to date reported 841 patients since the first case was detected in January. Of those, 317 are imported.
In just over three weeks, a total of 384 cases detected in the community following the recurrence of the virus in Da Nang city on July 25, signaling the start of a new wave of infections in Vietnam.
The surge has spread to 15 cities and provinces across three regions of the country. Da Nang topped the list with 246 cases, followed by Quang Nam (67), Ho Chi Minh City (8), Quang Ngai (6), Bac Giang (6), Hanoi (5), Lang Son (4), Dak Lak (3), Quang Tri and Dong Nai (2 each), and Thanh Hoa, Hai Duong, Thai Binh, Ha Nam and Khanh Hoa (1 each).
There are currently 178,695 people who had close contact with COVID-19 patients or entering Vietnam from pandemic-hit regions are being quarantined nationwide, including 5,252 at hospitals, 27,798 at other concentrated quarantine facilities, and 145,645 at their homes.
As many as 395 or 48.6 percent of the total patients have made full recovery, and there have been 11 deaths since the outbreak started in Da Nang.
A 55-year-old woman in the central city of Da Nang on August 9 died of the COVID-19-related complication of acute respiratory distress syndrome (ARDS), multiorgan dysfunction syndrome, and gastrointestinal bleeding, according to Deputy Minister of Health Nguyen Truong Son.
All the COVID-19 fatalities in the country so far have either been residents of the city or the nearby Quang Nam province, and had suffered from serious chronic diseases such as cancer, renal failure, and diabetes prior to becoming infected.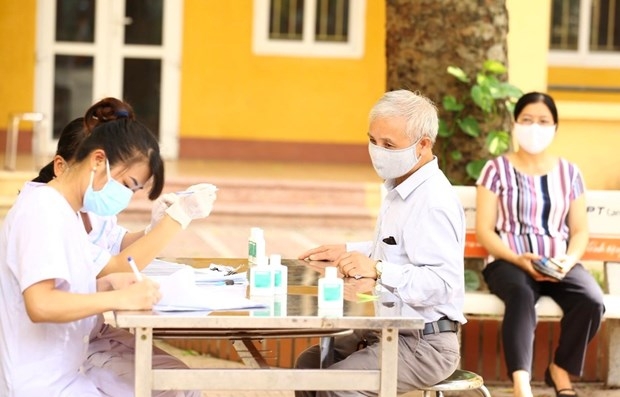 People returning from Da Nang - the outbreak of COVID-19 - register for testing. Photo: VNA
Hanoi will be at the height of the fight against COVID-19 next week (August 10-16) and has stepped up contact tracing to quarantine and test those who returned from Da Nang, the epicenter of the country's latest coronavirus outbreak, and those who had close contact with COVID-19 patients.
The capital is now launching another extensive testing campaign, using the real-time reverse transcription polymerase chain reaction that produces better results than quick tests, VOV reported.
Latest statistics show nearly 75,000 people will be subject to RT-PCR tests this time. The testing campaign started on August 8 and is expected to last for several days. The Ministry of Health pledged to assist the capital in completing the campaign.
In the context of new locally-transmitted COVID-19 cases in the country, domestic authorities and Vietnamese representative offices abroad, under instructions issued by Prime Minister Nguyen Xuan Phuc, are still devising plans aimed at bringing home more Vietnamese nationals based on their needs and the current quarantine capacity of the nation./.