20 Best Horror Movies To Watch All Time
Halloween is coming close, and nothing is better than sitting on the couch and watching a classic horror film like "Saw" with your loved one. Dont forget to check out this list of 20 best horror movies that you can watch right now.
The best horror movies of all time aren't just scary. Plenty of horror films manage that but the very best ones are the movies that take frights and terror to the next level. They're the ones that elevate the genre into something even more petrifying. The best scary movies leave us with fears of things we didn't even know we should be afraid of. Even the small matter of turning off your bedside light becomes an act of bravery after watching Paranormal Activity. Who knew that your slightly open bedroom door could become such an object of pure terror. Did that handle just move? And will turning on the light again even be able to help? If you're scared already, just wait to see what's in store here.
Here is 20 best horror movies that you can watch on Netflix, Amazon Prime Video and other services.
1. "A Quiet Place"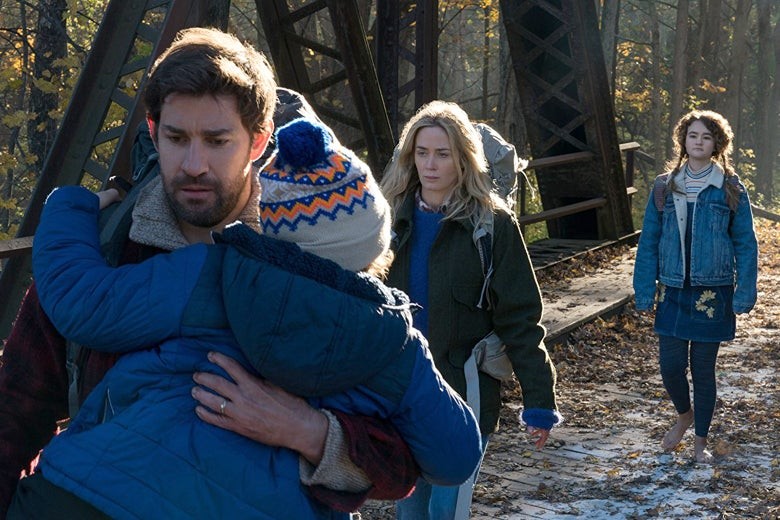 Photo: Paramount Pictures
Imdb score: 7.5/10
John Krasinski's "A Quiet Place" is a nerve-shredder. It's a movie designed to make you an active participant in a game of tension, not just a passive observer in an unfolding horror. Most of the great horror movies are so because we become actively invested in the fate of the characters and involved in the cinematic exercise playing out before us. It is a tight thrill ride—the kind of movie that quickens the heart rate and plays with the expectations of the audience, while never treating them like idiots. In other words, it's a really good horror movie.
We live in a such a noisy world that it's hard to imagine that constant sound being taken away. We use noise to express ourselves—it's a part of who we are as people. And "A Quiet Place" weaponizes that part of the human condition in a way that owes a debt to films like "Alien" but also charts its own new ground. So many great horror films are about people who have to adapt to survive—they have to challenge their own insecurities or preconceptions to make it through the night. In that sense, great horror films are often about empowerment, taking away that which some might perceive as weak. "A Quiet Place" shreds the nerves, but it does so in a way that feels rewarding.
2. Saint Maud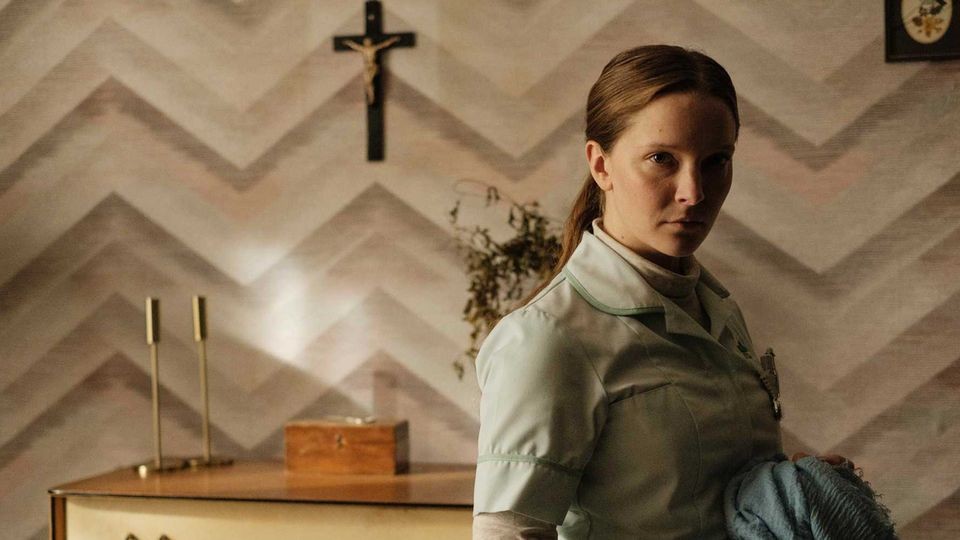 Photo: Empire Online
Rotten Tomatoes score: 93%
"Forgive my impatience, but I hope you will reveal your plan for me soon. I can't shake the feeling that you must have saved me for something greater than this." This is how Maud (Morfydd Clark), a home nurse living in the seashore town of Scarborough, talks to God. Her tone is intimate, practical, chatty, as though He's sitting in the next room. When things start to go wrong, however, her voice takes on a distinctly irritable tone. God isn't holding up His end of the bargain. "I can't help but feel an act of spite has occurred," Maud scolds God. Maud is a recent convert to Roman Catholicism, and glows with the evangelical zeal of her brand-new faith. She wants everyone to experience the bliss she's experienced. "Saint Maud," an eerie and disturbing first film from writer/director Rose Glass, shows Maud's first attempt to "save" another soul, and the cracks that open up underneath Maud's feet in the process. Is Maud touched by the divine? Or is she going mad? Is there a difference?
3. "Sweeney Todd: The Demon Barber of Fleet Street"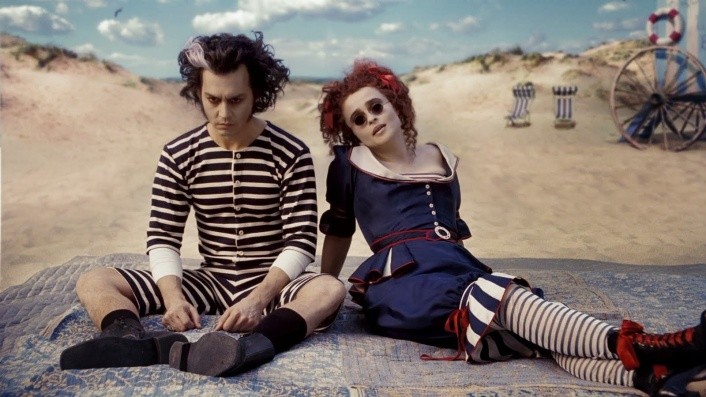 Photo: Flicks
Imdb score: 7.3/10
For many a poor orphan lad / The first square meal he ever had / Was a hot meat pie made out of his dad/From Sweeney Todd the Barber.
Tim Burton's film adaptation of "Sweeney Todd The Demon Barber of Fleet Street" smacks its lips at the prospect of such a meal, and so it should. In telling this story, half-measures will avail him nothing. The bloodiest musical in stage history, it now becomes the bloodiest in film history, and it isn't a jolly romp, either, but a dark revenge tragedy with heartbreak, mayhem and bloody good meat pies.
To an unusual degree, "Sweeney Todd" works on a quasi-realistic level and not as a musical fantasy. That's not to say we're to take it as fact, but that we can at least accept it on its own terms without the movie winking at us. It combines some of Tim Burton's favorite elements: The fantastic, the ghoulish, the bizarre, the unspeakable, the romantic and in Johnny Depp, he has an actor he has worked with since "Edward Scissorhands" and finds a perfect instrument.
Helena Bonham Carter may be Burton's inamorata, but apart from that, she is perfectly cast, not as a vulgar fishwife type but as a petite beauty with dark, sad eyes and a pouting mouth and a persistent fantasy that she and the barber will someday settle by the seaside. Not bloody likely.
4. A Nightmare on Elm Street (1984)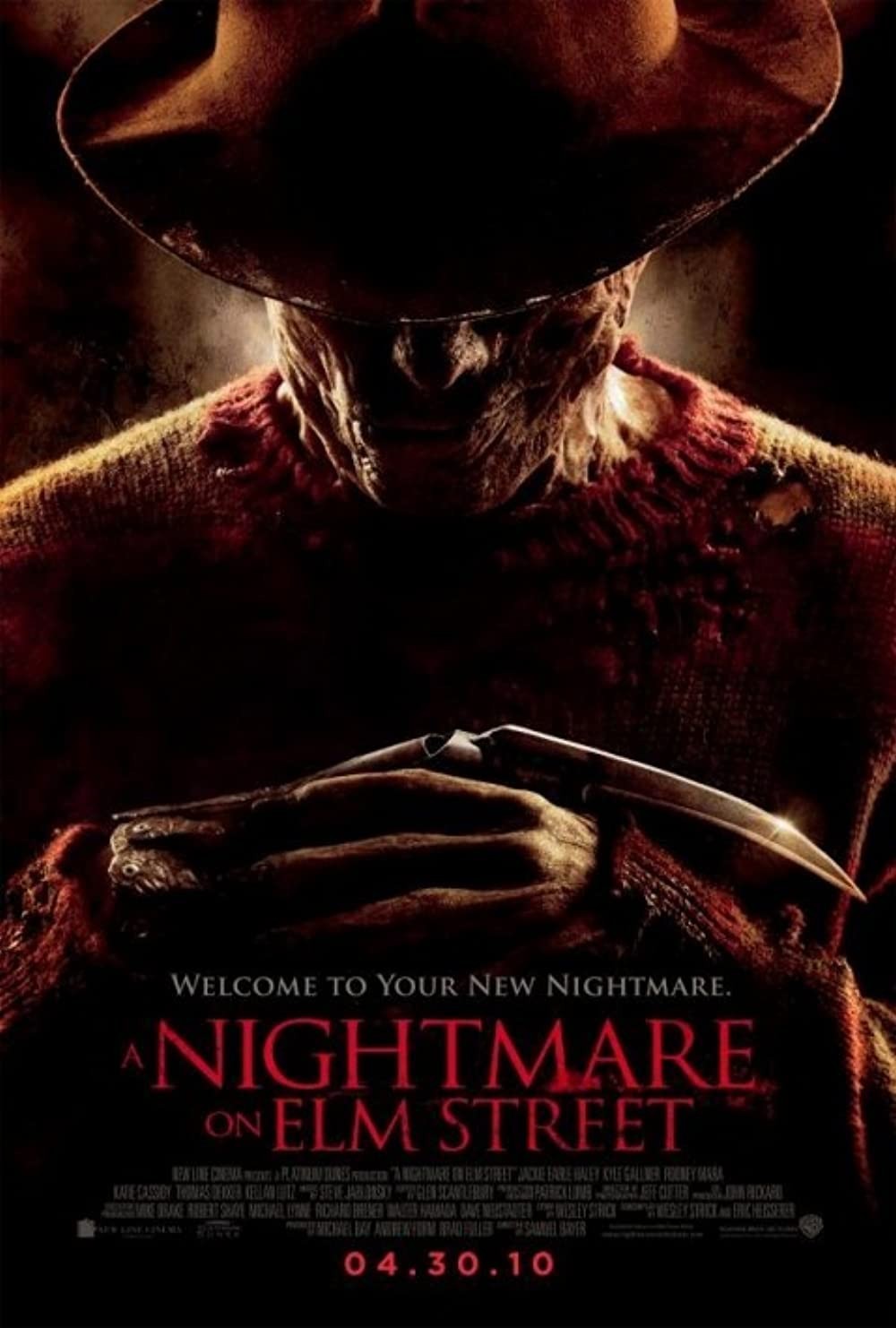 Photo: Imdb
Imdb score: 7.5/10
A Nightmare on Elm Street is a 1984 American supernatural slasher film written and directed by Wes Craven and produced by Robert Shaye. It is the first installment in the A Nightmare on Elm Street franchise and stars Heather Langenkamp, John Saxon, Ronee Blakley, Robert Englund as Freddy Krueger, and Johnny Depp in his film debut. The plot concerns four teenagers living on one street in the fictitious town of Springwood, Ohio, who are invaded and killed in their dreams, and thus killed in reality, by a burnt killer with a bladed leather glove.
Craven filmed A Nightmare on Elm Street on an estimated budget of $1.1 million. The film was released on November 9, 1984, and grossed $57 million worldwide. A Nightmare on Elm Street was met with rave critical reviews and is considered to be one of the greatest horror films ever made, spawning a franchise consisting of six sequels, a television series, a crossover with Friday the 13th, and various other merchandise. A remake of the same name was released in 2010, and, aside from Stunts, Polyester, and Alone in the Dark, it was one of the first films produced by New Line Cinema, who by that point mostly distributed films, leading the company to become a successful film studio up till 2008 and was even nicknamed "The House that Freddy Built".
The film is credited with using many of the tropes found in the low-budget horror films of the 1970s and 1980s that originated with John Carpenter's Halloween (1978) and led this subgenre to be called the slasher film[citation needed]. The film includes a morality play where sexually promiscuous teenagers are killed Critics and film historians state that the film's premise is the struggle to define the distinction between dreams and reality, manifested by the lives and dreams of the teens in the film. Critics today praise the film's ability to transgress "the boundaries between the imaginary and real", toying with audience perceptions.
5. "The Witch" (2016)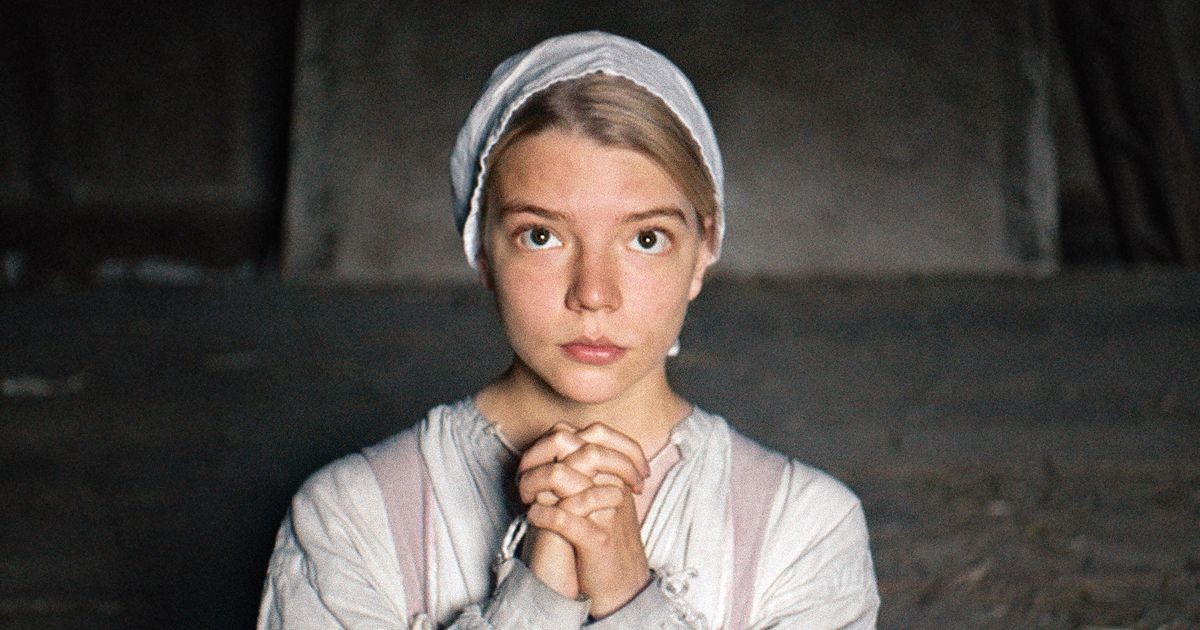 Photo: A24 Films
Rotten Tomatoes score: 90%
"The Witch," a period drama/horror film by first-time writer/director Robert Eggers, tellingly advertises itself as "a New England folktale" instead of a fairy tale. Fairy tales are, at heart, parables that prescribe moral values. "The Witch," a feminist narrative that focuses on an American colonial family as they undergo what seems to be an otherworldly curse, is more like a sermon. Sermons pose questions that use pointedly allegorical symbols to make us reconsider our lives, just as one character uses the Book of Job to understand her role in her family (more on Job shortly). But "The Witch" is not a morality play in a traditional sense. It's an ensemble drama about a faithless family on the verge of self-destruction. And it is about women, and the patriarchal stresses that lead to their disenfranchisement.
6. "The Lighthouse"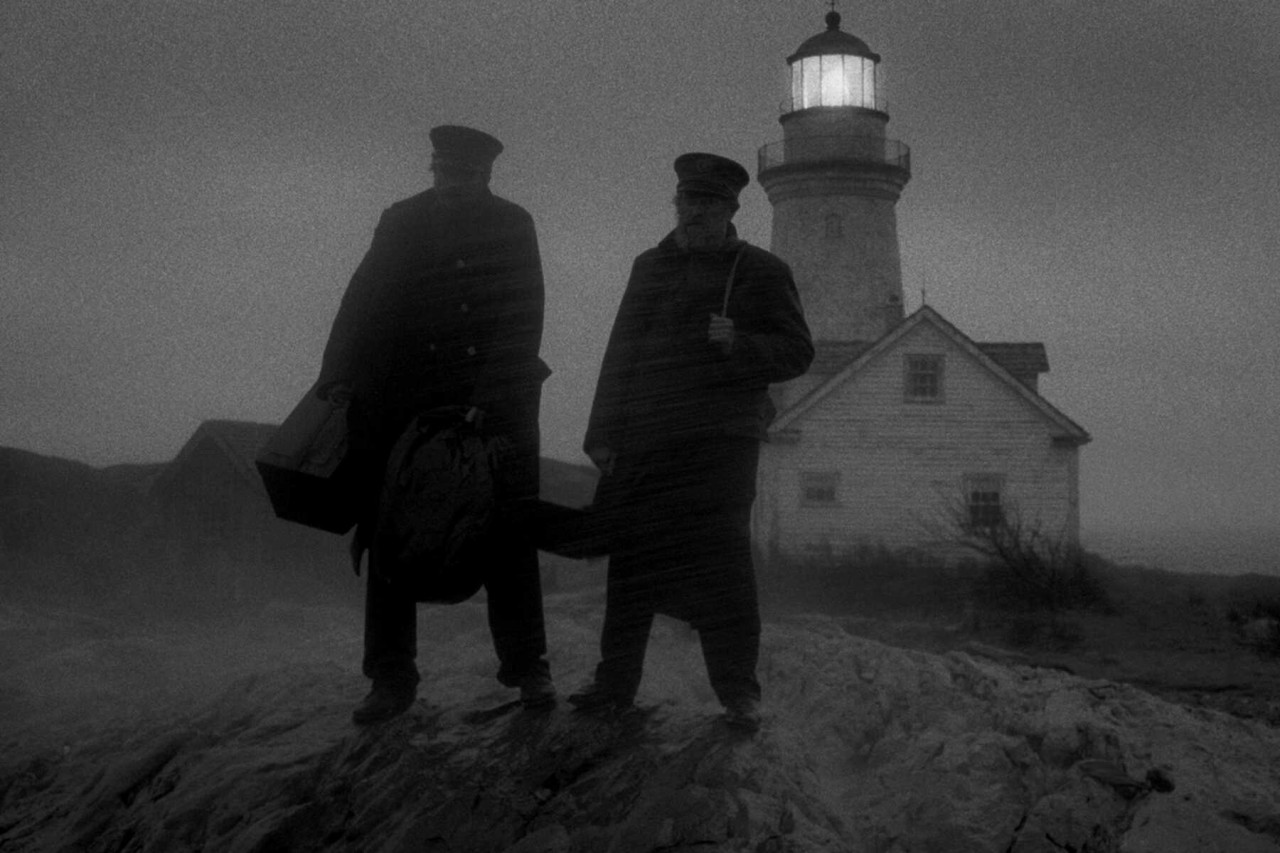 Photo: A24 Films
Imdb score: 7.5/10
Robert Eggers's gripping nightmare shows two lighthouse-keepers in 19th-century Maine going melancholy mad together: a toxic marriage, a dance of death. It is explosively scary and captivatingly beautiful in cinematographer Jarin Blaschke's fierce monochrome, like a daguerreotype of fear. And the performances from Willem Dafoe and Robert Pattinson have a sledgehammer punch – Pattinson, in particular, just gets better and better.
There is rare excitement in seeing these two actors butt heads and trade difficult, complex period dialogue with such mastery and flair. And the screenplay by Robert and Max Eggers is a delicious and often outrageous homage to maritime speech and sea-dog lore, saltier than an underwater sodium chloride factory. Their script is barnacled with resemblances to Coleridge, Shakespeare, Melville – and there's also some staggeringly cheeky black-comic riffs and gags and the two of them resemble no-one so much as Wilfrid Brambell and Harry H Corbett: Steptoe and Son in hell.
7. "The Host" (2007)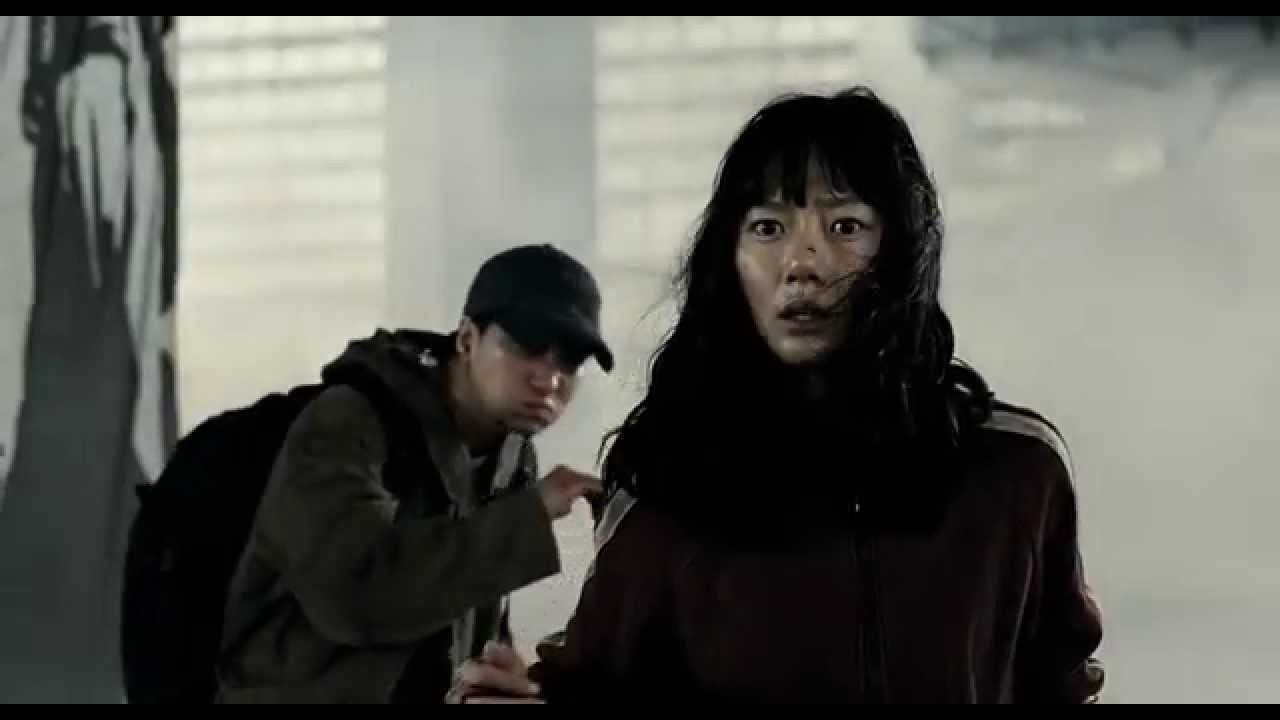 Photo: Youtube
Imdb score: 7.1/10
A horror thriller, a political satire, a dysfunctional family comedy, and a touching melodrama, Bong Joon-ho's "The Host" is also one helluva monster movie. It's the recombinant offspring of all those science-fiction pictures of the 1950s and '60s in which exposure to atomic radiation (often referred to as both "atomic" and "radiation") or hazardous chemicals (sometimes also radioactive) results in something very large and inhospitable: "Them!" (giant ants), "Tarantula" (giant spider), "Matango: Attack of the Mushroom People" (giant fungi), "The Amazing Colossal Man" (giant bald guy), "The Giant Behemoth" (giant behemoth -- both giant and a behemoth, but more precisely a radioactive ocean-dwelling Godzilla clone), "Frankenstein Conquers the World" (giant Frankenstein's monster atomically regenerated from the beating heart of the original monster after the A-bomb is dropped on Hiroshima), and so on.
8. Shaun of the Dead (2004)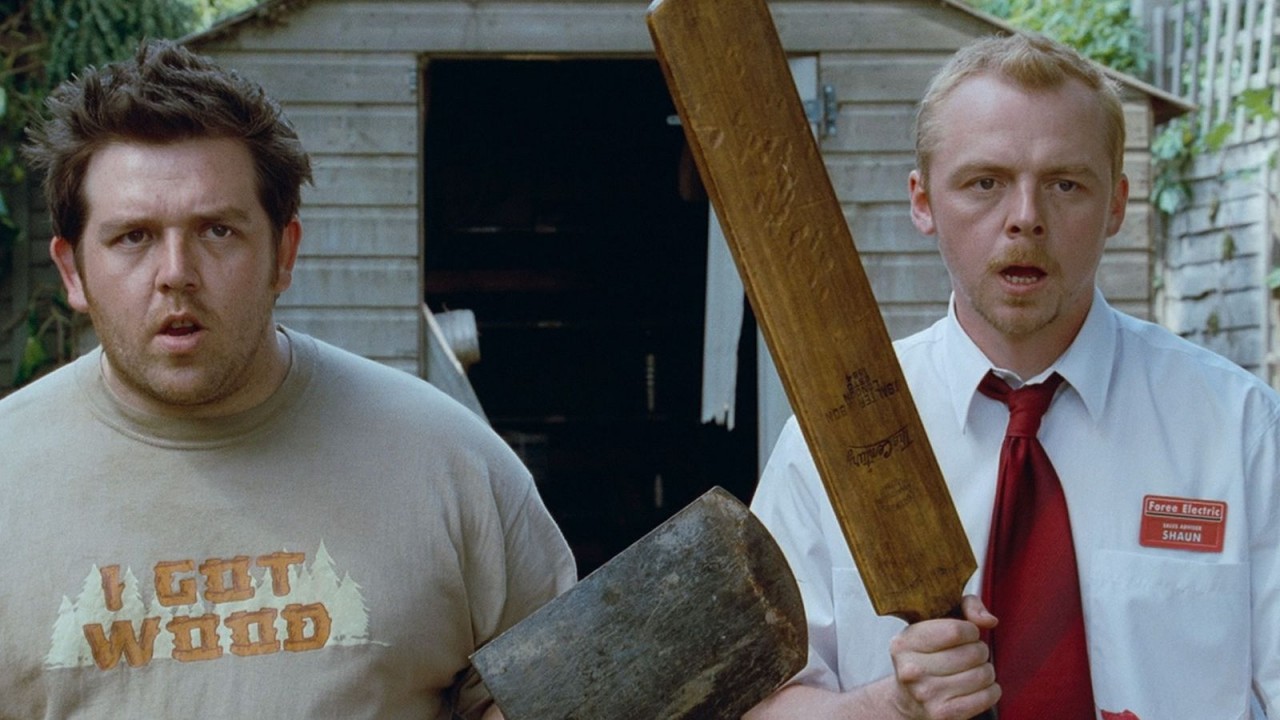 Photo: Universal Pictures
Imdb score: 7.9/10
The movie is a new British comedy about clueless layabouts whose lives center on the pub; for them, the zombies represent not a threat to civilization as we know it, but an interference with valuable drinking time. When it becomes clear that London is crawling (or shuffling) with zombies, best buddies Shaun (Simon Pegg) and Ed (Nick Frost) lead a small band of survivors to the obvious stronghold: the Winchester, their local.
The irony is that Shaun's girlfriend Liz (Kate Ashfield) has been issuing ultimatums, asking Shaun to choose between her and the pub. She lives with Di (Lucy Davis) and David (Dylan Moran), who think that in a showdown Shaun would chose the pub over his girl; when Shaun urges them to barricade themselves inside the Winchester, David is not encouraging: "Do you think his master plan is going to amount to anything more than sitting and eating peanuts in the dark?" This is not really fair, since Shaun is at least armed: He uses his cricket bat to wham zombies on the head. A cricket bat is to British movies as a baseball bat is to American movies: The weapon of choice for clueless heroes going downstairs to investigate a noise that was inevitably made by somebody packing a lot more than a bat.
"Shaun of the Dead" has its pleasures, which are mild but real. I like the way the slacker characters maintain their slothful gormlessness in the face of urgent danger, and I like the way the British bourgeois values of Shaun's mum and dad assert themselves even in the face of catastrophe. There is also that stubborn British courage in times of trouble. "We never closed," bragged the big neon sign outside the Windmill strip club in Soho, which stayed open every night during the Blitz. In this movie, the Winchester pub exhibits the same spirit.
9. "Dracula: Pages from a Virgin's Diary"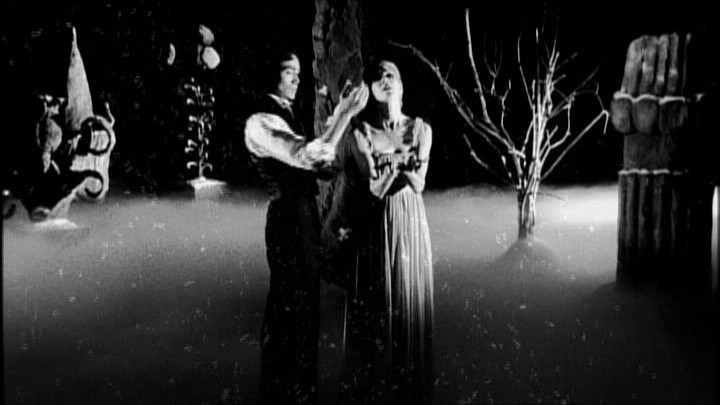 Photo: Imdb
Imdb score: 6.9/10
The director is Guy Maddin, who lives in Winnipeg, and is Canada's poet laureate of cinematic weirdness. His films often look as if the silent era had continued right on into today's ironic stylistic drolleries; he made a 2000 short named "The Heart of the World" that got more applause than most of the films it preceded at the Toronto film festival. Imagine "Metropolis" in hyderdrive.
In "Dracula: Pages from a Virgin's Diary," he begins with the Royal Winnipeg Ballet's stage production of "Dracula," choreographed and produced by Mark Godden, and takes it through a series of transformations into something that looks a lot like a silent film but feels like avant-garde theater. The music is by Mahler (the first and second symphonies), the visuals include all the favorite devices of the silent period (wipes, iris shots, soft framing, intertitles, tinting), and the effect is--well, surprisingly effective. The emphasis is on the erotic mystery surrounding Dracula, and the film underlines the curious impression we sometimes have in vampire films that the victims experience orgasm as the fangs sink in.
"Dracula: Pages from a Virgin's Diary" is not concerned with the story mechanics of moving from A to B. At times it feels almost like one of those old silent films where scenes have gone missing and there are jumps in the chronology. This is not a problem but an enhancement, creating for us the sensation of glimpsing snatches of a dream. So many films are more or less alike that it's jolting to see a film that deals with a familiar story, but looks like no other.
10. Saw (2004)
Photo: Imdb
"Saw" by contrast depends on an improbably devious and ingenious villain who creates complications for the convenience of the screenplay. Named "The Jigsaw Killer," he joins that sturdy band of movie serial killers with time on their hands to devise elegant puzzles for their victims and the police. Sometimes that works, as in "The Silence of the Lambs," and sometimes we simply feel toyed with. That said, "Saw" is well made and acted, and does what it does about as well as it could be expected to. Horror fans may forgive its contrivances.
A parallel story involves the efforts of two detectives to track down the Jigsaw Killer, who has posed such deadly ultimatums to earlier victims. (One involves a machine bolted to the victim's head, with a mechanism inserted into the mouth, which is timed to rip the jaws apart after the deadline. I hate it when that happens.) The detectives are David Tapp (Danny Glover) and Steven Sing (Ken Leung), and they're racing, as you might expect, against time.
Who is the Jigsaw Killer, and why has he gone to such diabolical lengths to devise such cruel predicaments? Well might you ask. The answer, of course, is that he is a plot device lowered into the movie with a toolbox filled with horrors, dangers and unspeakable choices. He exists not because he has his reasons or motivations (although some are assigned to him, sort of as a courtesy, at the end). He exists because he tirelessly goes to great trouble and expense to fabricate a situation that the movie can exploit for 100 minutes. And he is almost certainly not who he seems to be, because of the screenwriting workshop principle that a false crisis and a false dawn must come before the real crisis and the real dawn.
12. "Eraserhead"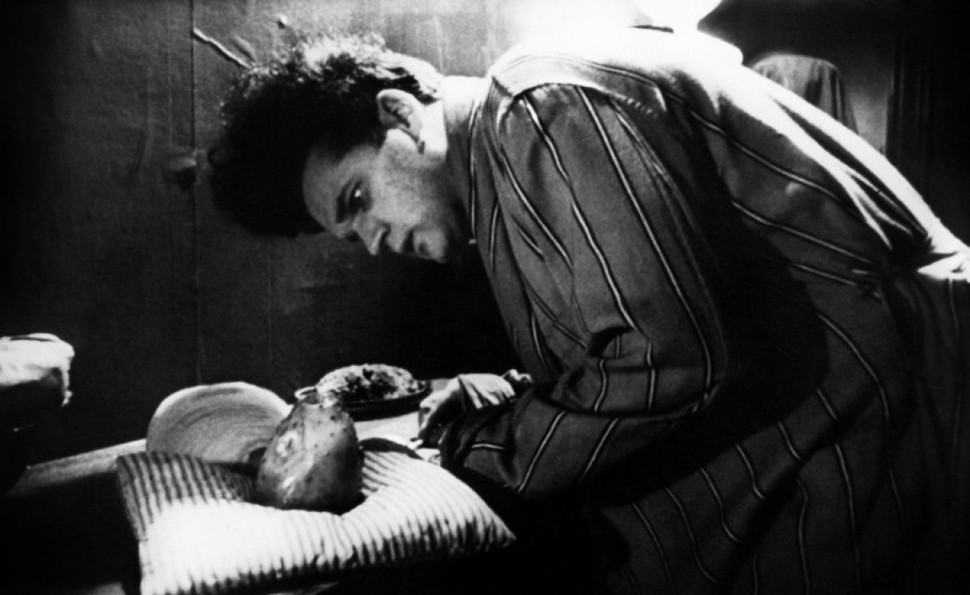 Photo: The Dissolve
Rotten Tomatoes score: 90%
Eraserhead is a 1977 American experimental body horror film written, directed, produced, and edited by David Lynch. Lynch also created its score and sound design, which included pieces by a variety of other musicians. Shot in black and white, it was Lynch's first feature-length effort following several short films. Starring Jack Nance, Charlotte Stewart, Jeanne Bates, Judith Anna Roberts, Laurel Near, and Jack Fisk, it tells the story of a man who is left to care for his grossly deformed child in a desolate industrial landscape.
Eraserhead was produced with the assistance of the American Film Institute (AFI) during Lynch's time studying there. It nonetheless spent several years in principal photography because of funding difficulties; donations from Fisk and his wife Sissy Spacek kept production afloat. It was shot on several locations owned by the AFI in California, including Greystone Mansion and a set of disused stables in which Lynch lived. Lynch and sound designer Alan Splet spent a year working on the film's audio after their studio was soundproofed. The soundtrack features organ music by Fats Waller and includes the song "In Heaven", written and performed for the film by Peter Ivers, with lyrics by Lynch.
Initially opening to small audiences and little interest, Eraserhead gained popularity over several long runs as a midnight movie. Since its release, it has earned positive reviews and is considered a cult film. Its surrealist imagery and sexual undercurrents have been seen as key thematic elements, and its intricate sound design as its technical highlight. In 2004 it was preserved in the National Film Registry by the United States Library of Congress as "culturally, historically, or aesthetically significant".
13. "The Invisible Man" (1933)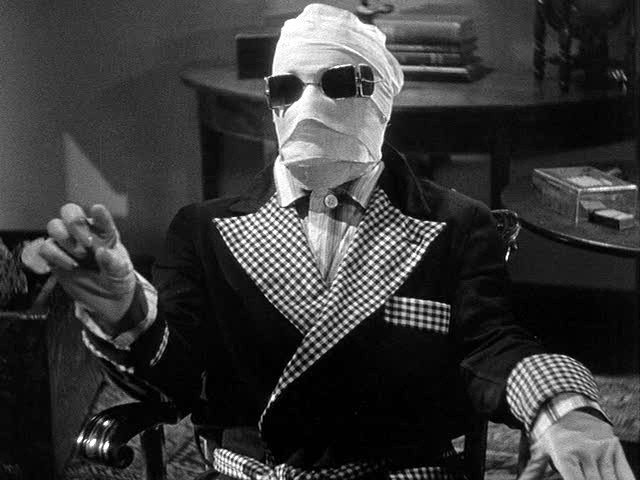 Photo: Imdb
Imdb: 7.7/10
The Invisible Man is a 1933 American science fiction horror film directed by James Whale. Based on H. G. Wells' 1897 The Invisible Man and produced by Universal Pictures, the film stars Claude Rains, Gloria Stuart, and William Harrigan. The film involves a Dr. Jack Griffin (Rains) who is covered in bandages and has his eyes obscured by dark glasses, the result of a secret experiment that makes him invisible, taking lodging in the village of Iping. Never leaving his quarters, the stranger demands that the staff leave him completely alone until his landlady discovers he is invisible. Griffin returns to the laboratory of his mentor, Dr. Cranley (Henry Travers), where he reveals his secret to Dr. Kemp (William Harrigan) and former fiancée Flora Cranley (Gloria Stuart) who soon learn that Griffin's discovery drives him insane, leading him to prove his superiority over other people by performing harmless pranks at first and eventually turning to murder.
On the film's release in 1933, it was a great financial success for Universal and received strong reviews from several trade publications, including The New York Times, which placed it among their Best in Film for the year 1933. The film spawned several sequels that were relatively unrelated to the original film in the 1940s and a remake in 2020. The film continued to receive praise on re-evaluations by critics such as Carlos Clarens, Jack Sullivan, and Kim Newman, as well as being listed as one of their favorite genre films by filmmakers John Carpenter, Joe Dante, and Ray Harryhausen. In 2008, The Invisible Man was selected for the United States National Film Registry by the Library of Congress as being "culturally, historically, or aesthetically significant".
14. "The Wicker Man" (1974)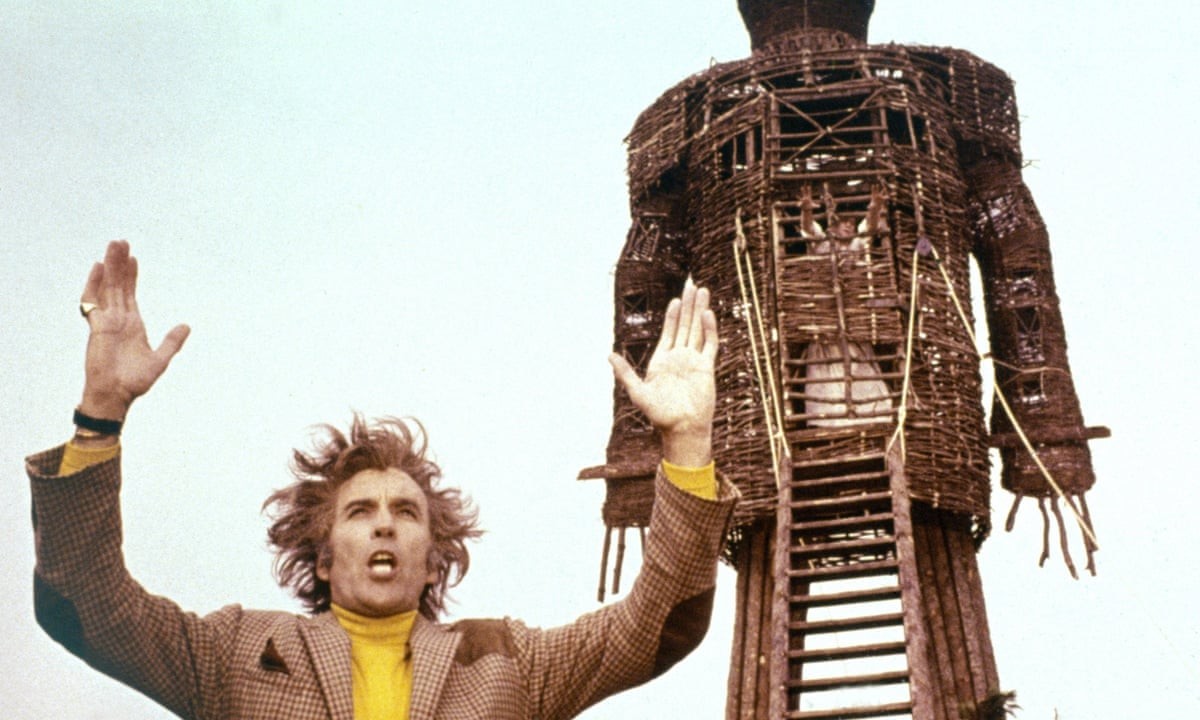 Christopher Lee in The Wicker Man, 1973. Photograph: Allstar/British Lion/StudioCanal
The Wicker Man is a 1973 British folk horror film directed by Robin Hardy and starring Edward Woodward, Britt Ekland, Diane Cilento, Ingrid Pitt, and Christopher Lee. The screenplay by Anthony Shaffer, inspired by David Pinner's 1967 novel Ritual, centres on the visit of Police Sergeant Neil Howie to the isolated island of Summerisle in search of a missing girl. Howie, a devout Christian, is appalled to find that the inhabitants of the island have abandoned Christianity and now practice a form of Celtic paganism. Paul Giovanni composed the film score.
The Wicker Man is well-regarded by critics. Film magazine Cinefantastique described it as "The Citizen Kane of horror movies", and in 2004, Total Film magazine named The Wicker Man the sixth greatest British film of all time. It also won the 1978 Saturn Award for Best Horror Film, the burning Wicker Man scene was No. 45 on Bravo's 100 Scariest Movie Moments, and during the 2012 Summer Olympics opening ceremony the film was included as part of a sequence that celebrated British cinema. In 2013, a copy of the original U.S. theatrical version was digitally restored and released.
In 1989, Shaffer wrote a script treatment for The Loathsome Lambton Worm, a direct sequel with fantasy elements. Hardy had no interest in the project, and it was never produced. In 2006, an ill-received. American remake was released, from which Hardy and others involved with the original have dissociated themselves. In 2011, a spiritual sequel directed by Hardy entitled The Wicker Tree, was released and featured Lee in a cameo appearance.
15. Jaws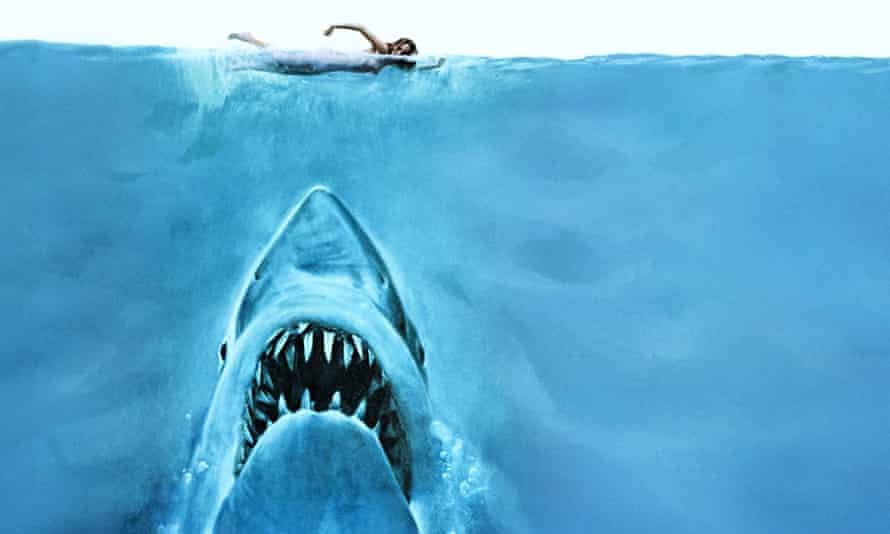 The classic poster image from the first release of the film Jaws. Photograph: Allstar/UNIVERSAL/Sportsphoto Ltd./Allstar
Imdb score: 8/10
A blockbuster arrived in U.S. theaters on June 20, 1975. The PG-rated, 124-minute feature adaptation of the best-selling novel Jaws quickly captured the attention of summer moviegoing audiences, becoming an enduring classic. The Hollywood Reporter's original review is below.
Like Warners' Exorcist of years ago, Universal's Jaws reeks of the sweet smell of success. Rarely has a picture generated quite so much advance want-to-see — and, significantly, for many of the same reasons that accounted for the previous box-office triumph. Its theme is already thoroughly familiar, even to those who have never read the book on which it is based. (Universal's shark's head logo should fill in the blanks for those few who have never even heard of the Peter Benchley novel.) And its multitudinous production problems, again well-publicized, could only generate further interest.
At bottom, however, lies an even stronger similarity. Both present as their central characters wholly demonic creatures — the Devil himself in The Exorcist, a 25-foot long Great White Shark in Jaws. Both attack their victims at random; it could be you, it could be me. Our fundamental belief in a logic of right and wrong is suddenly toppled; virtue here is neither rewarded nor recognized. We are all prey to the evil that walks the earth, or lurks in the waters just off our shores. And both demand as the price of their ultimate exorcism the life of at least one brave, believing soul.
16. "Halloween" (1978)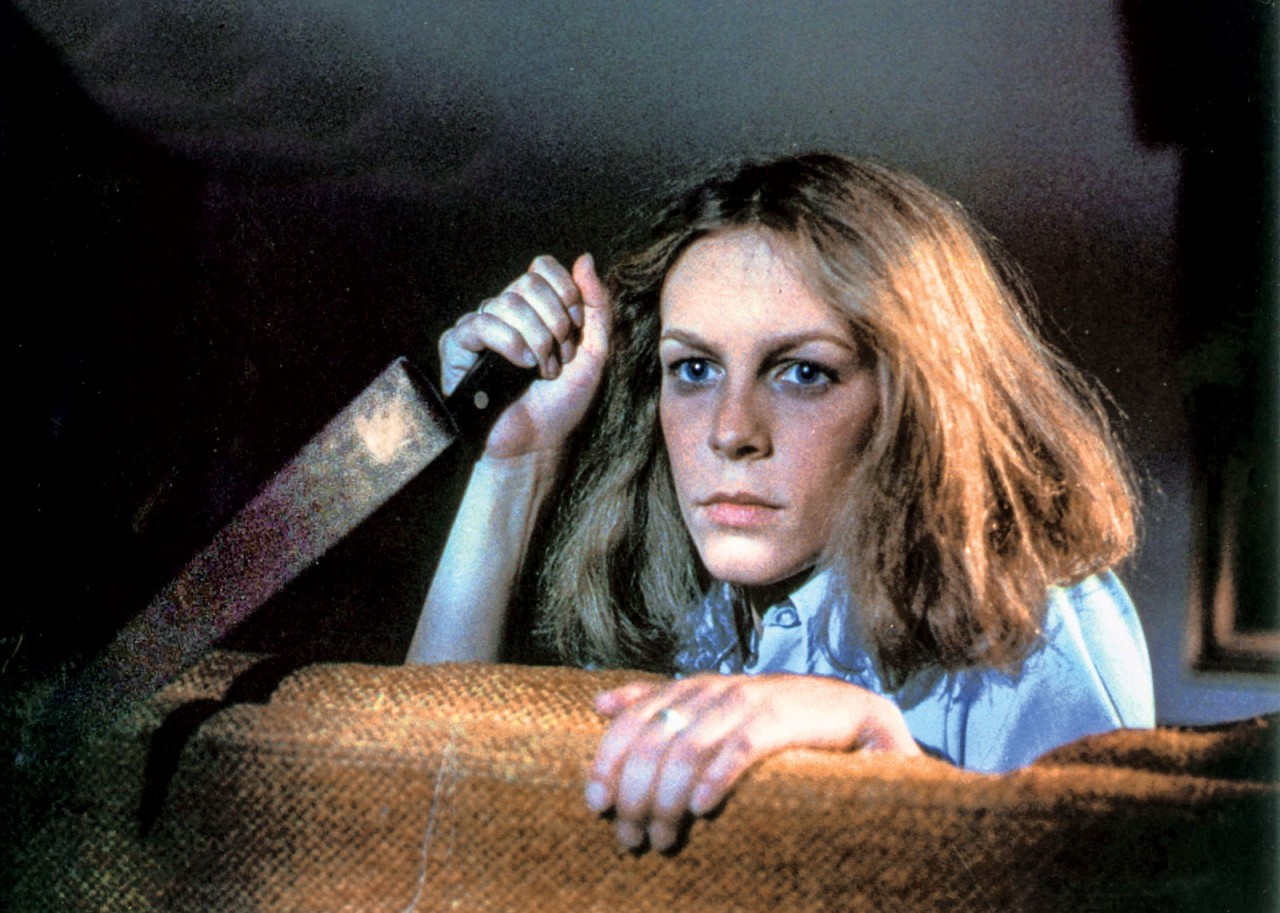 Photo: Britannica
Imdb: 7.7/10
On Oct. 25, 1978, writer-director John Carpenter unleashed Halloween in theaters, spawning decades of imitations and sequels of the iconic horror title. The Hollywood Reporter's original review is below:
Teenage girls in jeopardy is usually a good ingredient for horror, and director John Carpenter makes the most of the situation in Halloween, a tense and frightening film that is being released by Compass International Pictures. Carpenter obviously knows the genre well and he builds a properly terrifying atmosphere through his well-paced direction. It's an effective entry for its intended market.
The screenplay by Carpenter and producer Debra Hill concerns a boy who kills his babysitter on Halloween night and who, 15 years later, escapes from a mental institution to return to the scene of the crime to seek additional victims. The script offers little in terms of motivation or development, but it works strictly in terms of horror as several teenage babysitters are stalked by the masked psychomaniac.
Carpenter creates excellent tension throughout and he avoids excessive blood and gore in the murder sequences. The violent actions are mostly implied more than graphically depicted, which serves to heighten the effect.
17. "Hereditary"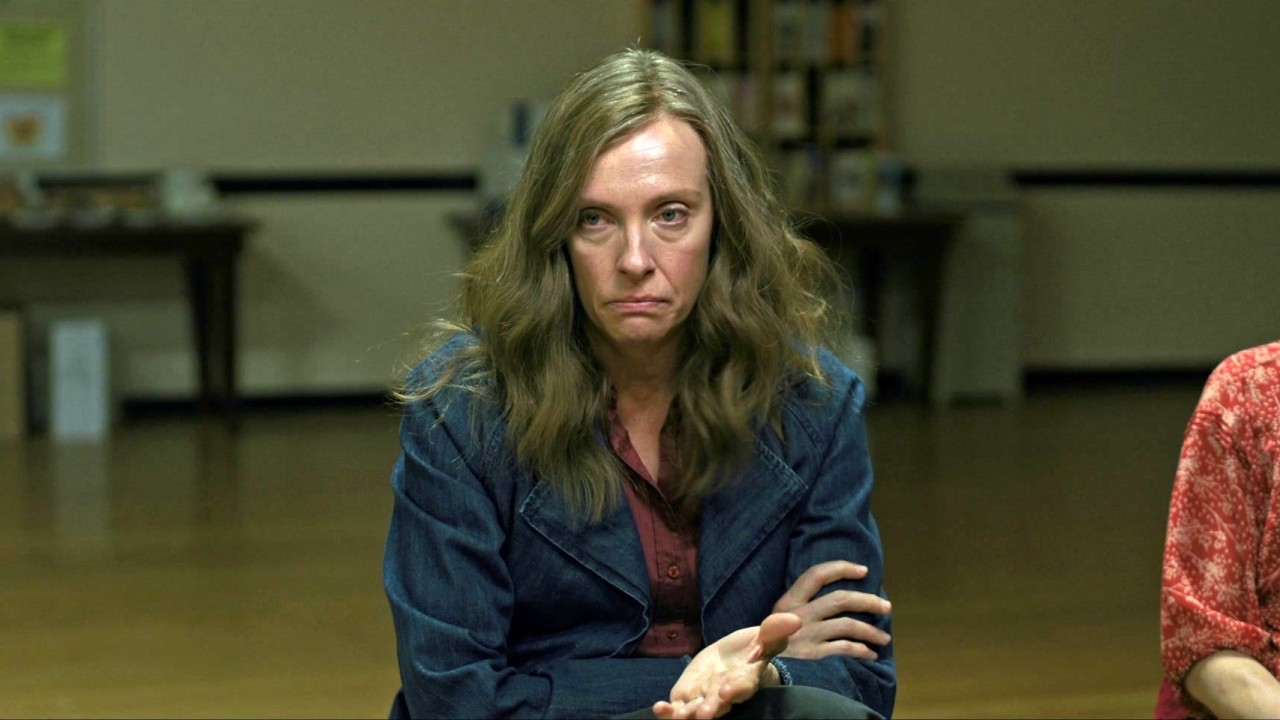 Photo: Metacritic
Imdb score: 7.3/10
At one point in "Hereditary," Ari Aster's highly effective new horror movie, a character screams "Get out!" It's not yet clear what she means — or who, exactly, she's addressing — but the line is both a pretty good jolt and a clever meta-joke.
Invoking the title of the movie that set a new standard for commercial success, cultural prestige and societal relevance in an often-underestimated genre may be a way of acknowledging the raised expectations of the audience. What "Hereditary" shares with "Get Out" — apart from a house full of white people behaving strangely — is an ambitious energy, a sense that the creaky old machinery of horror can be adapted to new and exciting uses.
The girl's name is Charlie Graham, and she's played by a remarkable young actress named Milly Shapiro. Charlie's hobby is assembling makeshift toys out of peculiar objects, including the severed head of a bird she decapitates with a pair of classroom scissors. This seems like a creepy variation on the artwork that Charlie's mother, Annie (Toni Collette), makes in the studio that occupies part of their spacious wood-frame house. Annie constructs dollhouse-like dioramas that are painstakingly detailed and that recreate, in miniature, scenes and places from her own life. "Hereditary" is a terrifically absorbing puzzle until the moment you solve it, when its disparate elements coalesce into a dispiritingly familiar picture.
18. "The Innocents"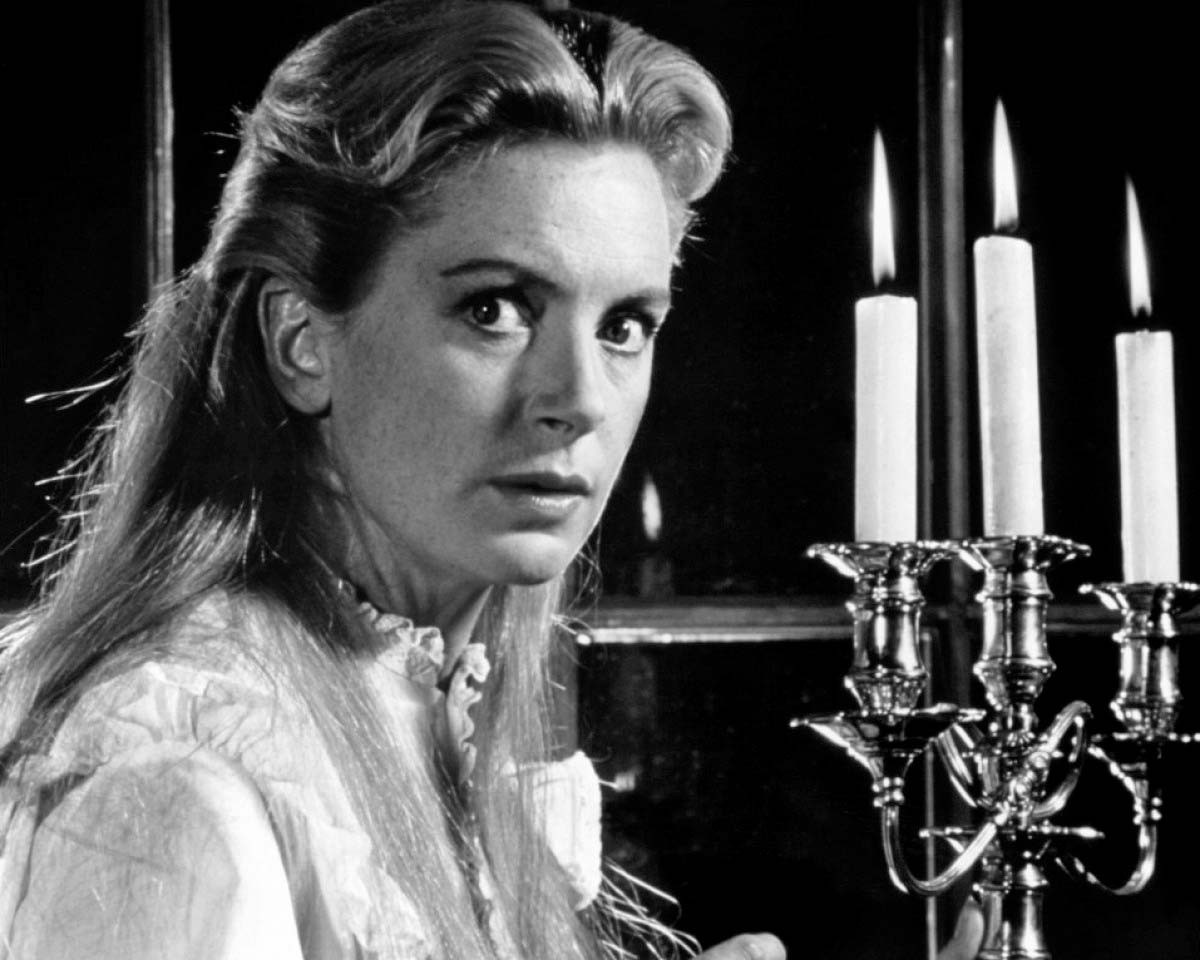 Photo: Britannica
Imdb: 7.8/10
Jack Clayton's The Innocents (1961), now on national rerelease, is an elegant, sinister and scalp-prickling ghost story – as scary in its way as Rosemary's Baby or The Exorcist. It has to be the most sure-footed screen adaptation of Henry James, taken from his 1898 novella The Turn of the Screw, clarifying some of the original's ambiguities and obscurities, but without damaging the story's subtlety. Deborah Kerr plays Miss Giddens, a governess hired to look after two children in a country estate: Flora (Pamela Franklin) and Miles (Martin Stephens). Miss Giddens finds something she describes as "secret, whispery, and indecent": the house is haunted by the souls of Peter Quint, a drunken, disreputable valet, and Miss Jessel, the former governess whom he seduced. Without admitting it, the children can see the ghosts as well; the spectres have become their secret, parasitical friends. Flora's pertly knowing innocence and Miles's insolent adult hauteur show how the children become possessed and corrupted by them. Clayton brilliantly uses slow dissolves to create ghostly superimpositions, and the harmless squeals of bath-time fun, or squeakings of a pencil, suggest uncanny screams.
19. "Night of the Living Dead" (1968)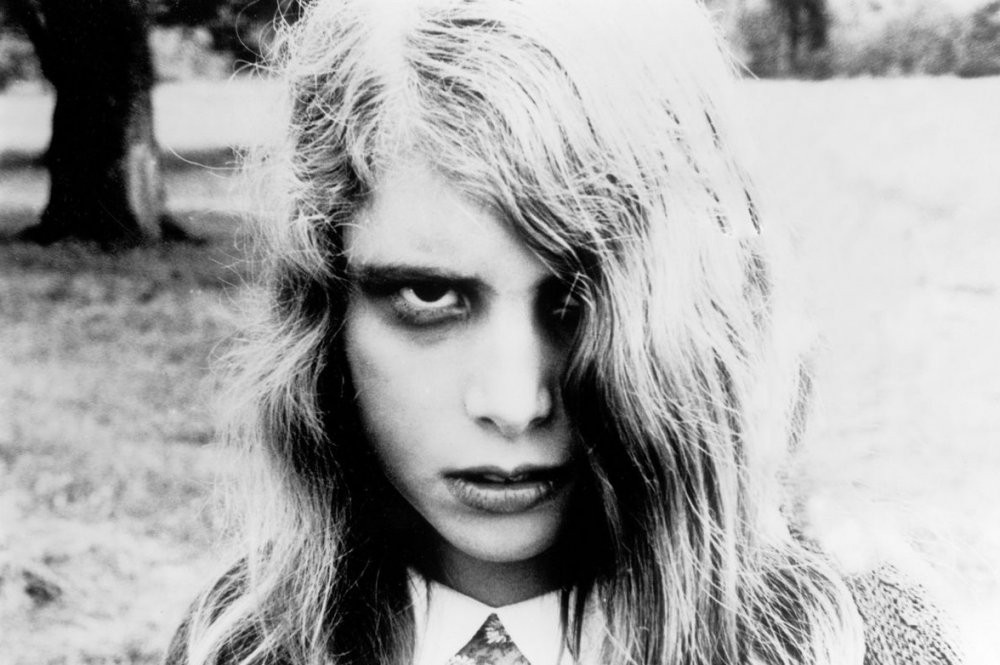 Photo: BFI
Imdb: 7.9/10
The grandaddy of low-budget zombie siege horrors, George A Romero's 1968 classic casts a long shadow. It remains a nightmare experience that's not easily brushed off. And despite its ramshackle scrappiness in production terms, and some dated gender politics, the storytelling is first class, pitching us straight into the action, but only revealing its full hand gradually. The first "ghoul" (nobody says zombie in the film) attacks Barbra (Judith O'Dea) and kills her brother in broad daylight within minutes. Taking refuge in an abandoned house, Barbra soon receives company from more shuffling ghouls, hungry for human flesh, but also from Ben (Duane Jones), a young African American man who proves to be the only character in the movie with the wherewithal to do something about the crisis. He's good at boarding up windows and hand-to-hand combat, though his victim-support skills towards the catatonic Barbra are limited.
20. "Psycho" (1960)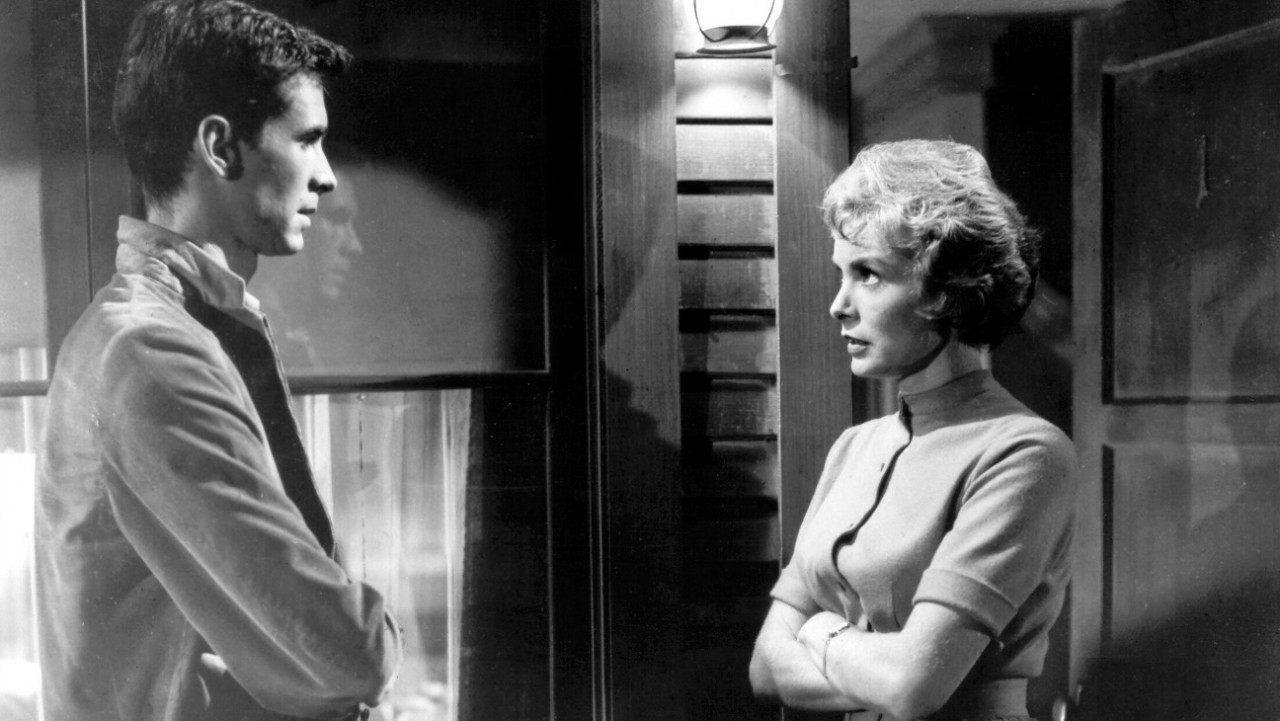 Photo: Hollywood Reporter
Imdb score: 8.5/10
Author Robert Bloch, on whose novel Joseph Stefano's screenplay was based, described Alfred Hitchcock's Psycho as embodying "the fear of the boy next door". The terror, for Bloch, lay in the fact that the killer "could be the person sitting next to you". Bloch had been inspired to write his potboiler (copies of which Hitchcock reportedly bought up to keep the end a surprise) by news reports about Ed Gein, the seemingly ordinary Wisconsin loner who was revealed to be a murderer and necrophile. Dubbed "the Wisconsin ghoul", Gein made ornaments and clothing from the skin of the dead and inspired a legacy of fictionalised screen shockers, ranging from the trashy Deranged to the epochal Texas Chainsaw Massacre and Oscar-winning The Silence of the Lambs. But it was Anthony Perkins's maternally obsessed misfit in Psycho who most perfectly distilled the modern fear of the monster who looks just like you. "My name is Norman Bates," sang British synth combo Landscape in 1981, "I'm just a normal guy …" proving that Perkins's creation still had pop cachet two decades after his first appearance.
Dispute still rages as to the provenance and power of Psycho's notorious shower sequence, which has become perhaps the most iconic murder scene in the history of cinema. Designer Saul Bass's preparatory storyboards so closely detail every moment of the sequence that some have suggested he should share directorial credit with Hitchcock. Others argue that it is Bernard Herrmann's stabbing score, with its screeching atonal strings, which packs the real punch.
10 Best Movies To Enjoy in 2021

2021 is the year for many great movies, TV series and short documentaries that made their ways to the big screen. Here is a list ...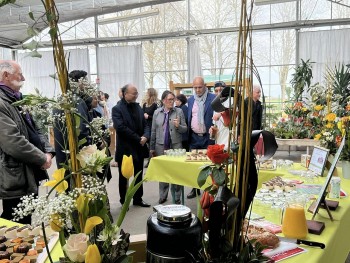 Overseas Vietnamese
Vietnamese Ambassador to France Dinh Toan Thang recently paid a working visit to Saintes, a city in southwestern France, to promote cooperation between the city and Vietnamese localities and attended the Vietnamese Culture Day, VNA reported.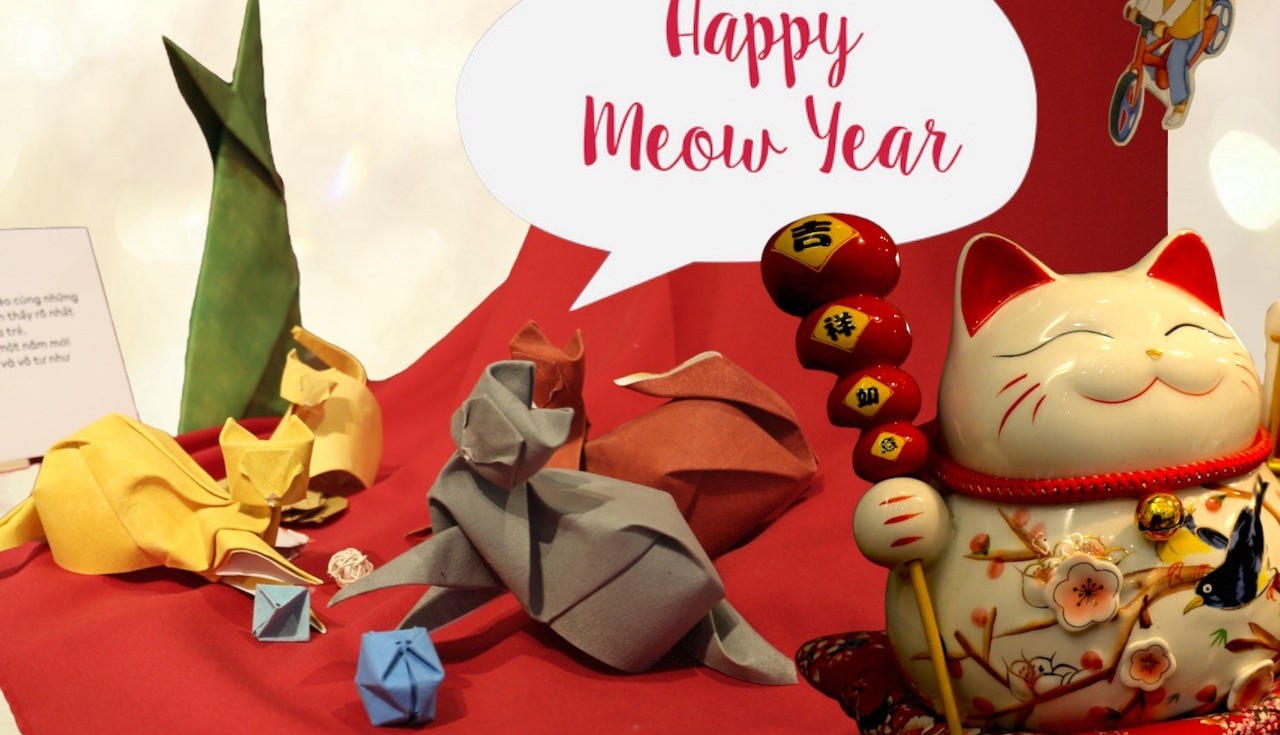 Handbook
The Year of the Cat is right at the corner and it is time to celebrate for all you cat lovers out there. This holiday season, check out how you can enjoy the company of furry feline friend, from cute cafe to personalized gifts in Hanoi.
January 20, 2023 | 08:22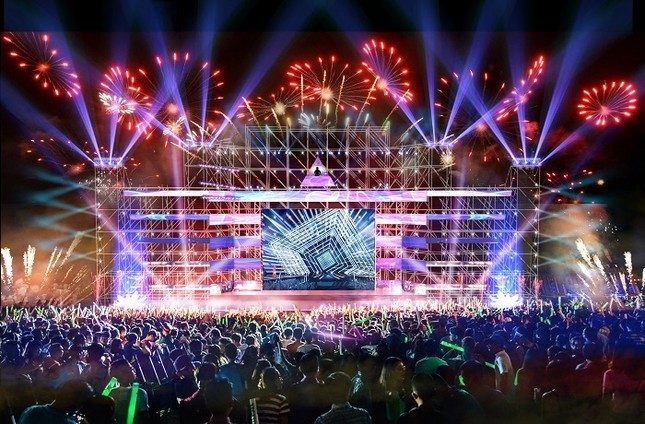 Handbook
Hanoi's young people are eagerly inviting each other to watch fireworks on New Year's Eve. Here are a few things to keep in mind and places with great views for people to watch the fireworks display.
January 17, 2023 | 07:41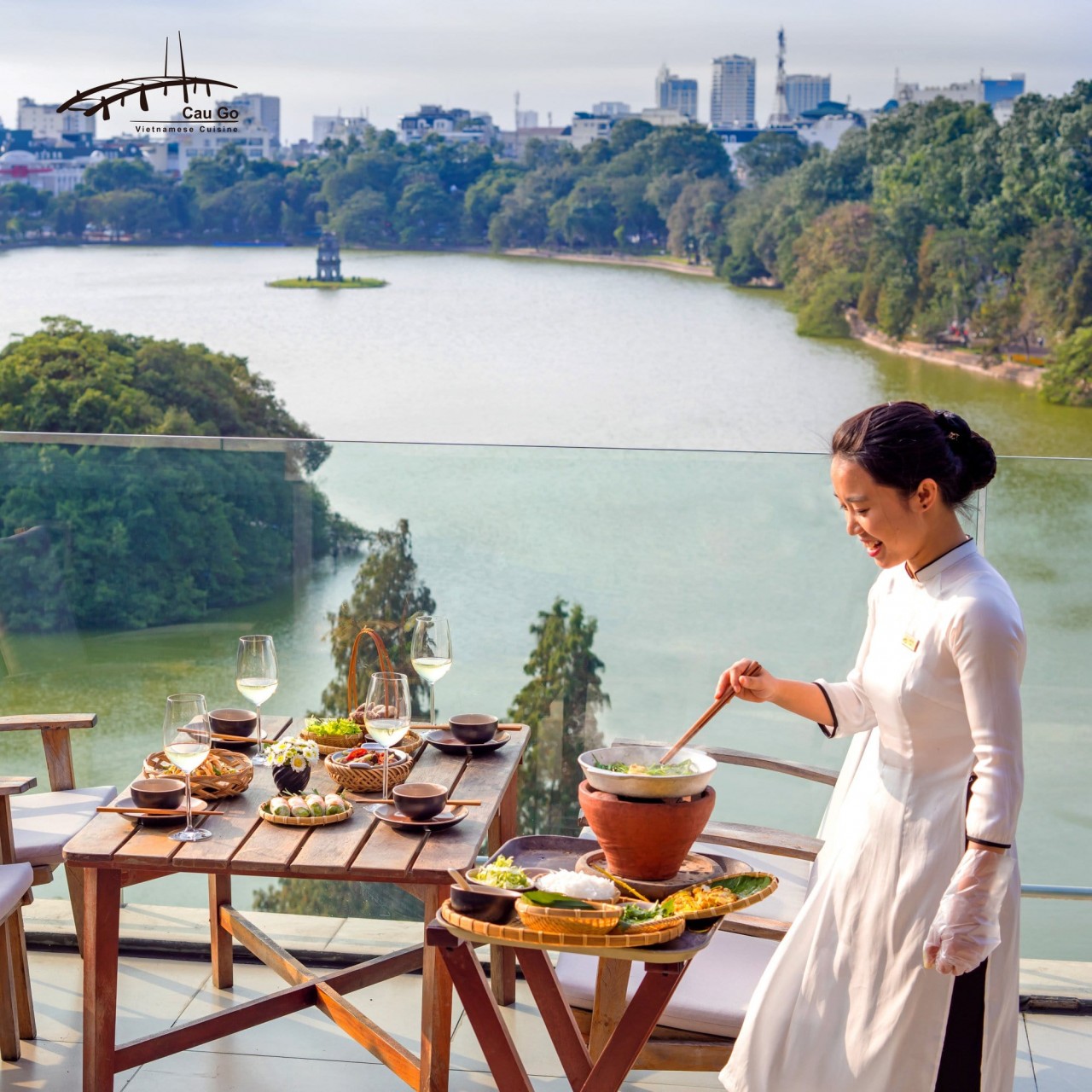 Handbook
Hanoi captivates visitors from all over the world with popular foods like pho, bun cha, etc. If you have a chance to visit the city during the Lunar New Year, try dining at restaurants serving traditional Hanoi dishes to immerse yourself in the culture of Tet in the North of Vietnam.
January 16, 2023 | 08:21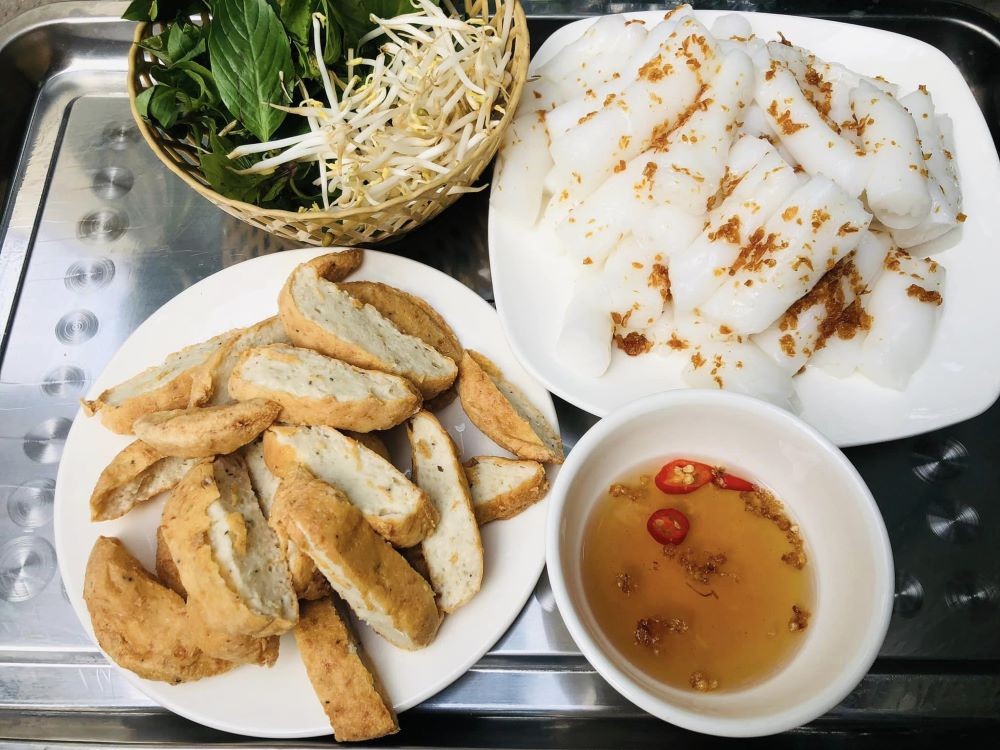 Handbook
The following Nghe An dishes are rated by many diners as delicious, nutritious, and cheap
January 09, 2023 | 06:56