20th anniversary of Vietnam–China Land Border Treaty to celebrate in Quang Ninh
Activities will be held to mark the 20th anniversary of the signing of the Vietnam–China Land Border Treaty and the 10th anniversary of the implementation of three legal documents on land border, on August 23.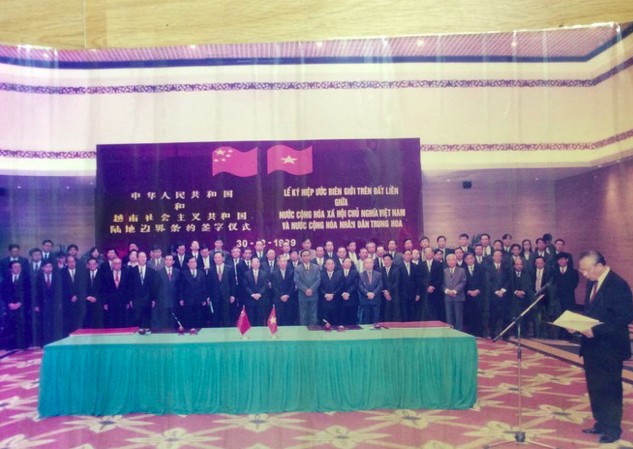 The signing ceremony of the Vietnam-China land border treaty on December 30, 1999. Archive photo
According to VNA, Vietnamese Deputy Prime Minister and Foreign Minister Pham Binh Minh and Chinese State Counsellor and Foreign Minister Wang Yi will co-chair celebrations which are going to take place in the northern province of Quang Ninh on August 23.
The event affords both sides a chance to review achievements and experience after 10 years of implementing the three legal documents on land border and 20 years of the signing of the Land Border Treaty, as well as cooperation and development in border areas.
They are scheduled to outline orientations to launch key tasks to further improve management in land border areas, contributing to promoting the bilateral comprehensive strategic cooperative partnership.
2020 carries an important meaning in the two countries' traditional friendship as they celebrate the 70th founding anniversary of their diplomatic ties and look back at the neighbourly friendship built and nurtured by the late Presidents Ho Chi Minh and Mao Zedong along with the two countries' revolutionary predecessors.
To date, Vietnam and China have successfully held 11 meetings of the Steering Committee for Bilateral Cooperation, along with other undertakings such as border defense friendship exchanges, strategic security dialogues and defence strategy dialogues. The two nations have maintained mutual visits by naval ships; conducted joint patrols on land and the Gulf of Tonkin and joint fishery inspections; and held young officer exchanges.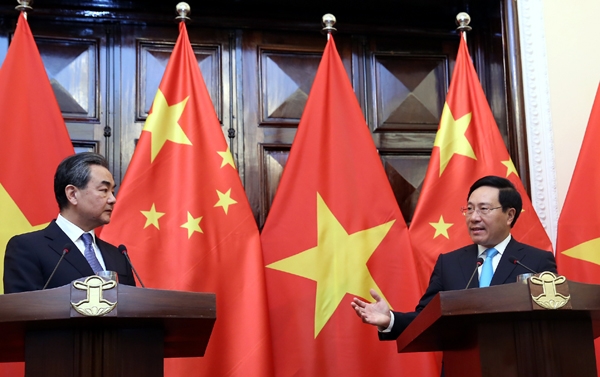 Deputy Prime Minister, Foreign Minister Pham Binh Minh (R) and Chinese Chinese State Councilor and Foreign Minister Wang Yi co-chair a press conference at the Government Guest House in Ha Noi on April 1, 2018. Photo: VGP
The two countries signed a wide range of important documents that create the prerequisite to build a Vietnam – China borderline that boosts peace, stability and development, contributing to enhancing the traditional relations as well as cooperation between the two sides. The agreements include the Land Border Treaty (signed in 1999), the agreements on maritime boundary delimitation and on fishery cooperation in the Gulf of Tonkin (2000), and three documents on land border management (2009).
The two countries signed the three legal documents, namely the Protocol on border demarcation and marker planting, the Agreement on border management regulations, and the Agreement on border gates and land border gate management regulations, in Beijing on November 18, 2009./.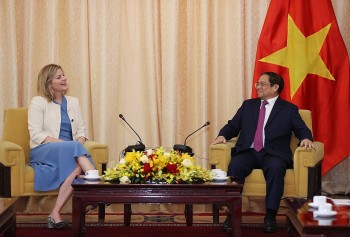 National
The Netherlands committed to cooperate with Vietnam, and together find innovative and sustainable solutions to accelerate green economy transformation.