Malaysia requested to treat detained Vietnamese fishermen humanely
Vietnam has asked Malaysia to treat detained Vietnamese fishermen humanely and handle issues relating to Vietnamese fishermen and fishing vessels in line with international law, Foreign Ministry spokesperson Le Thi Thu Hang said on August 20.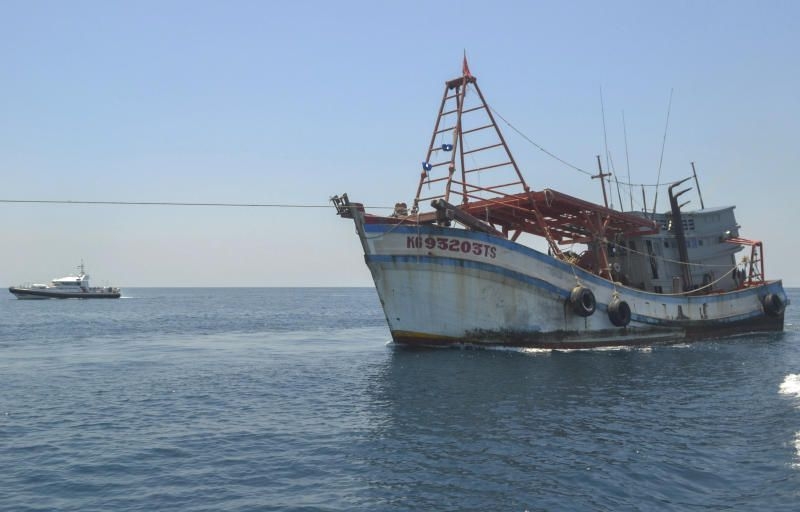 The Vietnamese fishing boat that has been held by the Malaysian Maritime Enforcement Agency (MMEA) personnel since Monday (Aug 17), in Tok Bali Kelantan. Source: Bernama
Hang made the remarks during a press briefing in Hanoi on August 20, informing the press that the Malaysian law enforcement chased Vietnamese fishing vessels that led to the death of a Vietnamese fisherman, and 18 other fishermen were detained in a recent incident.
Vietnam has asked Malaysian authorities to investigate the case, punish those responsible for the death of the Vietnamese fisherman, and not allow similar acts to happen again, Hang said.
The Consular Department under the Ministry of Foreign Affairs on August 18 have been contacted and handed over a diplomatic note to the Embassy of Malaysia in Vietnam to express its concerns over the matter.
The ministry has instructed the Vietnamese Embassy in Malaysia to work with the Malaysian Ministry of Foreign Affairs and requested Malaysian authorities provide detailed information regarding the incident, and facilitate representatives from the Vietnamese Embassy to pay consular visits to the detained fishermen and take necessary citizen protection measures, she said.
The Malaysian Maritime Enforcement Agency said Monday that the two Vietnamese boats entered Malaysian waters late Sunday and refused to stop when approached by a coast guard vessel.
When the Malaysian vessel fired warning shots, the Vietnamese threw petrol bombs and tried to ram the vessel with their boats, leaving officials no choice but to fire at the boats in self-defence, it said in a statement on Facebook. One Vietnamese fisherman died and 18 others detained, it said.
The maritime agency has said the Vietnamese fisherman have no valid identity documents. They will be investigated for illicit entry and illicit fishing, as well as attempted murder, it said.
Since June 24, the agency said it has detained 43 foreign fishing boats for intrusion into Malaysian waters and detained 487 Vietnamese crew members.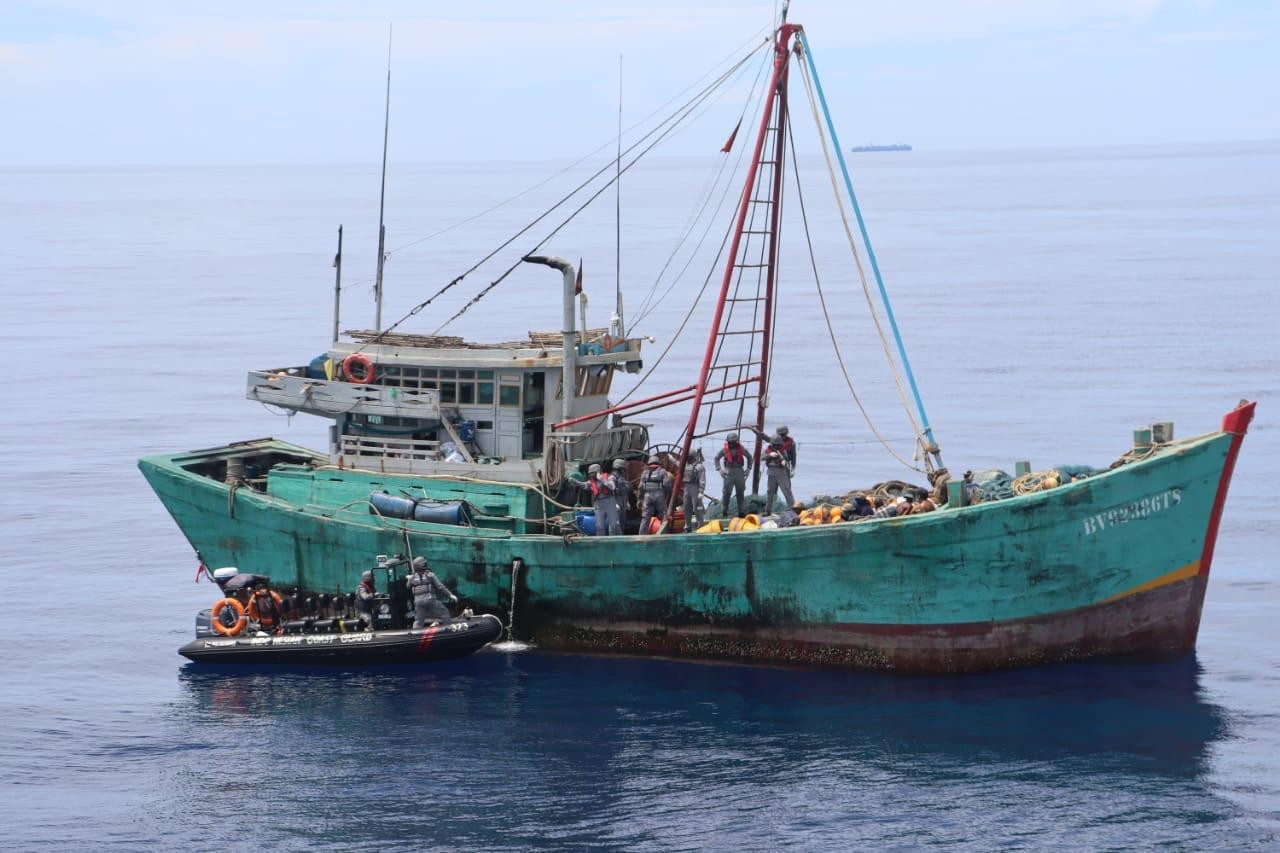 Personnel of Indonesian patrol boat KN Pulau Dana 323 intercept a Vietnamese fishing boat in North Natuna Sea on July 26, 2020. Photo courtesy of Bakamla
Regarding three Vietnamese fishing vessels, with 26 fishermen on board, detained by Indonesia, Hang said: Immediately after being notified of the incident, the Embassy of Vietnam in Indonesia has contacted local authorities to verify the report and obtain detailed information about the arrested fishermen.
According to reports from Indonesia, the three fishing boats and fishermen were brought back to a facility of the marine and fisheries resources surveillance agency in Pontianak for further investigation.
They face charges of illegal fishing and using banned fishing tools.
Indonesia, the world's biggest archipelago nation, says illegal fishing costs its economy billions of dollars annually and has been trying to stop foreign vessels entering its territory.
In March, maritime authorities seized five Vietnamese fishing boats and nearly 70 crew in the area, AFP reported.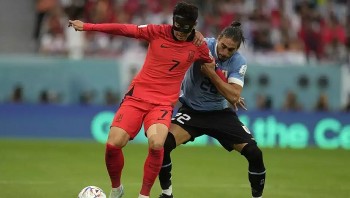 World
Both South Korea and Ghana are searching for their first wins at this year's World Cup. Ghana are facing the prospect of an early elimination from World Cup 2022 Group H when they travel to the Education City Stadium to face South Korea on Monday.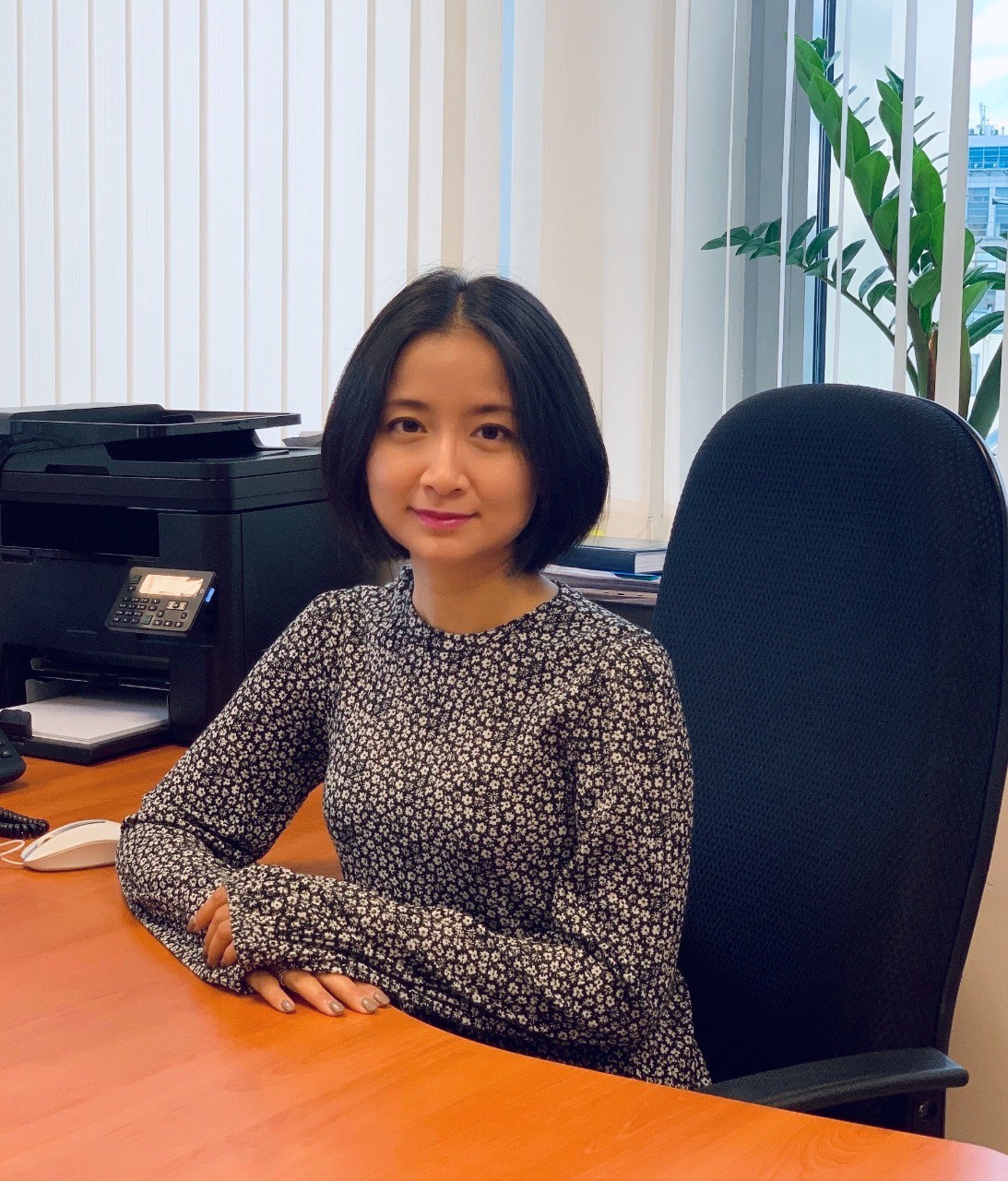 Overseas Vietnamese
Doan My Linh (born in 1990) is currently a lecturer at the Faculty of Marketing, Russian Economic University, Plekhanov. In addition to teaching, she spends most of her free time on activities to support Vietnamese students.
November 13, 2022 | 06:58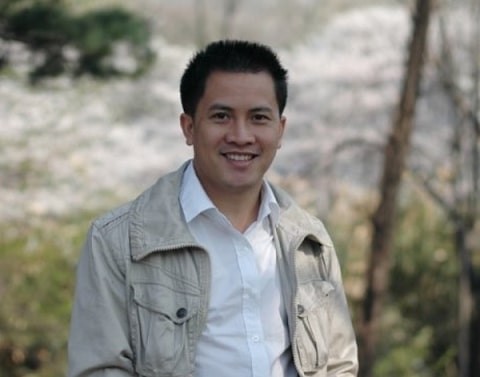 Viet's Home
The research results on the application of AI technology by doctor Truong Van Tien have been published in two prestigious journals and many magazines in the US.
November 12, 2022 | 08:12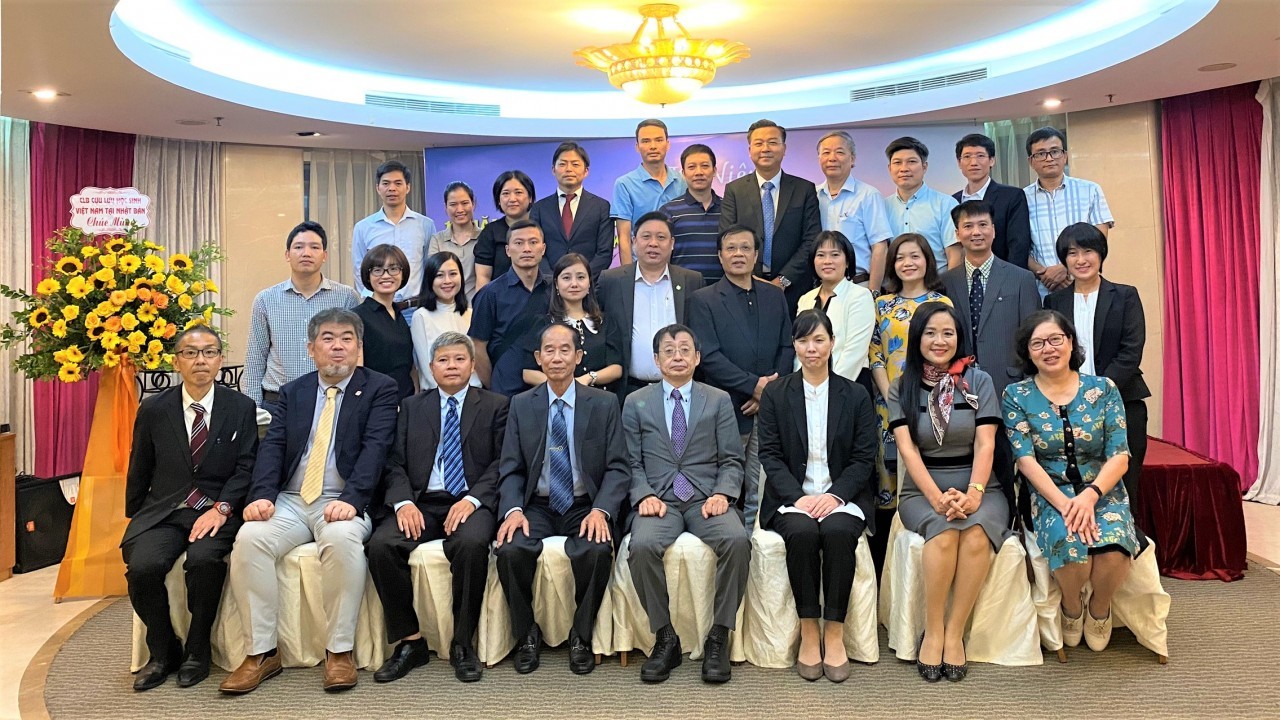 Overseas Vietnamese
The Vietnam Alumni Club in Fukuoka, Japan (FVAJA) just celebrated its 10th anniversary.
November 10, 2022 | 07:13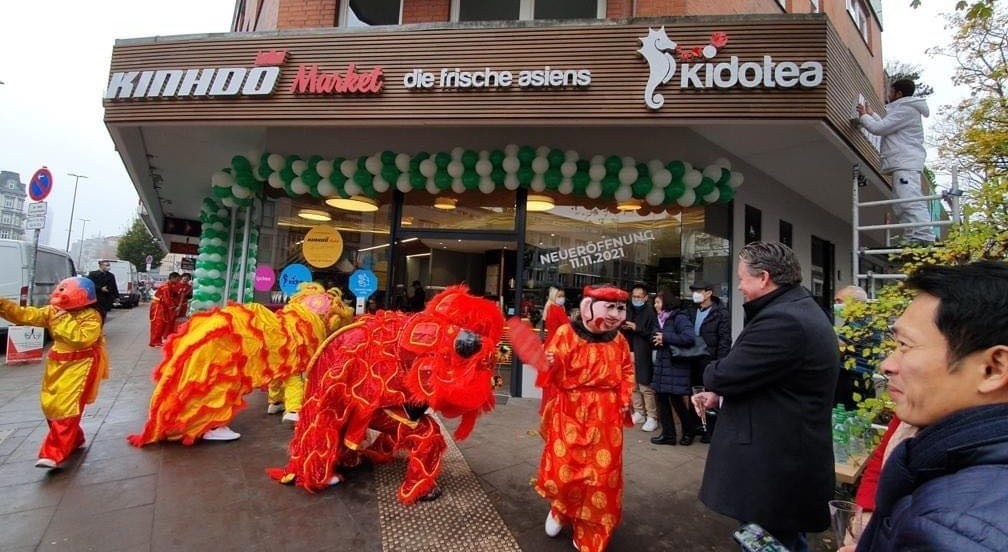 Overseas Vietnamese
After over a year of selling traditional Vietnamese dishes in Hamburg (Germany), Lam is happy that not only overseas Vietnamese in Germany but many Germans are also enjoy banh mi. This dish has quickly become a "best seller" and the pride of this restaurant.
November 07, 2022 | 08:13