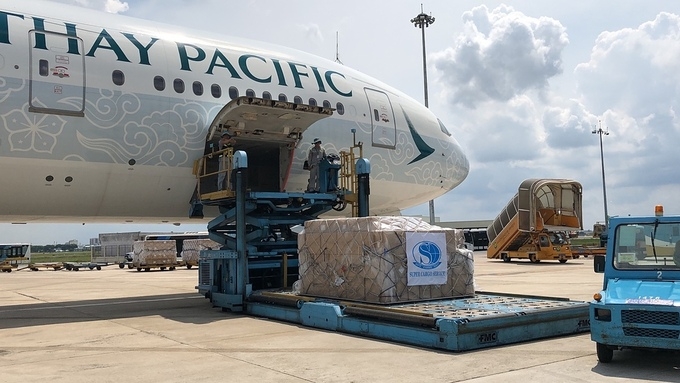 Shipments of medical protective equipment are transferred onto the aircraft. Photo: SCS.
This huge number of personal protective suits, masks and gloves was ordered by the New York City government with Vietnamese partners.
In the afternoon of May 20, Mr. Huynh Quoc Dinh, Director of Super Cargo Service, the shipping unit, announced that the last shipment bringing 5 million made-in-Vietnam PPE arrived in John F. Kennedy International Airport.
To transport such large volumes within just one week, the company has cooperated with four airlines including Ethiopia Airlines, Cathay Pacific, Eva Airlines and Philippines Airlines, Dinh said.
"8 large-body aircrafts including Boeing 777-300ER and Boeing 777- 360 ER, from 4 foreign carriers, constantly landed at Tan Son Nhat airport last week to transport 5 million PPE from Vietnam to the US. This only happens during the COVID-19," Dinh added.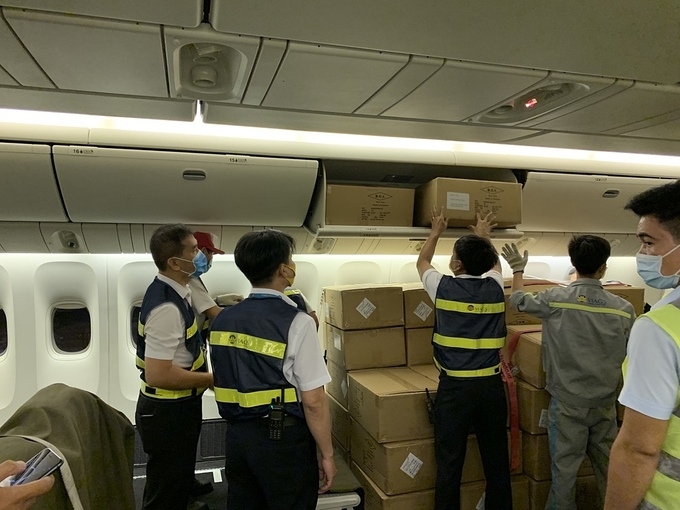 Passenger compartment is also requisitioned for cargo. Photo: CSC
Demands for medical supplies are increasing after New York Governor Andrew Cuomo urged residents to wear face masks on April 15, with the city being one of the hardest hit states by the COVID-19 in the US. As of May 20, it reported 357,757 cases of infection and 28,437 deaths.
Moreover, early May also saw New York City Mayor Bill de Blasio unveil plans to deliver 5 million surgical masks and 2.5 million cloth masks free of charge to the city's residents over the coming weeks.
CBSNews quoted Mayor de Blasio as saying that the metropolis had placed an order for large quantities of medical protective clothing from a factory located in Vietnam, adding that the city will have sufficient medical supplies by mid-May.
Vietnamese logistic experts said, this large order is a sign shows that the US will keep buying made-in-Vietnam protective personal equipment for its fight against the coronavirus.
"The United States and some European countries are turning to buy protective personal equipment from Vietnam", Dinh said.
In order to meet the demand of face mask for Covid-19 prevention, Viet Nam businesses have improved their abilities and innovation for mask production. This makes Vietnam able to become a large-scale cloth face mask producer in the world, according to the Ministry of Industry and Trade.
Jennifer Tran