7 Best Eateries to Enjoy "Xap Xap" in Da Lat
Da Lat is well-known for its excellent and nutritious local cuisine in addition to poetic surroundings and several famous tourist attractions. Da Lat's "Xap Xap" is a local delicacy.
Getting to know Da Lat "xap xap"
The dish from Da Lat's hazy area gets its name from the way it is prepared. Shredded papaya, dried beef, beef liver, sesame paste, chili sauce, basil, and peanuts are the major components of this unique cuisine.
After preparing all the ingredients, the cook begins to arrange them one by one on the plate. The name "Xap Xap Da Lat" was probably also born from there, and then gradually became a familiar name for the local people.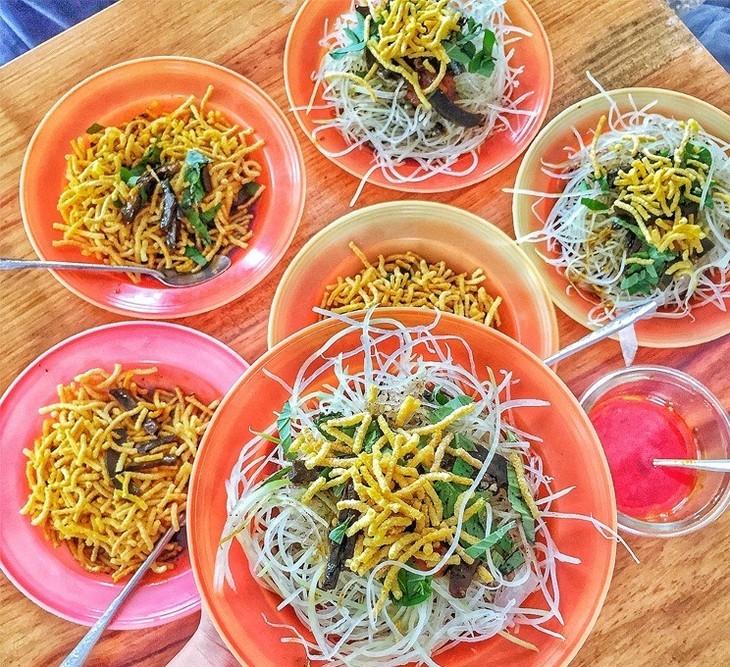 Photo: 360Dalat
The dish is quite similar to beef dry salad but still has its own flavor of Da Lat. The most distinct is probably in the broth, which is made from tamarind juice with mild acidity, neither too sweet nor too spicy.
In the soup that is given with the leek, flavors like the crunch of papaya fiber and the perfume of basil combine to create an appealing snack that should not be missed when visiting Da Lat.
This dish is frequently available at Da Lat eateries. The average cost of Xap Xap is about $1, which is a pretty reasonable price given how great it tastes.
7 best eateries to enjoy "xap xap" in Da Lat
Xap Xap Ba Trieu
The shop is located at 23/2 Ba Trieu, Ward 1, Da Lat city, Lam Dong province. Here is some information about the eatery: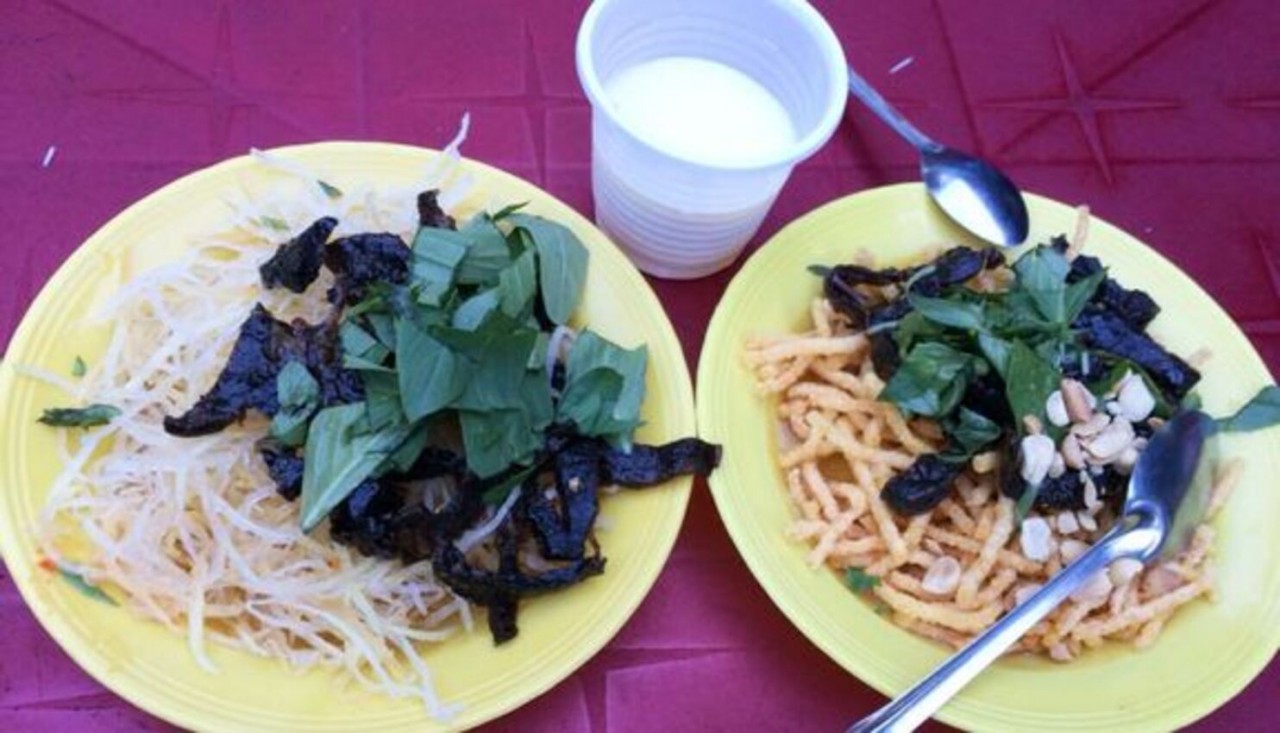 Photo: didaudo
Opening time: 2 a.m. - 8 p.m.
Numerous positive reviews were left about the shop. It offers a wide variety of delicacies, including banh beo, hoành thánh chiên, trứng cút chiên, bò pía, etc.
The shop also offers somewhat more expensive products for sale online on several applications, including Foody and Shopee Food.
Xap Xap Tran Hung Dao
The eatery is located at number 28, Tran Hung Dao street, Da Lat.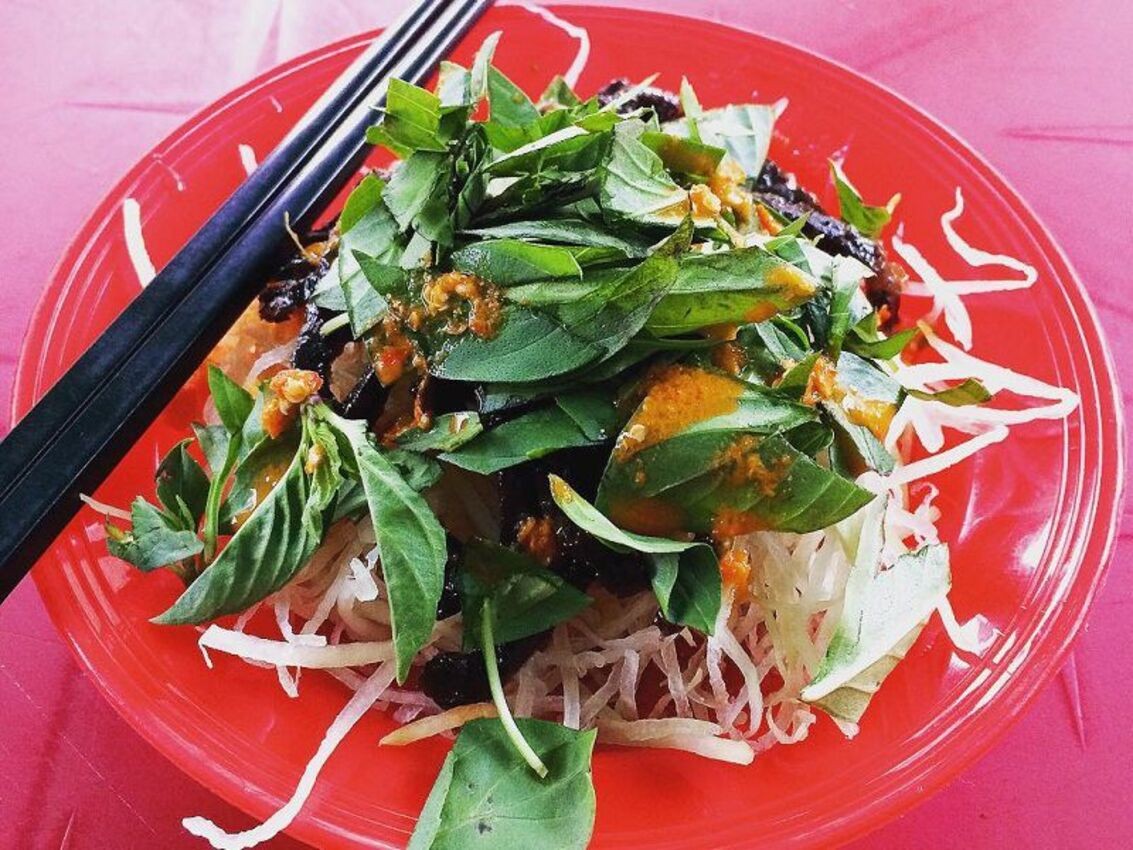 Photo: didaudo
Opening time: All week, 09 a.m. to 5 p.m.
In comparison to the going rate in Da Lat, the prices for the shop's other meals are relatively reasonable. Depending on your needs, you can dine straight away in the shop's tiny space with a few chairs or order to takeaway.
The decoration at the restaurant is exquisite and authentic to the flavor of Da Lat. The eatery also offers crispy fried noodles, which are excellent and well worth trying.
Xap Xap Nam Dinh Da Lat
The eatery is located at the back gate of Nguyen Trai Primary School, Alley 70, Bui Thi Xuan Street, Ward 2, Da Lat.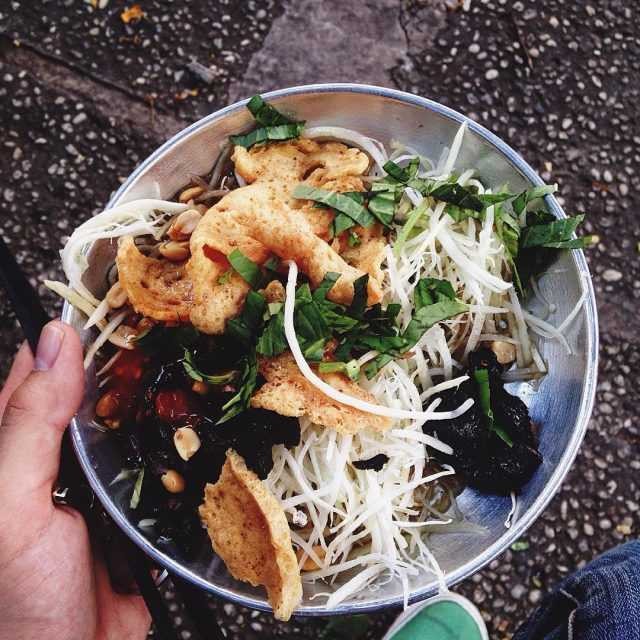 Photo: 123tadi
Opening time: 3 p.m. - 9 p.m.
Many young people in Da Lat still remember the long-established snack brand Nam Dinh with their upbringing. The shop used to be nothing more than a dump truck and some mixed rice paper. It is now available through food delivery services including GrabFood, Baemin, and Shopee Food.
The rice paper and dumplings at the eatery are excellent and frequently garner positive reviews. Additionally, the shopkeeper is quite witty, which is one of the factors contributing to its popularity.
Xap Xap A Ty
The eatery is located at No.119B, Nguyen Van Troi Street, Ward 2, Da Lat City.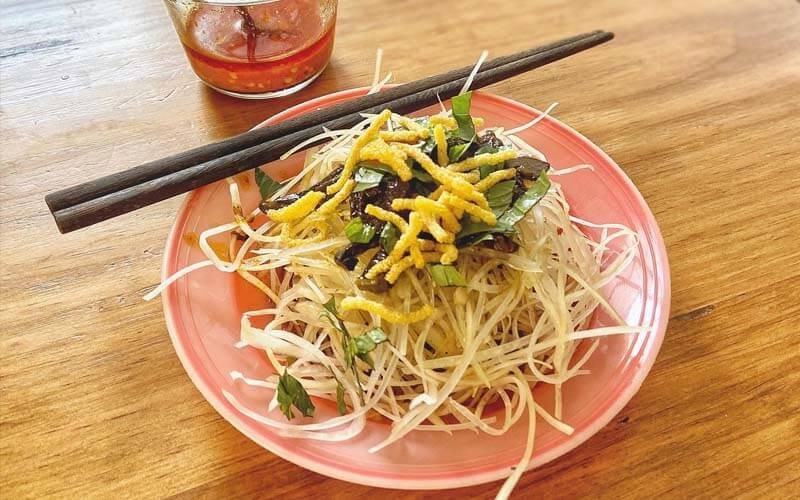 Photo: topbiz
Opening time: 5 p.m. - 10 p.m.
A Ty shop is in a compact space with a well organized structure. The shopkeeper is a lovely and affable person, which helps ensure that diners are always comfortable when they visit.
The shop's menu is highly varied, with delectable items including fried dough, fried rice, mango salad, beef, crab soup, and mixed rice paper available in addition to the Da Lat salad.
Xap Xap co Nam
The eatery is located at Alley 9, Nguyen Dinh Chieu Street, Ward 9, Da Lat.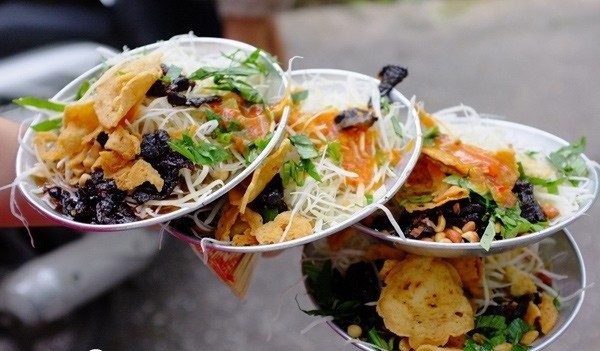 Photo: mytourblog
Opening time: 8 a.m. - 9 p.m.
The restaurant is roomy and spotless, and the staff provides prompt and cheerful service. Over 30 years have passed since the establishment first opened. Other snacks at the restaurant are also very delicious, including chè bột ngon, bún cari, mì chiên, bánh mì xíu mại, etc.
Xap Xap at Yersin Park
The eatery is located at Yersin Park, Ward 1, Da Lat.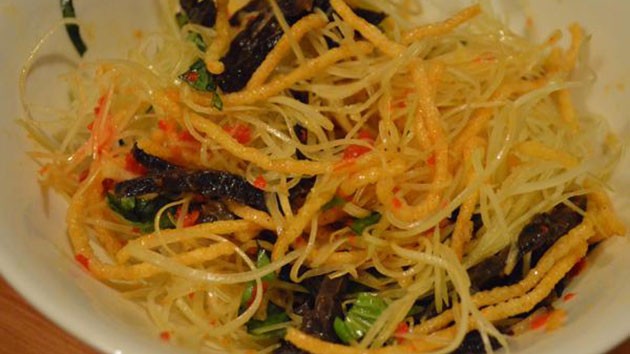 Photo: dulichdalat
Opening time: all day
With several sellers providing mouthwatering snacks, Yersin Park is the perfect place to enjoy snacks or street cuisine in Da Lat. The Xap Xap dish being offered in the park are equally vivid and include traditional Da Lat hues.
There are several lovely flowers, as well as a lot of open space, in the park. Nothing beats sitting down to a meal of shambles while catching up with friends or family.
Typically, the vendor in Yersin Park would mix the ingredients and spices in a large bowl. The merchant will next divide the parts among the customer's plates.
Xap Xap B18
The shop is located at B18, Hoang Van Thu Street, Ward 4, Da Lat.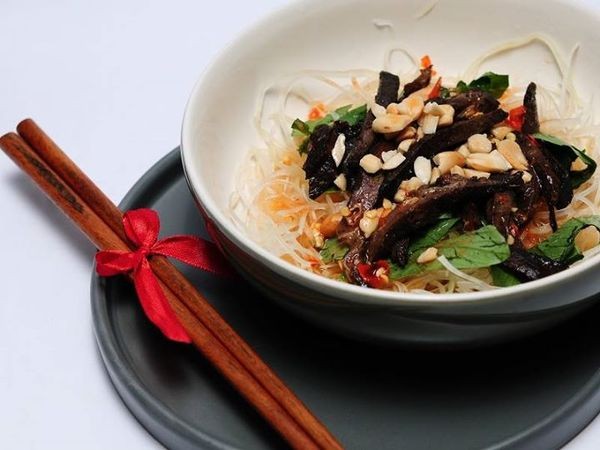 Photo: bazantravel
Opening time: 2 p.m. - 9 p.m.
The proprietor, who is kind, approachable, and courteous, founded Shop B18 in a roomy, spotless house.
The shop's menu is exceptionally extensive, diverse, and reasonably priced. The restaurant's other delicacies, including cá viên chiên, mì thịt, yaourt, kem dừa, kem sầu riêng, sữa tươi ướp lạnh…
3 Enticing Activities in Dalat

Although it is the rainy season, Da Lat (Lam Dong) is still attracting a large number of tourists from all over thanks to its cool ...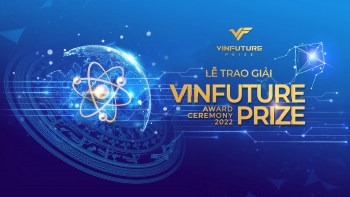 Economy
HANOI, VIETNAM - Media OutReach - 2 December 2022 - The VinFuture Foundation officially announces that the VinFuture Prize Award Ceremony 2022 will be held on December 20, 2022 in Hanoi, Vietnam to celebrate four groundbreaking scientific innovations that contribute to promoting global recovery and post-pandemic restructuring. As part of the Award Ceremony event series, VinFuture will organize a Sci-Tech Week from 17-21 December with inspiring academic activities for the scientific community, businesses, startups, and the public.