Suggestions for best hotels and travel experiences for tourists to Phu Quoc Island
If you're planning to travel to Phu Quoc Island and still wondering where to stay and what to do. We have rounded up the best hotels and travel experiences on the island that you can refer to.
Best Things To See and Do in Phu Quoc Island
Beach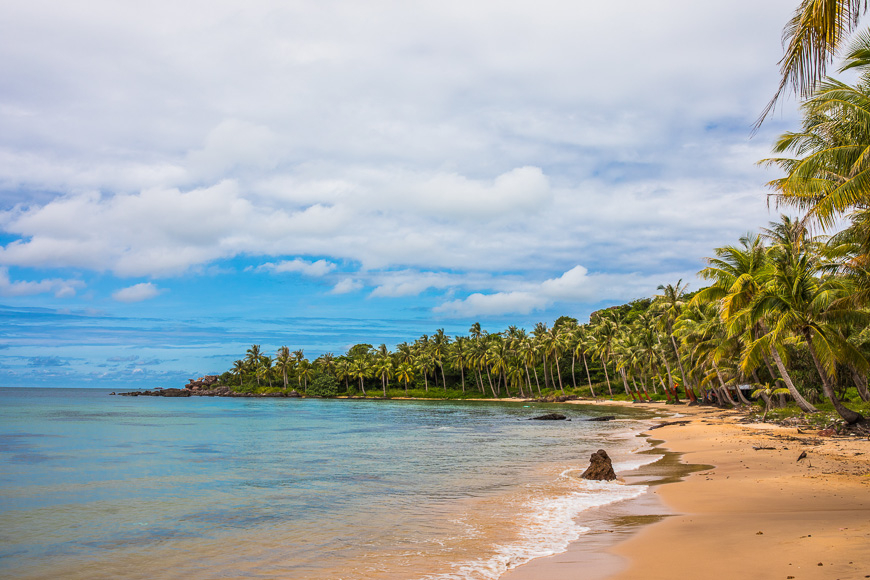 Let's face it, Phu Quoc is on your itinerary because you want a beach getaway. This gorgeous island is surrounded on all sides by stunning beaches, most of which are completely deserted and are yet to be explored. You would probably want to spend most of your time digging the sand with your toes or lying under a sun umbrella with a good book.
The western side of the island has Long Beach. This is where most of the fancy resorts are located as this is the biggest beach on the island. If you prefer a deserted one to yourself though, you should grab a motorbike and explore elsewhere. Try Sao Beach on the east coast, which is gaining popularity among travelers. The turquoise water is crystal clear, the beach is not crowded, and it will allow you to snap a few postcard pictures. Other beaches to look for including Ong Lang, Bai Thom, and Bai Dai. Many of the beaches are not even marked on maps properly which is why getting around on a motorcycle and going wherever it looks good is a great idea!
Diving and snorkeling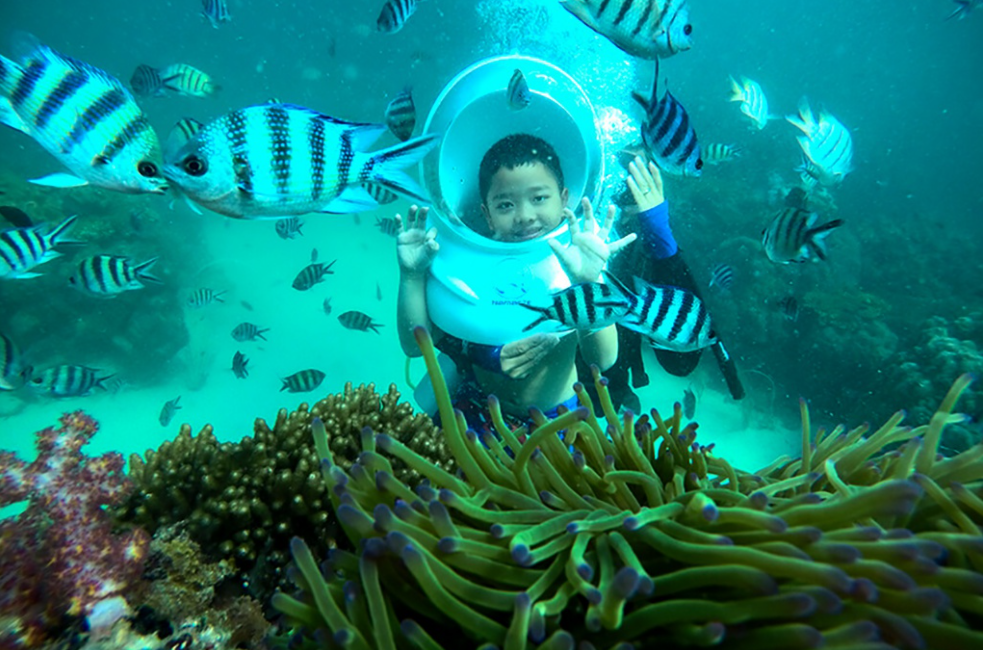 Phuc Quoc Island actually has the best marine life in all of Vietnam, making it a great place to explore underwater. There are plenty of diving and snorkeling opportunities around the island and you can even get your PADI certification here. You'll be able to spot a variety of marine animals such as nudibranchs, cuttlefish, octopus, scorpionfish, various crustaceans, anemones, and moray eels. The water is calm and clear, so it's a great place for beginners. Top dive sites include Dry Island, Nudibranch Island, and An Thoi Islands, the latter being a set of 15 islets, with a little more challenging underwater environment.
Phu Quoc National Park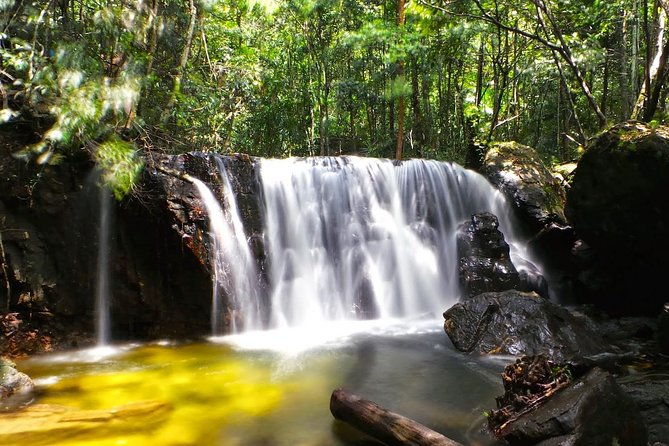 The Phu Quoc National Park covers more than half of the island, so it's really hard to not visit it, either on purpose or accidentally. This massive park spans over 314,000 square meters and was declared a UNESCO Biosphere Reserve in 2010. You can find all sorts of unique flora and fauna, forest, and dense mountain ranges. While the majority of the park is strictly protected by the Vietnamese government for research purposes, there are still various recreational activities you can be a part of in certain areas such as hiking, camping, wildlife, photography and bird-watching. For the adventurous traveler, test your endurance by climbing Mount Heaven. It is a four-hour long trek through the forest, topped by a 32-foot (10-meter) tall bamboo ladder.
Pagodas and..prisons...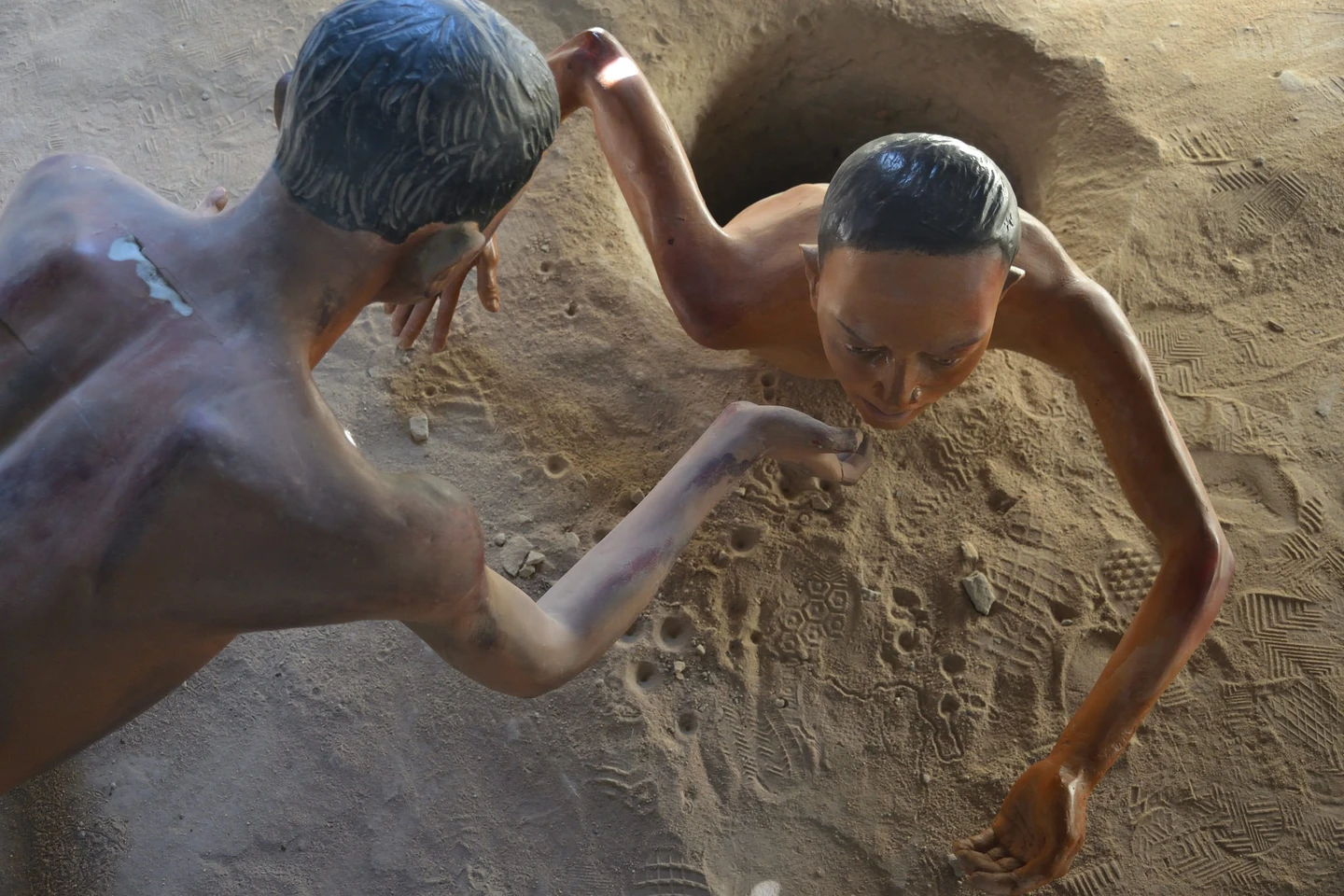 The birth of the Cao Dai religion was right here in Phu Quoc in 1919. The beautiful Cao Dai temple was built much later, however, in 2008, using donations made by followers. It is a must-visit — the architecture is not only stunning, but it is super interesting to see the rituals of the locals. There are worshipping ceremonies held daily between 06:00 a.m. and 12:00 p.m. Make sure to dress appropriately.
Dinh Cau Rock (Cau Temple) is another pagoda worth visiting. This structure was built in 1937 to commemorate the goddess of the sea, Thien Hau, believed to provide protection to the fishermen heading out to sea. Once you climb to the top, you will be rewarded with spectacular sunset views over the Dinh Cau Beach – all the colorful traditional fishing boats moored nearby, and the neighboring islets create a wonderfully photogenic scene. Afterward, a walk at the Dinh Cau Night Market is refreshing.
The Phu Quoc Prison has played a large part in the history of the island. It is where during the Vietnam War, northern Vietnamese dissenters and revolutionaries were captured and held, tortured, and killed. The prison is now an educational museum where torture instruments are displayed along with photographs and exhibits with life-sized mannequins depicting graphic scenes of the horror that went on within the walls. It costs around VND$3000 (less than 15 cents) per person to enter and guided tours are available in a variety of languages — totally worth it.
Markets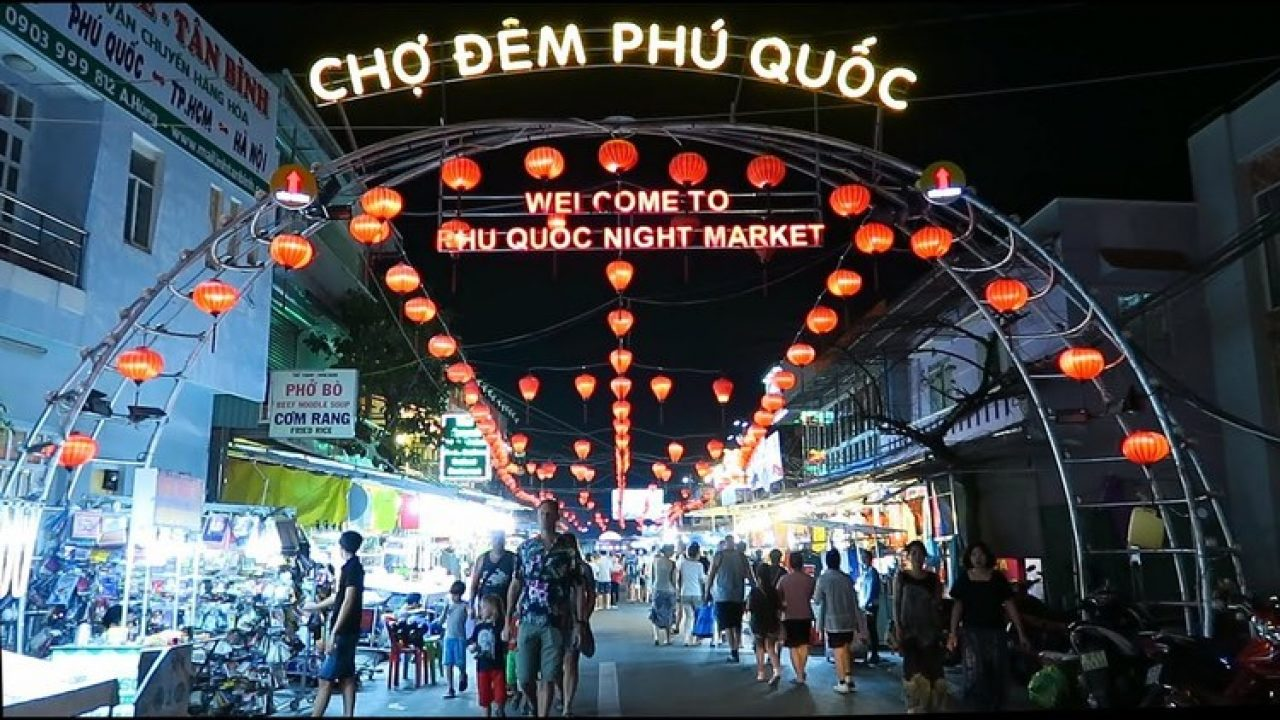 Duong Dong Market is Phu Quoc island's biggest market and is located smack bang in the middle of town. Markets are always a great way to get some insight into the local life, and also to buy some fresh fruit, and cooked food. You can even get some awesome souvenirs, bracelets, and necklaces made of seashells, pearl earrings, etc., to take back to your loved ones. Another great souvenir is the fish sauce made here.
Dinh Cau Night Market is another market you can visit. There are lots of seafood stalls here, so coming here in the evening for dinner is a great idea. Try lobster, tiger prawns, crabs, clams, prepared in all sorts of ways — fried, sautéed, curried, grilled, etc. The ingredients are as fresh as you can imagine.
Savoring seafood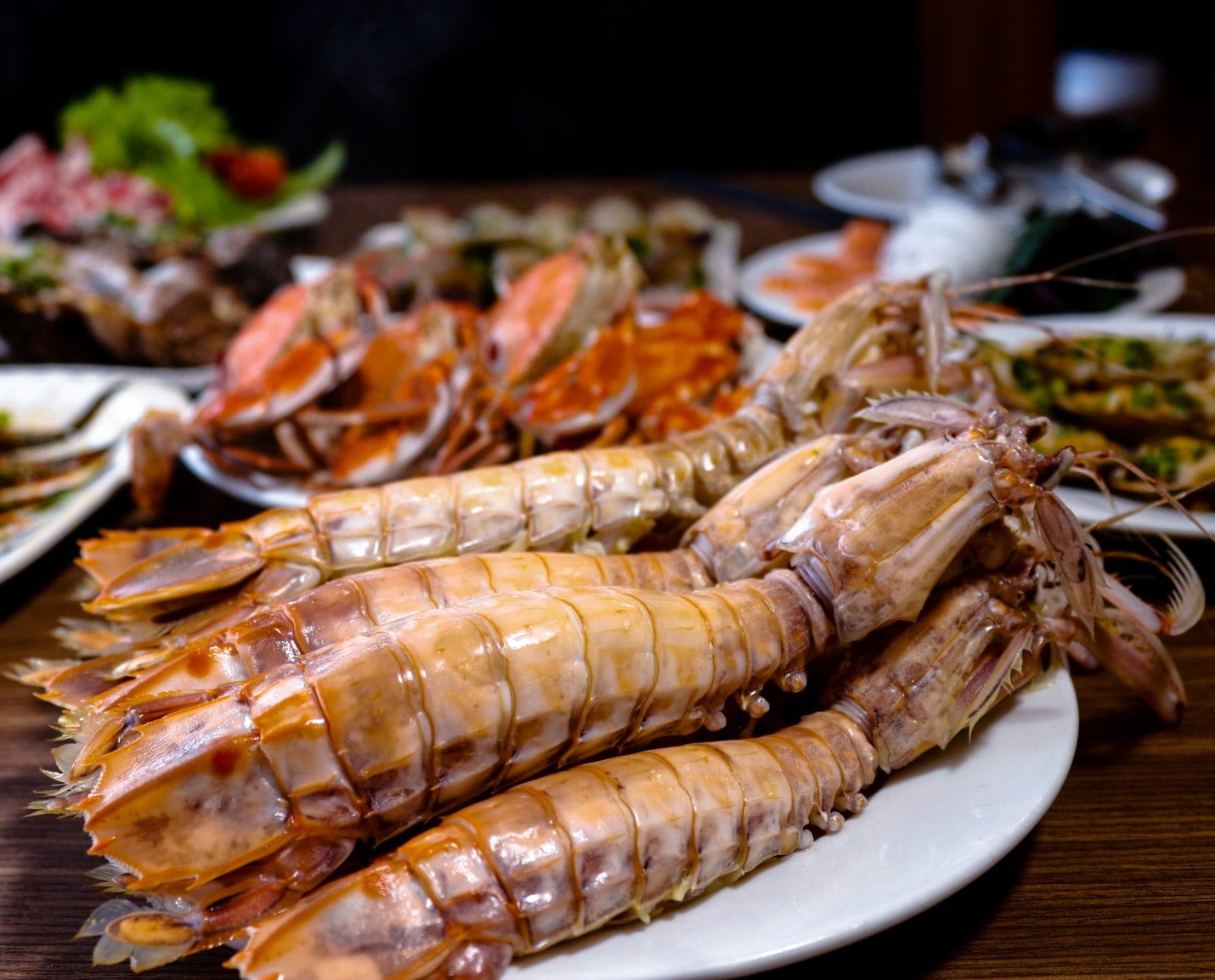 Lastly, getting on a see-food diet is a must while here, and by that we mean you see food and you eat! We also do mean that you should try all the seafood you can. Phu Quoc is known for its octopus and crabs. There are plenty of restaurants scattered around the main areas and don't be afraid to sit down at worn-down-looking shacks with a few plastic stools and tables spread out front — some of the best meals can be found in places like this. Let the owners recommend the dishes for you if you don't know what to order or are overwhelmed by the items on the menu.
7 Best Hotels in Phu Quoc
Bamboo Cottages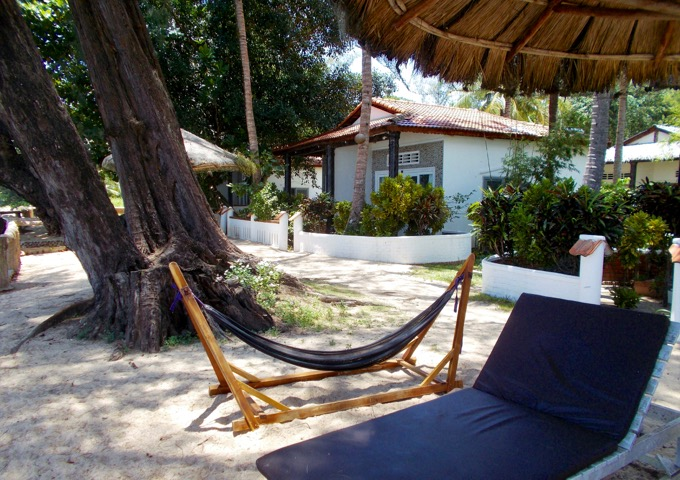 Rustic, remote, and eco-friendly. The open-air lobby/café/library for this friendly and family-run bunch of budget-priced cottages sits on a sandy beach of sloping palms and swinging hammocks. Most cottages are barely five meters from the sand; the rest are not much farther. All are fully solar-powered, and though none have a TV or air-con, windows and sizable balconies let in plenty of breezes, and the fans are effective. The beach here is narrow and shady, with a nearby container terminal that somewhat detracts from the idyllic setting. Offered activities include film nights, free yoga, and lessons in the Vietnamese language and cooking. Located on Vung Bau Bay, a 30-minute taxi trip from the airport, with a few eateries nearby.
Hotel phone: +84 297 2810 345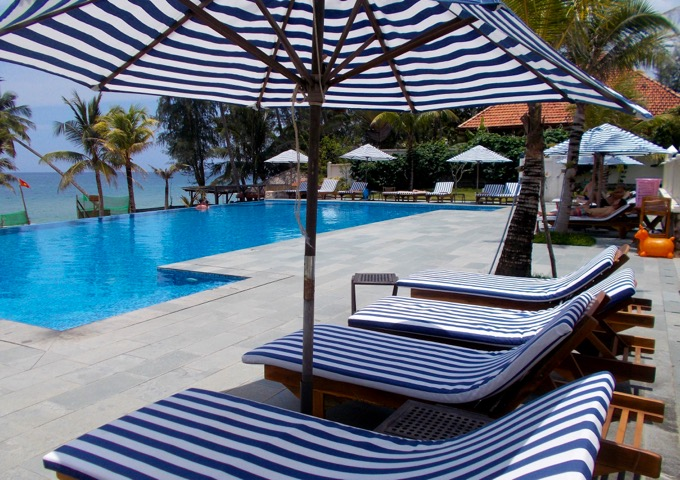 Cassia Cottage
Charming, unpretentious, and nicely located. One of the first hotels in the region, Cassia Cottage distinguishes itself from the other (oversized) resorts. Service is personable, and most rooms are comfortable but unremarkable, with TVs deliberately not provided. Premium Rooms share a wide balcony and feature stylish four-poster beds and spacious bathrooms; Beach Houses are ideal for groups or families. There are three pools, and a section of beach that's fenced off for privacy. Located on a quiet laneway, only a short stroll from the main road through Long Beach, the island's most developed tourist area.
Hotel phone: +84 297 3848 395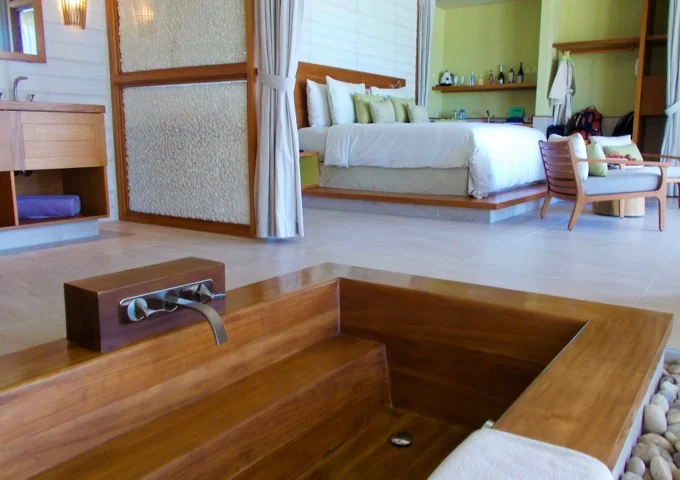 Fusion Resort Phu Quoc
Sparkling new and chic pool villas, in semi-secluded clusters of four. They differ by size – (one, two, or three bedrooms) and views (private garden, river, or seafront). All are modern and spacious, with plenty of windows, sunken wood-lined Jacuzzis, and private swimming pools; larger villas also have a lounge/dining area. There's a massive communal pool, a glistening white beach, three restaurants, and a fabulous spa – with all treatments included in the room rate. Activities like yoga, snorkeling, and cycling are offered for all ages, and there's a supervised kids club. Located on Vung Bau bay, about 40 minutes by hotel bus from the airport.
Hotel phone: +84 297 3690 000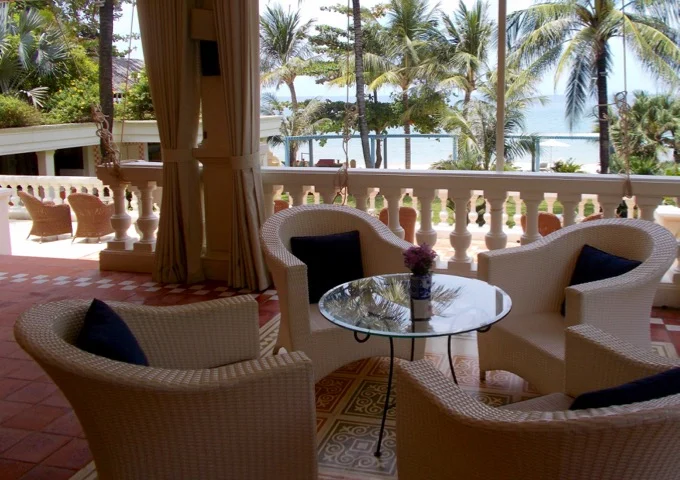 La Veranda Resort
Cozy and beachside, with flourishing gardens. Rooms are dotted among thickets of palms and ferns, in buildings reminiscent of French colonial mansions. Deluxe ones have balconies overlooking jungle-like gardens. Adjoined villas are large enough for extra beds, and feature their own private gardens – a few are sea-facing. There's a narrow and shady beach, and a sparkling blue pool. Other attractions include a modest games room, stylish courtyard café, and free yoga lessons. In addition to a kids' pool, club, and playground, their Very Important Kids program organizes fun activities like children's cooking classes. Located at Long Beach, with cafés and shops within an easy walk.
Hotel phone: +84 297 3982 988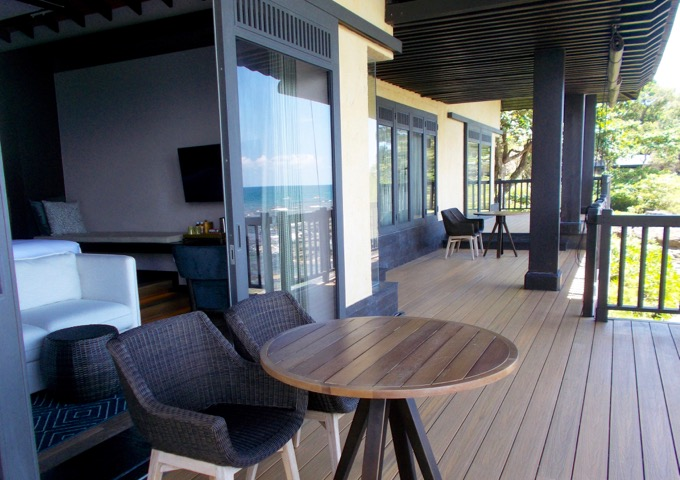 Nam Nghi Phu Quoc Island
Serene and remote, with great restaurants. Spread across substantial grounds with water on three sides, this former military complex offers spacious one- or two-bedroom suites with lounge areas and wide sea view balconies. The extended rocky shoreline is dotted with villas, many raised for maximum sea views or even perched above the waves. All are secluded behind lofty walls and feature contemporary kitchens and lengthy balconies. The on-site restaurants are exceptional. There's a small beach opposite the gorgeous infinity pool, and a private beach club on a Crusoe-like islet that's accessible within minutes by hotel boat. Very tranquil, it is also very remote: at the end of the delightful Vung Bau bay, about 45 minutes from the airport by taxi.
Hotel phone: +84 297 3788 889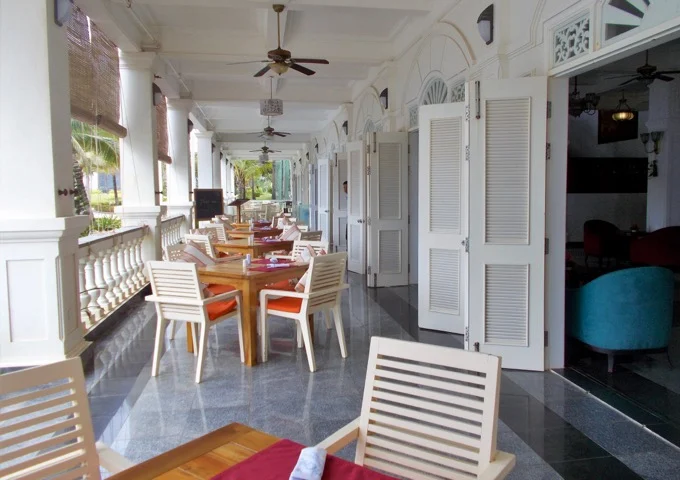 Chez Carole Center Resort & Spa
Vast grounds, colonial design, first-rate location. Spread across extensive gardens, Richis' low-level rooms, villas, and bungalows feature a pleasing Quasi-colonial design, with whitewashed walls, wide terraces, and chunky balustrades. Stylish Deluxe Rooms are spacious, with endearing old-world furniture and sizable garden-view balconies; only those on the top floor have sea views. Bungalows offer more seclusion and privacy. The lagoon-shaped pool features a swim-up bar and is lined with palms, and the broad beach is immaculately maintained. Other attractions include free bicycle hire and an adorable terraced café overlooking the ocean. The grounds stretch from the sea to the main road in central Long Beach, convenient to shops and cafés.
Hotel phone: +84 297 3845 188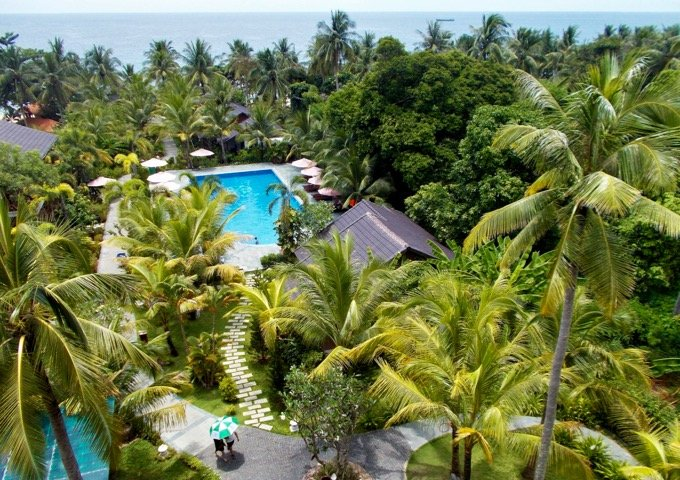 Tropicana Resort
Personable and affordable – not another generic mega-resort. The Tropicana caters mostly to Vietnamese tourists, so it's a bit more affordable, though the service and facilities may not entirely match western expectations. Most of the resort's spacious rooms overlook the pool and gardens, and also offer sea views (albeit distant); others are semi-detached or in rows facing the lawns. All are comfortably furnished, with full-length windows and smallish balconies. The pool is surrounded by palms, and the beach is clean and shady. Located in the center of Long Beach, with ample facilities within walking distance along the main road.
Hotel phone: +84 297 3847 127
Top tips for finding perfect Phu Quoc hotel deals
- If you're looking for a cheap hotel in Phu Quoc, you should consider visiting during the low season. You'll find cheaper accommodations in Phu Quoc in August and October.
- Hotel room prices vary depending on many factors but you'll most likely find the best hotel deals in Phu Quoc if you stay on a Wednesday. The opposite is true for, Saturday, which is usually the most expensive day.
- Book at least 90 days before your stay begins to get the best price for your Phu Quoc accommodation.
- For those who will be traveling with their children, look for hotels in Phu Quoc near Vinpearl Land, a large amusement park in the northwest of the island that contains a selection of water rides, slides, and swimming pools. The Vinpearl Discovery 3 Phu Quoc is a chic option that has a spa, bar, and airport shuttle.
- Hoping to stay in a quiet and secluded area that's still near the water? Opt for lodging next to Vung Bau Beach, a hidden, tranquil area that has a large sandy shore, lush scenery, and calm waves. If you stay at the Vung Bau Resort you'll be just a 3min walk away and have access to luggage storage and free parking.
- To be within easy walking distance of several tourist attractions, select a hotel in the neighborhood of Gành Gió. One option is the Ong Lang Village Resort, which has a shuttle to both the airport and the ferry terminal. If you choose to stay here you'll be less than a 10min walk from the Phu Quoc Gallery of Contemporary Art, scenic Ong Lang Beach, and the famous Hung Nhi Son Pagoda Buddhist temple.
- If you love to hike and be surrounded by nature, choose a hotel on the eastern side of the island close to Phu Quoc National Park. The Capella Resort Phu Quoc is located a 9min walk away and offers free bicycle rentals. In the park, there are multiple trails, as well as lakes, and a diverse selection of wildlife.
- Golf enthusiasts will want to book a hotel within walking distance of Vinpearl Phu Quoc Golf, an 18-hole course that is open to everyone and has a driving range, putting area, and restaurant. The Vinpearl Resort & Spa Phu Quoc is just a 2min drive away and has six restaurants, a gym, a spa, and an outdoor pool.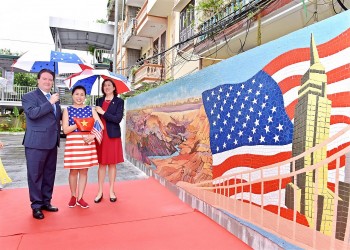 Multimedia
A ceramic mosaic mural named "Vietnam - US friendship" depicting the natural and cultural heritages of the two countries, was just revealed in Hanoi