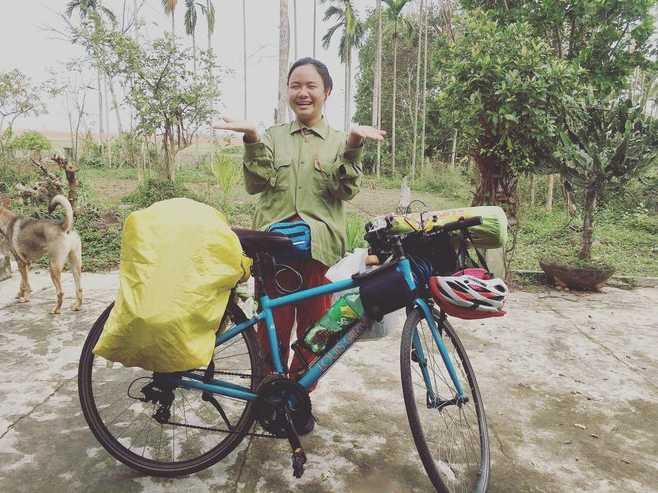 Photo: Thanh Nien
Lan Nguyen Hue Trang started her journey from Hanoi on May 19. On December 27, she reached Gia Lai and confirmed that she would continue to cycle to Ca Mau within 9 months as planned.
6 months of preparation for the trip
Trang said that before taking on the journey, she had a stable job, but then she suddenly realized that she did not want to live the worries of income, so she decided to quit her job and go on this challenging trip. When making the decision about a "phonetic" trip, she did not encounter objections from her family. Her parents know that their daughter has a strong personality, so they only gave her some suggestions and advice.
Trang spent 6 months preparing for the trip. For the first 2 months, Trang planned which sites that she would visit, research the route, the map. She had no experience of bicycle trip, so she had to learn every part of the bike, how to fix it, then packed her clothes and got on the road... "In the last 2 months before starting the journey, I had to buy a bicycle. At that time, Hanoi required social restrictions due to COVID-19, so I could not practice much. In the past 6 months, I have never had any intention of going back," said Hue Trang. She added that because she did not want her trip to be easy, eating at restaurants, staying at hotels, so she only brought VND 3 million to cover expenses.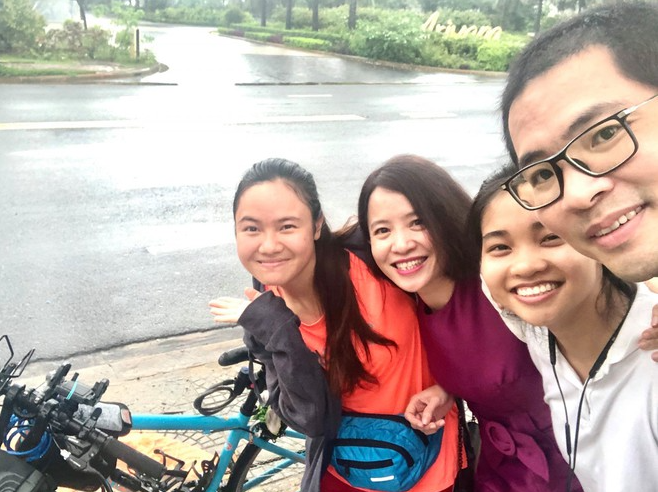 Photo: Thanh Nien
A challenge to herself
Every day, Trang started her journey at a flexible time, usually 5 or 7 o'clock, sometimes she starts later at 10 o'clock. At noon around 12 o'clock or whenever she feels tired, she stops to rest. If someone invites her for lunch, she will dine with them, otherwise, she will look for tree shade and eat her self-brought food.
Talking with Thanh Nien reporters, Trang said she got lucky during her trip as she received the help of many people. When her story got published, many philanthropists donate tires, tents, thermos bottles ... With those who let her stay, she treated them like family and always cherished their sincerity. However, along the way, the female "adventurer" also encountered difficulties such as unfavorable weather, bike getting broken, phone going out of battery, unable to ask for a place to sleep overnight,...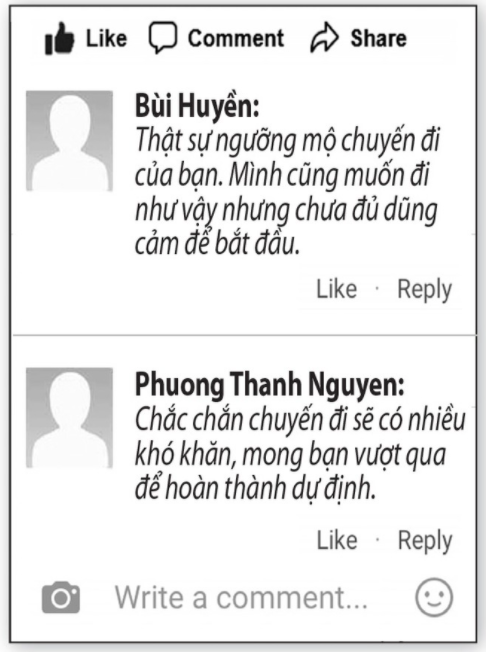 Photo: Thanh Nien
"During the trip, I want to spend the night at local people's houses to have more experience and save my budget. I don't spend money on accommodations. If no one offers me a place to stay overnight, then I will sleep on the street. Sleep outside is normal, but what makes me wonder is why people seem cautious and refuse to let me stay overnight", she said.
Up to now, she has had to spend the night outside 6 times. As a girl, she also has to deal with "sexual harassment" during her trip. To overcome this pitfall, she chooses to face and talk frankly because she thinks that people with awareness always understand her situation.
When the COVID-19 pandemic broke out, Trang asked the abbot to stay in Dieu Hy Pagoda (Hue City) for about a month and a half then continued the journey thereafter. She said that in the first month, she spent VND 85,000 (3,7 USD), and in the second month, she spent VND 210,000 (9 USD). "I always try to save at the maximum of all my expenses, limiting my spending so that the trip so that I can accomplish my challenge", Trang shared and added that after the trip throughout Vietnam, she will return to Hanoi to walk to the northern mountainous provinces.
Valerie Mai