A Gorgeous Mid-Autumn Moon Blesses Vietnam's Covid Recovery
Vietnamese people have been worshiping the moon during the Mid-Autumn Festival for generations. In anticipation for the holiday, freshly vaccinated locals and expats have taken multiple photos of a stunning harvest moon in Hanoi's night sky.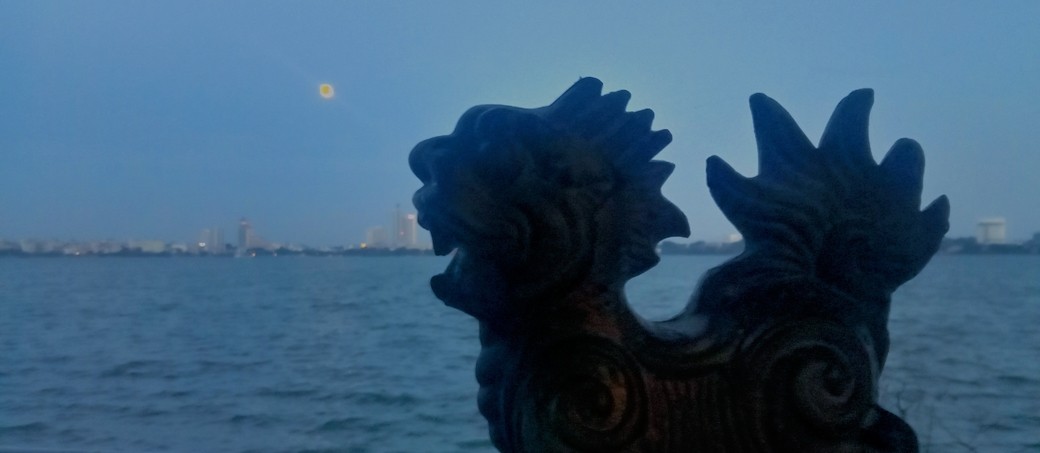 A magical moon appears before a stone dragon in Hanoi. Photo by Glen MacDonald.
According to ancient Vietnamese beliefs, a bright autumn moon signifies a bountiful harvest. Now, as Vietnam faces its worst Covid outbreak yet, the most recent full moon is seen as a good omen. Despite major setbacks resulting in lengthy lockdowns, the Vietnamese government, people, and foreigners have worked together to subdue the virus. On September 15th, less than a week before the Mid-Autumn Festival, it was announced that several locations were on the road to recovery, including the capital city of Hanoi. Since then, the waxing moon appears bigger and bigger, a bewitching spectacle for those coming out of an intense lockdown.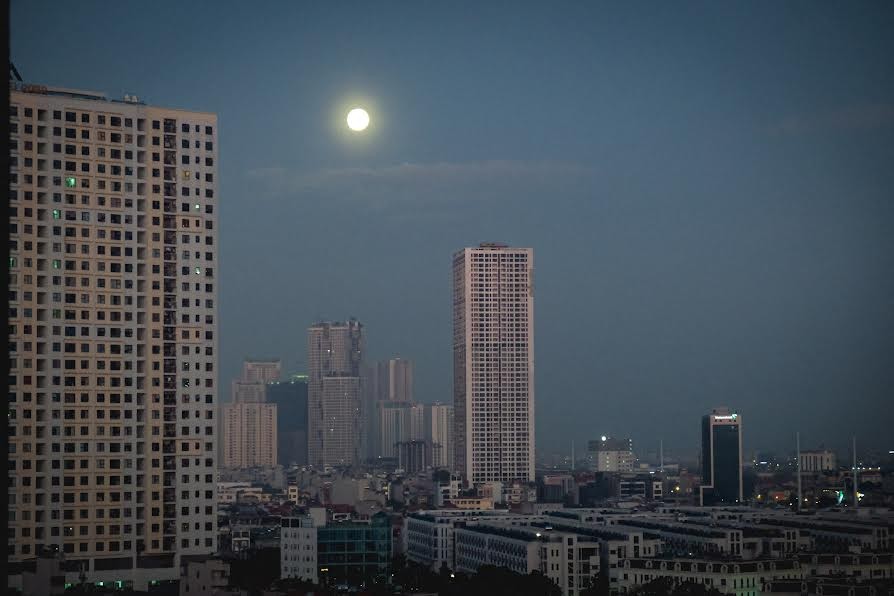 The harvest moon's heavenly glow over a smoggy city. Photo by Tertius Van Der Berg.
Even though Hanoi has made significant strides in abating the pandemic, the city has not fully opened, making some traditions impossible. Before the pandemic, thousands Hanoians would gather in the streets to watch dragon dances and fireworks. This year's celebration unfortunately has to be less exciting than previous years. With so few options, Hanoian households simply left to gather on their rooftops or gardens and marvel at the brilliantly full moon.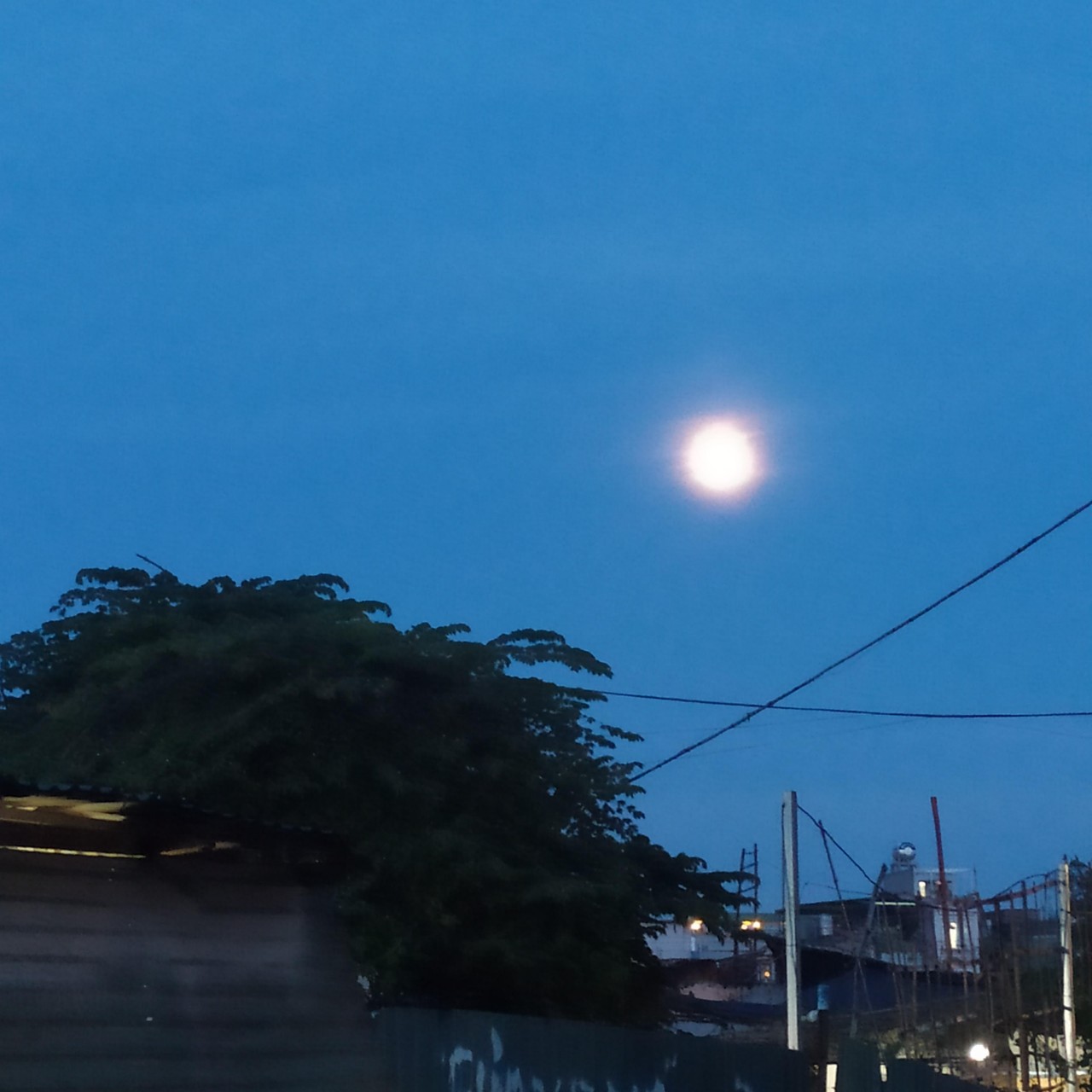 A moon so big and bright, it stops traffic. Photo by Hong Anh.
At the very least, storytelling traditions remain unaffected by the pandemic. Vietnamese children enjoy hearing from their grandparents about the fabled "Man in the Moon." The story follows a poor farmer, named Chú Cuội, who discovers a magical Banyan tree with mystical healing properties.
While there are are countless versions, each story ends the same way. Cuội's beautiful wife, Nguyet Tien, mistreats the Banyan tree which causes the gigantic plant to float away. Cuội grabbed its strong roots, attempting to save his beloved Banyan, but is instead taken along for the ride. Ultimately, Cuội and the Banyan ended up on the moon where they still remain. If you were to look up at the moon in Vietnam, perhaps you can see the shadow of Cuội, sitting beneath the Banyan, dreaming of when he will see his beautiful wife again.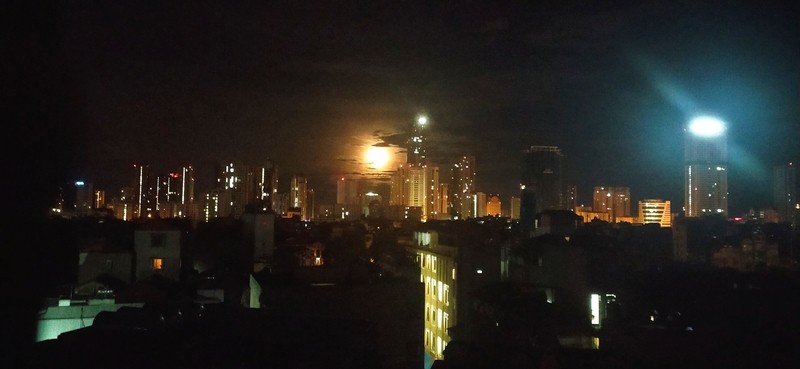 The moon's brightness competes with the dazzling lights of Hanoi. Photo by Oliver Sepp.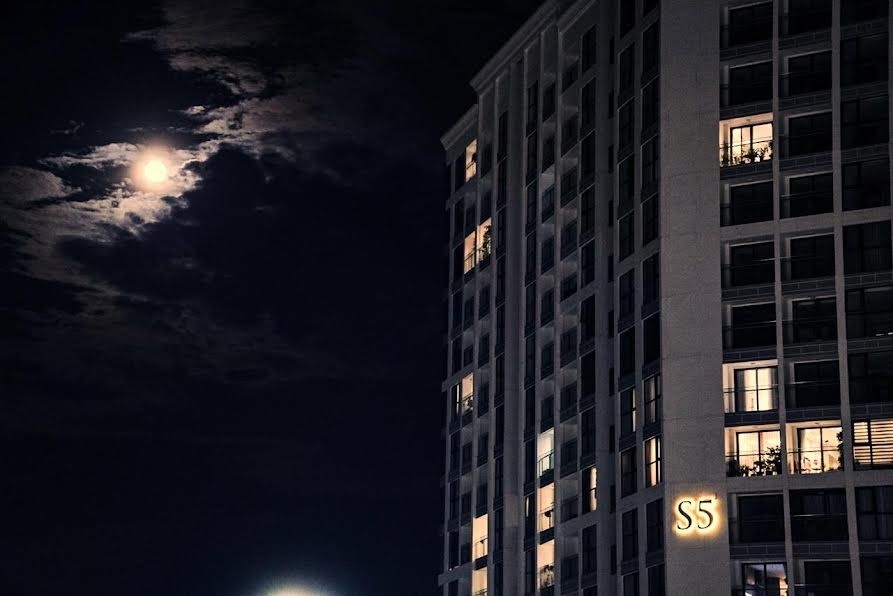 Vibrant moonbeams illuminate Vietnam's capital city. Photo by Do Hoang.
Vietnamese children are the biggest fans of this holiday. This time of year is dedicated to Vietnamese children who honored by their parents with toy gifts, fun crafts, and delicious mooncakes. However, living through the pandemic at such an early age has caused many Vietnamese youths to quickly grow up in an age of uncertainty.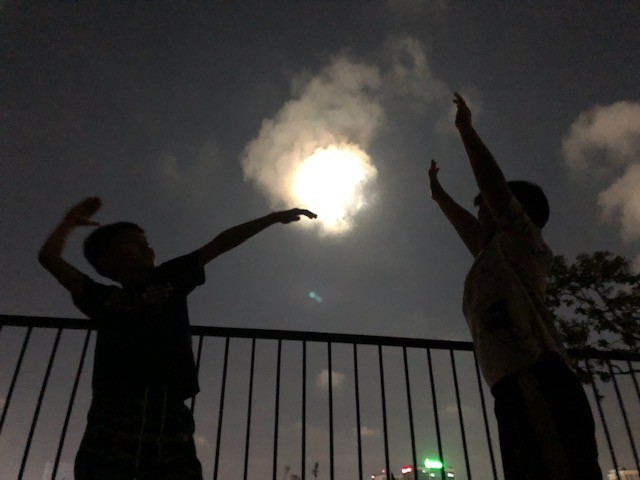 Children playing in the moonlight. Photo by Hanh Nguyen.
Hoang Long (means Yellow Dragon in Vietnamese), a thirteen year old student in Hanoi, fondly remembers his previous Mid-Autumn Festivals but is unsure of how the next one will turn out.
"My favorite thing about holiday is reuniting with family," said Long. "We usually meet in Thai Binh and enjoy countryside. I grew up there and it is nostalgic for me. We can't meet this year because of the pandemic. Everyone is at different places right now so it is not really fun. Mom continues to make good food, though."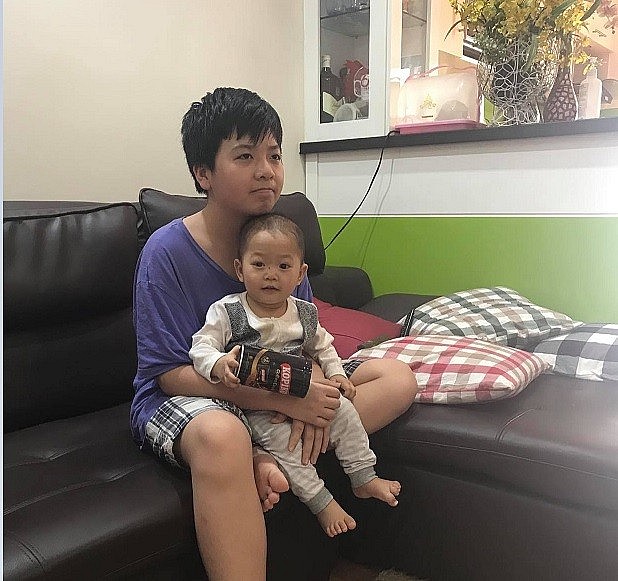 Hoang Long is staying home and taking care his little brother during this Middle Autumn festival and enjoys the autumn atmosphere through TV screen. Photo provided by Long.
"Right now the situation seems quite bad," said Long, during a break from his online classes. Like many other children in Vietnam, Long attends several online classes a day in lieu of traditional schooling. "In my opinion, we have to learn to live with Covid."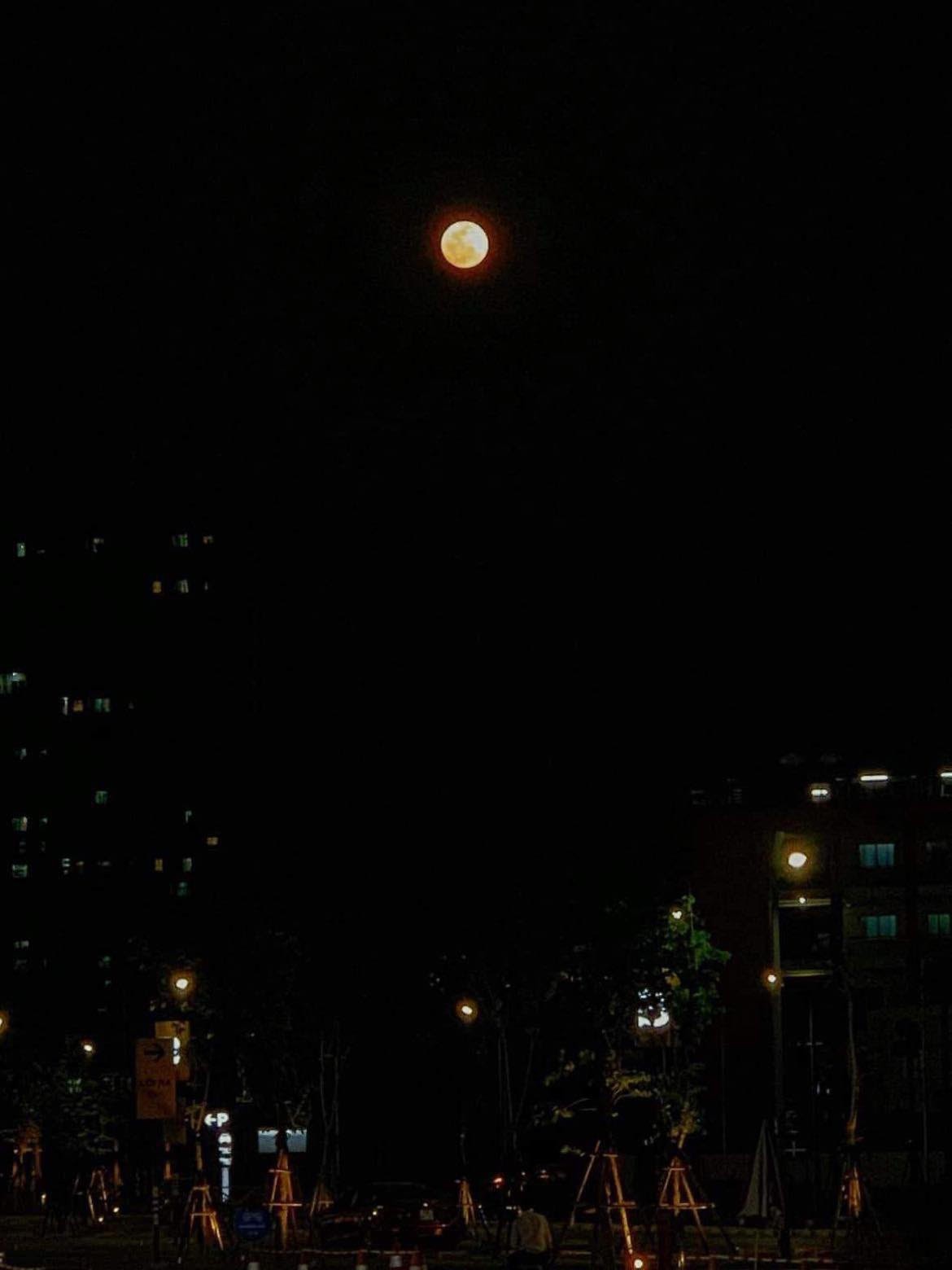 The harvest moon, here tinted orange, is a cosmic blessing. Photo by Minh Khue.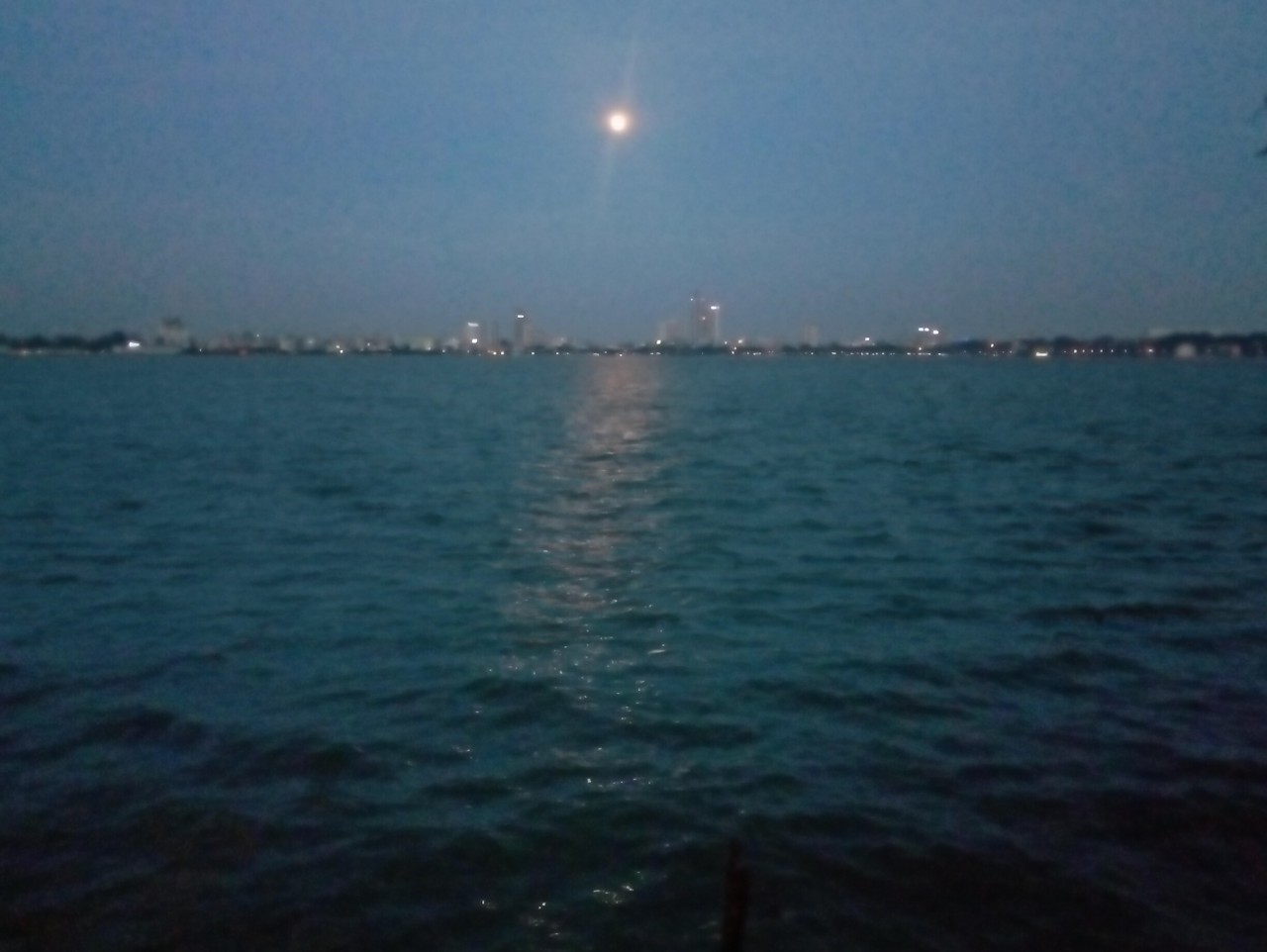 Stunning moonlight reflected in West Lake. Photo by Glen MacDonald.
As Vietnam reckons with the new normal, many families are still unable to see each other due to the pandemic. While family reunions are an important aspect of the Mid-Autumn Festival, the Delta variant makes travel and social gatherings far too risky. For this holiday, many can relate to the isolation and loneliness felt by the legendary Chú Cuội.
Perhaps, the Mid-Autumn moon can provide Vietnam with solace during these troubled times. Even though many families are separated by thousands of miles, checkpoints, and barricades, everyone still shines under the fantastic glow of one beautiful moon.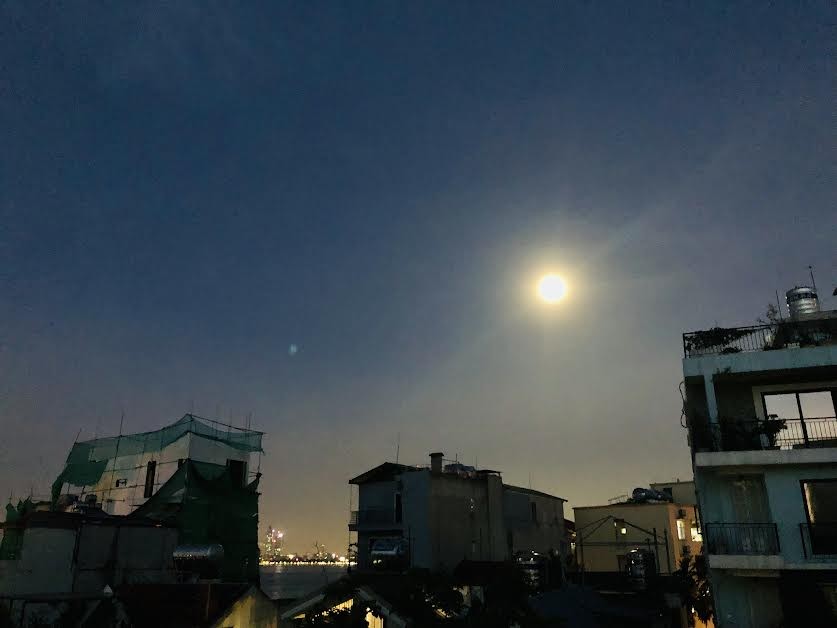 In Tay Ho, the bright moon appears like a second sun. Photo by Jessica Lynn Ramsey.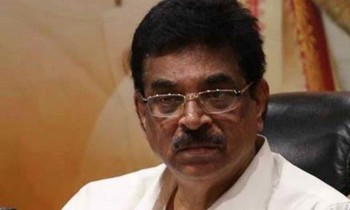 Economy
Mizoram Governor Hari Babu Kambhampati on Thursday said that a Super-Speciality Cancer Hospital and Research Centre would be set up in Aizawl