A Local Guide for Da Nang's Best Cheap Restaurants
The delicious local cuisine will pamper you during your stay in this city and release you from all the stress you might have.
There are a lot of popular and even legendary restaurants here around the city. Some of them have been around for years and still open for business to this day. If you are craving some local cuisine, here are some recommended restaurants in Da Nang that you should visit.
Mi Quang Ba Mua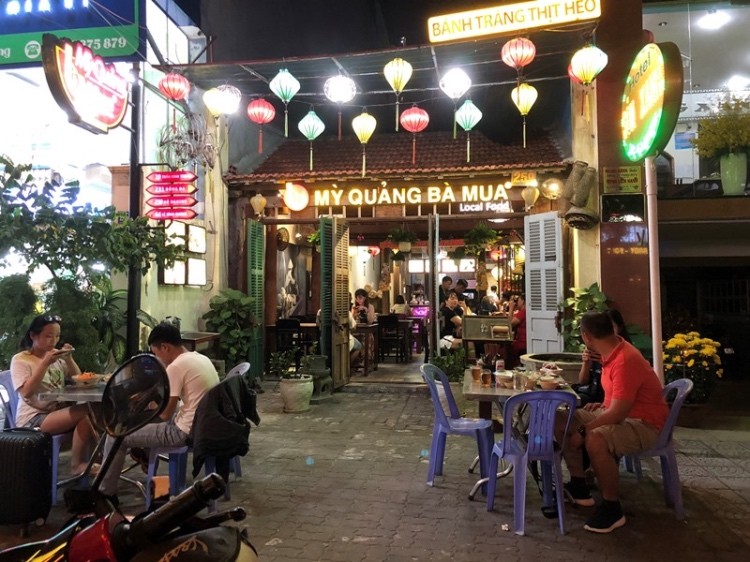 Photo: Mi Quang Ba Mua
If you are into noodle dishes, Mi Quang Ba Mua is the right place to start. Mi Quang is yellow turmeric noodles, served with bone broth and seasoned with black pepper, shallots, garlic, and fish sauce.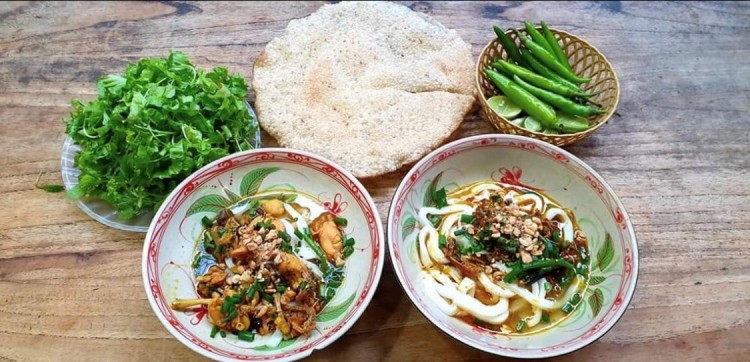 Photo: Mi Quang Ba Mua
You can choose whatever toppings you like, from beef, chicken, eels, prawns, pork, and frogs. Next, a few sprinkles of basil leaves, peanuts, coriander, and sliced banana flowers are added, with rice crackers as a side dish.
This local delicacy has been increasingly popular due to its unique and delicious taste. For a bowl of Mi Quang, you need to pay VND 65,000 or US $3.1. This restaurant is considered the best place in Vietnam to get noodles. Aside from the Mì Quảng, they also have other noodle dishes.
Address: 19-21 Tran Binh Trong Street, Hai Chau 1, Hai Chau, Da Nang
Opening Hours: 6:30AM to 9:30PM
Bun Cha Ca 109
This restaurant serves fish cake noodle soup, and it has been in business for 50 years. It looks more like a small shop rather than a restaurant. However, don't underestimate the delicious taste of fish cake noodle soup they make.
A bowl of Bún chả cá is only VND 30,000 or US $1.32. At such price, the dish consists of grilled fishcakes, shallots, mint leaves, bamboo shoots, and beansprouts. These ingredients are mixed with vermicelli noodles and then served with beansprouts, fresh lettuce, pickled shallots, and dipping sauce.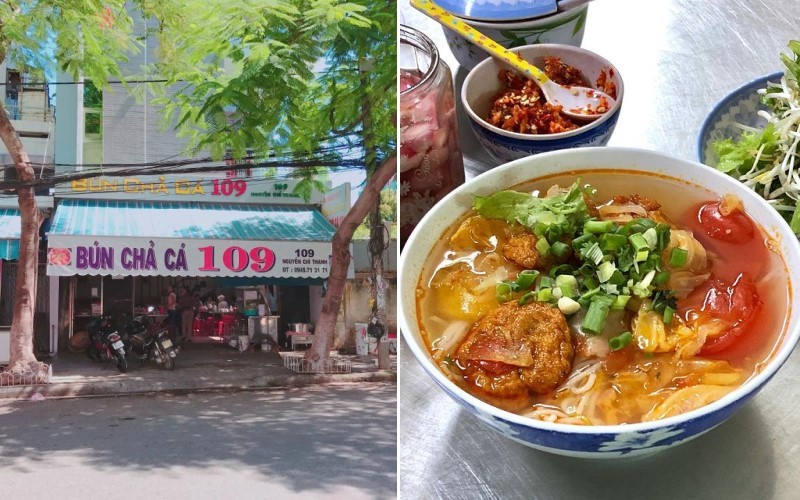 Photo: Bach Hoa Xanh
Address: 109 Nguyen Chi Thanh Street, Da Nang
Opening Hours: 10:00AM to 10:00PM
Quan Hue Ngon
The restaurant is only 5 minutes away from Da Nang Cathedral, so you can stop by this humble restaurant and enjoy a quick and easy Vietnamese BBQ.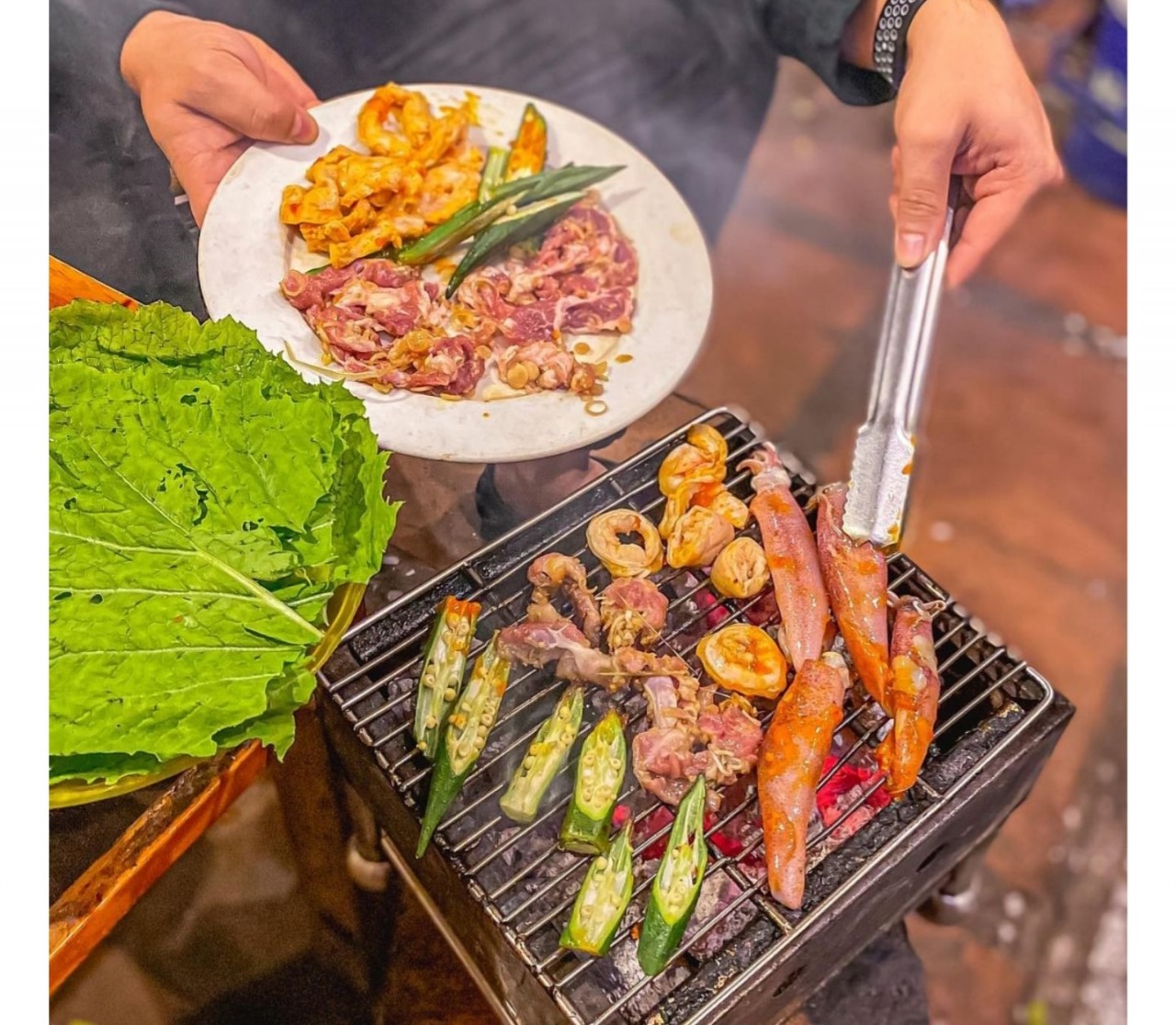 Photo: Quan Hue Ngon
It offers barbecued octopus, barbecued pork, squid in stone, cow tendon, and many more. The price varied from VND 30,000 (US $1.28) to VND 60,000 (US$ 2.64), depending on the type of meat you're ordering.
The portion they serve might be considered small by western standards. But this is a good thing since it means you can try other dishes too. The staff is really helpful and responsive, so remember to ask for an English-written menu if you cannot order in Vietnamese.
The restaurant is furnished with wooden tables and chairs so you can sit comfortably. They also have fans on the ceiling, but you may want to sit near the entrance since it can get a little too smoky during peak hours.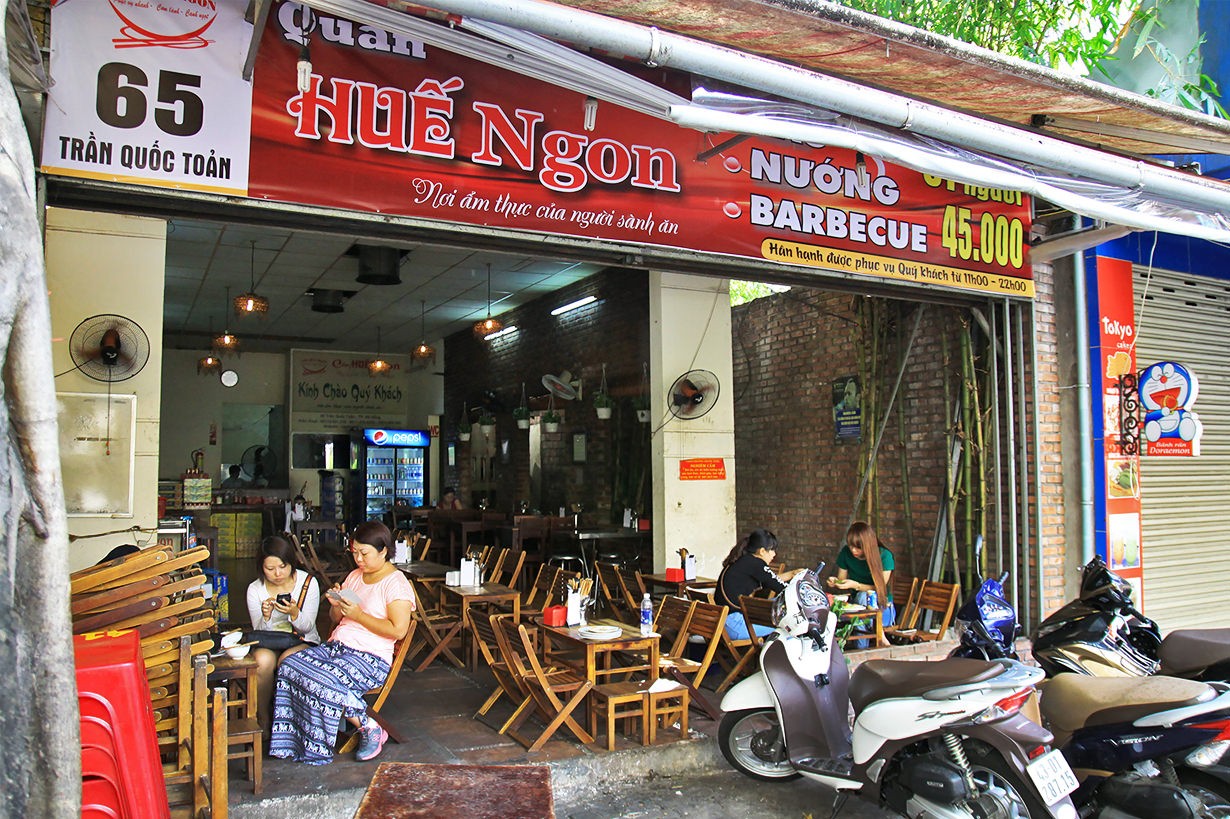 Photo: Focus Asia Travel
Address: 65 Tran Quoc Toan, Phuoc Ninh, Hai Chau, Da Nang
Opening hours: 11:00AM to 11:00PM
Banh Xeo Ba Duong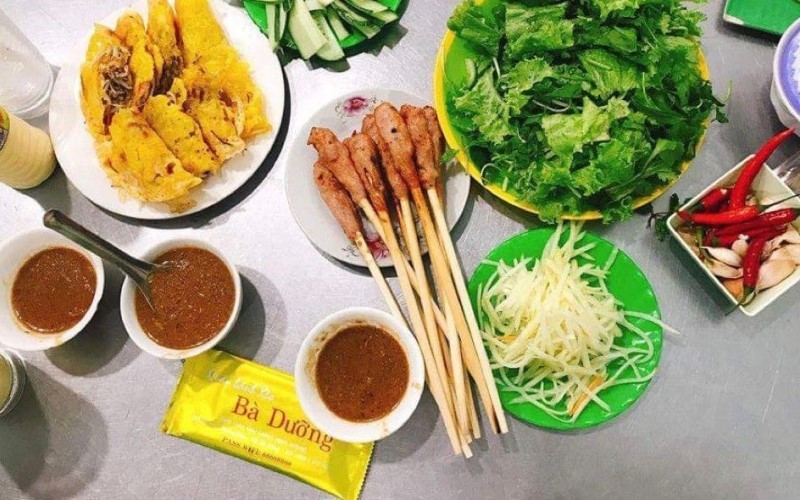 Photo: Bach Hoa Xanh
If you can try Banh Xeo, a traditional Vietnamese pancake, check out this place, especially on a rainy afternoon. The savory pancake is filled with delicious meat or seafood and beansprouts.
In this small dining establishment, you will also get to taste their specialties, the Nem Lui or grilled pork on lemongrass skewers.
For more authentic Vietnamese taste, wrap Banh Xeo and Nem Lui in rice paper, add mint leaves and basil, and then dip it in the fish sauce. If you don't feel like eating fish sauce, do try other types of sauce they offer, such as peanut sauce and pork liver pate.
These delicacies are sold from around VND 40,000 (US $1.7) to VND 80,000 (USD 3.51). Chop chop! This restaurant only opens for a short time, from 3:00 pm to 10:00 pm.
Address: 280/23 Hoang Dieu Street
Opening Hours: 3:00 PM to 10:00 PM
Com Nieu Nha Do
This is where you can enjoy the famous Vietnamese lemongrass-flavored rice. And while you are here, do try other recommended dishes, such as fried beef slices, BBQ chicken, braised fish, and many more.
This is the right place to find authentic Vietnamese food served in a traditional way. The rice is even served in a clay pot to emphasize authenticity.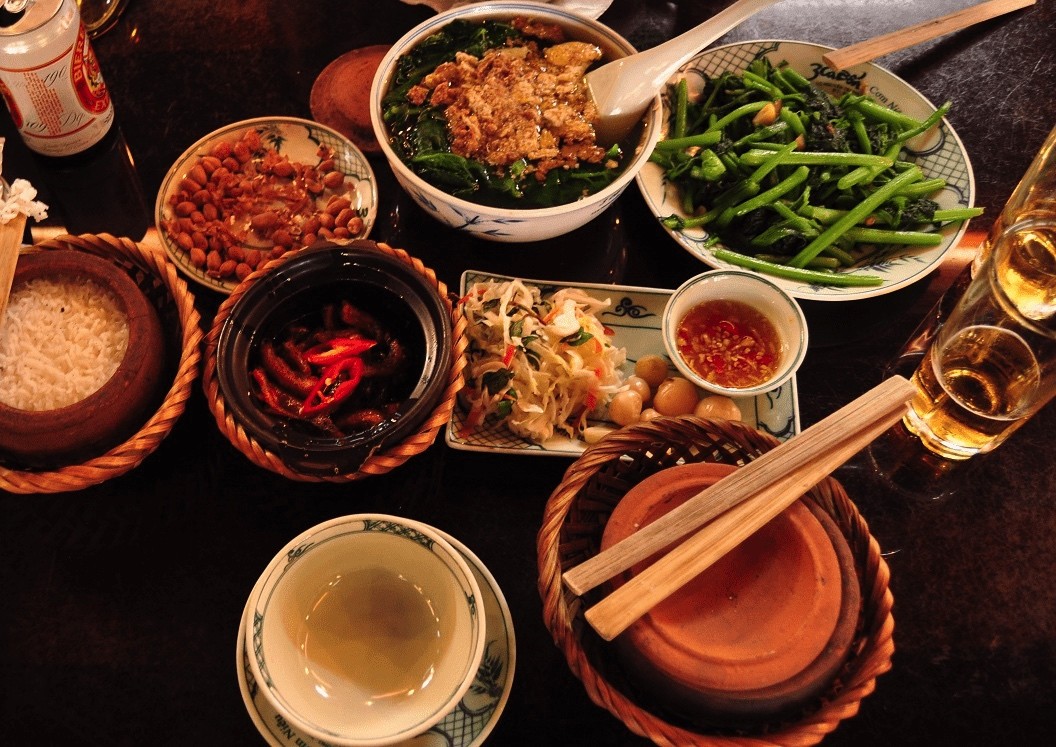 Photo: Just go
Address: 86 Nguyen Tri Phuong Street, Da Nang
Opening Hours: 9:00 AM o 9:00 PM
Am Thuc Tran
This restaurant is popular in Da Nang for its delicious Banh Trang Cuon Thit Heo, a mix of pork and vegetables, wrapped in rice paper. Other Da Nang delicacies you can find here are Bún Măm (Vietnamese noodles with fish sauce), Mì Quảng.
It has a cozy family restaurant vibe and the price is quite affordable, from around VND 70,000 (US $3.07) to VND 165,000 (US $7.25). This is a chain restaurant so you can find Dac san Tran establishments in several locations around Da Nang.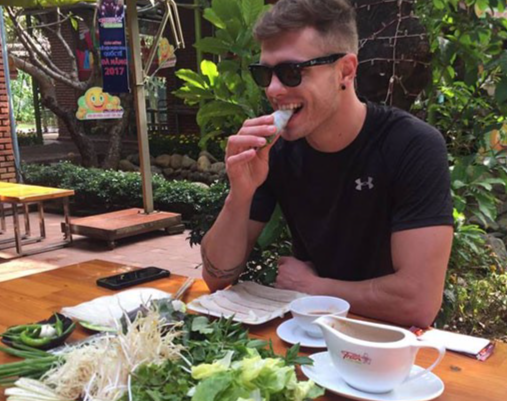 Photo: Pasgo
Address: 04 Le Duan street, 300 Hai Phong street, and 11 Nguyen Van Linh street
Opening Hours: 9:00 AM to 10:00 PM
With so many options of palatable delicacies, come to Da Nang if you want to get to know Vietnamese colorful and tasty culture!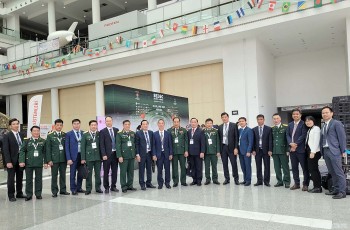 Friendship
Vietnam's presence at the security and defence exhibition SEDEC 2022 in Ankara has been seen as important initial steps to promote the Vietnam-Turkey cooperation.