A Southeast Asian Romance between a Viet and a Thai
Despite the age difference of 19 years, the Vietnamese and Thai couple always have a common voice and a life full of happiness.
The man who gave up his 18-year career to marry a Vietnamese wife
Nguyen Hoang Thuy Binh (23 years old, Quang Binh) held a sweet wedding ceremony with her husband Eak (42 years old, Thailand) in mid-September 2022 in Quang Binh.
After 4 years of getting to know each other and a year of living together, the Vietnamese and Thai couple officially got married.
The love story of Binh and her husband started on a very coincidental occasion. At that time, Binh was working as a fitness trainer at a gym in Dong Hoi city, Quang Binh province. Eak is the gym's VIP and has often worked out with another longtime trainer.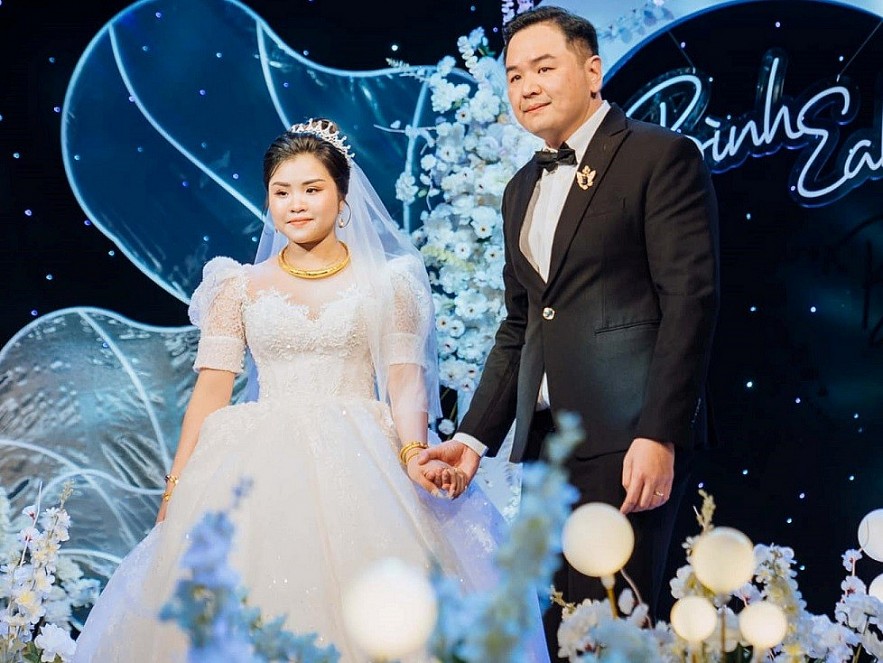 The Vietnamese and Thai couple officially got married in September 2022. Photo: Vietnamnet.vn
One day, Eak's coach was busy, so he asked Ms. Binh to guide Eak for one session. During the time of contact, Ms. Binh learned that Eak was still single. He was extremely gentle and polite.
After the practice session, Eak fell in love with the young female coach. After that, this man repeatedly invited Binh to dinner. However, she always keeps a certain distance from her customers.
At first, Binh didn't like Eak, so she always found reasons to avoid him. Besides, Binh sees a big age gap and is afraid that she and Eak won't get along. However, Eak did not give up. He came to Binh's house even when the two were not officially in love.
As soon as he met Binh's parents, this Thai man graciously greeted them. He also seriously asked their permission to get to know and love their daughter.
"When we saw his maturity and decency, my parents were very pleased. After that, he continuously made friends with my family members. Not only my parents but also my maternal and paternal relatives have sympathy for him," shared Binh.
When Binh received Eak's sincerity and seriousness, she opened her heart, accepted his feelings, and began to learn more about him.
To maintain his relationship with the Vietnamese girl, Eak had to make the decision to end his 18-year job in Thailand. Despite having to restart his career in a foreign country, this man is not too worried.
Binh was touched: "After getting to know each other and his great sacrifice, I realized that my choice was not wrong. The age difference doesn't affect our sincere feelings."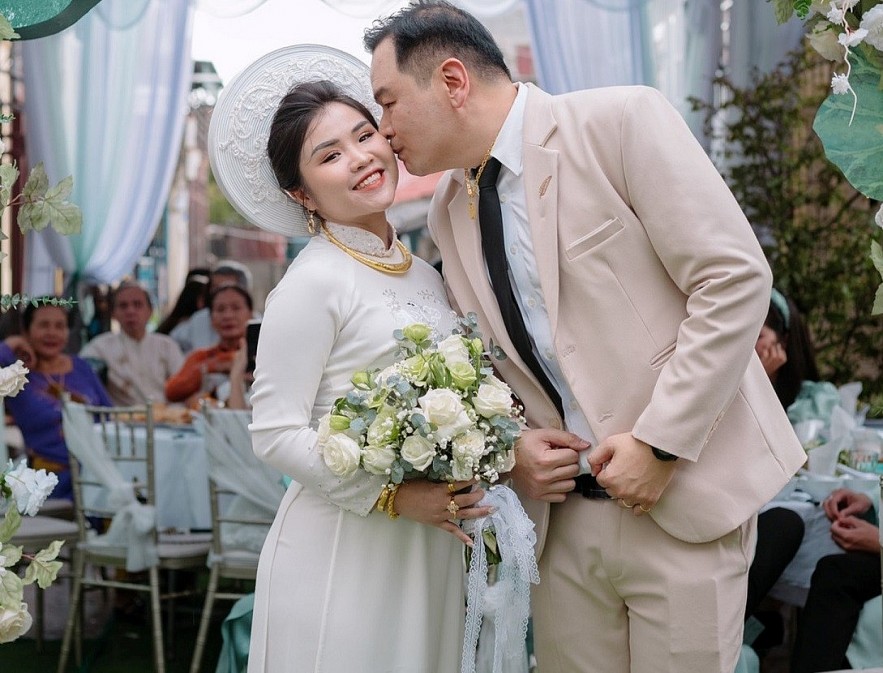 Photo: Vietnamnet.vn
Eak does not smoke, does not drink, and has no bad habits. He always cares for and loves Binh. From the moment they started their relationship, each day, they both said good morning and wished each other a good day.
Now, when they live under the same roof, Eak often gives his wife an extremely sweet kiss every morning. As a connoisseur of Vietnamese, he freely communicates and soon integrates into life in his wife's hometown.
The couple eagerly welcomed their first child
Binh and her husband decided to register their marriage in early 2022. However, the wedding ceremony had to be postponed due to the Covid-19 epidemic.
They returned to Thailand to visit Eak's family to announce their marriage, as well as take advantage of wedding photos in August 2022.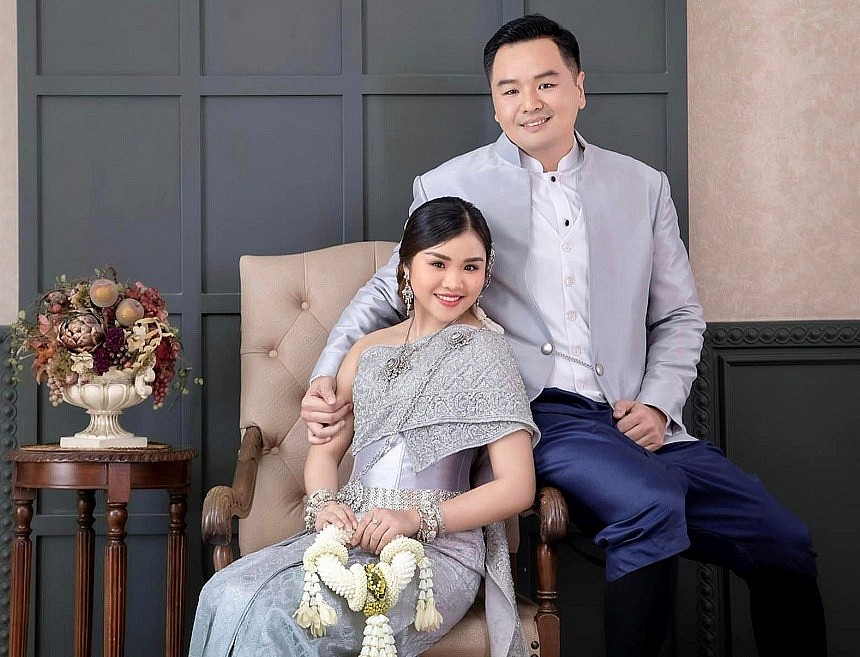 Photo: Vietnamnet.vn
After 20 days in Thailand, Binh had the opportunity to interact with Eak's relatives. All of them love the Vietnamese bride very much. During this trip, she also found out she was pregnant. Because of that, Eak's family took good care of the daughter-in-law.
"Eak's family is also normal," said Ms. Binh. "My mother-in-law does not have a strict mindset like other mothers-in-law. Although Eak is the eldest son, his mother does not force or teach me too much about etiquette in the house. She always respects our decision and does not interfere in our affairs. She said she could visit whenever she wanted, but she didn't force us to stay or live near her."
Binh's mother-in-law loves both her son and daughter-in-law. She cooks a lot of special dishes and often takes her daughter-in-law to go out everywhere.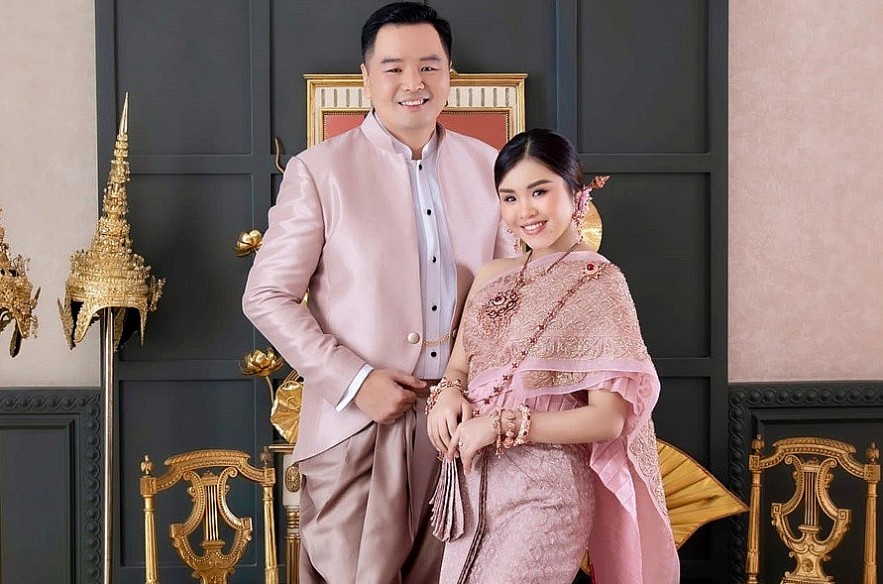 Photo: Vietnamnet.vn
Binh and her husband chose to take their wedding photos in Thai style. Through consultation on social networks, as well as advice from her husband's friends in Thailand, Ms. Binh chose a suitable studio before returning to her husband's hometown.
"Thailand has a wedding photography style and poses of the bride and groom completely different from the types of wedding photography in Vietnam. I was fortunate enough to choose a studio that was quite satisfactory, from the photographer to the makeup artist or the person who supported the wedding photographer. They were gentle and very slow in guiding me to pose," said Binh.
Although he has only taken wedding photos at the studio, Binh finds it very interesting with the dresses with many unique designs. In addition, she loves to see her husband in traditional Thai clothes.
Also on this trip, the couple held a wedding ceremony at the husband's house. The ceremony was very simple, with only relatives of the two families. The mother-in-law wants her son and his wife to focus on organizing a solemn wedding ceremony in Vietnam.
At the wedding ceremony in Quang Binh, many relatives and colleagues of Eak attended. Binh was pregnant, so the wedding ceremony did not take place in as many places as expected.
Although the wedding preparations were quite busy, everything was taken care of by Eak. Binh felt very secure and trusted her husband's arrangement.
Before getting married, the two had a year of living together to understand each other. Although the age difference is somewhat embarrassing for the couple, there is always a common voice between the two. Both easily solve problems arising in their married life.
"Marrying someone older than me is also quite interesting, he is the type of family man who takes care of his wife. I don't have to worry about everything in my family by myself," said Binh.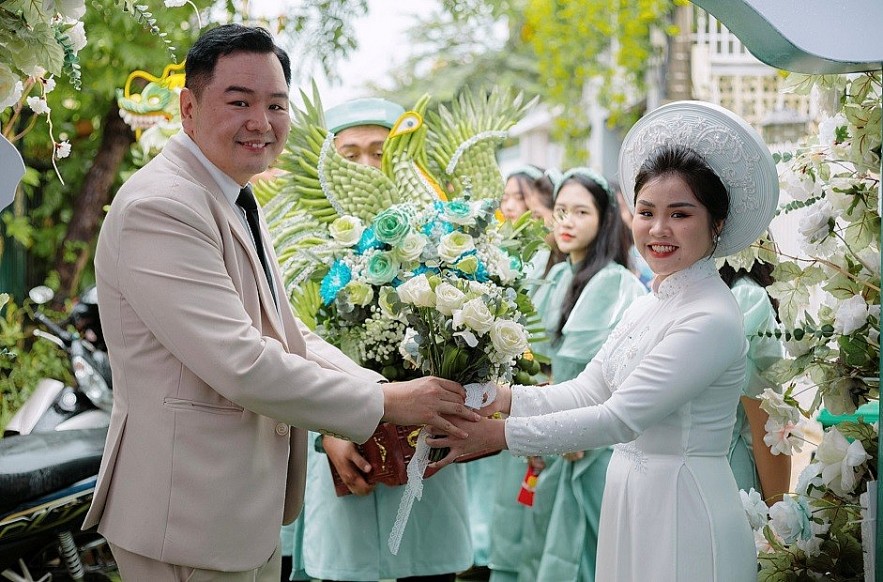 Photo: Vietnamnet.vn
Currently, Binh is more than 3 months pregnant. Recalling the moment when she announced the good news to her husband, the Vietnamese bride could not hide her happiness.
Binh said: "That night, I informed him that I was pregnant. When he heard the news, he was surprised and very happy. He was so happy that he kept tossing and turning, and did not sleep. Although it was a bit of a surprise when the baby arrived early, my husband and I are looking forward to the day when the baby is born."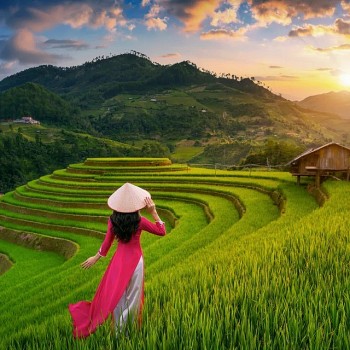 National
UK travel magazine Expedia has named Vietnam among the top five international destinations that visitors should visit this summer.