PM urges controlling pandemic outbreaks in Bac Ninh, Bac Giang provinces
Prime Minister Pham Minh Chinh urged competent agencies to take more drastic action to control Covid-19 outbreaks in northern Bac Ninh and Bac Giang provinces while ensuring un-disrupted production and trade.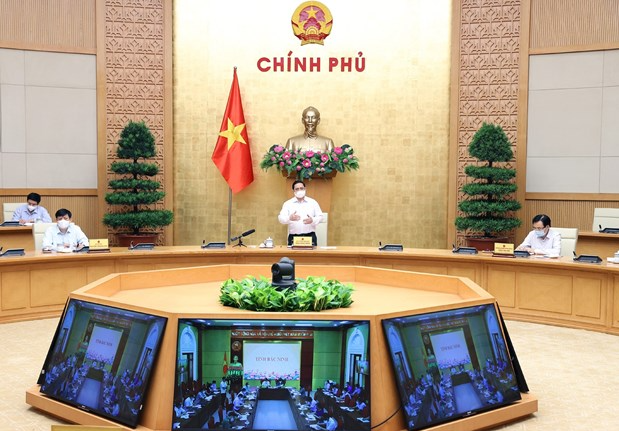 Prime Minister Pham Minh Chinh speaks at the meeting. (Photo: VNA)
During an online meeting on May 26 with leaders of the two provinces, where the pandemic is spreading in industrial parks (IPs), Prime Minister Pham Minh Chinh directed agencies to work with Bac Ninh and Bac Giang to increase testing capacity, especially in quarantined areas, use technology, as requested by the Ministry of Information and Communications, seriously follow the "5K+vaccine" message, and tighten exits and entries.
He asked for the upgrading of infrastructure and treatment capacity and the provision of more medical supplies for the two provinces to cope with the pandemic, particularly vaccines, and the consideration of quarantine for "F1" cases in households, factories, and enterprises, Nhan Dan reported.
The PM reminded ministries and agencies to work closely together to build the COVID-19 response fund, step-up access to vaccines for the vaccination rollout, tighten the management of entries, exits, and residency, outline safe and effective production, trade, and goods transportation procedures, and tackle difficulties in financial procedures to support residents and businesses hit by the pandemic.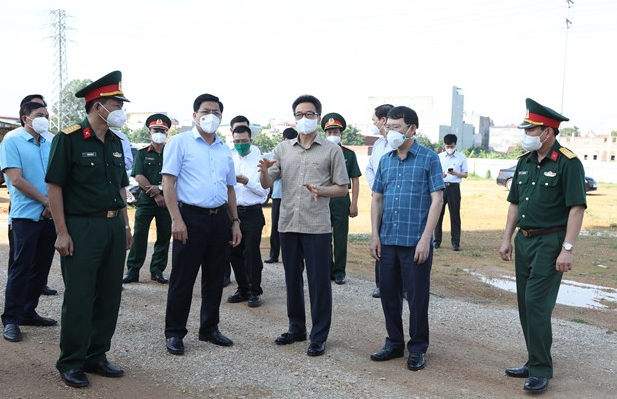 Deputy Prime Minister Vu Duc Dam (front, third from right) examines COVID-19 prevention efforts at an industrial park in Bac Giang province on May 26. (Photo: VNA)
Participants suggested imposing lockdowns and social distancing measures in more areas in the two provinces, closely monitoring quarantine, accelerating testing on a large scale, and prioritizing vaccinations for workers in local IPs, according to Vietnam Plus.
Also on May 26, Deputy Prime Minister Vu Duc Dam inspected COVID-19 prevention and control at industrial parks (IPs) in the northern province of Bac Giang and reported on the situation in the locality to Prime Minister Pham Minh Chinh through a virtual meeting.
During his field trip, Dam, who is also head of the National Steering Committee for COVID-19 Prevention and Control, reminded the local authorities to continuously follow regulations on quarantine, and take creative pandemic prevention measures in IPs and residential areas. He ordered the health sector to maximize its support for Bac Giang to effectively respond to the pandemic.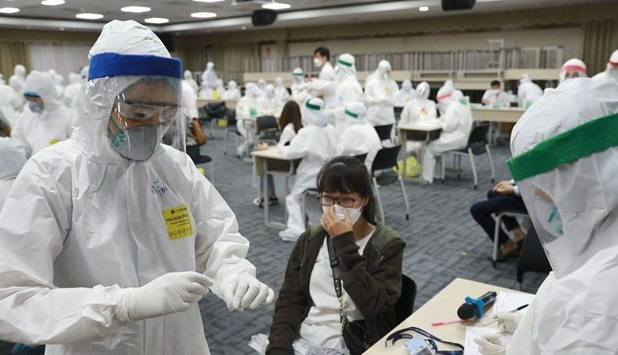 Health workers collect samples for COVID-19 testing. (Photo: VNA)
According to the Chairman of the provincial People's Committee Le Anh Duong, the local authorities will choose eight businesses to pilot an industrial production chain and build a pilot model on pandemic prevention and production stabilization in businesses. These are long-term and central tasks to ensure the dual goals of COVID-19 containment and economic development, he said.
Bac Giang is currently the worst hit locality in Vietnam by the coronavirus, recording the highest number of cases, at 1,156, since the new wave hit, including 132 on Tuesday. Most of the province's coronavirus cases are workers at its large-scale industrial parks, which employ thousands.
Factory workers in Bac Giang and its neighbor Bac Ninh now account for around 66 percent of 2,506 confirmed Covid-19 cases in the fourth wave.