Bac Giang market painted red with large dots of ripe lychee
Visiting Luc Ngan district, the northern province of Bac Giang in lychee season, ones will get overwhelmed by the lychees markets that stretch for tens of kilometers of lychees baskets, packed with sellers and buyers. 
Lychee season in Luc Ngan district, Bac Giang province lasts for two months (May-July), at when lychee growers and traders busy harvesting and selling lychees. Along the highway 31 section through Luc Ngan district, lines of vehicles carrying baskets of ripe lychees paint the market with a bright red color, which gives Luc Ngan district its own unmistakable vibe each summer.
Bac Giang is hailed the "Vietnam's capital of lychees", offering the largest production of lychees in the country, followed by Hai Duong and Hung Yen, all the three provinces are in the north of Vietnam.
As reported by VTV, each kilogram of lychee is sold at wholesale market at VND 14,000-20,000 (US $0.6-0.8). The retailers then will trim the fruits, soak into ice water and pack in foam boxes to transport around.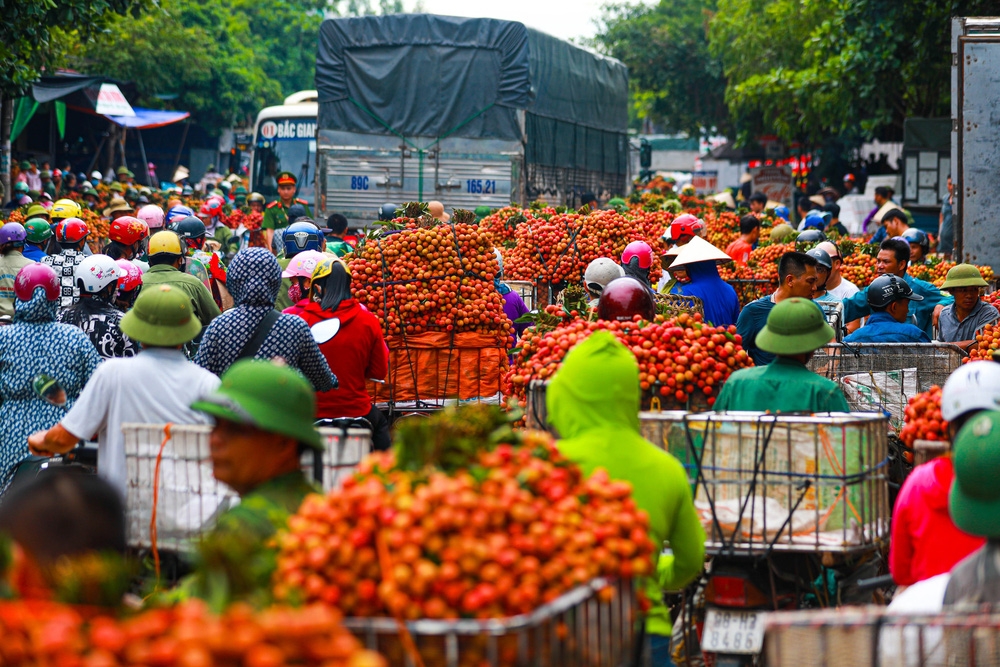 Hundreds of motorbikes carrying lychee basket in the back make Luc Ngan market and its surrounding area more vibrant and busy than ever. Congestion is, thus, considered the "specialty" of the market every lychee season. (Photo: VTV)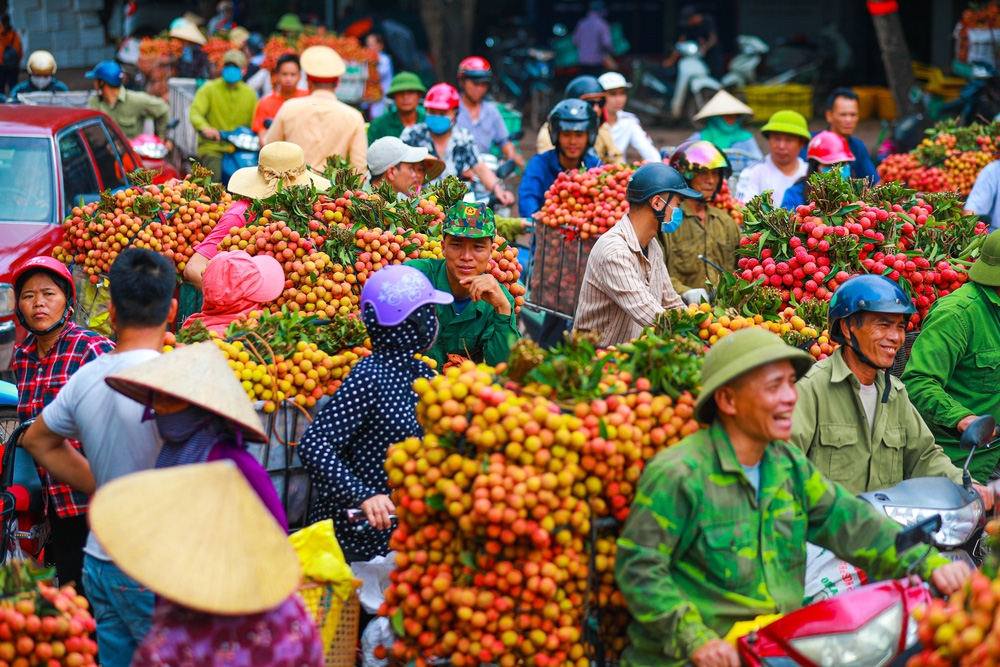 Baskets full of ripe lychees prove that the farmers are getting a fruitful season this year (Photo: VTV)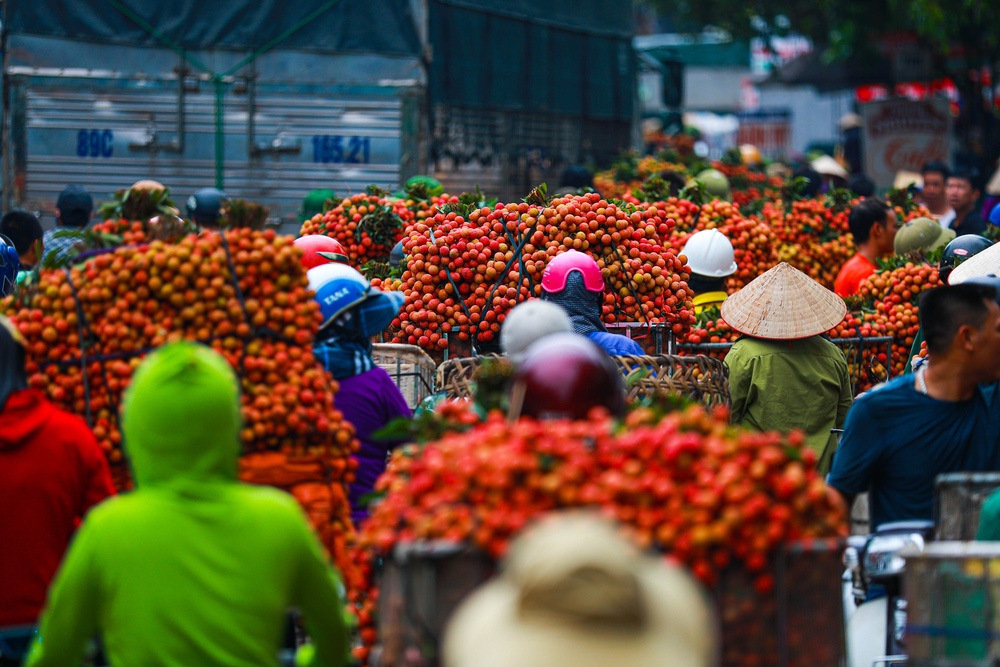 A whole corner of the district is covered in red (Photo: VTV)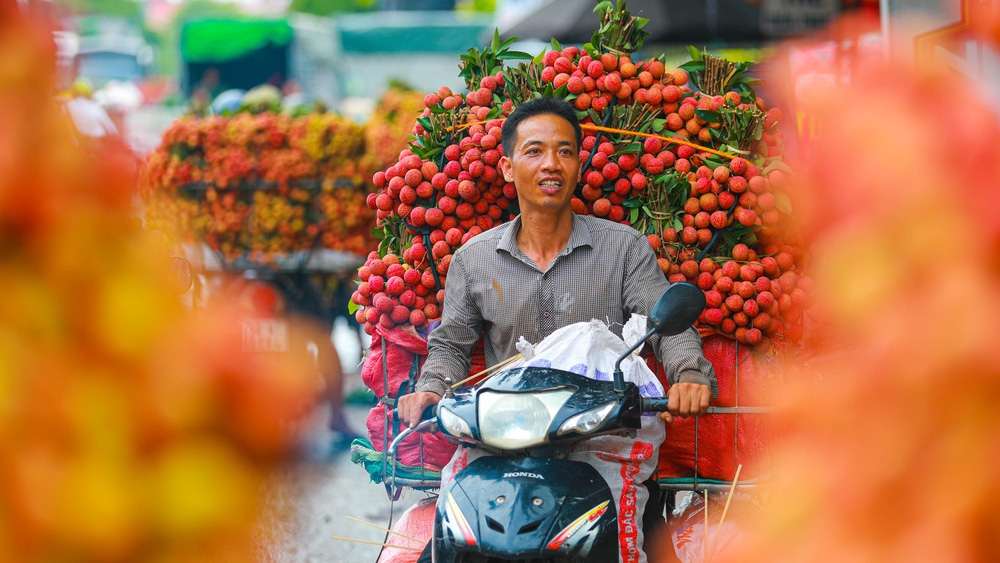 "We had a fruitful season this year. We've just harvested a total of 8 tons of lychees and get around VND 80 million (US $3,437)", Mr. Luc, a lychee grower from Luc Ngan district told VTV. (Photo: VTV)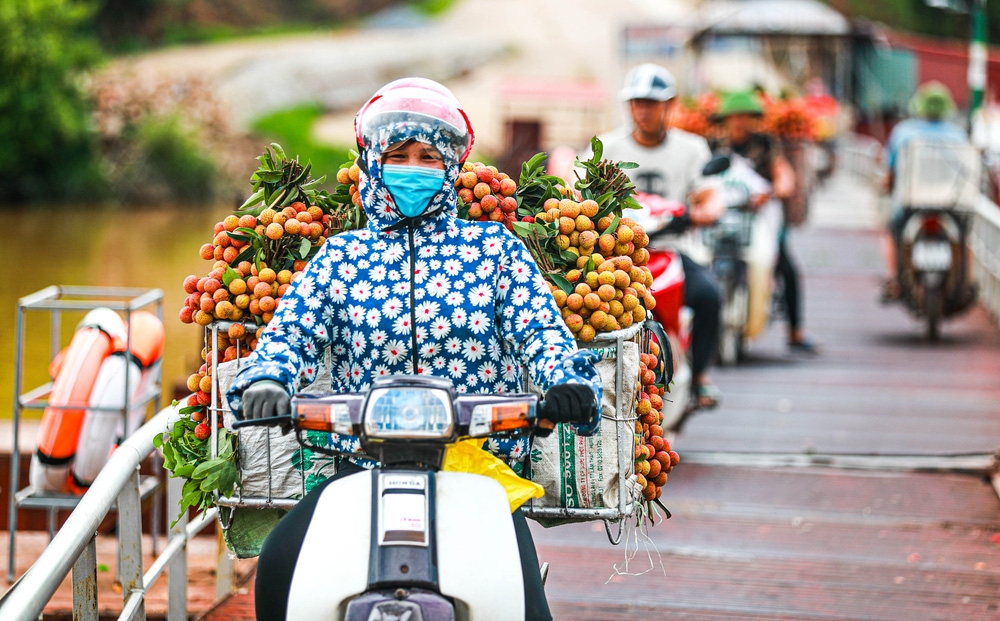 Tong Lenh pontoon bridge is an important road for lychees traders as they have to cross this bridge to get to Luc Ngan district. The area has a high frequency of traffic flow every day during lychee season. (Photo: VTV)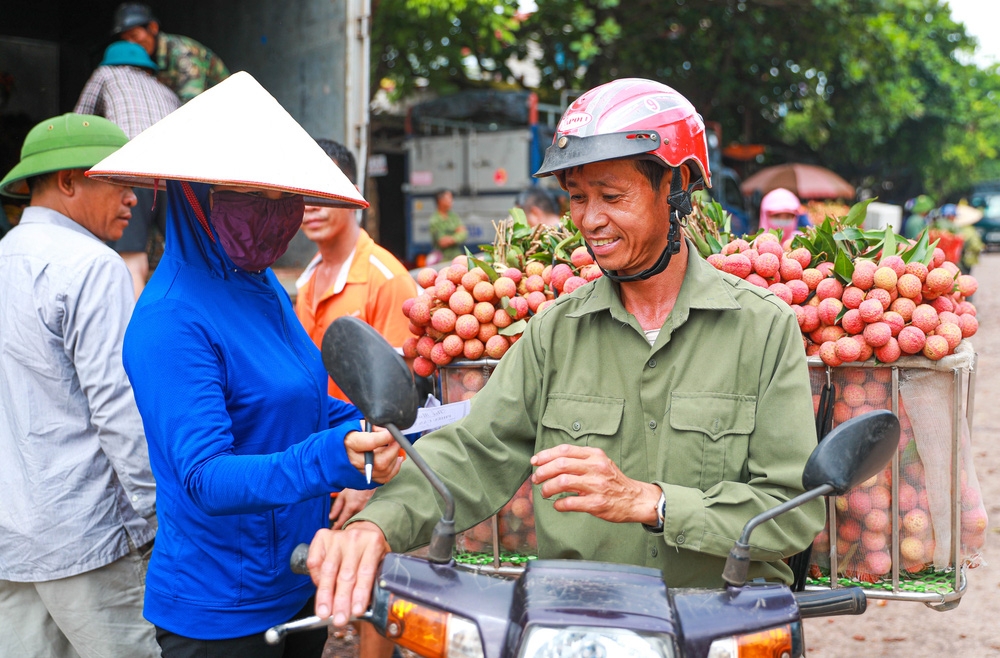 A trader looks happy with the deal (Photo: VTV)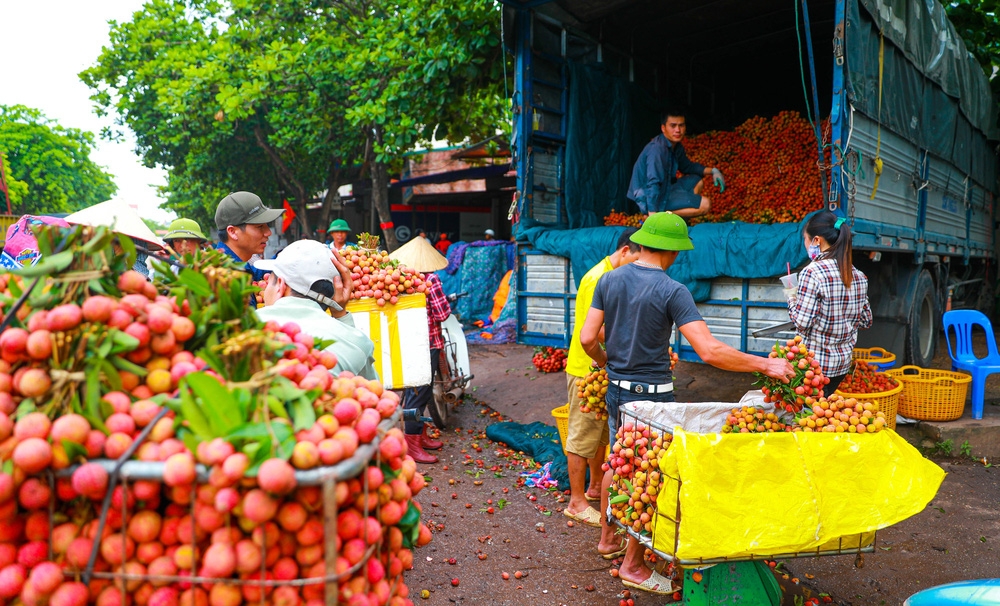 (Photo: VTV)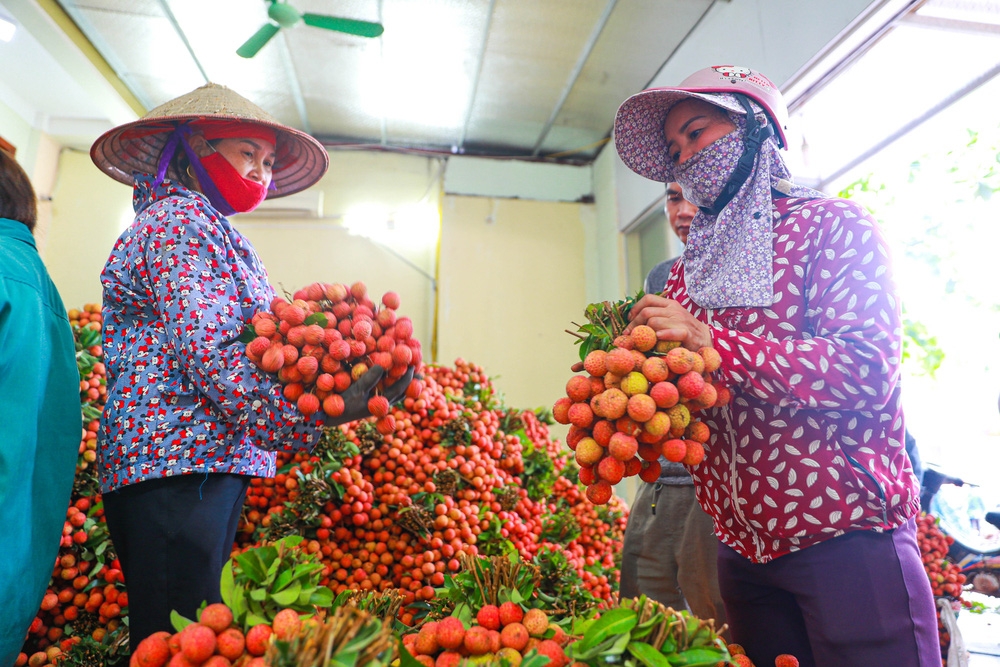 (Photo: VTV)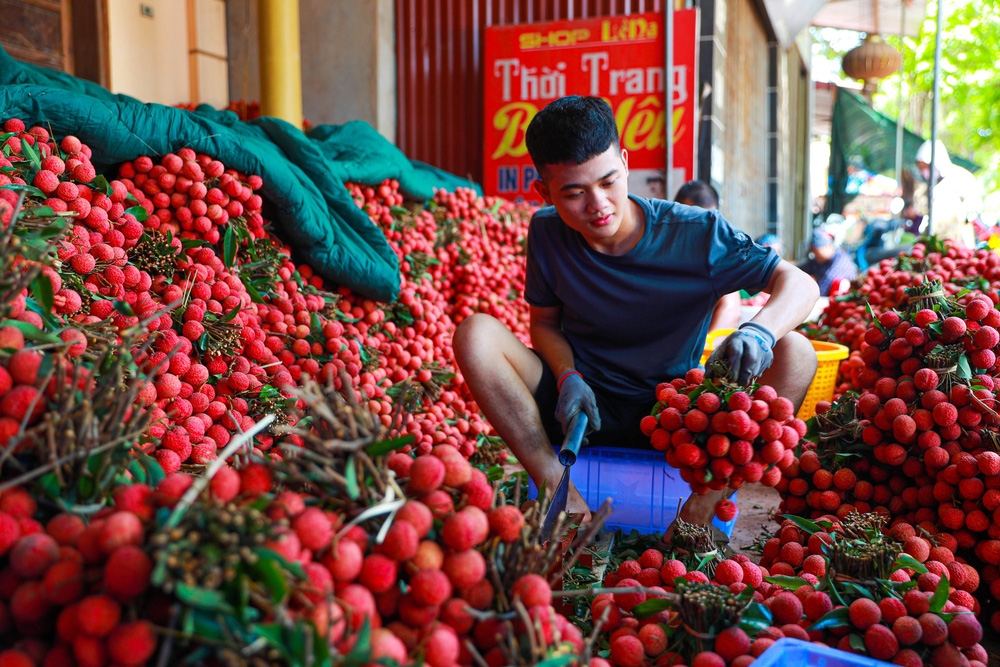 Bunches of lychees will be trimmed carefully before being sold to retailers (Photo: VTV)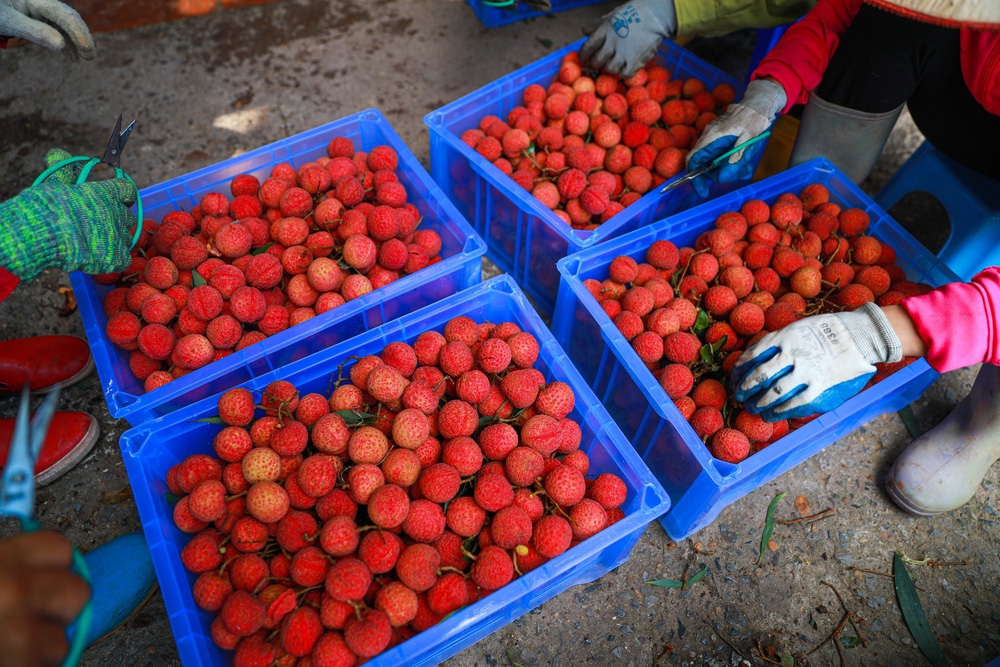 High-quality lychees are sold at VND 35.000 (US $1.5) (Photo: VTV)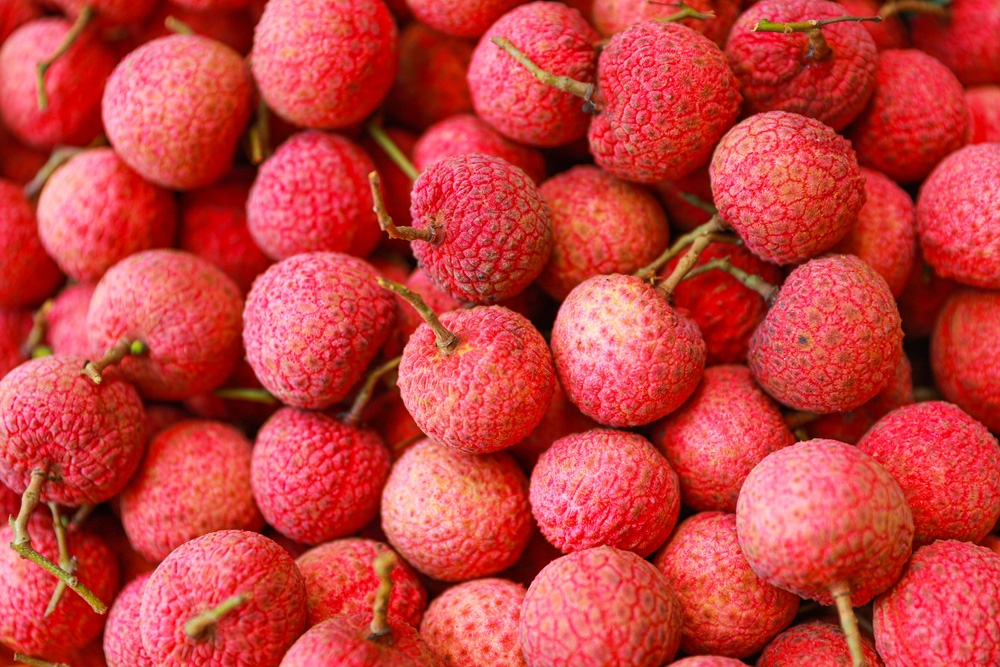 (Photo: VTV)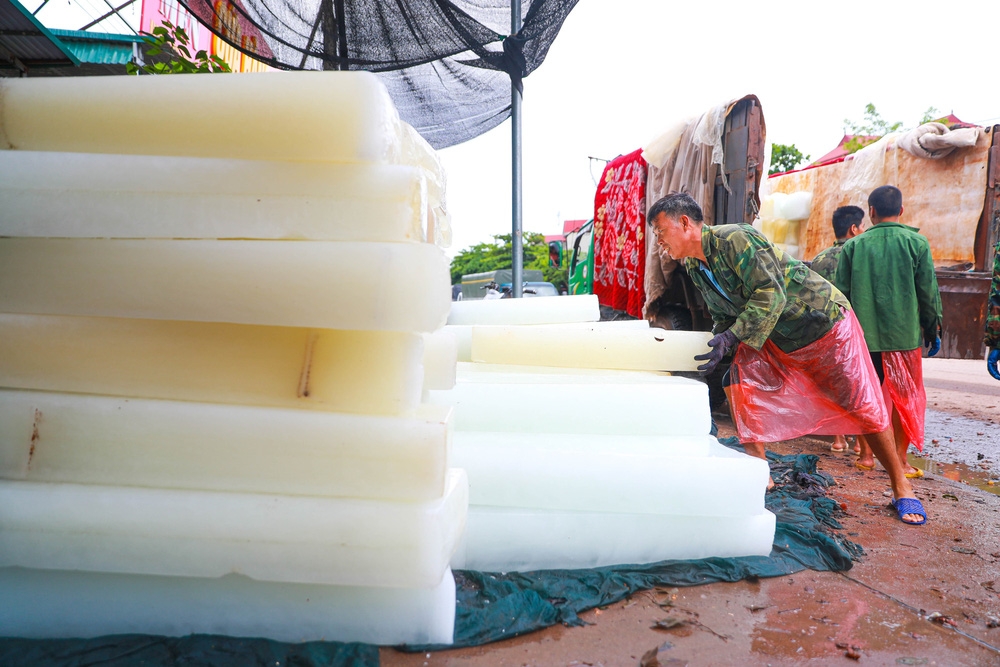 Large bars of ice are used to cool the fruits down, maintaining its freshness (Photo: VTV)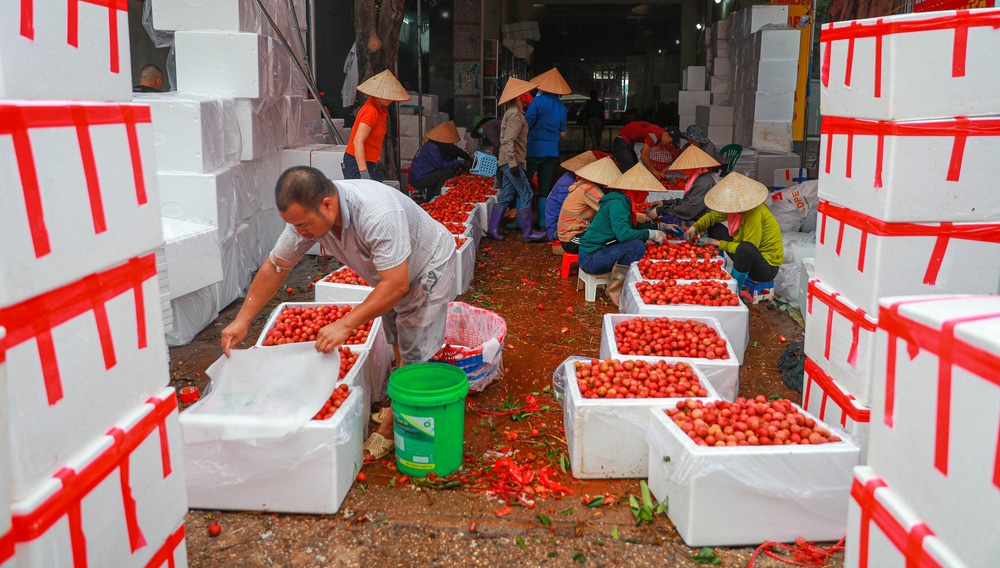 The lychees are soaked in ice then put into foam boxes (10-20kg of lychees each box) before being transported to other provinces in the country as well as exported to China (Photo: VTV)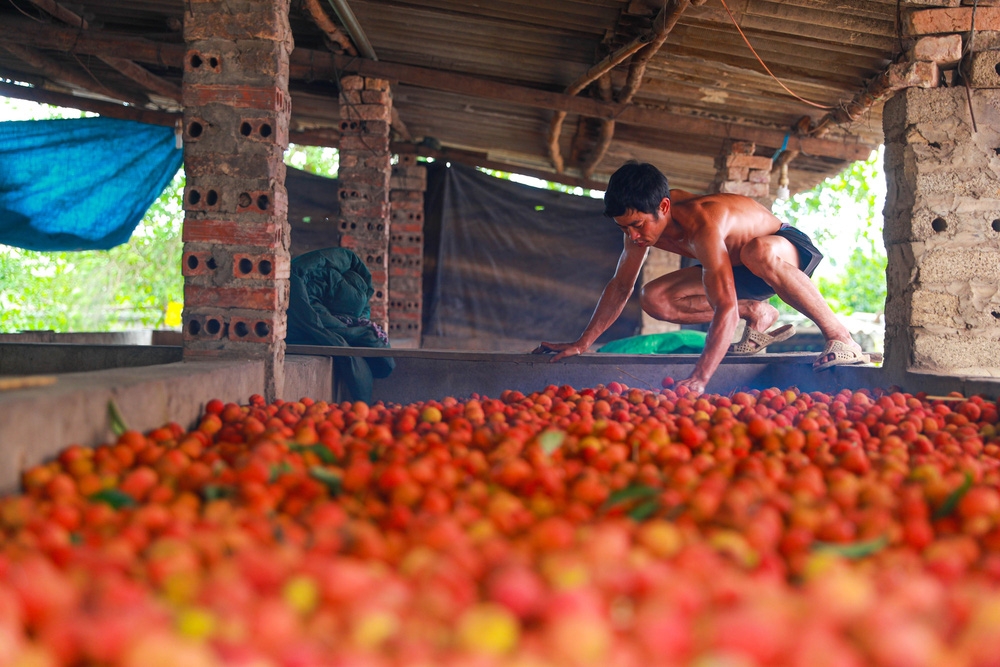 Besides selling fresh lychees, the local people also make dried lychees (Photo: VTV)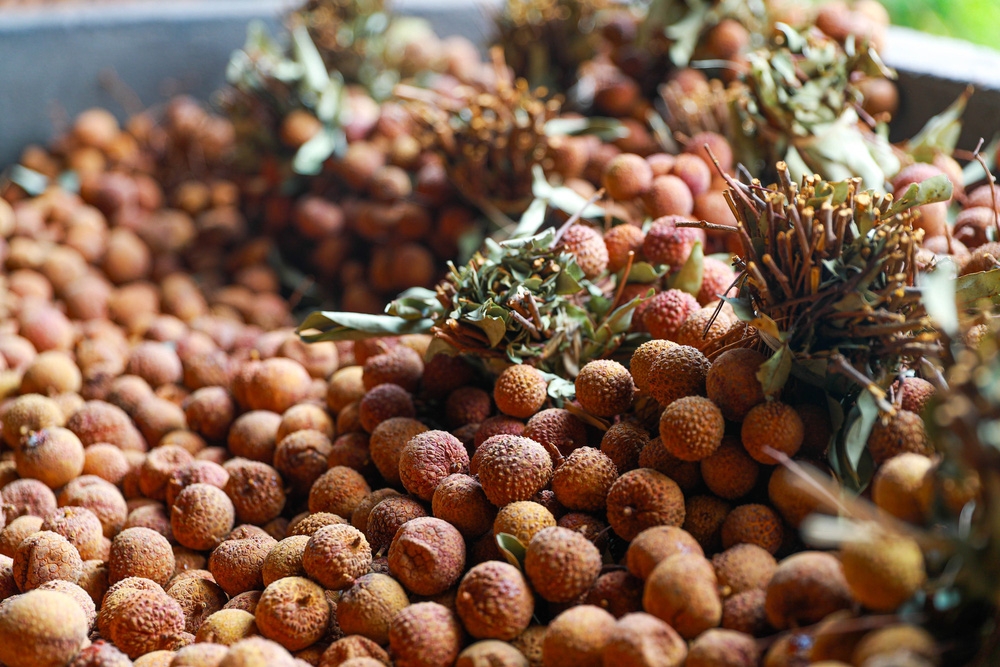 Lychees are put into high-temperature ovens, dried for hours. The dried lychees hence, can be store for days. (Photo: VTV)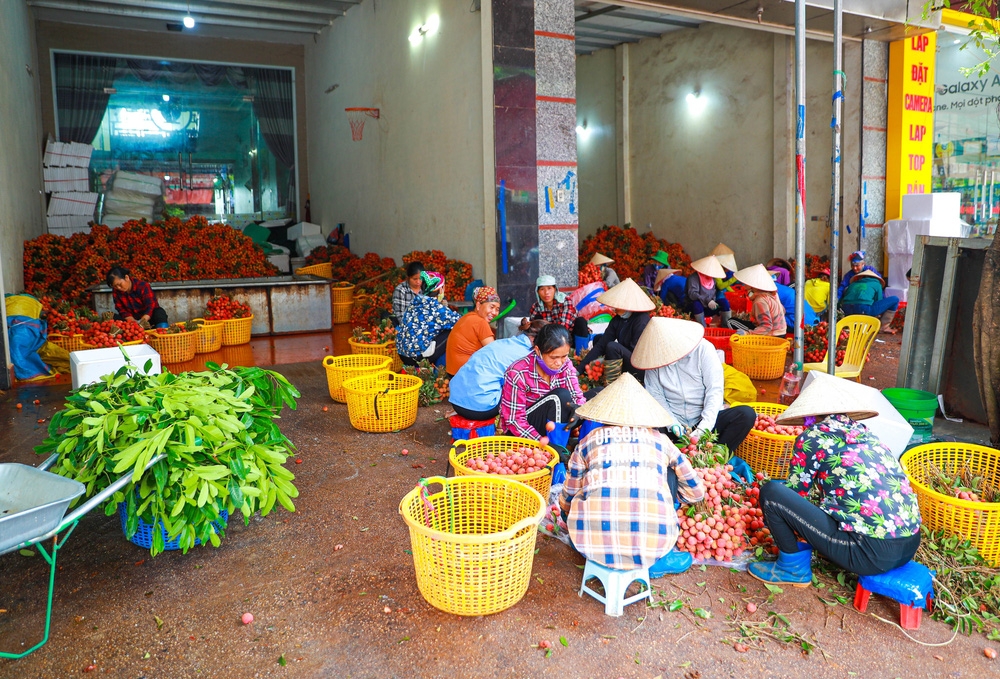 Women in Luc Ngan district take advantage of their free time to do part-time job. They trim and tie the lychees into bunches then place them into foam containers. (Photo: VTV)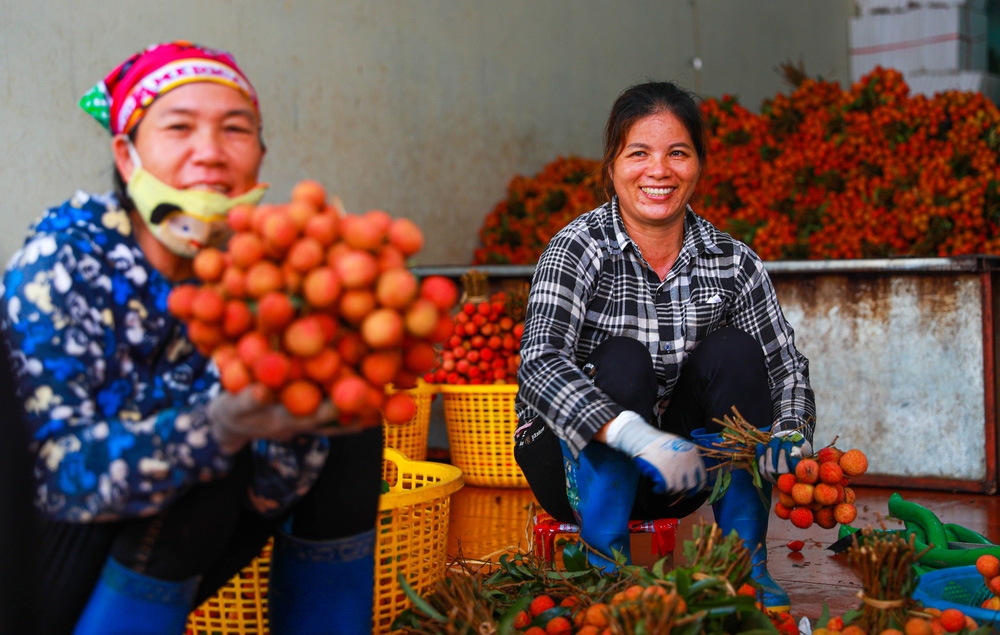 They get around VND 25.000 (US $1.07) per hour. (Photo: VTV)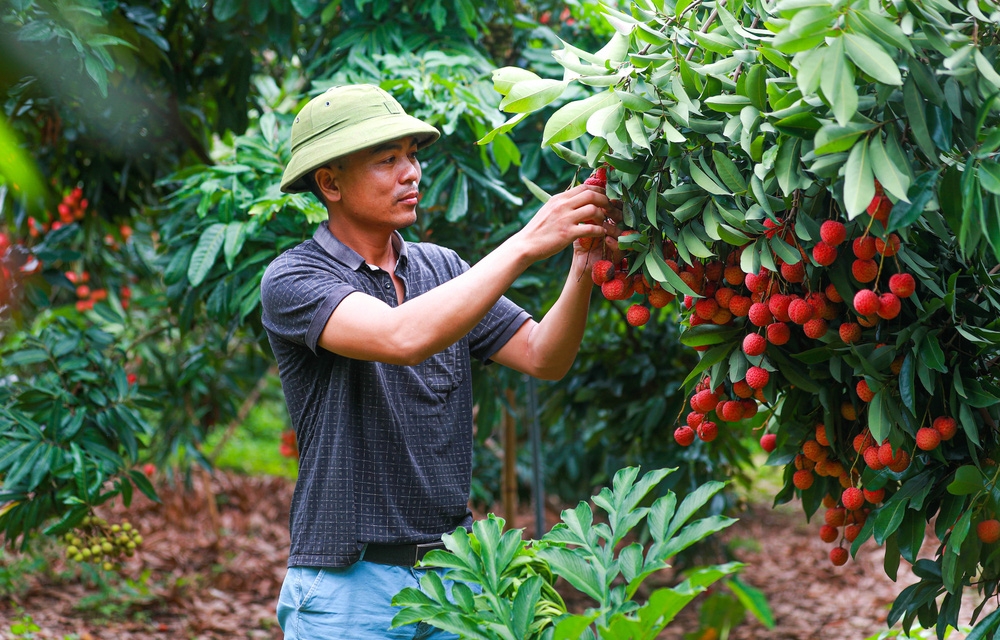 (Photo: VTV)
China is Vietnam's largest lychee importer. Over the past years, Chinese businessmen and local growers have maintained a long-lasting relationship, even during the challenging time of the COVID-19 pandemic at present.Vietnam exports around 50 percent of its total lychee production to nearly 30 countries and territories each year, including demanding markets like European countries, the US, Canada, Australia, Japan, Malaysia, etc.

According to a business representative in Pingxiang, Guangxi, the Bac Giang lychee brand has become very popular in China, with its products selling well in Beijing, Shanghai, Guangzhou, and Shenzhen among others.

Since the beginning of the season, nearly 6,500 tonnes of fresh lychees, worth more than US$3.6 million in total, have been exported to China through Kim Thanh Border Gate in Lao Cai Province, up 37% in volume and 39% in value compared to the same period last year.

On May 25, the first batches of lychees were shipped from the northern province of Hai Duong, the country's leading lychee grower, to Singapore, the United States, and Australia.
Lychees are small rounded fruit with white translucent flesh, pleasant smell and rough thin skin. Lychees are believed to be packed with nutrients from vitamin C, B to coppers, niacin, etc. which contribute to boost the immune system, lower cholesterol, improve digestion and so on.

In 2018, the fruit was certified by the Southeast Asian Records Organisation as one of the Top 10 specialties of Southeast Asia.