American expat creates "Made in Vietnam" motorcycle lock
After 6 years of living and working in Vietnam, Robert Thorwath invented a special lock to relieve the "pain" of motorcyclists.
CEO Robert Thorwath - Founder of Lock Cuff brand. (Photo: Vietnamnet)
Robert Thorwath currently runs and is also the founder of Lock Cuff - a business specializing in manufacturing "Made in Vietnam" motorcycle locks. Recently, Thorwath successfully raised capital for his product on Shark Tank Vietnam, a popular television programme.
Different from the existing lock models on the market, Lock Cuff's motorcycle lock is made with the purpose of locking the brake and accelerator. With this lock model, users will not get their hands dirty or have to bend down to lock the disc or wheel like in traditional motorcycle lock models.
According to Robert Thorwath, his wife and children are both Vietnamese. He had witnessed his wife bending over to lock her motorcycle while wearing a mini skirt. Realizing that inconvenience, Robert spent four years researching and developing this lock model.
Lock Cuff is inspired by the combination of a handcuff and a lock. It is very light, compact and easy to handle. Even if the thief cuts the brake line, the motorcycle cannot run because the accelerator is blocked. Users can also safely hook the helmet to the accelerator with this lock, Robert explained.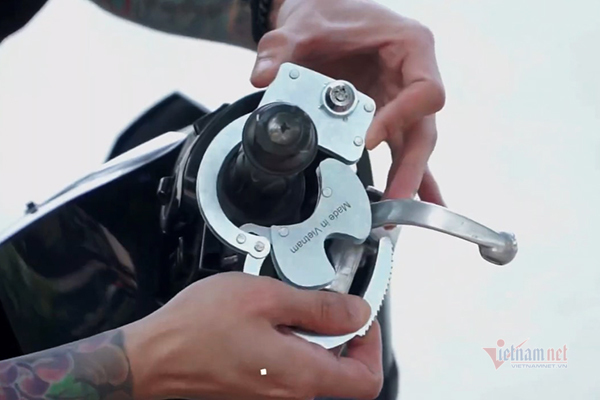 Lock Cuff uses the mechanism to fix the brake and accelerator, instead of locking the wheel or disc as usual. (Photo: Vietnamnet)
Due to its high applicability, the lock model of Robert Thorwath is very popular in the market. Although it has just been on the market since March 3, 2021, Lock Cuff has successfully sold 500 locks for 275,000 VND (13 USD) each. Additionally, Robert is happy to announce that his product is now patented.
This anti-theft lock is very eco-friendly as it comes in a green, biodegradable bag.
According to the CEO of Lock Cuff, the production process of this lock model does not have any waste. All materials, from the rubber pad to the main metal of the lock, are made in Hanoi and can be recycled. The laser cutting and the production of the plastic pieces are both done in Vietnam, he said.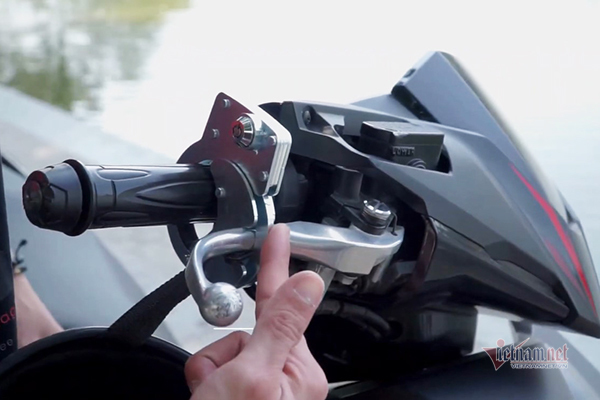 This compact lock model is priced at 275,000 VND (13 USD) for one piece. (Photo: Vietnamnet)
Despite receiving a lot of attention from the "sharks" of Shark Tank Vietnam, Robert chose Shark Phu with an offer of 2 billion VND for 10% of the shares.
Explaining this decision, he said that the most important thing with Lock Cuff now is the factory. With his strengths, Shark Phu will be the most suitable person to solve this problem.
When asked why he chose to start a business in Vietnam, Robert said, "There is one thing that I can say that I am very proud of, that is, I love Vietnam. My wife and children are both Vietnamese, so I won't make it in another country."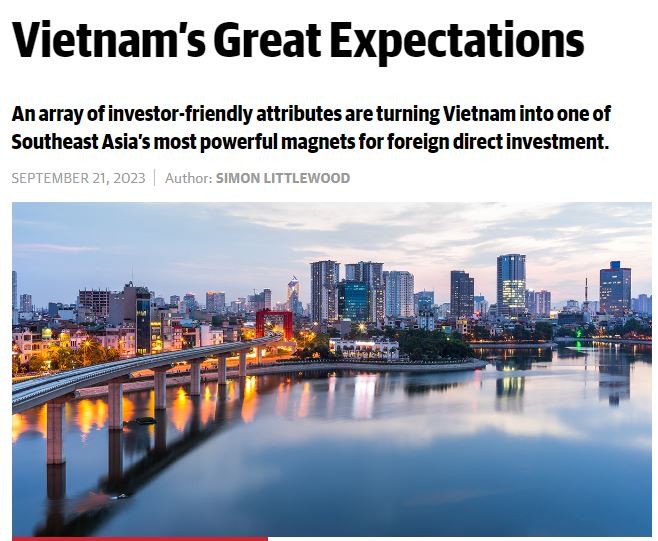 Economy
"An array of investor-friendly attributes are turning Vietnam into one of Southeast Asia's most powerful magnets for foreign direct investment," said Global Finance Magazine in a recent article.
September 23, 2023 | 16:38
Economy
Vietnam has a fast-increasing semiconductor ecosystem and possibilities to improve its position in the global supply chain. In the joint announcement of the US-Vietnam Comprehensive Strategic Partnership, the two countries acknowledged Vietnam's significant potential to become a key nation in the semiconductor industry, adding they "are supportive of the rapid growth of the semiconductor ecosystem in Vietnam."
September 22, 2023 | 09:22