Made-in-Vietnam Covid-19 vaccine to begin trial on 20 people from Dec 10
After a long time waiting, Vietnam's Ministry of Health announced that the local Covid-19 vaccine would be trialed from December 10.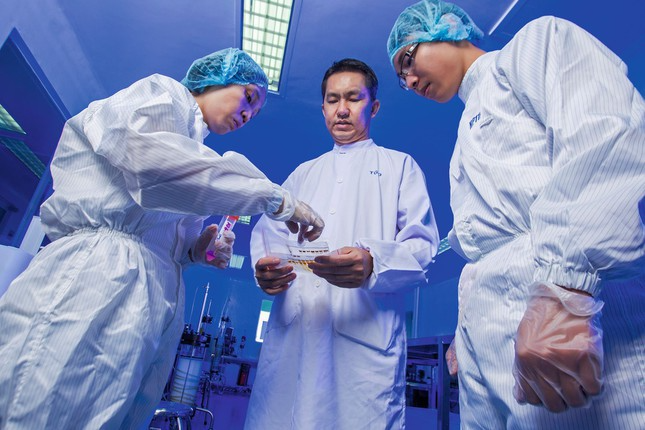 Biotechnology specialists at Nanogen company. Photo: Le Quang Nhat/ncov.moh.gov.vn.
According to Vietnamplus, the Covid-19 vaccine which is ready to run for the first phase of the human trial is developed by Ho Chi Minh City-based Nanogen Pharmaceutical Biotechnology JSC. To date, the producer did complete all evaluations and tests of the vaccine on animals, the result then met the standards to pilot on humans after being assessed by both prestigious domestic and foreign parties.
Under the plan, there are 20 volunteers with good health conditions are injected Covid-19 vaccine from December 10 at Vietnam Military Medical University. It is expected that the vaccine will be deployed to a larger group of 400 volunteers after three months of trialing on the first small batch of volunteers.
In Vietnam, there are four agencies participating in Covid-19 vaccine research and development. In addition to the Nanogen vaccine, which is set to begin at phase 1 clinical trial, two other manufacturers are also in the process of evaluating the safety and immunogenicity of vaccines in animals.
Laying stress on the significance of COVID-19 vaccine production, Minister of Health Nguyen Thanh Long said the ministry has promoted domestic research and production while enhancing cooperation with international vaccine developers so as to gain early access to vaccine sources, Vietnamplus reported.
He urged local vaccine producers to speed up their work in order to launch human trials soon and pledged support for the producers, including minimizing administrative procedures and facilitating product registration and licensing.
The Ministry of Health will work with competent agencies to help producers get access to capital for vaccine development and production, he added.
Long requested vaccine producer Polivac to continue with its research on the COVID-19 vaccine while coordinating with Russia and China to leverage access to vaccine suppliers in the two nations.
About 200 vaccine manufacturers around the world have been involved in the development of the COVID-19 vaccine, of which the UK, Germany, and the US have all promised to prepare their vaccines for the domestic market.
Vietnam recorded four new COVID-19 cases from 6 pm of December 4 to 6 pm on December 5, all Vietnamese and imported, bringing the national tally to 1,365, according to the National Steering Committee on COVID-19 Prevention and Control.

The Ministry of Health recommended people to continue serious following its message featuring 5K (in Vietnamese) Khau trang (facemask) - Khu khuan (disinfection) - Khoang cach (distance) - Khong tu tap (no gathering) – Khai bao y te (health declaration) in order to live safely with the COVID-19 pandemic in 'new normal'.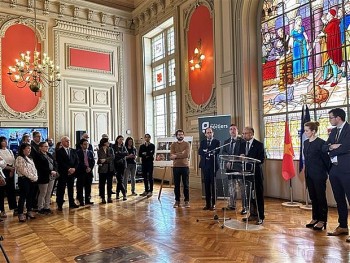 National
Vietnam News Today (Mar. 26): Vietnam and Thailand promote labour cooperation; Vietnamese, French localities look to step up cooperation; Attractive incentives on offer at Hanoi Tourism Festival 2023; E-commerce accounts for 60% of Vietnamese digital economy.