American newspaper names central Vietnam among top 7 safe destinations post-pandemic
The American newspaper CNBC has recently named Quy Nhon, Mui Ne in central Vietnam among top safe destinations post the Covid-19 pandemic.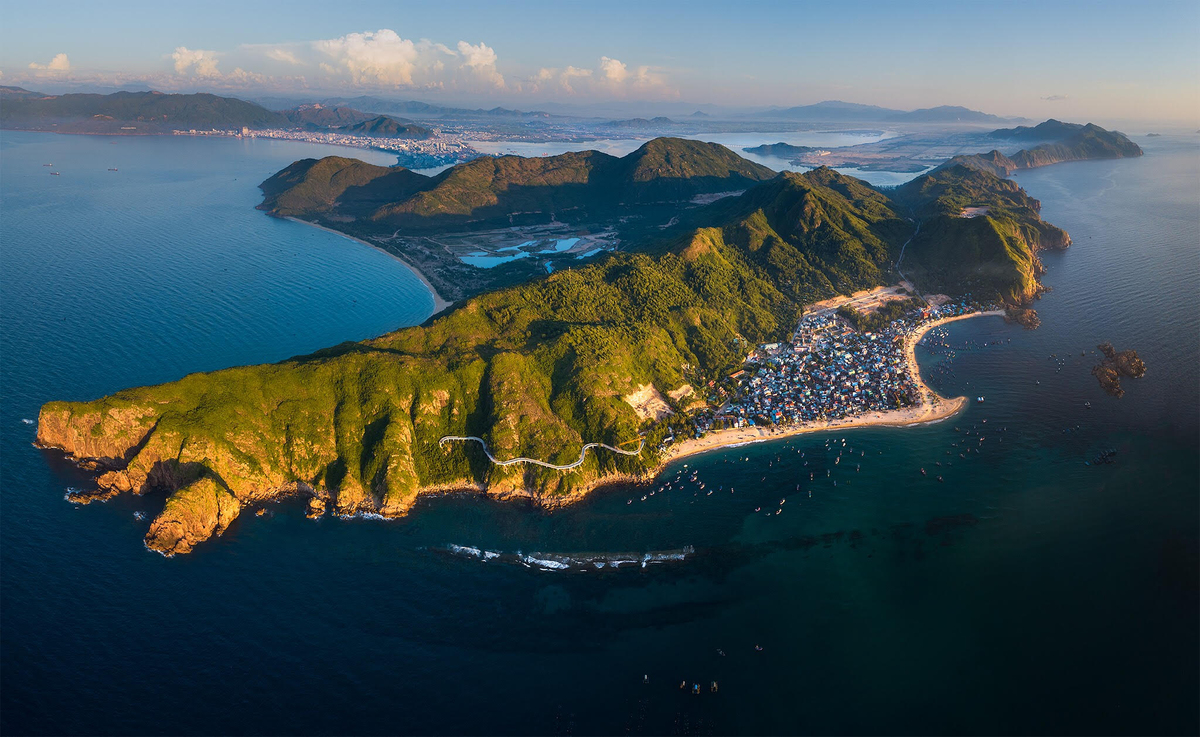 Photo: Vnexpress
Many international tourists to Vietnam head north to Hanoi and Halong Bay or south to Ho Chi Minh City. Those who do venture to the center typically go to the old town of Hoi An, the glitzy hotels outside of Da Nang, or to the historic sites of Hue and My Son.
Several years ago, a small number of resorts bet that travelers would be attracted to the sleepier parts of Vietnam, said CNBC.
Anantara, a luxury brand from Minor Hotels group, was one of them. It opened Anantara Quy Nhon Villas in 2018 as the first five-star international hotel, in a part of Vietnam that received few international visitors.
The resort has 26 sea-facing villas, each with ocean views and private pools.
The brand opened another location, Anantara Mui Ne, four hours east of Ho Chi Minh City.
"Both Anantara Quy Nhon Villas and Anantara Mui Ne are located in more off the beaten track destinations and in their own enclosed locations affording peaceful experiences, but within easy reach of local sites," Pieter van der Hoeven, the brand's regional general manager, told CNBC Global Traveler by email.
Another attraction to the country's interior is the colossal Son Doong cave. First explored in 2009, only 1,000 travelers are permitted to explore it every year, a limit put in place to protect the cave, which is believed to be one of the largest and most magnificent in the world.
More about Quy Nhon
Quy Nhon is the capital of Binh Dinh Province and was acknowledged as a city as early as 1898. However, the town has been in existence since the 11th century, in the time of the Kingdom of Champa. In the 15th century, it also served as the ruling center of Emperor Le Thanh Ton. Quy Nhon was also relevant during the Vietnam War. Not only was it a site for intense battle, but it also was an important US military and naval base, according to Vietnam-guide.
At present, Quy Nhon is a developing port city with a population of more than 260,000 people with plans to build infrastructure that would encourage more tourists to visit. Naturally, fishing is the main industry in Quy Nhon, making it a great source of exceptional seafood. This destination is highly recommended for all seafood lovers.
Quy Nhon Attractions
Quy Nhon has a couple of attractions worth seeing and one of them is the Binh Dinh Museum. The right gallery is devoted to the struggles of the local Communist Party during the Vietnam War. The center gallery features items from the French Colonial period and the left gallery showcases Cham sculptures.
The Thap Doi Cham Towers is another Quy Nhon attraction. It is unique because of the number of towers as well as its location. Most Cham towers are in odd-numbered groups and usually found on the hilltops, while this one consists of only two towers and is located in town. Anyone would be impressed with the relief on the sculptures since they are still in good shape after all these years.
Long Khanh, which is Quy Nhon's main pagoda, is also worth the trip. Built in the 18th century, this attraction is notable because of its 17-meter high Buddha.
Other remarkable attractions are the picturesque Queen's Beach and the Quy Hoa Leper Colony. The former was named after the wife of Vietnam's last emperor and the latter consists of a hospital surrounded by gardens and homes of former patients.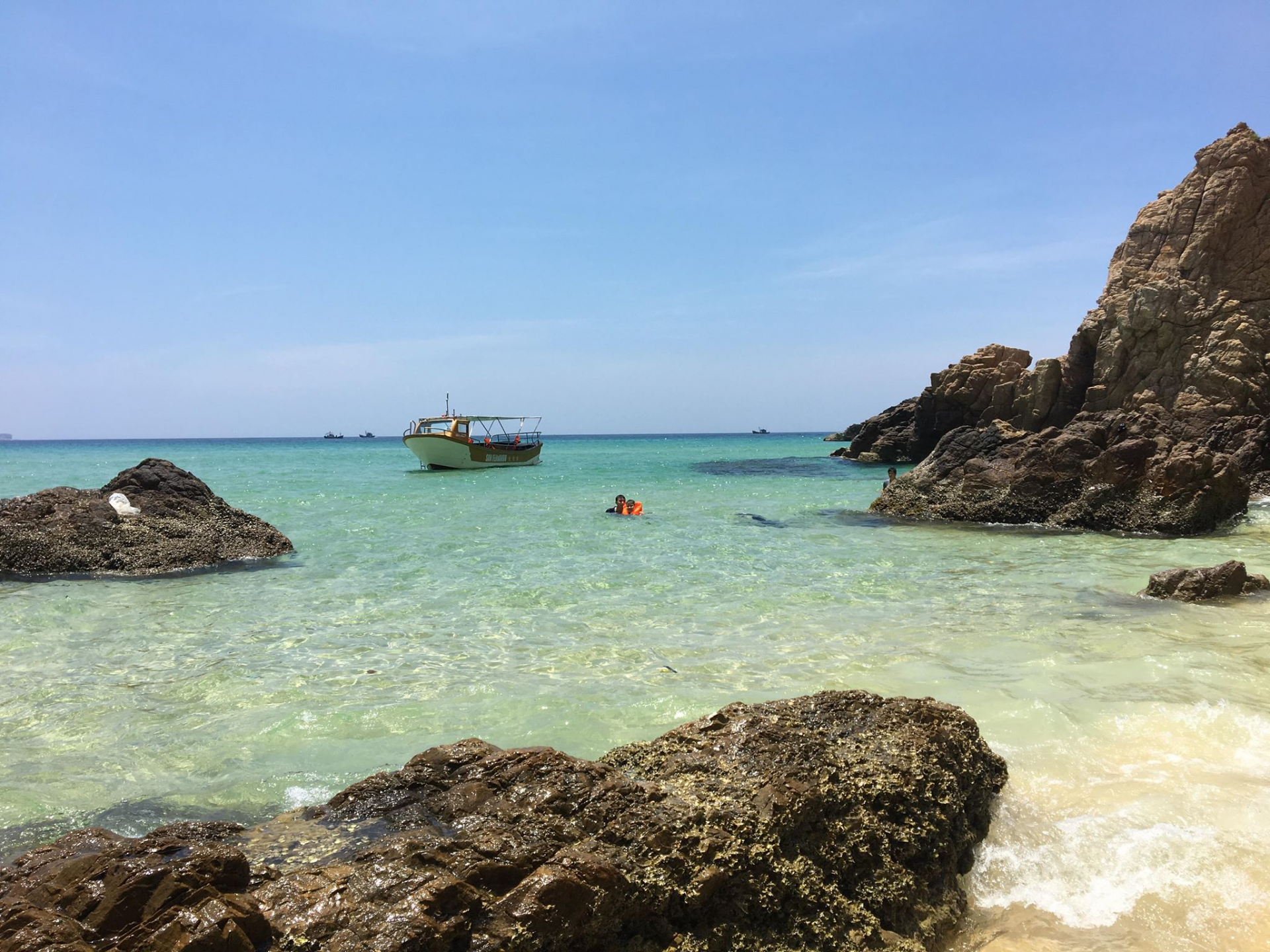 Photo: Guide.cmego
Quy Nhon Activities
Aside from sightseeing and eating seafood, swimming is the next best thing for Quy Nhon visitors and anyone who visits Quy Nhon is expected to go swimming at least once. After all, the city is flanked by gorgeous beaches. Queen's Beach and Quy Hoa Beach are popular hang outs of both locals and expats.
Those who want a more upscale and sophisticated experience should head on out to either (or both) of the two resorts in Quy Nhon: HAGL Resort Quy Nhon and Life Resort. HAGL Resort is one of the best places to stay in the city and is an exclusive establishment which boasts an enormous pool, as well as a spa, fitness center and tennis courts.
Life Resort, meanwhile, is the fanciest place in Binh Dinh. Set on a private beach, this resort offers other activities aside from swimming to its guests. Here, visitors can take a boat, snorkel, relax in the spa or do t'ai chi.
More about Mui Ne
Located a five hours' drive from Ho Chi Minh City, Mui Ne is a favorite destination for many Saigonese to spend a weekend away from the hustle and bustle of the city and get out into nature. International travelers have also discovered Mui Ne for themselves thanks to the town's long stretches of beautiful beaches and the abundance of delicious fresh seafood. Apart from that, Mui Ne is home to some breathtaking landscapes and unique scenery you won't find anywhere else in Vietnam, said Guide.cmego.
The Best Time to Visit Mui Ne
Thanks to its unique micro-climate, Mui Ne is one of the driest places in South East Asia. Even during its rainy season, it's dry compared to cities nearby. For the best weather and temperatures, visit the city between August and April. If you're interested in kitesurfing, plan a trip between September and February. At this time the wind is strongest, and you'll get some nice waves ideal for kitesurfing and other water sports. If you don't like too much heat, avoid the time from April to August as it's very hot in Mui Ne during this time.
What to See in Mui Ne
Climb Mui Ne's sand dunes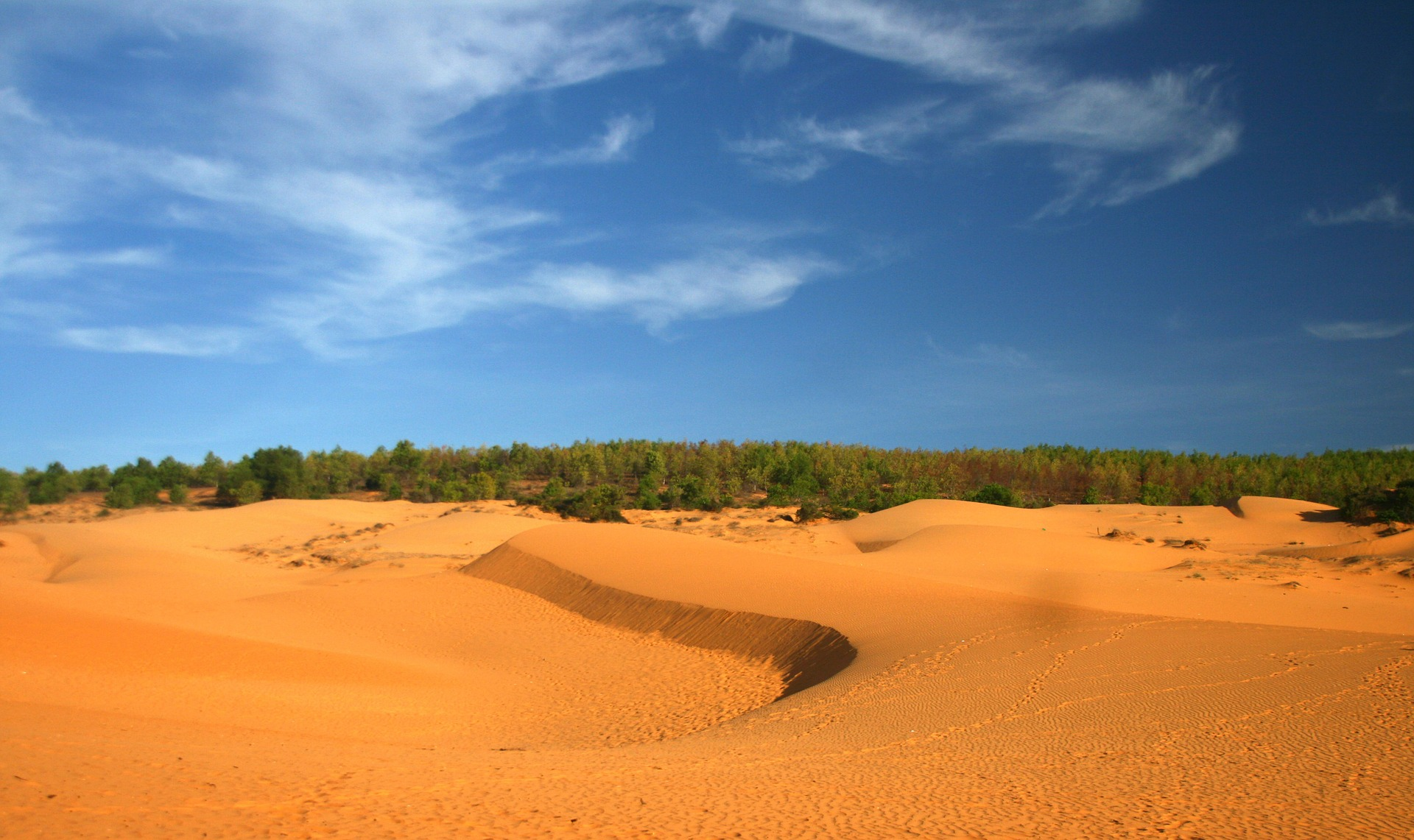 Photo: Guide.cmego
The sand dunes are Mui Ne's most famous sight and probably one of the main reasons many visitors come here. After all, they are the only dunes of their kind in Vietnam! Note that there are two different spots to visit: the white sand dunes and the red sand dunes.
Both areas are like miniature deserts and offer a completely different image of the otherwise lush, green Vietnam. Take some time to explore both spots, try to climb to the top of the dunes or hire a quad bike to drive around.
Walk to the Fairy Stream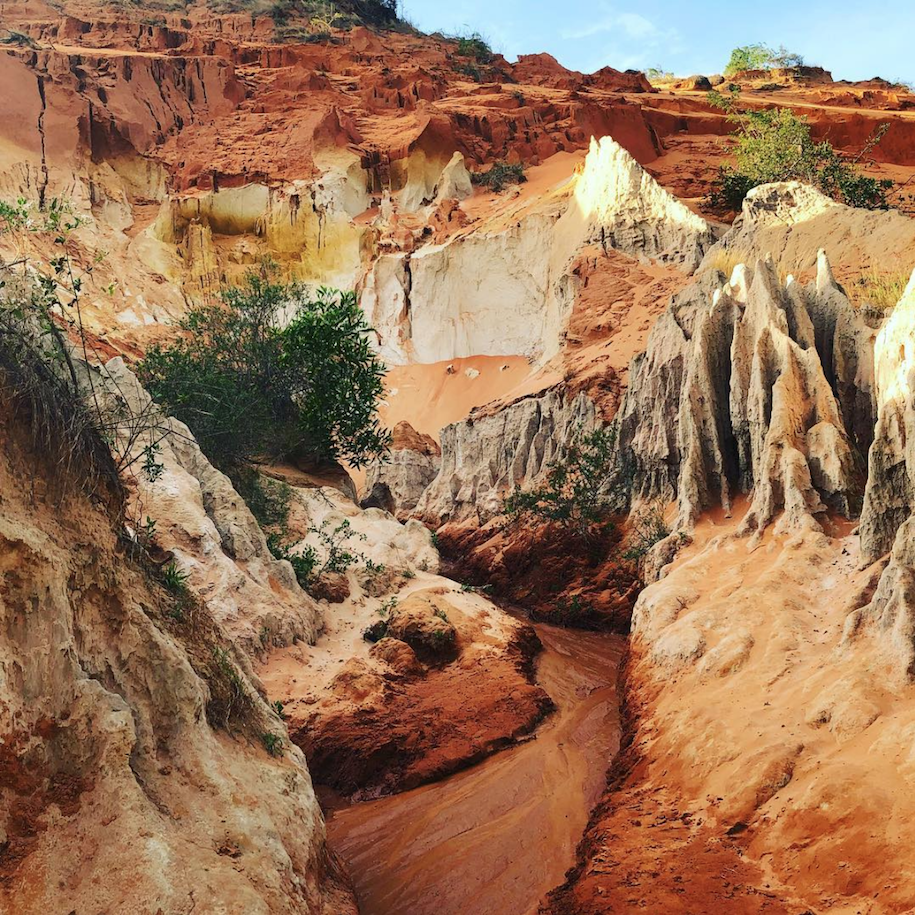 Photo: Guide.cmego
Just about ten minutes from the main resort area, you'll find the Fairy Stream directly off of Nguyen Dinh Chieu, Mui Ne's main road. As you head east, keep an eye out for a small bridge and a café next to it.
You'll quickly get into some impressive limestone formations which make it feel like you're in a much tinier version of the Grand Canyon. In the end, you'll see a small waterfall. If you're here during the rainy season, there might not be much to see, but the walk through the 'canyon' is still well worth it.
Explore the Po Sha Inu Cham towers
A little way west of Mui Ne, the Po Sha Inu or Poshainu Cham Towers are waiting. They are some of the oldest remaining Cham towers in Vietnam, built around the eighth century and dedicated to Lord Shiva. It can be a bit tricky to find them as they're off the main road, but the spot is well worth a visit. Google Maps will help you find your way and who knows, maybe you'll come across some other interesting things on the way!
Visit Mui Ne fishing village and the morning market
What would a stay in a seaside destination be without a stop by the local fish market? Mui Ne, like most other towns on the water, has a lively fishing village where fishermen go out early in the morning and sell their catch at the market upon their return.
If you come here at the crack of dawn, you'll find yourself in the middle of a flurry of activity. Men returning from work with the catch of the day, women setting up their stalls, and people coming to buy the freshest seafood for their homes and restaurants. Take a stroll around to witness the haggling, chit-chat and general business of this market. Maybe you'll even learn a thing or two about local seafood varieties and discover a new favorite!
Chill out by the beach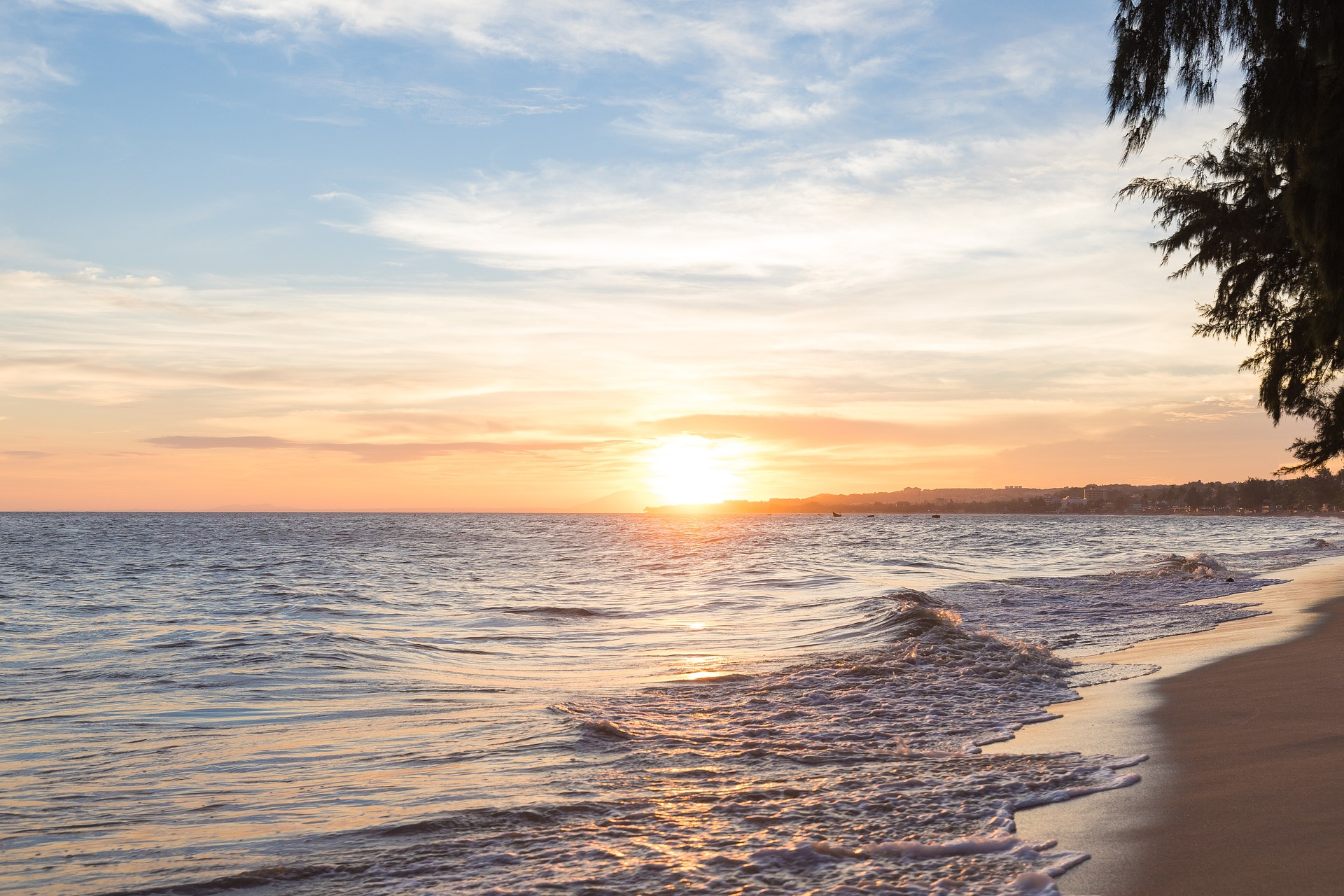 Photo: Guide.cmego
Mui Ne itself stretches along ten kilometers of soft sandy beach, so you'd think there's plenty of space for you to find a spot you'll enjoy. However, most hotels with direct beach access will allow only their guests to use it. Coco Beach Resort and Bamboo Village offer day passes for around 200,000 VND which includes the use of their beach, sun loungers, towels, and bathrooms/changing rooms. Drinks are reasonably priced too.
Mui Ne's public beach is also worth a try, but especially on the weekends it's pretty crowded and a lack of facilities like bathrooms and wastebaskets takes a toll on this area.
To have a fine stretch of coastline to yourself, head a bit northeast of Mui Ne, past the white sand dunes. There you will find long stretches of white sand beaches that are hardly touched. If you want some basic facilities, go all the way to the Langson Mui Ne Campground. They provide sunchairs and changing rooms to their guests but don't mind outsiders snagging a spot, as long as you have a drink or two. And who could say 'no' to a cool beer or cocktail?
More about Son Doong cave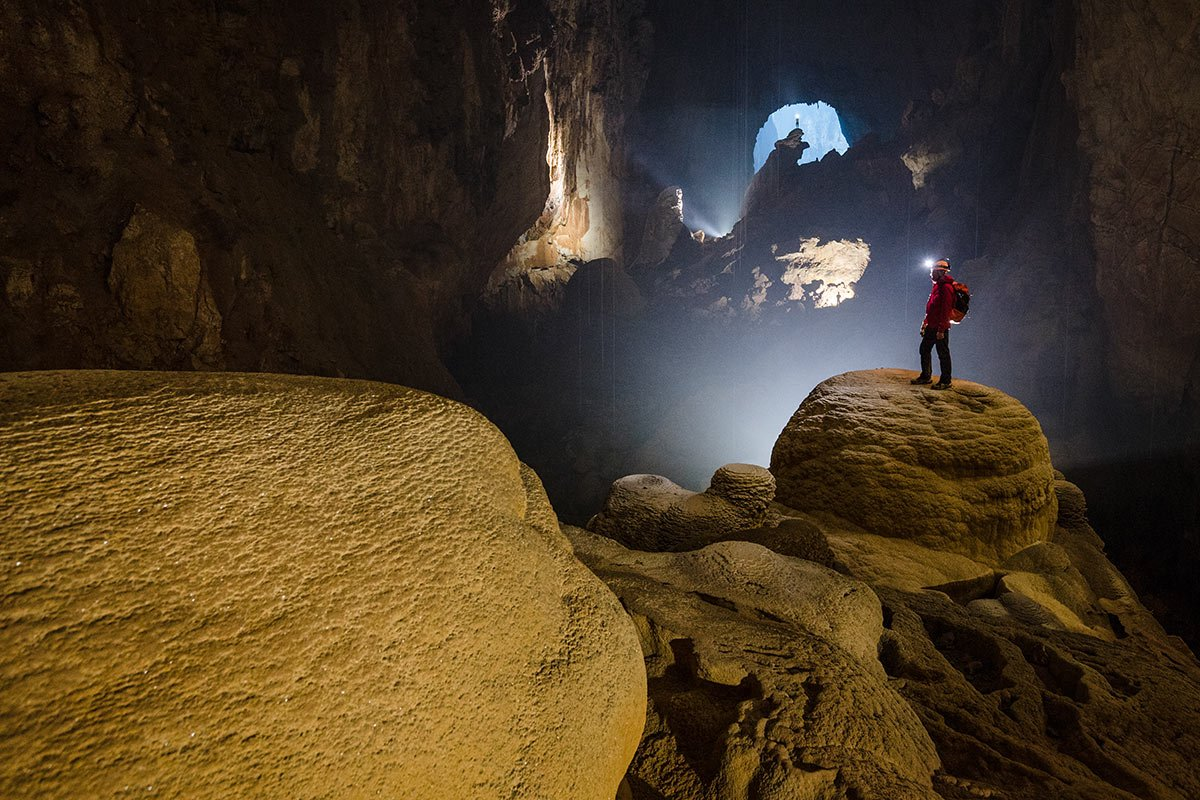 Photo: Oxalisadventure
Hang Son Doong, the largest cave in the world, is located right in the heart of Phong Nha-Ke Bang National Park in the Quang Binh province of Vietnam. It was formed during the Cambrian-Permian geological eras, putting it at a date between 400–450 million years old. No words can do justice to the size of this UNESCO-protected cave—it stretches for over three miles (five kilometers), and it reaches heights of 650 feet (200 meters). The main cavern is large enough to house an entire New York City block.
Photo: Oxalisadventure
What's even more amazing is that the ecosystem created within the cave has its own weather system and creates its own clouds. Inside, you will find the largest stalagmite known to man, hanging at 262 feet tall (80 meters), and fossils dating back millions of years. Collapsed ceilings have created openings known as dolines, and this has allowed foliage to grow inside the cave. You will come across jungles and rivers enveloped by misty clouds, and microorganisms thriving in the darkness. It is a whole other world, devoid of much human interaction. You will be walking into an image of Earth as it was hundreds of millions of years ago. Think of it like A Journey to the Center of the Earth by Jules Verne. Maybe you will find dinosaurs inside, Theculturetrip reported.