The world's largest pagoda in Vietnam, a sanctuary of birds
Peaceful islands surrounding Tam Chuc, the world's largest pagoda in Ha Nam, are home to a variety of bird species and a favorite destination among nature-loving photographers.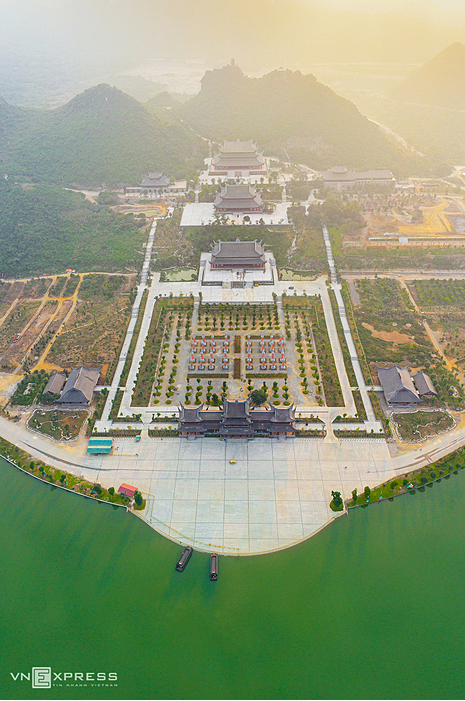 Photo: Vnexpress
Located around 65 kilometers from Hanoi in Kim Bang District, the 5,100-hectare Tam Chuc Pagoda complex boasts greenery and peaceful scenery, making it an oasis for various bird species, Vnexpress reported.
Photo: Vnexpress
By the end of 2020, passionate bird photographers Vo Rin, Nguyen Hong Huy, Ha Vu Linh and Nguyen Thuy Linh visited the pagoda. They are authors of this series of photos.
In the photo, gray herons fly over Tam Chuc Lake, considered a mini-version of UNESCO heritage site Ha Long Bay in Quang Ninh Province, home to numerous small islets.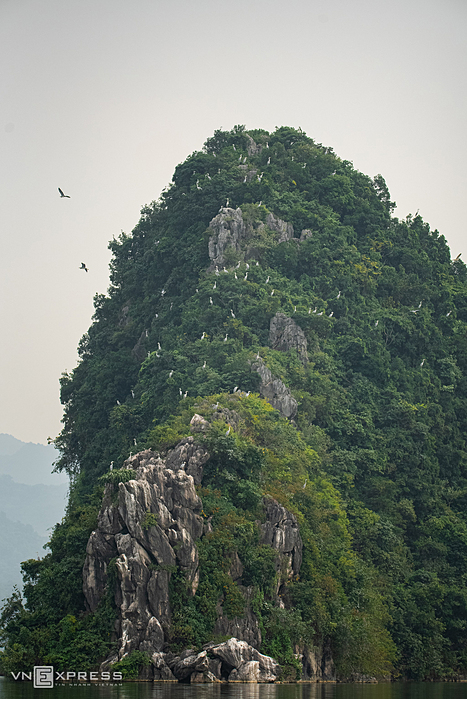 Photo: Vnexpress
Linh, 27, said he was impressed with Tam Chuc's large grey heron population, comprising up to thousands.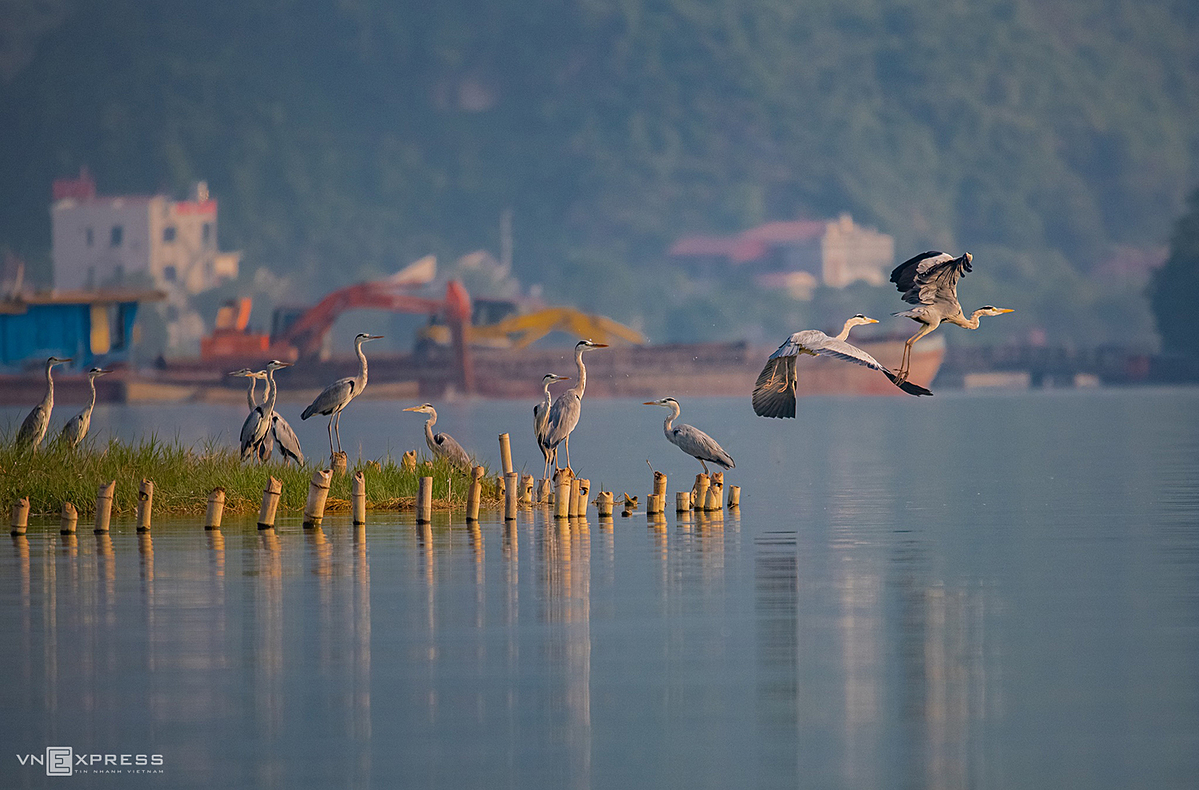 Photo: Vnexpress
Gray herons and large storks on their artificial island habitat.
The management board of Tam Chuc only allows visitors to travel around by boat and prohibits hunting.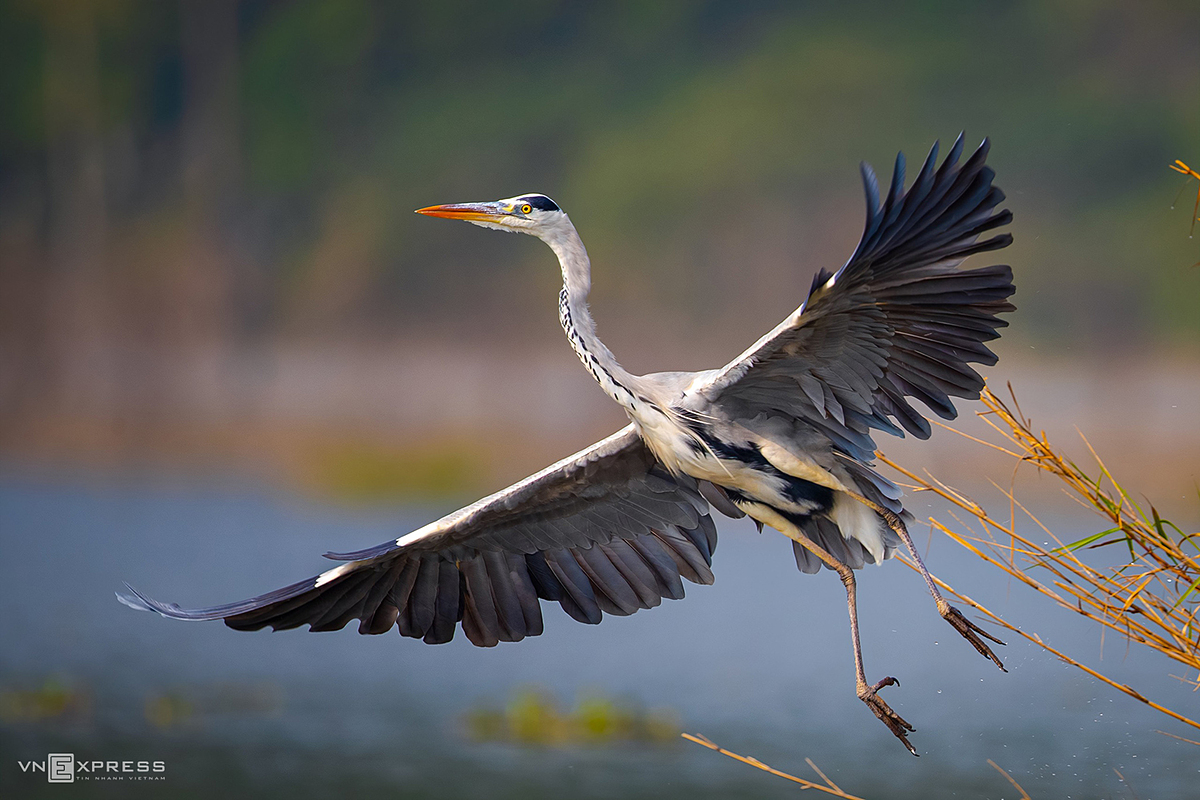 Photo: Vnexpress
Compared to other bird sanctuaries in Vietnam, Tam Chuc Pagoda's diverse habitat typically draws grey herons, fire herons, storks along with jays, pepper bananas and hawks.
"On our survey trip, the team recorded nearly 30 species of birds in the area," said Vo Rin.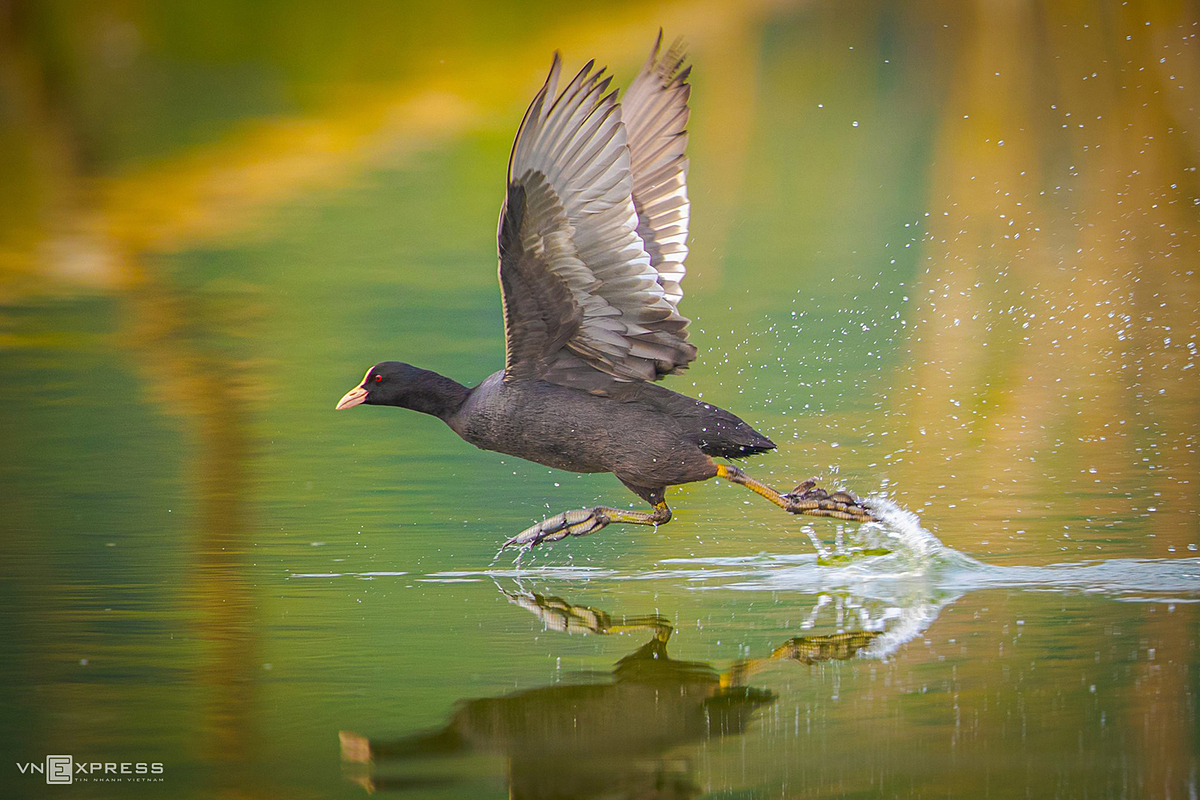 Photo: Vnexpress
The Eurasian coot, also known as the Common coot, or Australian coot, is a member of the rail and crake bird family. The species lives in swamps and freshwater lakes and is now rare in Vietnam.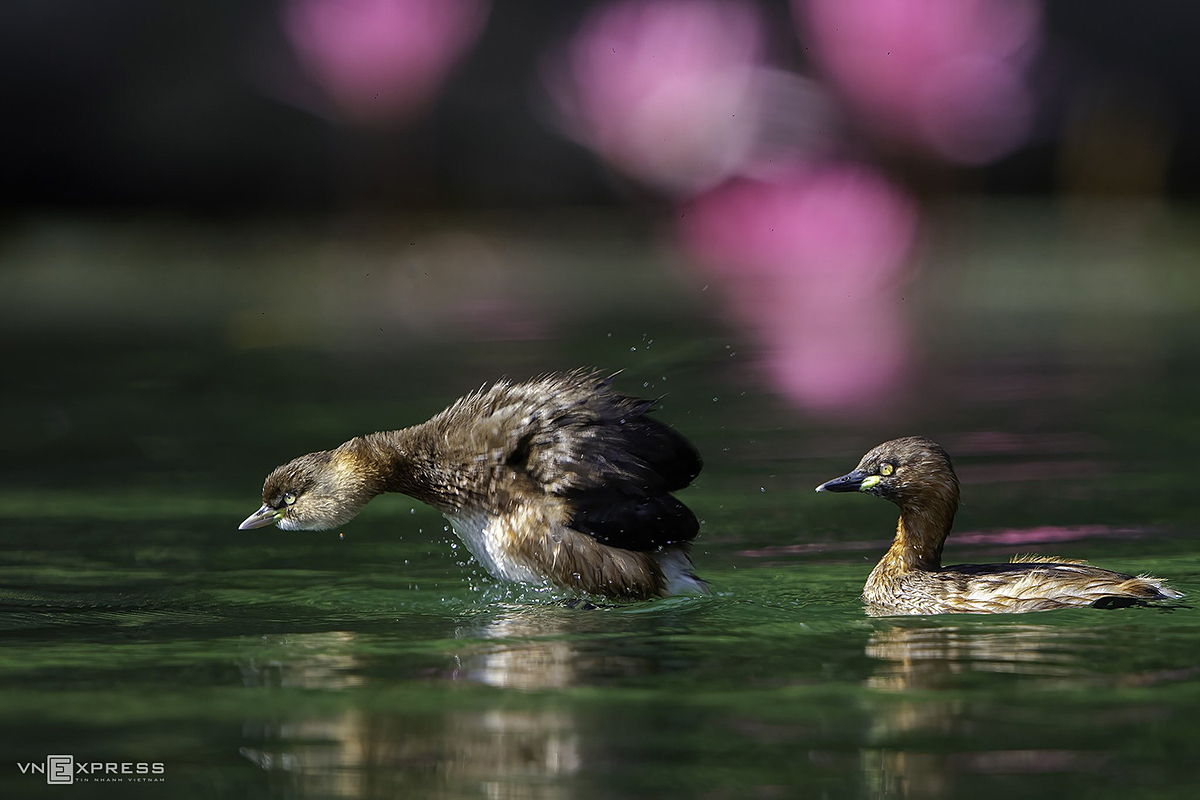 Photo: Vnexpress
The team had to travel two hours by boat in the early morning to capture the grebe, or Tachybaptus ruficollis.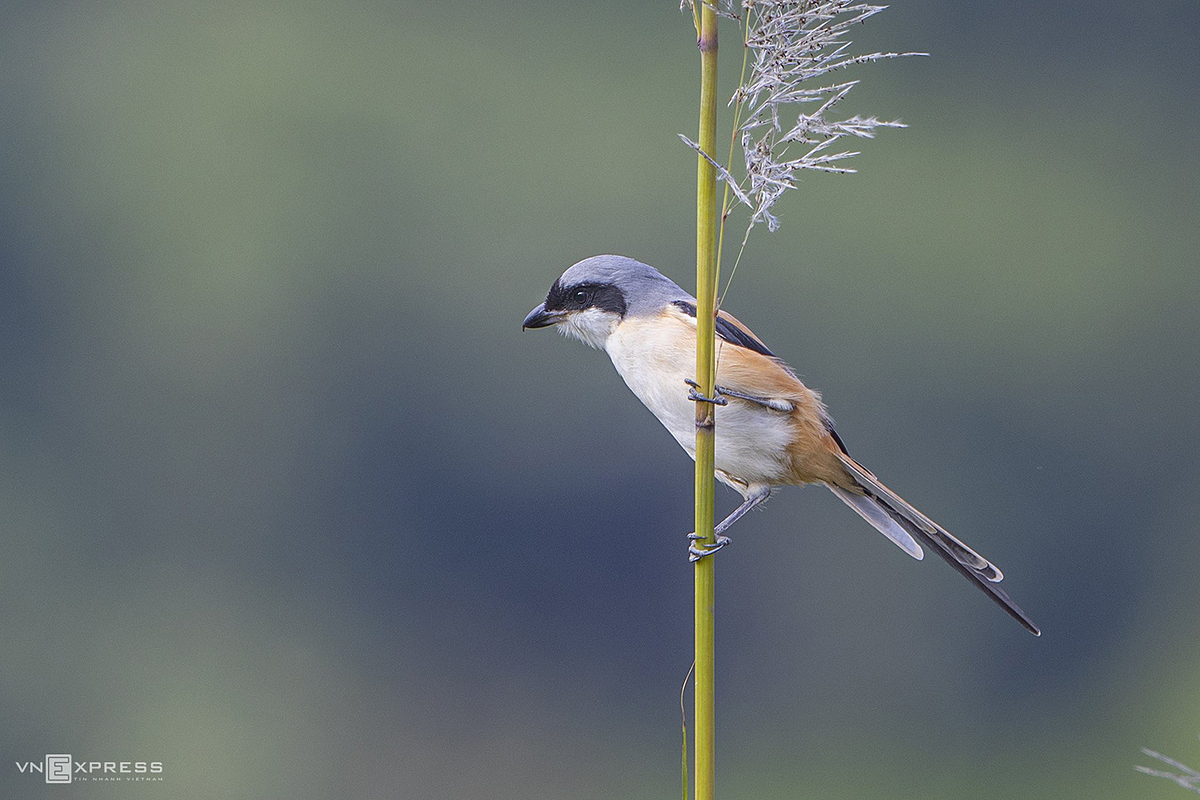 Photo: Vnexpress
Long tailed shrike, a shy bird, are about 25 centimeters long and have a long black tail, gray head, and brown back. They live in areas of over 2,000 meters above sea level.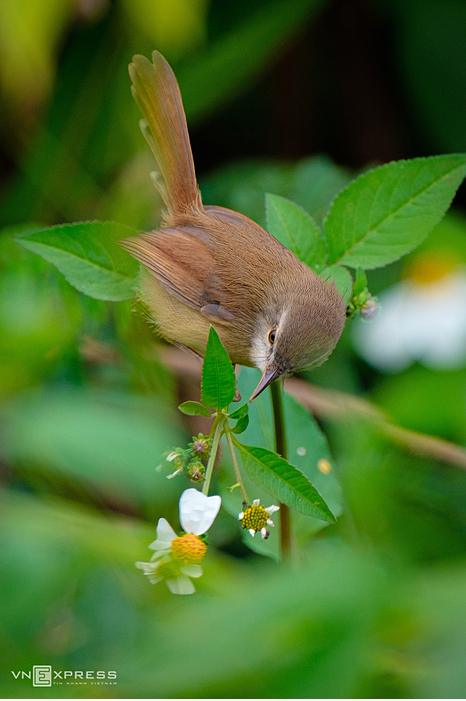 Photo: Vnexpress
Brown-headed leopard, about 12 centimeters long, usually live among grass or bushes.
During the trip, the group rose at 5:30 a.m. to prepare for a day of shooting, making use of electric bicycles en route.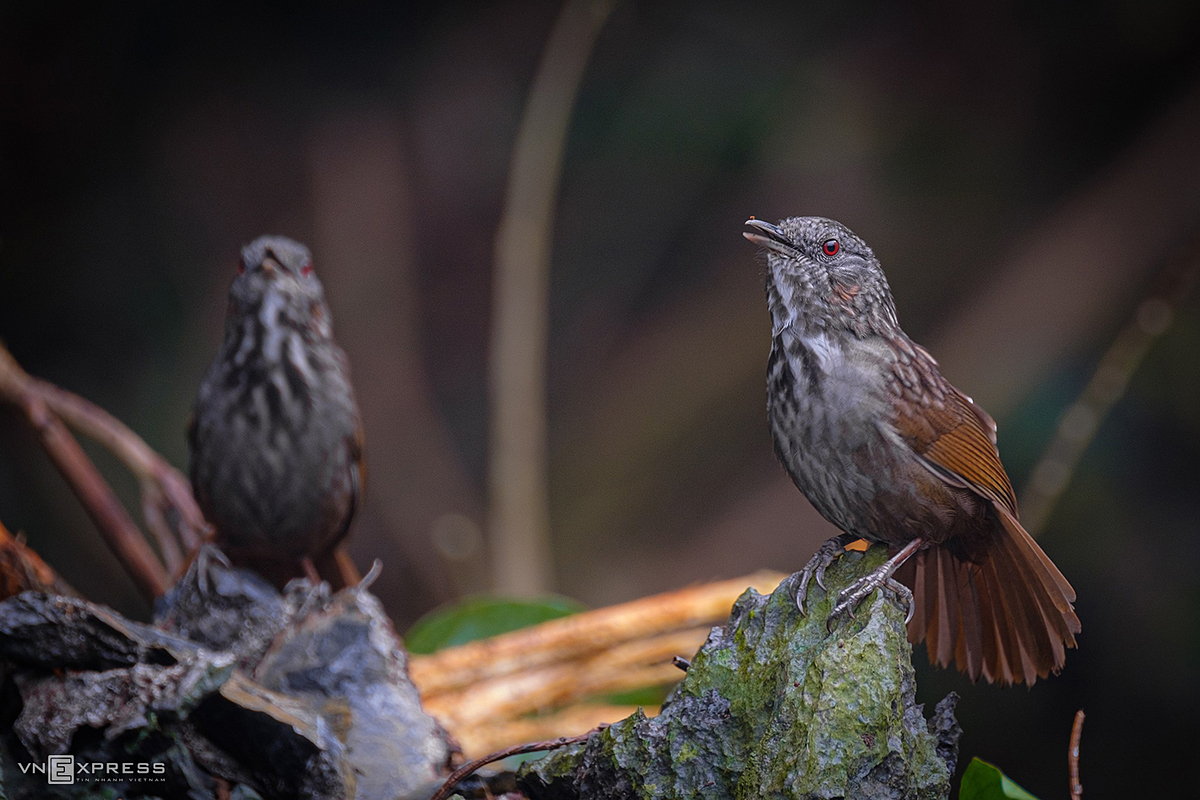 Photo: Vnexpress
Napothera crispifrons, an endemic species of Vietnam recorded in Tam Chuc. This species has an average size of about 20 centimeters and has a predominantly gray-brown color with many white, scaly feathers on the upper body, many large, dark stripes on the neck and light brown lower body.
"Through the series of bird photos in Tam Chuc, the group wants to convey the message of nature conservation, especially for rare species," said Nguyen Hong Huy.
More about Tam Chuc Pagoda
Tam Chuc Pagoda's Architecture
The ancient pagoda built in Dinh dynasty dating back 1000 years ago has been entirely damaged by time. People started to reform it a few years ago and now it is being rebuilt with the first phase expected to be completed in May 2019 when the pagoda hosts the UN Day of Vesak (Buddha's Birthday, Enlightenment and Passing Away), according to Vietvisiontravel.
The new Tam Chuc Pagoda sits on a site of nearly 5,000 hectares, surrounded by lakes, mountains, forests, and valleys. Following the traditional Vietnamese architecture of Buddhist pagodas, Tam Chuc Pagoda Complex includes Cong Tam Quan (the three-arched-entrances gate), Dien Quan Am, Dien Tam The, Dien Phap Chu, Chua Ngoc (Pearl Pagoda). Inside these places are gigantic Buddhist statues carved skillfully.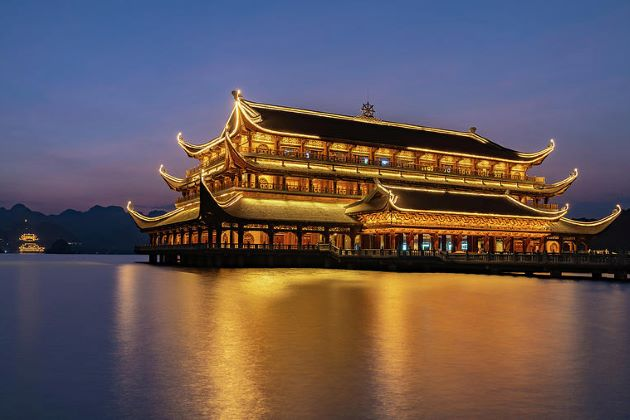 Photo: Vietvisiontravel
Located at an altitude of 15 meters, the 3-storey Ngoc Pagoda is the final place to visit in the complex. Standing at the pagoda, people can admire the scenic landscape created by imposing nature and impressive structures built by human hands.
Besides giant blocks sculpted in Kim Lan ceramic village of Hanoi, as many as 12,000 murals depicting legends of Buddha craved into volcano rock by Indonesian artisans will brighten up the area. Further, a garden of 99 stone pillars, each 13.5m high carved with Buddhist teachings, will also be installed at the site.
Worshipping Statues in Tam Chuc Pagoda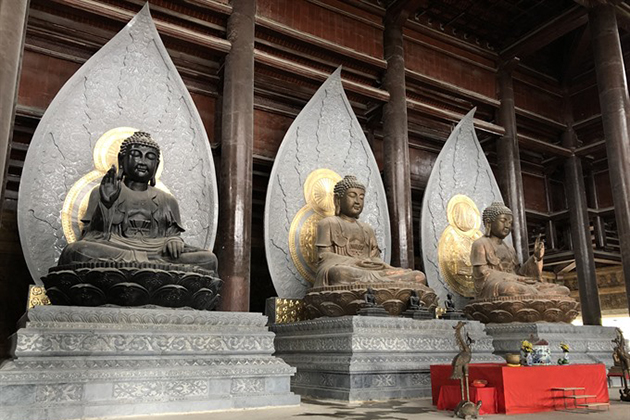 Photo: Vietvisiontravel
Three colossal Buddha statues in black bronze representing the past, present, and future are situated in the very heart of Dien Tam The in which great pictures about Nirvana are hung. These statues are over 100 tons weight and they are the biggest statues in Vietnam, defeating the record of those in Bai Dinh Pagoda.
Under Dien Tam The is Dien Phap Chu in which a 150-ton Phap Chu statue occupies religiously. Dien Quan Am is the place people locate the gigantic Avalokitesvara Bodhisattva statue. The image is totally made from bronze and weighs up to 100 tons. Visitors also have the chance to admire other meticulously carved statues that make the complex mystical and sacred
Tips for Visiting Tam Chuc Pagoda: Opening Hours & Entrance Fee
- Just 60 km from the capital city of Hanoi, visitors have wide choices of transportation to reach Tam Chuc Pagoda. The average time is 1.5 hours and you can take the scheduled train, bus, private car, or even motorbike.
- On arrival of the parking lot, you have to take the electric car to reach the pagoda as the distance is a bit far. It takes you 30,000 VND every turn.
- Free entrance fee
- It is forming the religious tour route connecting the sacred Perfume Pagoda and Bai Dinh Pagoda. You may combine visiting those magnificent pagodas on your tour.
- Visitors should wear proper clothes that do not reveal much of your flesh. It is recommended to have a scarf in your bag and show your respect to the monks.
- Being such a big pagoda possessing many world records, Tam Chuc Complex is estimated to complete in 2048. It is a promising attraction that can serve both religious activities and sightseeing of visitors. Tam Chuc Pagoda will soon begin an attractive place in Ha Nam Province as well as Northern Vietnam.
- Opening Hours: 6 am to 6 pm from Monday to Sunday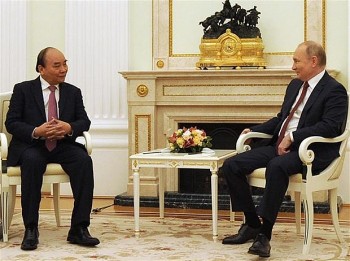 National
An article in Russia's independent newspaper focused on the Vietnam-Russia relationship and the significance of President Nguyen Xuan Phuc's visit to Russia from Nov. 29 to Dec. 2.