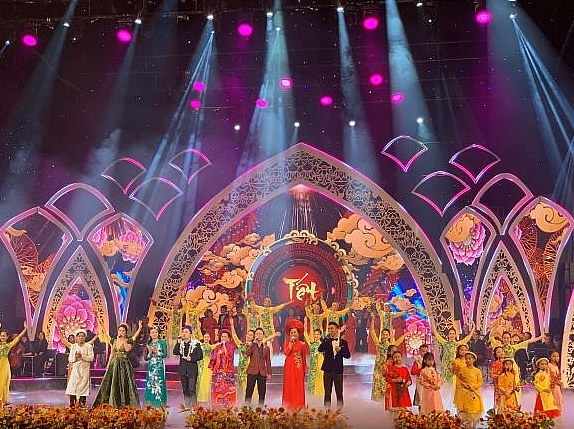 Spring on Homeland 2020.
Every year, on the occasion of the Lunar New Year, the Spring on Homeland program is held by the State Committee on Overseas Vietnamese Affairs (the Ministry of Foreign Affairs) in coordination with relevant agencies for the Vietnamese community in foreign countries.
This is an opportunity for people who live far away from the country to meet, exchange, and celebrate Lunar New Year with those who live in Vietnam. At the same time, the program expresses the Party's and State's deep concern for overseas Vietnamese affairs.
However, this year, due to the complicated developments of the COVID-19 pandemic both at home and abroad and the fact that Vietnamese compatriots abroad cannot visit their homeland to celebrate the Lunar New Year. Meanwhile, the "Spring on Homeland 2021" program also cannot welcome direct audiences. The program, therefore, will be held in an appropriate form.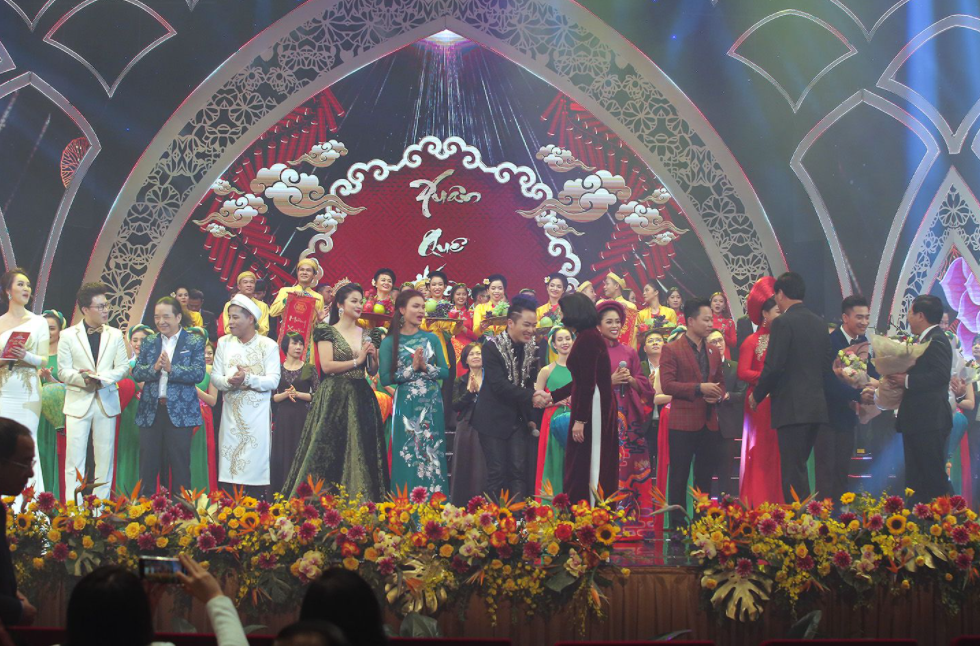 Spring on Homeland 2020. (Photo: TG&VN)
In order to ensure pandemic prevention and control, and to meet the expectations of Vietnamese overseas communities, even in difficult and challenging circumstances, the State Committee on Overseas Vietnamese Affairs will hold only one art exchange program from 20:10 to 22:00 on February 4, 2021, at the Hanoi Opera House and broadcast live on the channels of VTV1, VTV4 and digital platforms VTVgo, vtv.vn
Although there was no audience sitting in the theater, the art exchange at the Hanoi Opera House was meticulously staged with many outstanding performances praising the country's achievements, conveying a warm spring atmosphere with the performances of famous singers, artists.
During the program, Prime Minister Nguyen Xuan Phuc will also deliver a speech to sent Lunar New Year congratulation to the Vietnamese community and compatriots overseas.
Since 1993, initially held as a conference to meet the Vietnamese expatriates on the occasion of the Lunar New Year of the Rooster and listen to the feelings and aspirations of the overseas people, in 2008, the program was named "Spring on Homeland 2021". The Ministry of Foreign Affairs coordinates with agencies to organize an opportunity for Vietnamese people living inside and outside the country to meet and exchange on the occasion of Tet.
Since then, the program has become a great annual event, attracting the participation of large numbers of expatriates from all over the world to come home to celebrate Tet. The program is loved and welcomed by the overseas Vietnamese community.
Valerie Mai