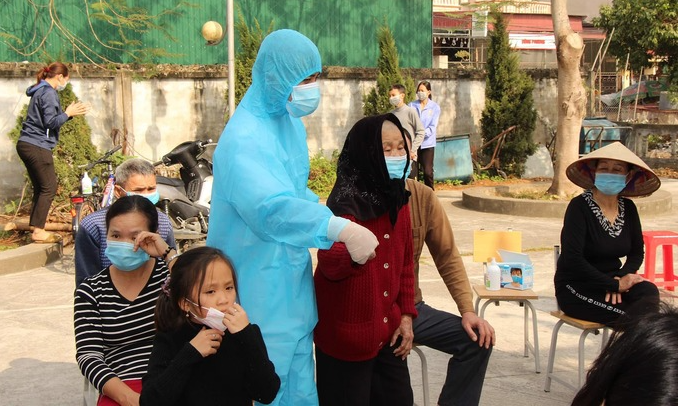 A medic helps a woman as residents are gathered for coronavirus mass testing in Hai Duong Province, northern Vietnam. (Photo: MOH)
57 new cases found
Nineteen locally-transmitted and one imported COVID-19 cases were detected from 6 am to 6 pm on February 3, according to the National Steering Committee for COVID-19 Prevention and Control. Of the 19 community infection cases, 14 are in the northern province of Hai Duong, four in northern Quang Ninh province, and one in the Central Highlands province of Gia Lai. Most of the cases were linked to the latest outbreaks in Hai Duong and Gia Lai.
Northern Hai Duong Province registered 37 more Covid-19 cases Thursday morning, raising Vietnam's domestic tally to 366 since community transmission resurfaced a week ago. All of the patients are workers at an industrial park in Chi Linh Town where the first case of Hai Duong and also one of the first cases of the ongoing community outbreak was detected.
With the new confirmed cases, Vietnam has registered 366 domestic Covid-19 cases in 10 cities and provinces ever since infections returned to the community on January 28. Hai Duong now has 277 cases, Quang Ninh 42, Hanoi 21, Gia Lai 14, Binh Duong four, Bac Ninh three, Hoa Binh two, HCMC, Hai Phong, and Bac Giang one each. The nation has so far recorded 1,948 Covid-19 patients and 449 are active.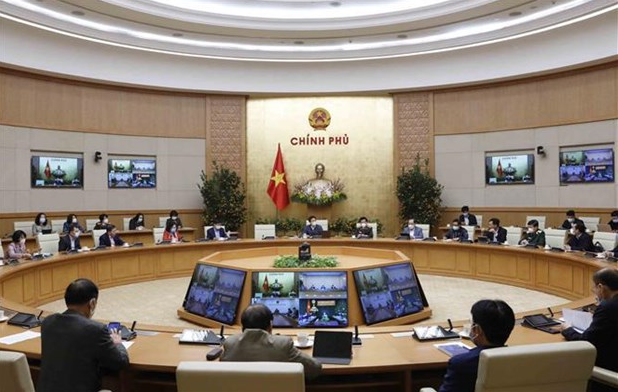 Online meeting of the National Steering Committee on COVID-19 Prevention and Control on February 3. (Photo: Vietnam Plus)
Deputy PM requests limiting lockdown to smallest possible scale
Deputy Prime Minister Vu Duc Dam requested relevant agencies and localities to try to limit lockdown to the smallest possible scale during an online meeting of the National Steering Committee on COVID-19 Prevention and Control with Hai Duong, Quang Ninh and Hanoi authorities on February 3. Dam stressed that the army should be ready to offer assistance to other localities when new cases are discovered.
Localities reported that the COVID-19 outbreak in Chi Linh city (Hai Duong province) has been put under control while Hanoi has basically curbed the source of transmission from Hai Duong. Members of the committee suggested Hanoi expand tracing down people returning from Quang Ninh and urged Quang Ninh to stay vigilant against the complicated developments of the pandemic.
As the pandemic situation is complicated in the Central Highlands province of Gia Lai, experts suggested the Health Ministry increase support for the locality in this regard. Participants agreed with the need to conduct health declaration for all citizens nationwide. The Health Ministry was assigned to update and announce relevant information while localities must seriously punish those who do not wear masks when going out.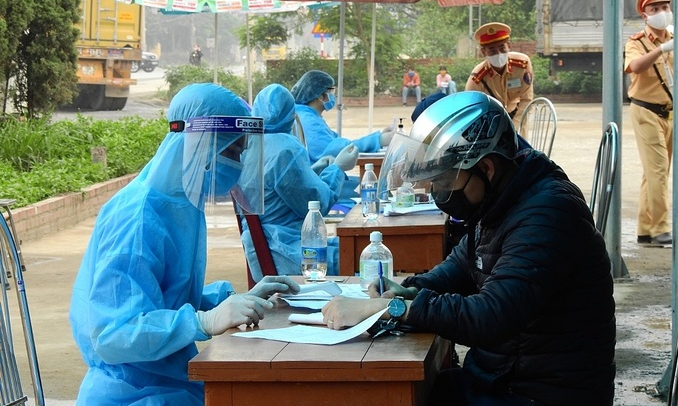 Prevention measures continue to be tightened. (Photo: VN Express)
Prevention measures continue to be tightened
Aid sent to help Hai Duong combat COVID-19: Local property developer Ecopark Hai Duong donated a total of 12.2 billion VND (approximately 530,700 USD) in cash and medical supplies to aid the northern province's COVID-19 response. The donation includes 10,000 COVID-19 rapid test kits and 5 billion VND in cash for the province to build and operate a new wastewater treatment system at its COVID-19 hospital. The company also presented 200 million VND to support officers and people stationed at local checkpoints.
On the same day, Dai An JSC handed over 5 billion VND in cash to help the province purchase rapid test kits and 750 aid packages to people in the pandemic-hit commune of Le Loi, the province's Chi Linh City. Petrolimex Hai Duong, meanwhile, donated 50 million VND and 20,000 medical masks.
Hanoi carries out urgent tasks in response to the COVID-19 outbreak: The Hanoi Party Committee has identified several urgent tasks for local authorities to complete in their efforts to contain the COVID-19 pandemic, which has spread around the capital over the last few days. The city's steering board was asked to zone off affected areas and test people having close contact with confirmed cases or returning from pandemic-hit areas while testing more people working on the frontlines and announcing testing results as soon as possible.
The city is seeking a suitable venue for its high-altitude fireworks performance on Lunar New Year's Eve, which falls on Feb. 11. No large gatherings at the venue to watch fireworks will be allowed to ensure Covid-19 prevention measures as the city has recorded 21 infections, all linked to the major clusters in neighboring Hai Duong and Quang Ninh provinces, the country's major coronavirus hotspots. In addition, city authorities are yet to decide whether festivals and events for the Lunar New Year holiday could commence.
Hanoi: Fines of 1-3 million VND imposed for not wearing facemasks in public places: Police in Hanoi have fined people from 1-3 million VND (43-130 USD) for not wearing facemasks in public places amid the COVID-19 pandemic. Under Decree No. 117/2020/ND-CP dated September 28, 2020, fines will be applied for violations of regulations on personal preventive measures for people engaged in the pandemic fight and those at a high risk of infection.
Regarding vaccinations, Hanoi will report to the Government and work with the Ministry of Health to ensure sufficient vaccine supply for local people, initially those at high risk, with funding from its budget and other sources. It will push ahead with efforts to achieve the twin targets of curbing the outbreak and sustaining socio-economic development, according to the municipal Party Committee.
Valerie Mai