Apple reportedly shifts AirPods Pro lineup to Vietnam as first product leaked in photo
In seeking to add geographic diversity to the supply chain, productions' shift of the AirPods Pro lineup to
Vietnam
of Apple is one significant step for this tech giant.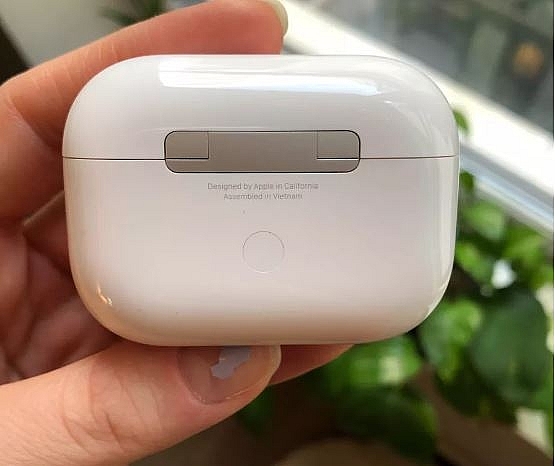 Picture of AirPods assembled in Vietnam. Photo: The Verge.
Apple famously assembles a large majority of its products in China. But the company has shown interest in, and even made sizable foreign investments toward, diversifying its manufacturing. Apple reportedly began trialing production of regular ‌AirPods‌ in Vietnam almost a year ago, and it was said in December that Apple's ‌AirPods‌ suppliers were looking to line up financing to expand production, MacRumors reported.
Just two weeks ago, Nikkei reported that mass production of regular ‌AirPods‌ in Vietnam had started in March: "The mass production of ‌AirPods‌ in Vietnam started as early as in March. The Vietnamese officials even granted special permits for a key Apple ‌AirPods‌ assembler to help the company bring in engineers to the country for smooth production during lockdowns". Vietnam began easing some lockdown measures in late April.
At the time, Nikkei said that the production shift did "not yet include" the higher-end AirPods Pro, but it now appears that ‌AirPods Pro‌ production has indeed begun in Vietnam after a picture was leaked in internet social forums.
Users have shared photos of the latest AirPods made in Vietnam with the words "Designed by Apple in California. Assembled in Vietnam". Previously, Vietnam was just the place to assemble AirPods and Lightning cables, while the AirPods Pro model was completely manufactured in China, vnexpress reported.
Reasons for diversifying its manufacturing
According to The verge, there are two main possible reasons for this move. The first is partly due to the effects of the COVID-19 pandemic, which created so many bad impacts on global economy as well as the global supply chains. Not only countries but also businesses have to find an additional plan to ensure manufacturing with some shift of production. Apple does not want to be so dependant in China in the long run. Not just in Vietnam, as far back as 2017, Apple began assembling some iPhone models in India, too.
The other is the ongoing trade war between the US and China that imposed tariffs on some Apple products and components. This situation put pressure on CEO Tim Cook's lobbying efforts with the Trump administration. Nikkei reported last July that Apple was considering moving some of its manufacturing to Vietnam due to the trade war as well.
Prospects of manufacturing in Vietnam
The difficulties in global pandemic are opportunities for Vietnam to expand its role in the global supply chains. Multi-national technology groups are considering Vietnam a good alternative market to dethrone China which is being ravaged by Covid-19.
It's unclear what percentage of AirPods Pro products are manufactured in Vietnam or if Apple plans to make more products in the country. However, The Information reported on May 19 that Apple planned to use factories in Vietnam to manufacture a pair of as-of-yet-unannounced over-ear headphones although this business was apparently going to manufacture some of the headphones in China as well.