According to Market Watch, investors were also watching a rise in crude oil prices and continued to monitor corporate earnings for management outlook on the pandemic, with Dow component Disney set to be in particular focus after the close.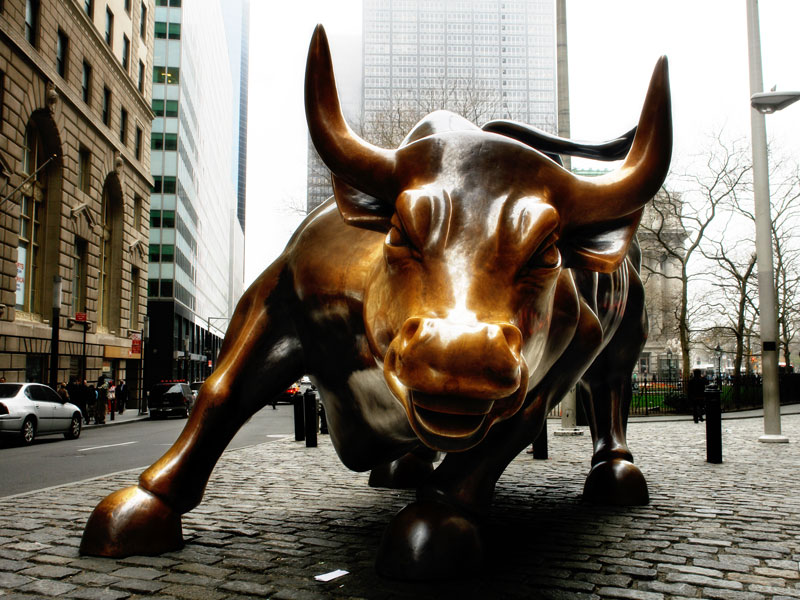 Illustrative photo.
Dow jumps 230 points as optimism grows on easing lockdowns
CNBC reported that the Dow Jones Industrial Average jumped 230 points, nearly 1%, to start Tuesday's session as optimism about gradual U.S. state reopenings sent investors into risk assets. Stocks of companies that would see much better business with reopenings — such as American, United and Delta Airlines — led the way, each up more than 3.5%. Starbucks rose more than 3% as its CEO said some 85% of its U.S. company-operated locations would be open by week's end.
On Monday, theDow managed a gain of 26.07 points, or 0.1%, to end at 23,749.76, and the S&P 50 gained 12.03 points, or 0.4%, finishing at 2,842.74, with both benchmarks erasing declines of more than 1% for their sharpest intraday reversal since March, according to Dow Jones Market Data. The Nasdaq Composite rose 105.77 points, or 1.2%, closing at 8,710.7.
According to experts, it is the gradual opening of business after coronavirus lockdown in the US that push the stock markets forward.
Energy stocks lead the S&P 500 up 1.5% as oil prices rally
CNBC on Tuesday reported that energy stocks including major oil and gas drillers and refiners led the broader stock market higher. The S&P 500 energy sector rose 3.5% and helped carry the S&P 500up 1.5% within the first half hour of the regular session thanks to a 16% rally in WTI futures. All of the S&P 500 sectors rose and gains in big chipmakers like Lam Research and Applied Materials and retailers like Kohl's and Starbucks outperformed the broader market. The Dow was last seen up 350 points (1.45%) while the Nasdaq Composite added 1.66%.
Which other stocks are in focus?
According to Market Watch, some stocks are in the spotlight:
• Shares of Hertz Global Holdings Inc. US:HTZ were down more than 17% after the Wall Street Journal reported that the car rental company has hired an additional adviser to help with an imminent bankruptcy filing.
• Shake Shack Inc. US:SHAK saw its shares fall after it said it was seeing higher beef prices amid closures due to the COVID-19 pandemic. The company also reported a loss of $1.1 million, or 3 cents a share, compared with net income of $3.6 million, or 9 cents a share, in the year-ago quarter.
• Starbucks Corp.'s stock US:SBUX rose after the coffee giant announced plans to reopen more than 85% of its U.S. stores by the end of this week.
• Shares of DuPont de Nemours Inc. US:DD were up after the materials and ingredients company reported a first-quarter adjusted profit and sales that topped expectations, as the COVID-19 pandemic helped boost the personal protection, water filtration, electronics and probiotics and food and beverage businesses.
• United Airlines Holdings Inc. US:UAL expects to shrink its management and administrative ranks by at least 30% starting in October.
• AMC Networks Inc. US:AMCX said it expects the COVID-19 pandemic to have a material impact on its results.
• Shares of Wayfair US:W were down after the home and office furniture retailer reported deepening losses in the first quarter..
• Toy maker Mattel Inc. US:MAT Arconic and Pinterest US:PINS also will report results on Tuesday.
Yahoo Finace: Apple Stock witnessed strong but consensus rating
Due to COVID-19's impact, expectations were low ahead of Apple's (AAPL) 2Q:FY20 earnings results. But boosted by a growing Services segment, and despite dipping sales for iPhones and Macs, Apple delivered the goods.
In a solid report, Apple announced revenue of $58.31 billion, up year-over-year by 1% and beating the Street's call for $54.54 billion. Additionally, EPS of $2.55 beat the consensus estimate of $2.26. Although iPhone sales dropped by 7% to $29 billion, in what amounts to a new quarterly record, the company's services segment reported quarterly revenue of $13.3, an increase of 17% year-over-year. The wearables, home, and accessories segment sales grew to $6.3 billion (up 23%).
White's bullish stance on Apple is in line with Wall Street's view. Apple has a Strong Buy consensus rating, based on no less than 27 Buy ratings set in recent weeks. Shares are trading for $293.16, and the stock's recent strong gains have pushed that price close to the average price target of $320.07, leaving a 9% upside from current levels. (See Apple stock analysis on TipRanks)
Microsoft's Stock face challenge To Rise Despite Massive Earnings Beat
Forbes' stock analysist said that Microsoft Corp. (MSFT) shares jumped following a massive revenue and earnings beat for its fiscal third quarter. The stock is trading at its highest level since late February before the coronavirus led sell-off. However, the biggest problem for Microsoft is its ever-growing earnings multiple, which is making the stock more expensive by the day on both an absolute and relative basis.
Revenue for the company jumped by 15% to just over $35 billion, about 3.9% better than analysts estimates. Meanwhile, earnings surged by almost 23% to $1.40 per share and beat estimates by over 11%. The strong results were fuel by the massive growth in its intelligent cloud business unit, which saw its revenue rise by 27%.
Lyan Vu