Artist capture spirit of a nation in era of Covid
Several artists are drawing images of Vietnamese people as they perform good deeds during the coronavirus pandemic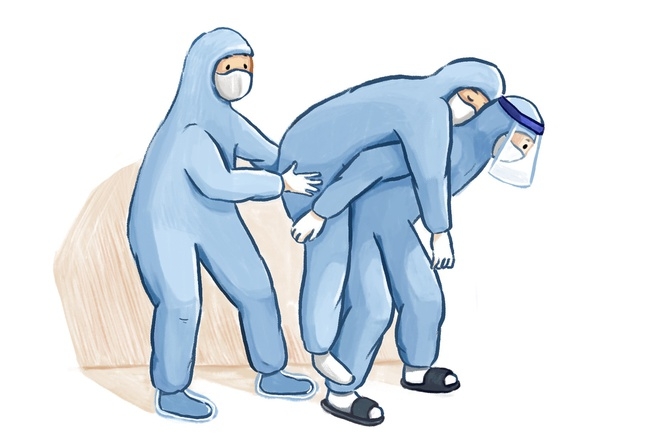 Medical worker carries exhausted colleague (Photo courtesy of Diem Vy)
An architect to-be has depicted various touching moments in the age of coronavirus pandemic. Diem Vy, a university student in HCMC, has drawn image of frontline workers, patients, volunteers, and other Vietnamese people that are touching and capture the battling spirit of a nation.
Vy signed up to join her university's anti-pandemic volunteer group but was turned down over health concerns, so came up with the idea of drawing pictures to encourage first responders and residents.
The 22-year-old said she drew the entire painting collection on her computer. Each tells a meaningful story of the Covid-19 battle.
In one scene doctors in Bac Giang province pour ice water over their bodies to cool down after prolonged working hours. In another, a doctor passes out under the scorching weather. There's a heart-wrenching moment of a baby staying at quarantine center alone, put under quarantine after his parents were identified as Covid-19 patients.
She spent one night on each painting.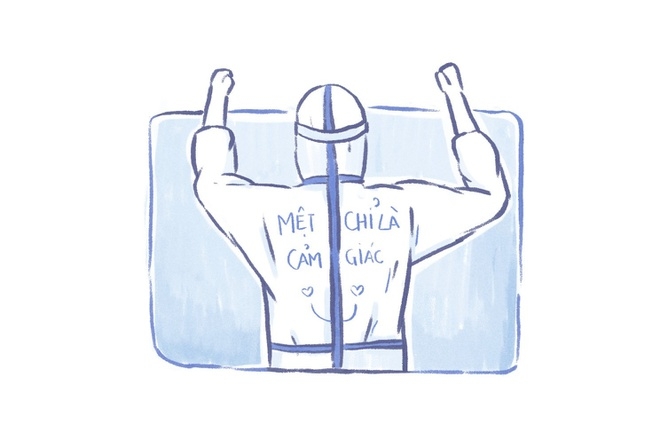 One medical doctor writes "tiredness is just a feeling" on his protective coat (Photo courtesy of Diem Vy)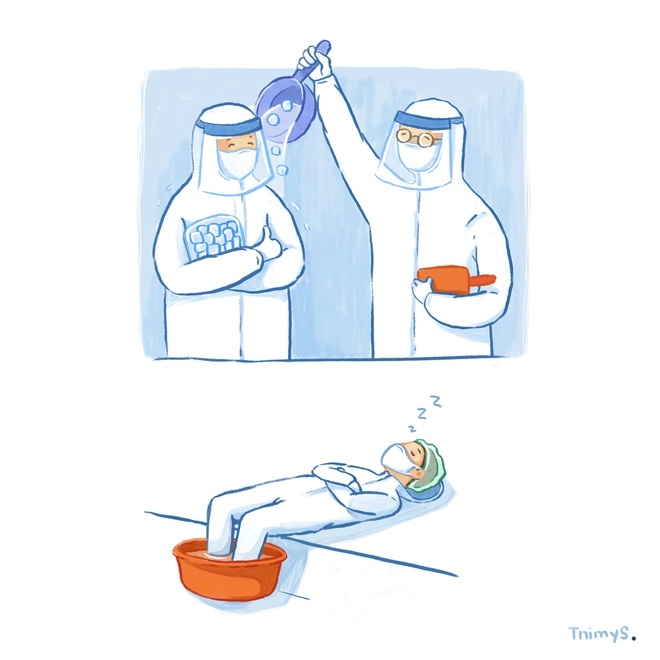 Medical doctors do their best to cool down in the heat. (Photo courtesy of Diem Vy)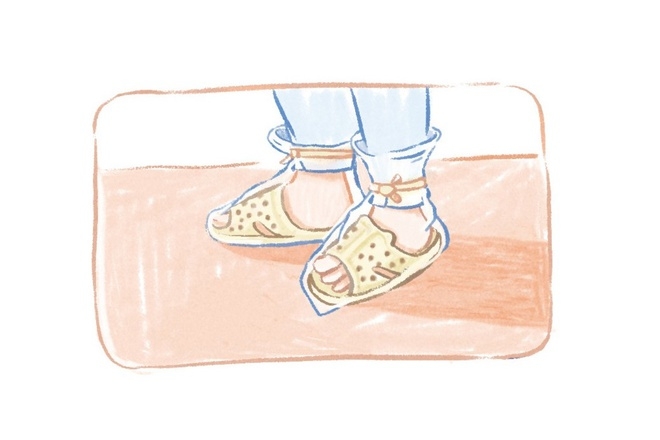 (Photo courtesy of Diem Vy)
A child stays at the quarantine center without her parents. (Photo courtesy of Diem Vy)
"I feel sympathy and deeply touched by the good deeds. Therefore, I want to express the positive and warm energy in my pictures and spread it to the community," Vy told Zing. "The kindness at this difficult pandemic time is even more valuable. If people can feel it, they can somehow have peace of mind."
Her drawings garnered a lot of attention as they surfaced on the Internet. One Covid volunteer has inboxed and asked Vy to draw a picture of her as a souvenir. "I'm quite surprised and happy that my works can spread positivity in this unprecedented time," the artist said.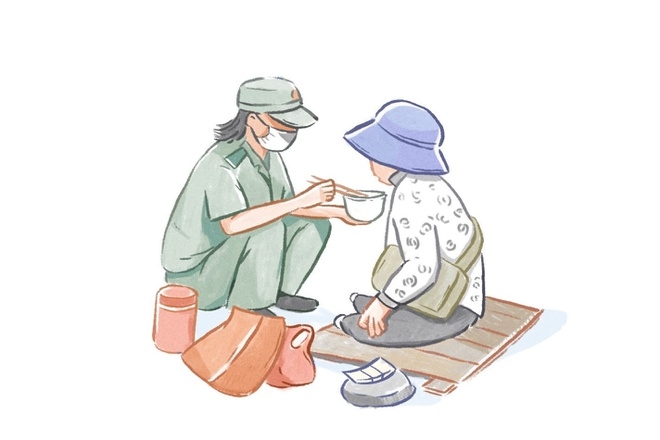 (Photo courtesy of Diem Vy)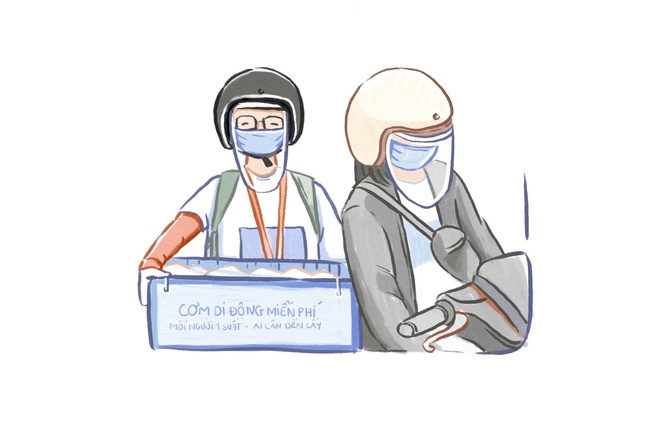 (Photo courtesy of Diem Vy)
Vy is currently staying erin her hometown Long An with her family as most of her tuition has switched online due to coronavirus safety. This let's her spend quality time with family and herself. She also donated to the government's Covid-19 Vaccine Fund.
"I am grateful to all medical staff, doctors, police officers, soldiers, militiamen, and volunteers on the frontline who sacrifice their time and safety to save others. Solidarity and kindness during this time will help Vietnam overcome the pandemic, I believe," Vy added.
The university student has been showered with praise for her meaningful contribution. She said she welcomes people to send her memorable Covid stories so she can paint them.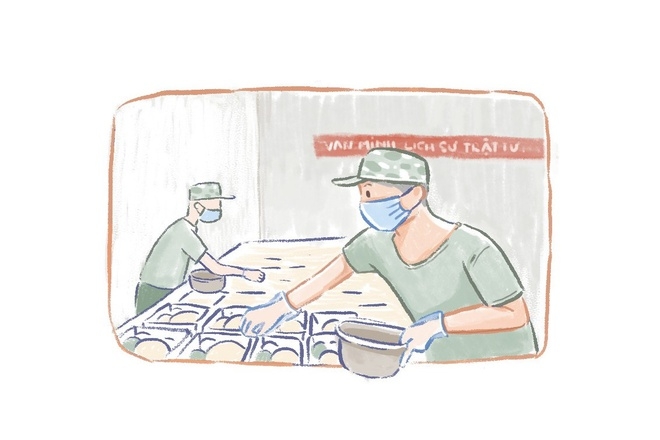 (Photo courtesy of Diem Vy)
A freelance painter in HCMC has recently also uploaded his collection depicting real stories of the Vietnamese frontline personnel. The drawings are hailed as a great encouragement for the couageous first responders.
"Covid-19 has been complicated in Vietnam, turning people's lives upside down. I want to cheer the frontline workers up through my paintings. They are putting others' lives before their own. Their sacrifice is worth-honoring," Bui Dinh Thang, 37, an artist, told Thanh Nien. "I hope my art will bring something positive and peaceful in this pandemic season."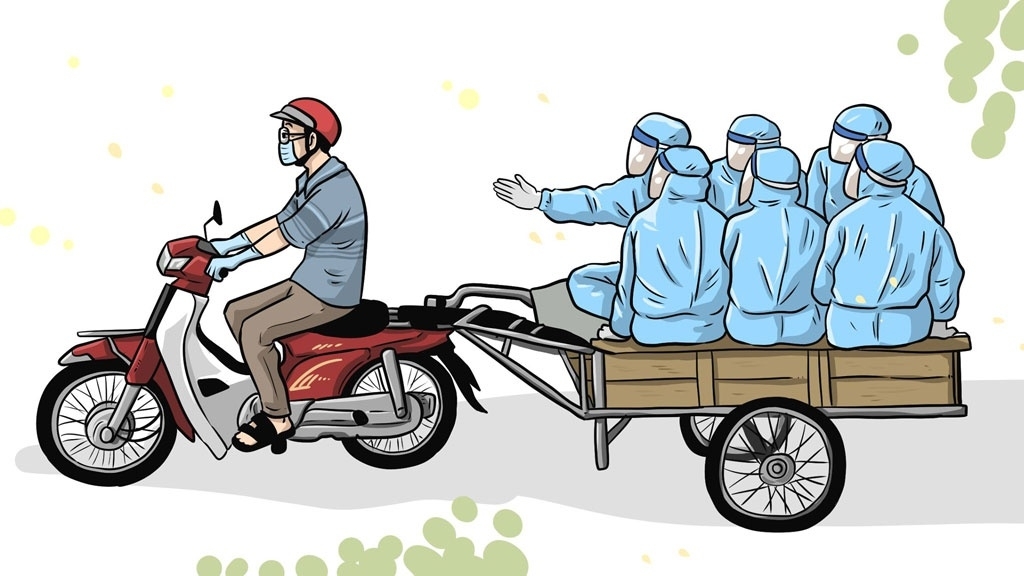 Vietnamese medical personnel head to Covid-19 hotspot. (Photo courtesy of Bui Dinh Thang)
Earlier last May, Nguyen Dang Quang, a repatriated returnee spent his free time in an HCMC-based quarantine center to sketch out his centralized isolation life. His paintings highlighted the kindness of other inmates and military personnel who sent daily essentials, gifts and offered health checks and care.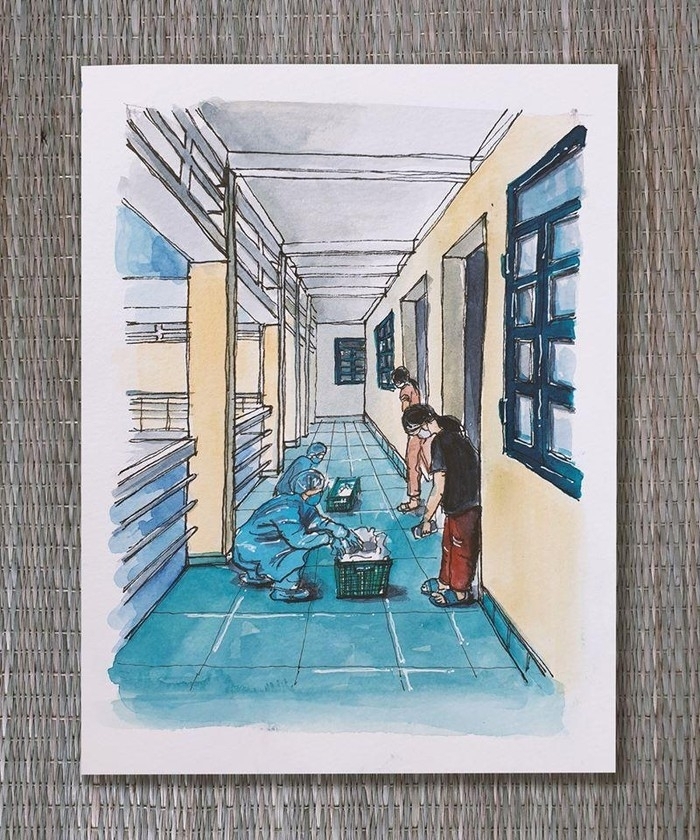 Life in quarantine depicted by Nguyen Dang Quang
In April last year, artists of Urban Sketchers Hanoi depicted 400 sketches showing the life of Hanoians when the whole community entered the first two-week social distancing period.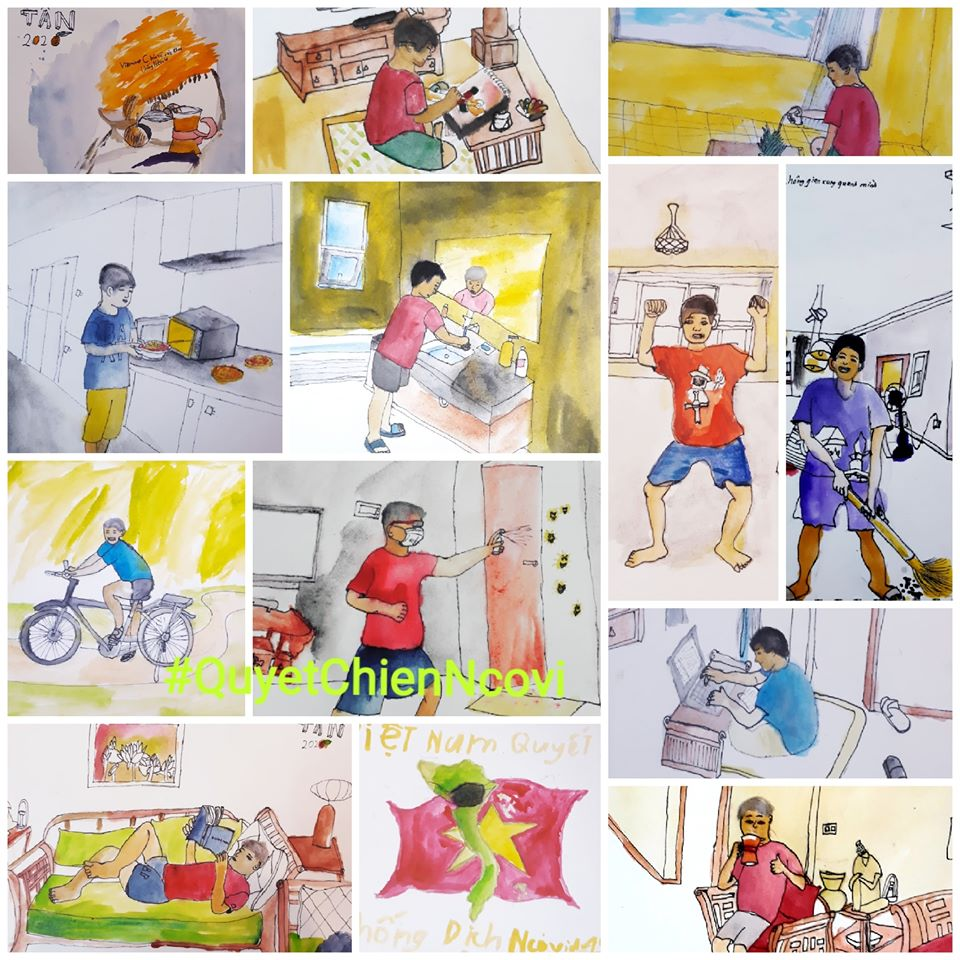 Stay-at-home activities during social distancing time (Photo courtesy of Urban Sketchers Hanoi)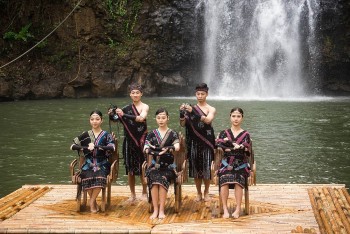 Travel
Many passengers applaud the creativity of the flight instruction video that Vietnam Airlines has recently introduced on their flights. This video not only creatively conveys the message of flight safety but also helps to spread globally the unique, indigenous cultural values ​​of the country and people of Vietnam.