Athletes run across Vietnam to create life-changing smiles for underprivileged children
Not only have they gathered elite runners and clubs from all around the country, but also have they connected thousands of kind hearts to join in this meaningful journey, and raised fund for more than 100 life-changing surgeries.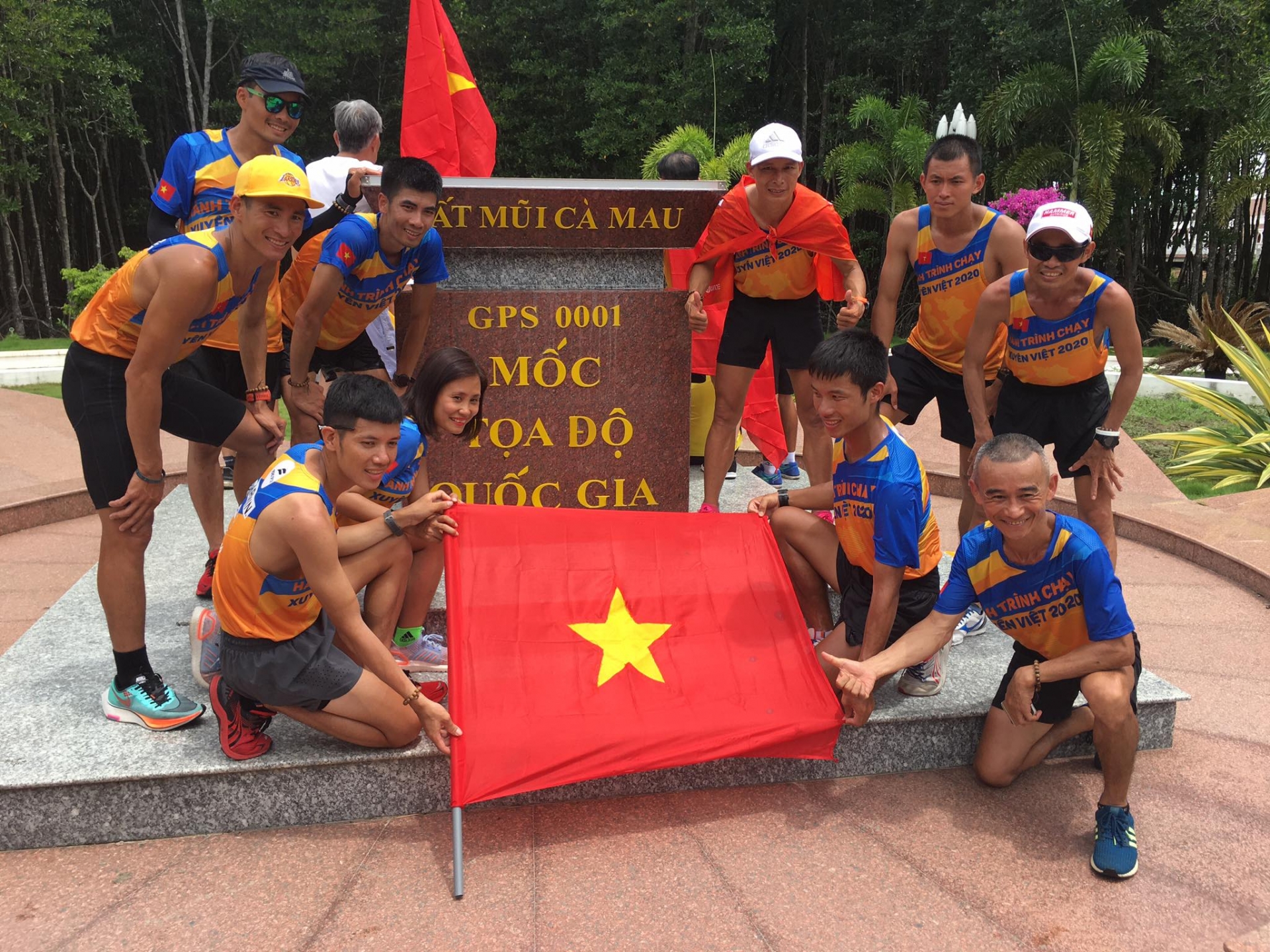 Athletes of Vietnam Ekiden at the Finish Line at Ca Mau after 10-day straight marathon. Source: Operation Smile Vietnam
After nearly 10 days, Vietnam Ekide initiated by Nong Van Chuyen – a runner from the mountainous region of Lang Son province with the companion of nine members from all over the country has successfully completed.
Despite of the last minute 10-day the preparations for the event, the journey departing from June 10 at Lang Son Friendship Border Station ended in Ca Mau Cape at 11am on June 20 with the completion time of nearly 250 hours (33 hours sooner than expected) with a total distance coverage of more than 2,600km (originally estimated for 2,400km).
Most importantly, in addition to promoting the natural beauty of the Vietnam and encouraging the sports movement to improve health throughout the trip, Vietnam Ekiden members also wanted to convey the positive messages such as "No drinking while driving"" and above all inspire the community, donors and especially members of elite running clubs from all over the country to join hands in the fundraising activities by the group and Operation Smile Vietnam along with the message "Changing a life each day".
Not only have they gathered elite runners and clubs from all around the country, but they have also connected thousands of kind hearts to join in this meaningful journey, and altogether, they have created much more than 10 life-changing smiles as set at first.
A humble goal was set at first that when the group rest at the end of each day, a smile for an unfortunate baby would be reborn. However, in addition to all the breaking marathon record of the very first Vietnamese Ekiden, up to now, the group has raised VND 1.035 billion (USD 44,600), equivalent to 115 surgeries to support babies born with cleft lip and cleft palate. In particular, OCB Life Group has supported VND 900 million (USD 38,800), equivalent to 100 surgeries in this event.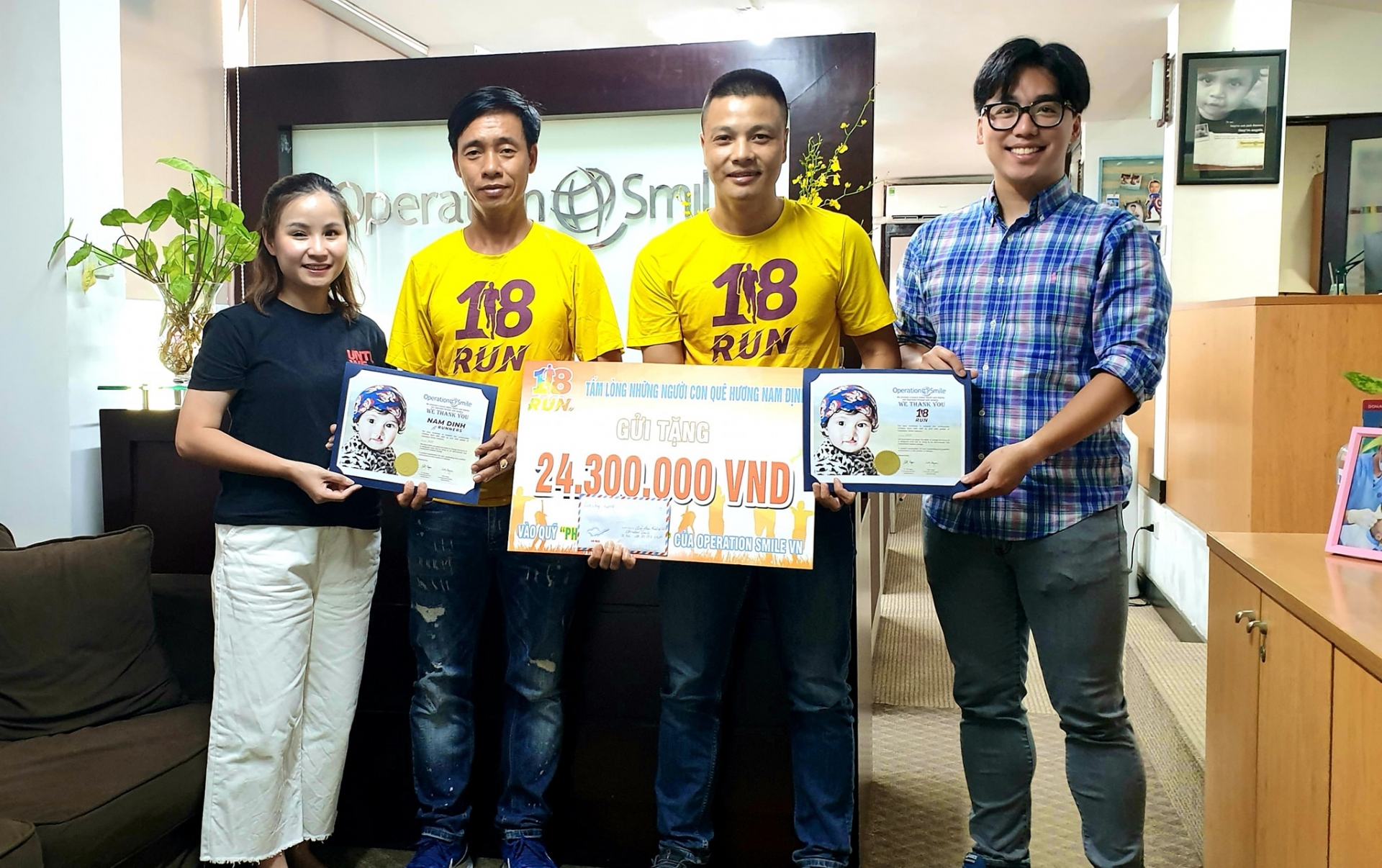 RUN18 members hand over VND 24,3 million (USD 1.049) to Operation Smile Vietnam.
According to Operation Smile's newsfeed, as inspired by the Vietnam Ekiden which has been stirring up all the attention from running communities in the past few days, the elite members of "RUN18" running club in Nam Dinh city have initiated a campaign called "Journey of Dreams" to call for support to raise funds for the less fortunate children of Operation Smile Vietnam.
Although Nam Dinh is not in the schedule of the Vietnam Ekiden team so that the RUN18 members in particular and the running lovers of Nam Dinh province, in general, could give support, but with passion and enthusiasm, RUN18 members have successfully completed the 60KM overnight marathon under the heavy shower from Tran Hung Dao Monument to the final destination of Hai Ly Ruined Church. More importantly, the group has raised VND 24.3 million (USD 1,000) to help bring news smiles to underprivileged children.
Operation Smile Vietnam is a charity organization that provides free reconstructive surgeries to children born with facial deformities.
Since its establishment in 1982, Operation Smile — through the help of dedicated medical volunteers — has provided over 220,000 free surgical procedures for children and young adults. Particularly in Vietnam, Operation Smile has helped change lives for approximately 60,000 underprivileged children./.
Friendship
Ambassadors of Kuwait and Israel came to present their credentials to the Vietnam's president.