Australia Shares Total 7.8 Million Covid Doses with Vietnam
Australia has delivered 3.6 million Pfizer COVID-19 vaccine doses to Vietnam over recent weeks through a procurement agreement with UNICEF and in partnership with Vietnam's Ministry of Health
The last batch, of 2.2 million doses, arrived at Tan Son Nhat International Airport in Ho Chi Minh City on February 19, VNA reported.
This delivery completes Australia's commitment to share 7.8 million COVID-19 vaccine doses with Vietnam.
In addition to the Pfizer doses procured through UNICEF, Australia shared 4.2 million AstraZeneca doses from its own supply from August last year.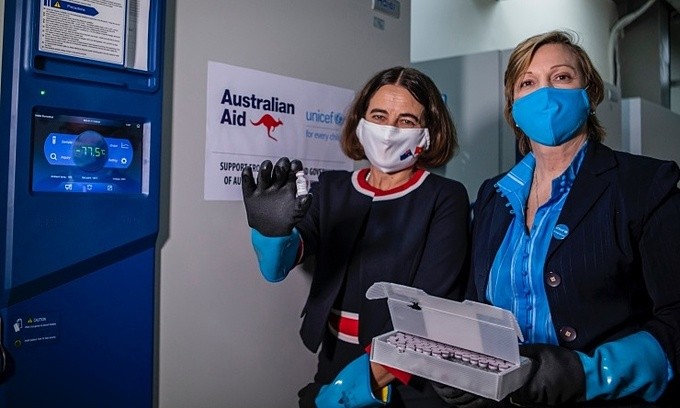 Robyn Mudie, Australian Ambassador to Vietnam (L) and Rana Flowers, UNICEF Representative check a vaccine shipment donated by Australia that arrived in Hanoi in Jan, 2022. Photo courtesy of UNICEF
Australian Ambassador to Vietnam Robyn Mudie welcomed the delivery, saying that Australia was a close friend and partner of Vietnam and that the two would continue to "unite in our shared fight against Covid-19."
"Vietnam has made tremendous progress with its COVID-19 vaccine rollout and I am proud that Australia could contribute towards this important work. It is critical to saving lives and boosting economic recovery," she said.
UNICEF Representative Rana Flowers in Vietnam said: "We are grateful to the Government of Australia for sharing these life-saving vaccine doses with the Vietnamese people. Vietnam has proven itself highly efficient in the safe delivery of vaccines, ensuring that these are utilised effectively."
"These vaccines will help Vietnam in its effort to reach all, extending to children and ensuring the rollout of booster doses. All of which contributes to a reduction in the severity of disease experienced, and importantly protects hospitals and the health workers from being overwhelmed".
The Pfizer doses were purchased with UNICEF's support through Australia's 60 million AUD package of support for Vietnam's COVID-19 vaccine rollout.
Australia's vaccine dose deliveries and the package of support make it one of Vietnam's top partners supporting the national COVID-19 vaccination campaign.
According to VNE, previously, Australia provided Vietnam a AUD60 million (over US$43 million) support package for purchasing Pfizer vaccine.
Also, Australia is partnering with UNICEF to ensure vaccine distribution is safe, effective and equitable. The partnership has bolstered the national Covid-19 vaccination campaign, supporting the delivery of 1,910 refrigerators to hard-to-reach communes, healthcare worker training, and communications campaigns.
Last month, Germany, the U.K., Portugal and Luxembourg handed over 6.27 million additional Covid-19 vaccine doses, increasing Vietnam's Covax facility receipt to over 51 million doses, VNE reported.
The deliveries, arriving in Hanoi from Dec 2021 to Jan 24, were made in close coordination with UNICEF, a Tuesday UNICEF press release said.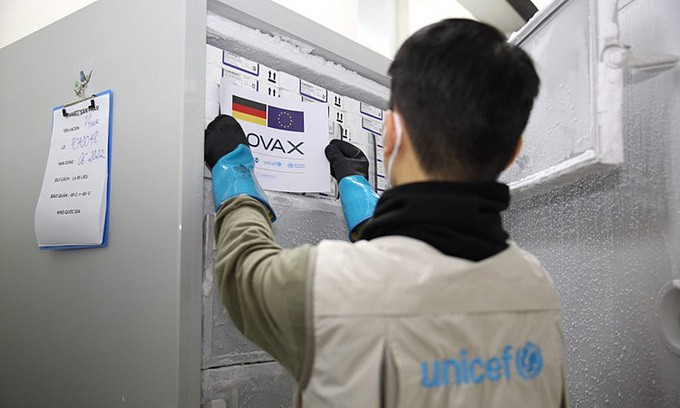 An officer of UNICEF labels a package of vaccine donated by Germany in December 2021. Photo courtesy of UNICEF
Germany, Portugal and Luxembourg donated 4,000,230, 159,120 and 99,450 doses of the Pfizer vaccine respectively, while the U.K. donated 2,012,960 doses of the AstraZeneca vaccine.
With such shipment, Germany's Covid vaccine donations to Vietnam topped 10 million doses.
German Ambassador to Vietnam, Guido Hildner, said the pandemic could be defeated when it is brought under control everywhere.
Germany and the European Union support the Covax campaign for fair and transparent access to Covid-19 vaccines worldwide, Hildner said.
"In 2022, Germany will continue to show solidarity with Vietnam in the fight against the effects of the pandemic and provide further vaccines through Covax," he added.
British Ambassador Gareth Ward said the donation was part of the U.K.'s support to Vietnam's roadmap of opening the economy by facilitating its vaccine boost on a large scale.
"We are committed to accompanying Vietnam in embracing a new chapter in 2022 when we all can live with Covid-19 with peace and prosperity again," Ward said.
He said that the U.K. will continue to strengthen its bilateral health partnership with Vietnam this year by supporting the building of a resilient health system by providing vaccines and medical supplies, and by facilitating knowledge exchange opportunities between the two countries.