Aviation Authority Proposes Resuming Regular Flights to UK, France, Germany, Russia
The Civil Aviation Authority of Vietnam (CAAV) has proposed reopening regular commercial flights between Vietnam and France, Germany, Russia and the UK.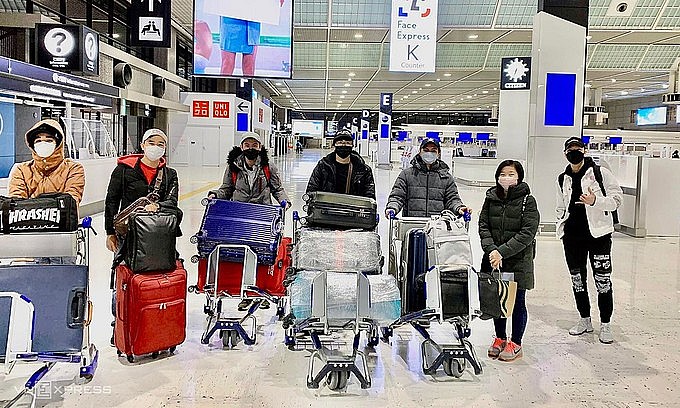 Passengers on a regular commercial flight from Tokyo land at Noi Bai Airport, Hanoi, January 5, 2022. Photo: VnExpress
In a recent petition sent to the Ministry of Transport, the CAAV proposed reopening flights between Vietnam and these four countries with an initial frequency of 10 flights per week in each direction.
Earlier, the government officially allowed the restoration of regular international airline routes since January 1 after nearly two years of hiatus due to the Covid-19 pandemic.
The first week of January saw 16 commercial flights bringing some 1,000 travelers to Vietnam from the US, Japan, Thailand, Cambodia and China's Taipei, VOV cited statistics from the CAAV.
Dinh Viet Thang, head of CAAV, said the agency has been seeking approval from the Ministry of Transport to work with aviation authorities in the four European countries on resuming regular commercial flights as there is huge demand for repatriation during the upcoming Tet holiday among Vietnamese living in Europe.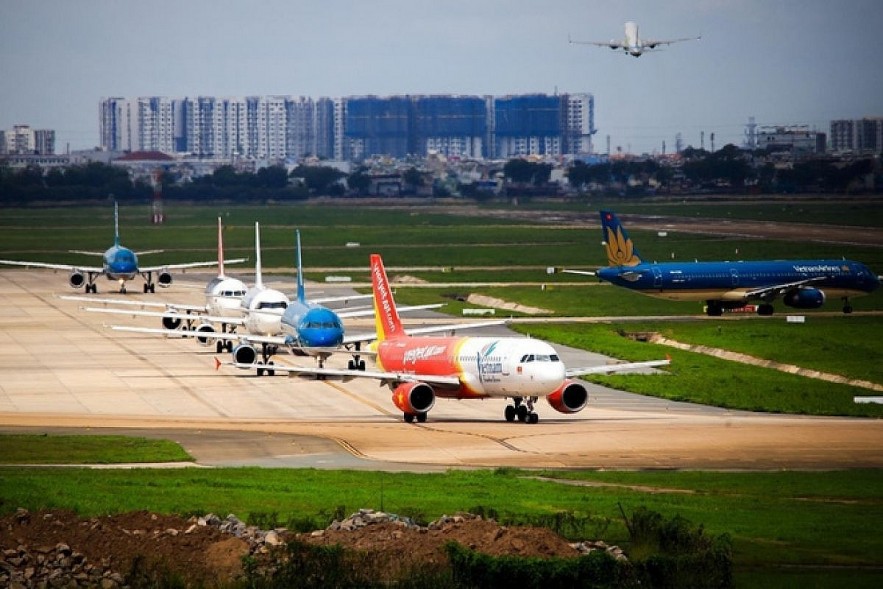 The government officially allows the restoration of regular international airline routes since January 1. Photo: VOV
Around 140,000 overseas Vietnamese wish to return home to celebrate Tet, which peaks on February 1 and it is forecast the number of passengers flying to Vietnam would exceed 30,000 a week, including foreign experts and diplomats.
Earlier, CAAV worked with aviation officials of Australia to resume regular flights between the two countries with the frequency of 10 return flights a week.
Vietnam Airlines starts selling tickets for flights between Ho Chi Minh City, Hanoi and Sydney from January 15. There will be one weekly flight linking Hanoi and Sydney, and two weekly flights between Ho Chi Minh City and Sydney, Melbourne, using modern wide-body Boeing 787 and Airbus A350.
The frequency of flights to Australia would be gradually increased in the coming weeks according to the needs of passengers and the approval of the authorities.
Bamboo Airways also plans to fly to Australia from February with a frequency of two round-trip flights per week, to Germany two round-trip flights, to the UK one round-trip flight a week.
Ticket prices and flight dates have not been announced yet.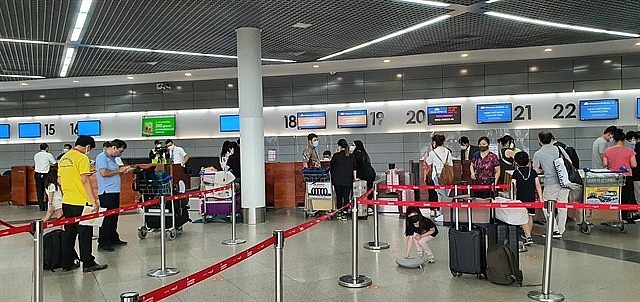 Passengers check-in for a Vietnam Airlines flight at Phnom Penh International Airport, Cambodia, on January 1, 2022. Photo: VNA
After the government approved a two-week first phase of resumption of flights to nine destinations starting January 1, the CAAV granted flight slots for domestic carriers to seven: Bangkok, Phnom Penh, San Francisco, Seoul, Singapore, Taipei and Tokyo.
Currently, flights to Beijing or Guangzhou in China and Vientiane in Laos are yet to resume as relevant aviation authorities remain to complete negotiations, VnExpress said./.
Fully vaccinated people and those who have recovered from Covid-19 arriving in Vietnam only need to self-isolate for three days.
Everyone, except children below two, must have tested negative for the novel coronavirus using the PCR method within 72 hours before departure.
However, due to the emergence of the new Omicron variant of Covid-19, all passengers are also required to undergo a rapid test on landing at Noi Bai and Tan Son Nhat international airports.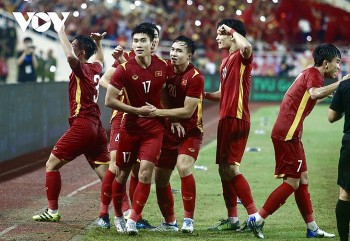 Viet's Home
The Vietnamese football team, both male and female, played their best, devoted themselves, united, and promoted the collective spirit, successfully defending their SEA Games champion title.