Vietnam Covid-19 Updates (Jan. 15): Caseload Surpasses 16,000, Hanoi Reports More Than 3,000
The Health Ministry confirmed the detection of a further 16,040 new Covid-19 cases on January 14 across 62 localities nationwide, pushing the tally during the ongoing wave to 1,985,320.
Photo: VN Express
Covid-19 caseload hits over 16,000, Hanoi tops with more than 3,000
Vietnam recorded 16,040 cases of Covid-19, including 14 imported ones, during 24 hours from 4 pm January 13 to 4 pm January 14, according to the Ministry of Health. Hanoi continued to record the highest number of infections with 3,029 cases, followed by Da Nang with 765 and Binh Dinh with 711.
According to the Ministry of Health's report, 5,481 patients nationwide are in serious conditions, with 889 requiring invasive ventilation and 20 on life support (ECMO). Also on January 14, the country saw 171 deaths from the disease. A total 4,290 patients were given the all-clear on the day.
Photo: VN Express
Covid situation no longer to be decided by daily caseload: health ministry
The Health Ministry has said it will stop relying on the daily infection tally to assess the Covid-19 situation and will only consider the number of hospitalizations and deaths. The ministry is drafting a new set of criteria to classify the pandemic level since the situation has evolved a great deal, Deputy Minister Nguyen Truong Son told VnExpress Thursday. "The new criteria will not rely too much on the rate of community infections because treatment of mild and asymptomatic infections is done at home in many localities," Son said.
Nguyen Viet Hung, deputy head of the Hanoi Association for Infection Control, agreed with the move to change the criteria. With the high vaccination rate, counting the number of infections every day "no longer carries significance" and would affect the economic recovery efforts, he said. He cited the example of Hanoi saying the number of community cases there has been on the rise lately and many districts have had to close non-essential businesses or stop them from serving customers on-site. But the number of severe cases and deaths in the city is lower than the national average, he said.
Hung proposed that the new set of criteria should only consider the rate of severe cases and deaths, the medical capacity of each locality, and the vaccination rate in the case of people aged over 50.
Photo: VNA
Ministry eyes Pfizer Covid-19 vaccine for children aged 5-11 years
Vietnam is exercising caution in consideration of Covid-19 vaccinations for children aged 5-11 years, Minister of Health Nguyen Thanh Long told local media. The Ministry of Health has submitted a tentative inoculation plan to the Government awaiting approval, however, Long stressed the World Health Organisation (WHO) has not issued official guidance for vaccinations for children aged 5-11 years yet.
The minister also expressed concerns about public acceptance, so the Prime Minister has ordered the health ministry to conduct a survey regarding vaccinations for young children. He admitted getting the shots to this age group would be much more difficult compared to adults. Some countries have commenced vaccinating young children against Covid-19, such as the US, Canada, Brazil, many European countries.
To date, Vietnam has administered over 14 million Covid-19 vaccine shots for children in the 12-17 age group, with first-dose coverage hitting 90 percent and second-dose coverage reaching 68.5 percent.
Photo: VNA
Localities hasten in-home vaccination for vulnerable groups
Many localities are stepping up Covid-19 vaccination for vulnerable groups, including the elderly and people with underlying health conditions.
In Hanoi, the work is being accelerated, especially for the high-risk groups, with medical workers sent to provide in-home vaccination for those who are unable to get to an inoculation location. People of the targeted groups receive check-ups and advice before getting the jab and have their health monitored after that.
Meanwhile, leaders of northern Quang Ninh province have requested the local health sector to carry out in-home vaccination for high-risk and vulnerable groups so as to ensure that no one in those groups is left without inoculation, especially the persons unable to access a vaccination site, except for those subject to contraindication. The local health sector was also asked to further speed up administering a booster dose to people aged 18 and above so as to complete the task by January 17. Besides, it will continue the vaccination for children aged 12 and over.
Photo: VN Express
Binh Thuan wants to be added to the vaccine passport tourism list
Authorities in the coastal Binh Thuan Province have sought the tourism ministry's green light to allow in foreign tourists from next month under a vaccine passport program. Its people's committee on Thursday sent a proposal for a two-phase international tourism reopening program to the Ministry of Culture, Sports and Tourism as the south-central province, home to beach town Mui Ne, seeks to revive its long-furloughed tourism industry.
If the proposal is approved, during the first phase of next month foreign tourists can come on package tours with designated travel agencies and visit the Ham Tien-Mui Ne tourist area, home to long, sandy beaches and high-end resorts.
Over 100 accommodation facilities in Mui Ne have been authorized to take in tourists. From April provincial authorities will expand the list of resorts and tourist destinations. Some 94 percent of the province's population is fully vaccinated.
The Health Ministry confirmed the detection of a further 16,040 new Covid-19 cases on January 14 across 62 localities nationwide, pushing the tally during the ongoing wave to 1,985,320.
The Health Ministry also confirmed 4,290 recoveries on the same day, thereby bringing the total number of recovered cases up to 1,666,220 so far. The nation's Covid-19 death toll now stands at 35,341, or 1.8 % of total infections.
Over 165.5 million people nationwide have now been fully inoculated, while more than 78 million people have received at least one dose of the Covid-19 vaccines.
Vietnam has so far recorded 50 positive Covid-19 cases relating to the Omicron variant, all of which were isolated immediately upon entry. They include one each in Hanoi, Hai Duong, Hai Phong, and Long An, two each in Thanh Hoa and Khanh Hoa, three in Da Nang, 12 in Ho Chi Minh City, and 27 in Quang Nam.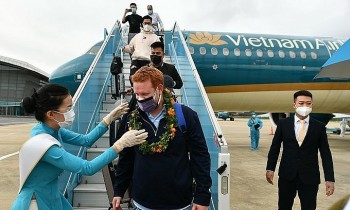 National
Vietnam News Today (Jan. 29): Vietnam records 14,892 new local Covid-19 cases; PM orders prioritizing pandemic control for safe and warm Tet; Vietnam scraps rapid Covid test requirements for int'l passengers; Vietnam-Australia trade hits all time high in 2021.