Bay Mau coconut forest creates a surprising 'miniature West' in the heart of Hoi An
Bay Mau coconut forest is known as "miniature West" in the heart of Hoi An. It is not only a historical place but also a tourist attraction in Quang Nam Province.
When it comes to Hoi An, visitors normally think about streets, ancient architectural houses. However, this key tourist area of Quang Nam province has been developing many different products and services to help increase the spread of tourists' experience.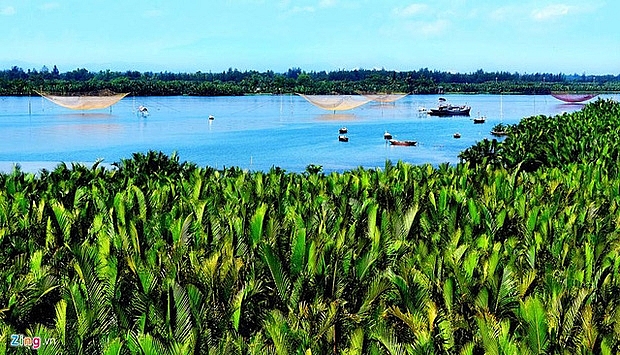 Photo: Zing.vn
The models of green ecology which is close to nature being increasingly invested by Hoi An authority towards a sustainable tourism industry. Typically, Bay Mau coconut forest, belongs to such investment.
Bay Mau coconut forest is located in Cam Thanh commune, which is not too far from Da Nang city and also near Hoi An. Visitors can choose to travel via road or waterway.
During to the Resistance to the French and American colonial empire, this place was chosen as a revolutionary base of Vietnamese army because of its hidden terrain. In one of the typical battles in 1948, when French infantry with the support of tanks, attacked the Bay Mau forest to destroy Vietnam's army but ultimately failed.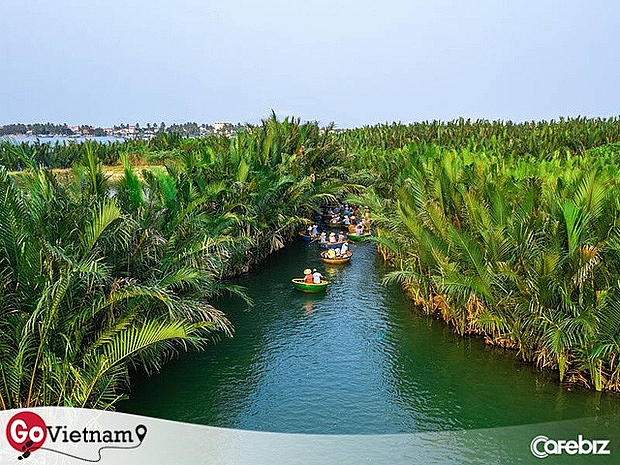 Photo: Cafebiz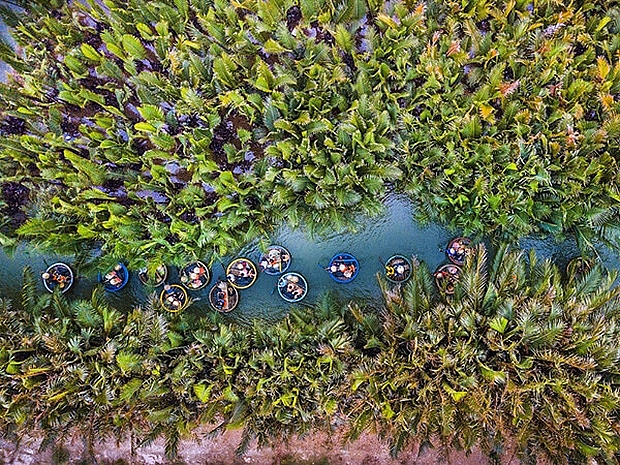 Photo: kenh14.vn
After that, the colonial government forced the locals to clear the entire forest to eliminate the soldiers' shelter but failed because the coconut forest soon revived and flourished.
The forest originally had an area of about 7 acres, which inspired people to name this river area. Currently, the coconut forest has grown to 100 hectares and was invested to welcome visitors since 2017 but the name still remains. The price of admission is 30,000 VND, the rent of a basket boat varies from 150,000 to 200,000 VND.
Bay Mau coconut forest is compared to a "miniature West" in the heart of Hoi An but the difference is that locals use basket boat instead of conventional boats.
After coming to this destination, visitors can experience boating, relax and watch the coconut forest ecosystem growing along the banks or witness fishermen fishing. They can also participate in interesting games on the river such as fishing, boat racing, dam pot, and are instructed to make and receive gifts made from coconut leaves.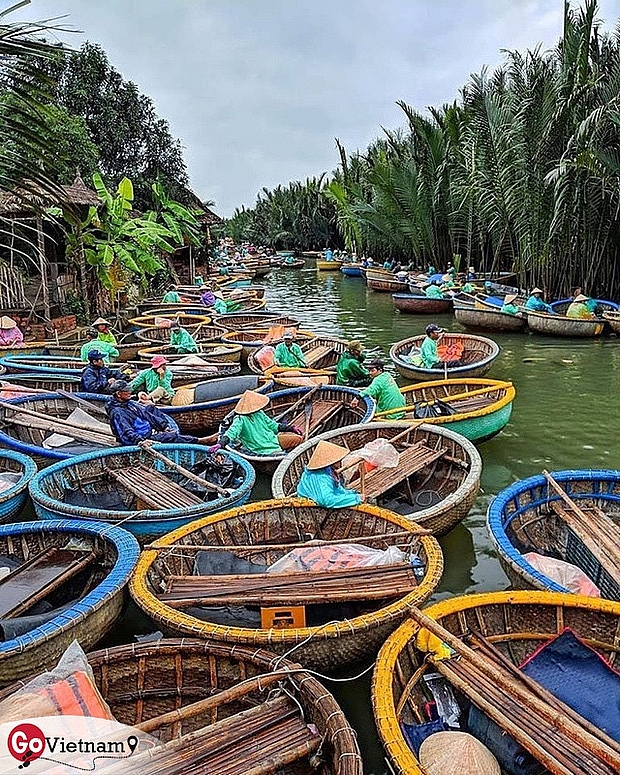 Photo: govietnam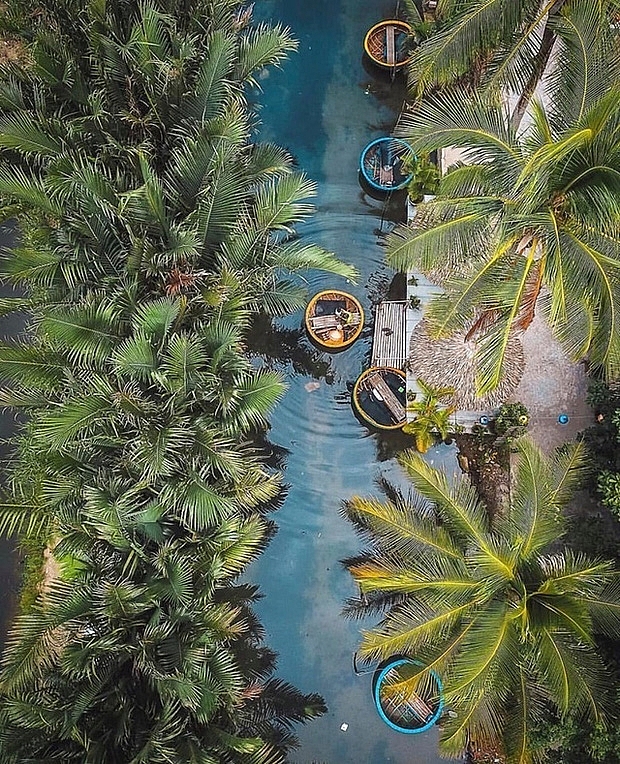 Photo: kenh14.vn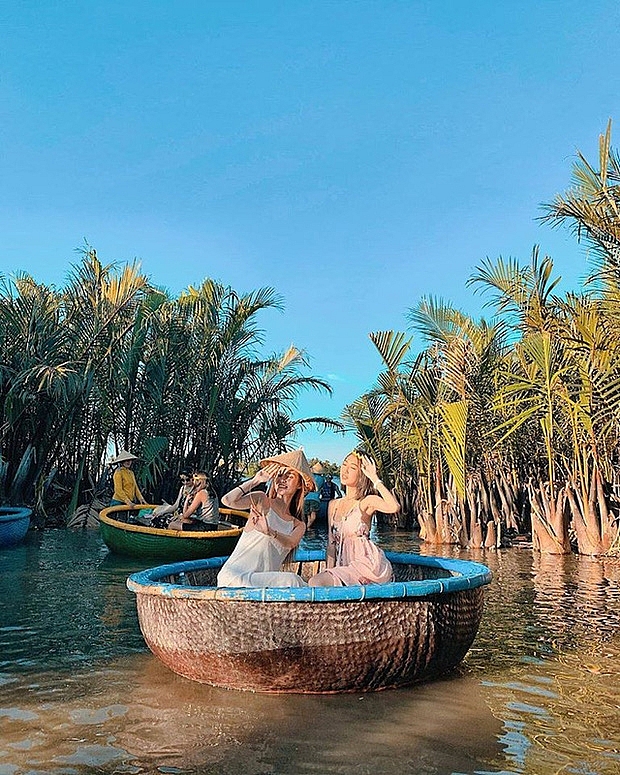 Photo: kenh14.vn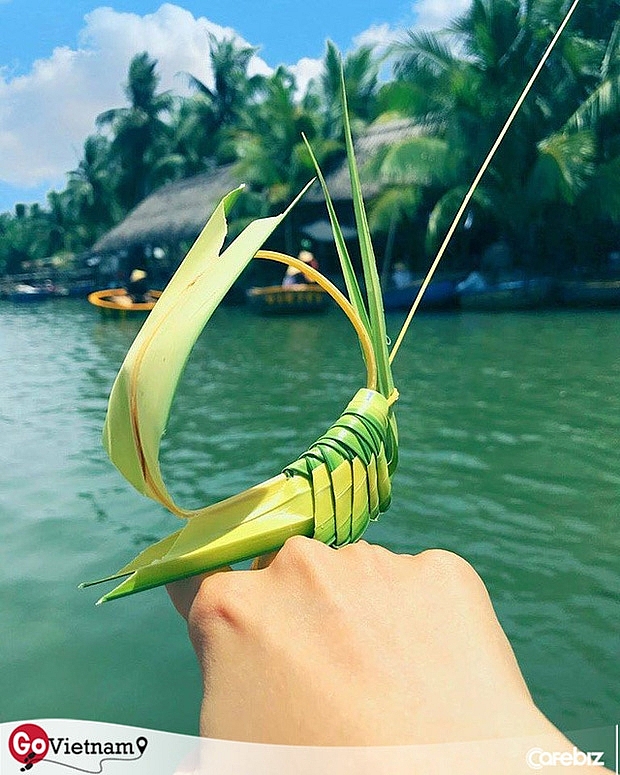 Photo: cafebiz
However, the most impressive experience in Bay Mau Coconut Forest is the basket dance. Visitors can watch or directly experience the thrills, spinning around on the water with locals.
In 2019, in a reality program, Miss Korea Pacific Han So Won also had the experience of "remembering life" when trying a basket boat in Bay Mau coconut forest. Due to too excitement, So Won met the problem of falling into the water.
Thanks to armed with a life jacket, she was not in danger and was then safely brought ashore. Footage of captured video immediately caused a storm in the online community, not only because of the half lauging and half crying situation, but also the unique experience brought by boat rotation game.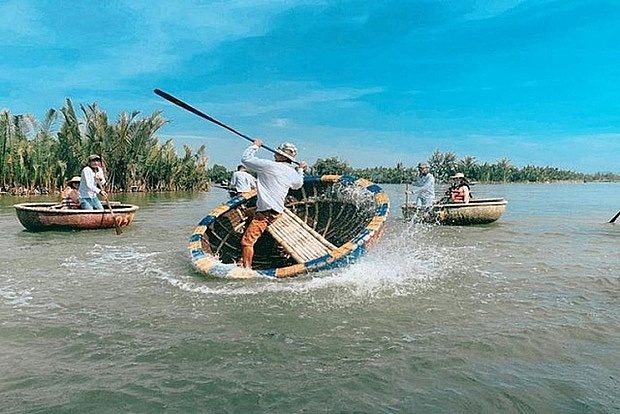 Photo: kenh14.vn
It is notable that you should not miss the central specialtis such as pancakes, Quang noodles, Nam O fried fish, fish ball vermicelli at prices varying from affordable to high-end. Visitors can even prepare dishes from the seafood that they have caught.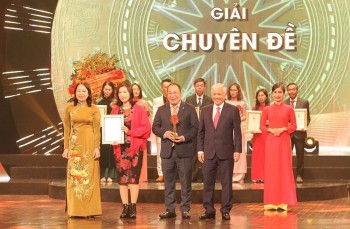 Overseas Vietnamese
VietnamTimes (Viet Nam Union of Friendship Organizations) is a reliable address for overseas Vietnamese to quickly and objectively update political, economic, cultural, and social news. The agency has created a helpful forum and connection between expatriates and the motherland.