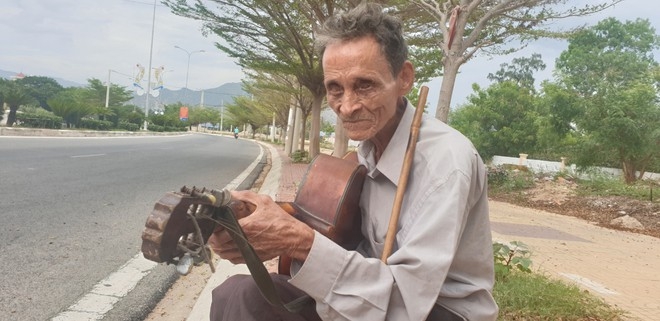 Mr. Minh playing his guitar by the street (Photo: Thanh Nien)
The sight of Mr. Minh holding his old guitar while singing, waiting for people to donate money been quite familiar to locals in Yen Ninh street, Phan Rang – Thap Cham city, Ninh Thuan, southern Vietnam.
The 73-year-old blind man has been pleasing passers-by with his musical talents for most of his life. Countless people have stopped by to give him some money out of pity and admiration to his beautiful voice. Thanks to that money, the beggar has so far been able to make ends meet, and bring up his 5 children and his disabled wife.
(Photo: Thanh Nien)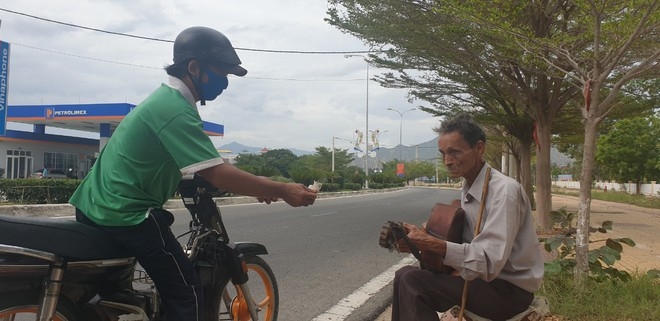 A passer-by giving Minh some money (Photo: Thanh Nien)
Minh lost his sight at 7 after a serious illness. At 13, he moved to Ho Chi Minh alone and was taken to a vocational school for the blind after days of wandering aimlessly on the street. At school, Minh was taught to play the guitar and even met his life partner, who was also visually-impaired. The couple later tied the knot and have five children.
"Living my whole life begging on the street to bring home the bacon has been a miracle for me", Minh was quoted by Thanh Nien as saying. "All of my children are married and can afford their own life now, but I still do this. I don't want to live off them".
Jasmine Le