Boiled morning glory, the quintessence of Vietnamese cuisine 
Boiled morning glory has long been an iconic side dish on a traditional meal in Vietnam. During those hot summery days, a bowl of boiled morning glory soup must be the No.1 option many Vietnamese yearning for.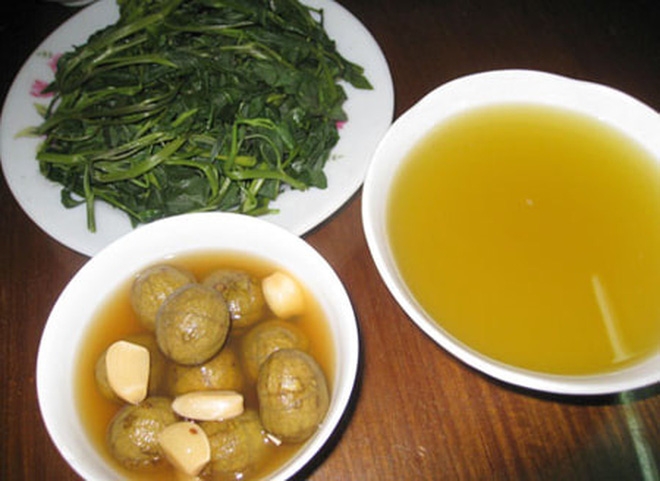 Boiled morning glory is a familiar side dish in Vietnamese family meal (Photo: Kenh14)
Morning glory, or rau muống in Vietnamese, is one of the most popular vegetables eaten by Vietnamese. Just visit any random markets, supermarkets or groceries, you are sure can buy a neatly-tied bunch of morning glories sold at a reasonable price.
Vietnamese people have different ways to cook the vegetables, from stir-frying it with garlic, making sweet and sour soup, to pickling, or eating with hotpot. Boiled morning glory, however, is the most favored by Vietnamese families, given its delicate taste and easy-to-make-recipe.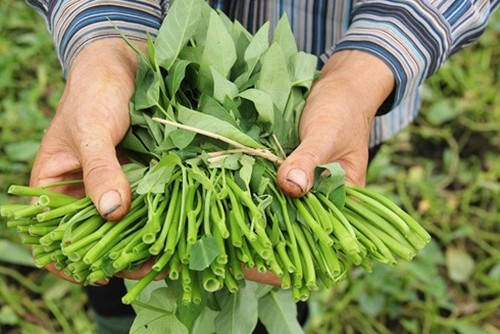 Morning glory is one of the most popular vegetables eaten by Vietnamese (Photo: An ninh thu do)
Boiled morning glory is as simple as the way it is called. One must only need to add all the prepared morning glory into the boiling water, then wait for the water to boil again and it's done. The secret to making a successfully boiled morning glory is adding a pinch of salt when the water's boiling and as soon as put the vegetable into cold water as soon as it is well-cooked to reserve the crunchy and sweet taste. Boiling with one or two dracontomelon, or squeezing some lime into the soup would give the soup a delicate sour. The dish is best eaten with pickled eggplants.
During those hot summer days, a dish of boiled morning glory and a bowl of soup would be a perfect choice to alleviate the heat and quench the thirst. Besides, the vegetable is high in nutrition values (vitamin C, B1, B2, iron).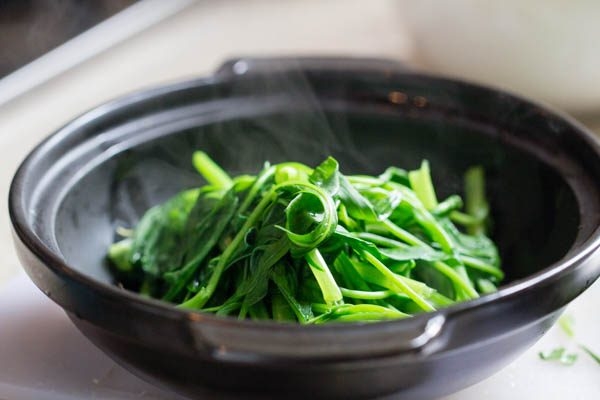 Boiled morning glory has a fresh green (Photo: Day nau an)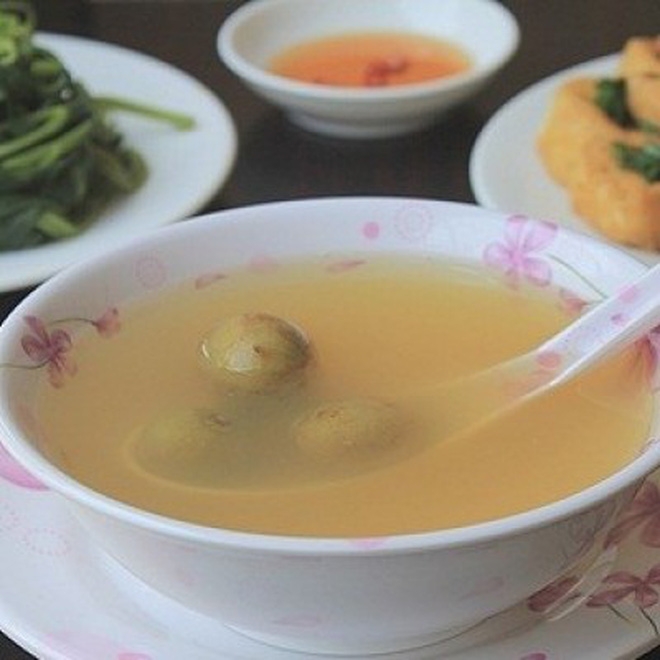 Dracontomelon or lime juice gives the soup a delicate sour (Photo: Kenh 14)
The familiarity and traditional value of boiled morning glory soup among Vietnamese people have made it a kind of food that reminds people of peaceful countryside, or a childhood memory. Anyone who travels abroad for a long time would definitely miss a bowl of boiled morning glory soup.
"I couldn't eat if there's no boiled morning glory soup on summer days when I was small", one Facebooker commented on a photo of the dish posted on a big Vietnamese fan page recently.
"Once my friend in Hanoi cooked me the soup, and I had bought half a kg of dracontomelon back to Ho Chi Minh city to recreate the exact flavor", another account commented.
Roasted grasshoppers, the alluring crunchiness

Grasshoppers are closely intertwined with childhood memories of Vietnamese people. Roasted grasshoppers, moreover, have long made a rice harvest's delicacy and a nutritious dish on ...
Crispy pancake, the tase of Hue

Crispy pancake, or "khoái" cake, is a delightful specialty of Hue. The crispy pancake is pretty much similar to rice pancakes (bánh xèo), but is ...