Roasted grasshoppers, the alluring crunchiness
Grasshoppers are closely intertwined with childhood memories of Vietnamese people. Roasted grasshoppers, moreover, have long made a rice harvest's delicacy and a nutritious dish on many family's meals.
Roasted grasshopper is a highly-nutritious rustic dish in Vietnam (Photo: Nhan Dan Online)
Grasshoppers can be found in the fields all year round. However, they are especially abundant during rice harvest season, from May to September, according to Nhan Dan Online. Many locals living in countrysides would catch handfuls of grasshoppers right in the fields and make a delicious dinner.
Vietnamese also cook grasshoppers in different ways, such as stir-fried grasshoppers with chili lemongrass, grasshopper hotpot, etc., but for many, roasted grasshoppers still the most delicious one, which is both simple in preparing, cooking and in its unique flavor. It is also made in the most rustic, traditional cooking style, according to Nui Ba Vi.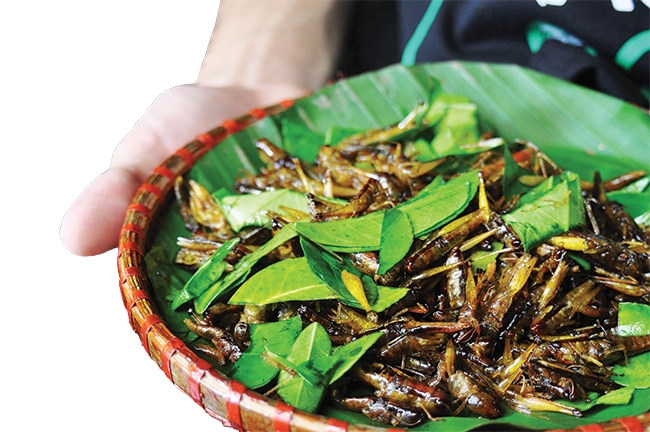 Lemon leaves add a lot to the fragrance and flavor of the dish (Photo: Sai Gon Tiep Thi)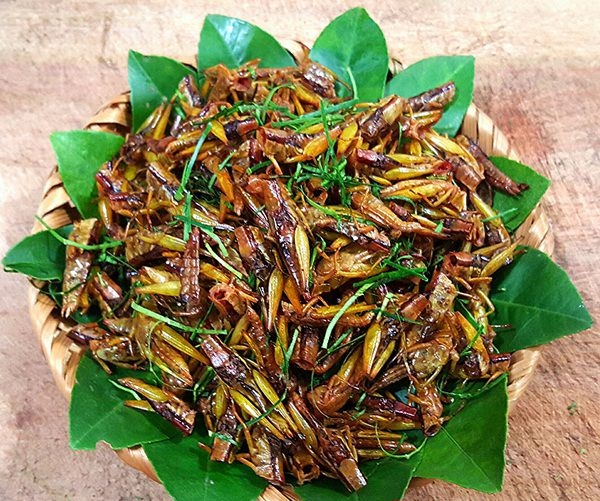 (Photo: Pinterest)
To make an on-point roasted grasshopper dish, one must pour boiled water over the grasshopers first and shook the container with force, after 15 minutes remove the wings, antennas, hard legs, and organs and let the insect drain completely. Before deep-frying the grasshoppers, local people usually sprinkle some salts in to enhance the flavor. Grasshoppers are roasted in a pan until they turn brown-yellow. Sliced lemon leaves will be added.
The result is a tasty, crunchy dish with high nutritional value that can be served in daily meals or as side dishes on drinking occasions. Even though food cooked from grasshopers is no longer as popular now as in the past, they are still a special delicacy served in many restaurants.
Crispy pancake, the tase of Hue

Crispy pancake, or "khoái" cake, is a delightful specialty of Hue. The crispy pancake is pretty much similar to rice pancakes (bánh xèo), but is ...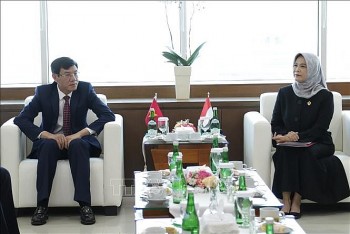 Friendship
At a recent working session with the Audit Board of the Republic of Indonesia (BPK), Deputy Auditor General of the State Audit Office of Vietnam (SAV) Doan Anh Tho suggested cooperation between the two institutions through the exchange of ideas and experiences in anti-corruption.