Building the bridges to make the poor people's dream become true
"When a concrete bridge is completed and put into use, it means that the two separate sides will be connected, electricity will be light up in every family, the way for children to go to school will be shortened… More importantly, the light of knowledge will enable the community there to be fully aware of their own capacity and rights for development"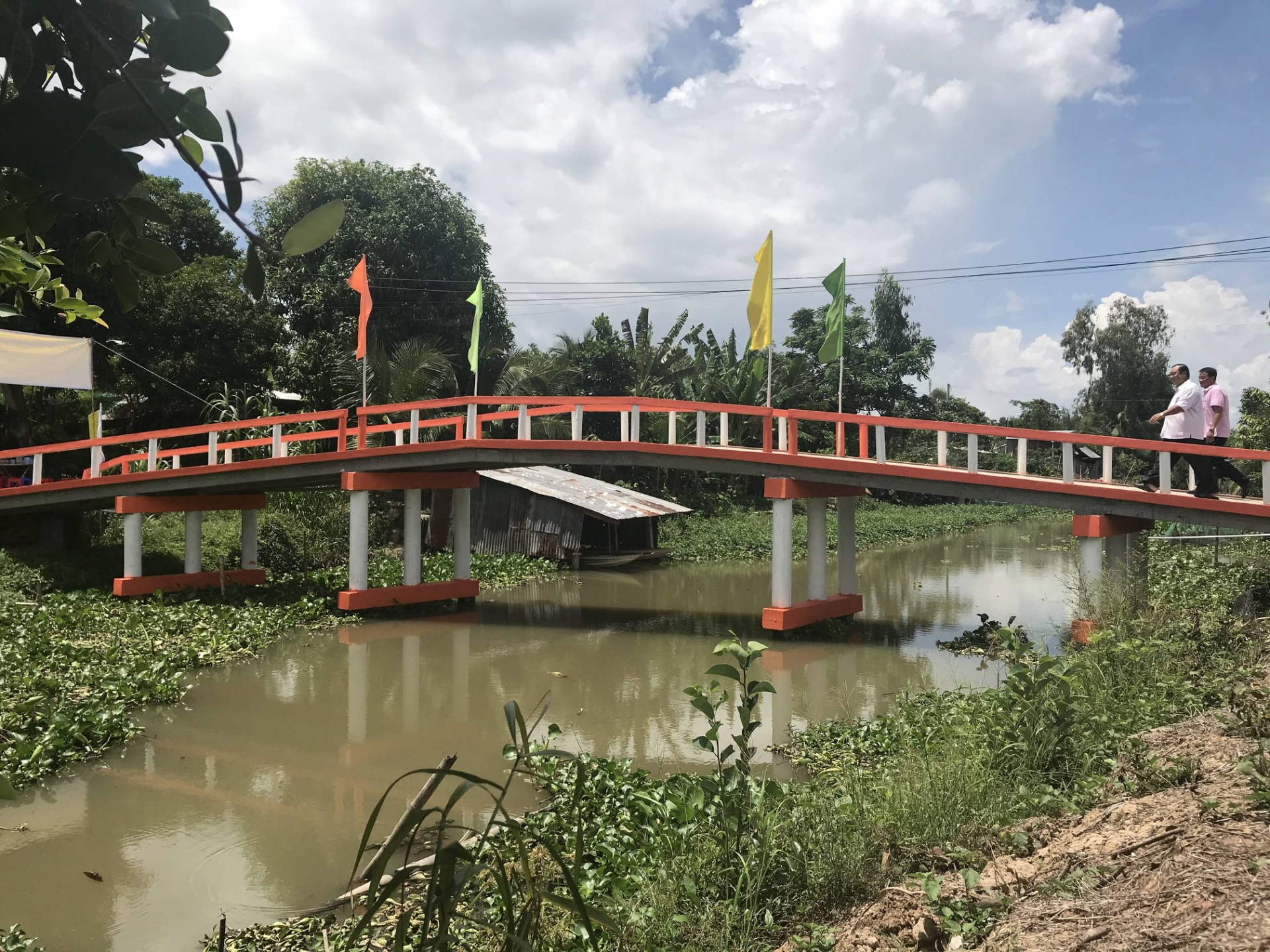 A concrete bridge was built by CVOVS, which help to bridge gaps between two sides of the community
Established in 2013, CVOVS is widely known in the non-profit community in the Southern area of Vietnam with its series of projects for poor communities named "Building bridges - spreading the love". Many other public and household projects like building wells and schools have been successfully implemented so far, which received appreciation from beneficiaries and community.
From the initial idea of doing charity work, the organization has been gradually aware that it needs to change the approach from need-based activities to long-term projects for more sustainable development of the community. Since then, there are totally 17 concrete bridges, 03 toilets, 01 well, 03 playgrounds for schools, and 03 teaching facilities for kindergartens.
"The community in our project area is typically divided by a very complicated system of rivers, canals with local people's houses", said Mr. Vu Thanh Ha, Advisor of CVOVS. "However, due to the lack of bridges, it is very dangerous for children to go to school every day. It also affects local people for their daily life since they find it many challenges for them to deliver local products around. The most critical consequence is that the living standard of local residents there is very low", he added.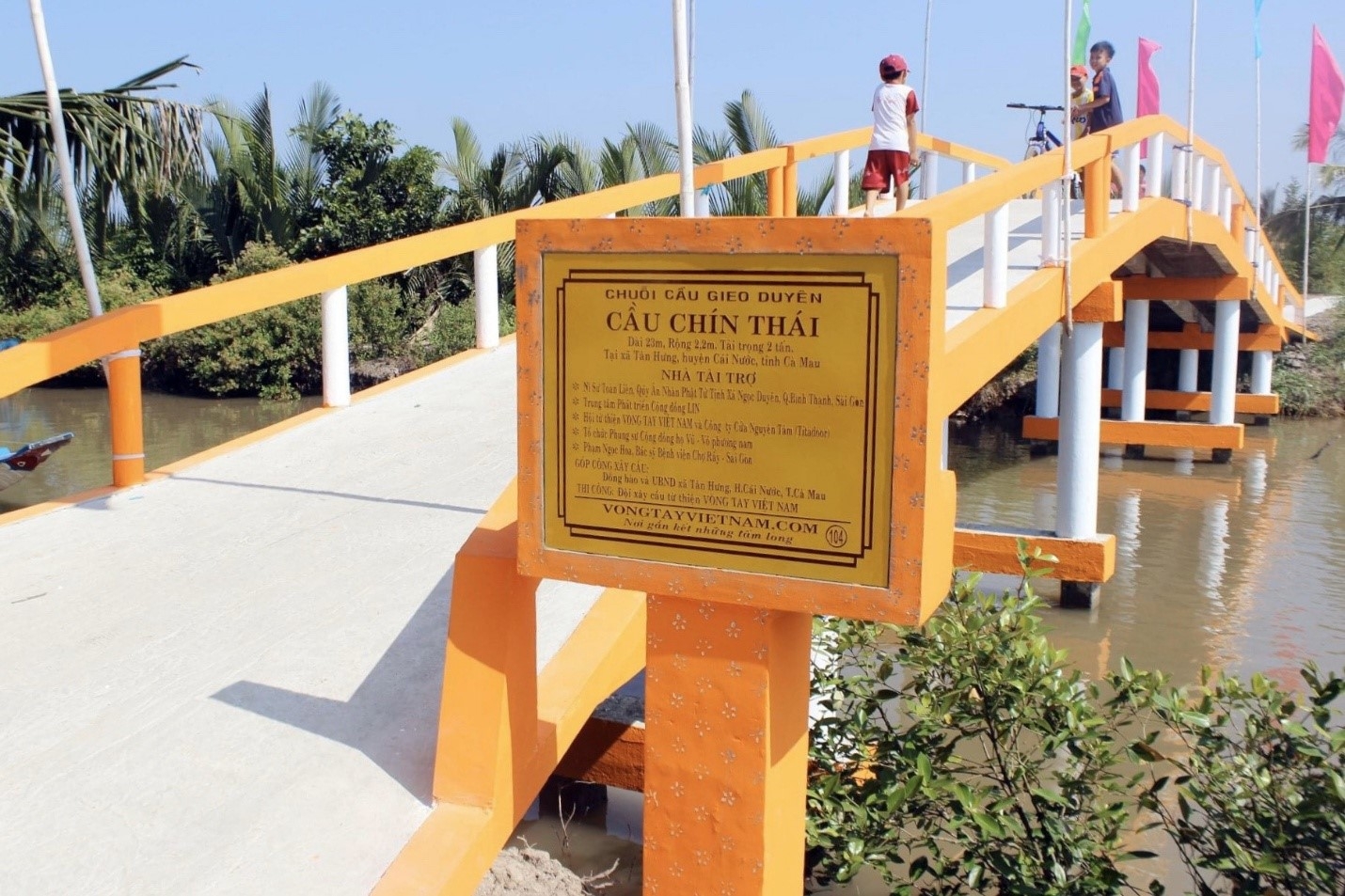 Children are happy to go to school every day without the fear of drowning risk
The case of Tan Hiep bridge (Tan Hung commune, Cai Nuoc district, Ca Mau province) is an example.
"A canal with more than 03 km long but there is only one bridge. Actually, there is another temporary footbridge (or known as cầu khỉ - monkey bridge in local Vietnamese) made by local people for many years, which is very risky for children to use it, especially during the rainy season with frequent flash floods", said Mr. Vu Thanh Ha. "Man-made ferries are still there but not safe at all".
According to Mr. Ha, most project areas are in remote places with a lot of difficulties where not many non-profit organizations come to help the people there. And it is the main reason for CVOVS and kind-hearted people to give their hands to the needy community. Since there are more concrete bridges to be built, the lives of local residents there are much easier. Most importantly, people in the community become more confident in speaking out and raising their voices so as to request support from local authorities for their issues. Children are now happy to go to school every day without the risk of drowning.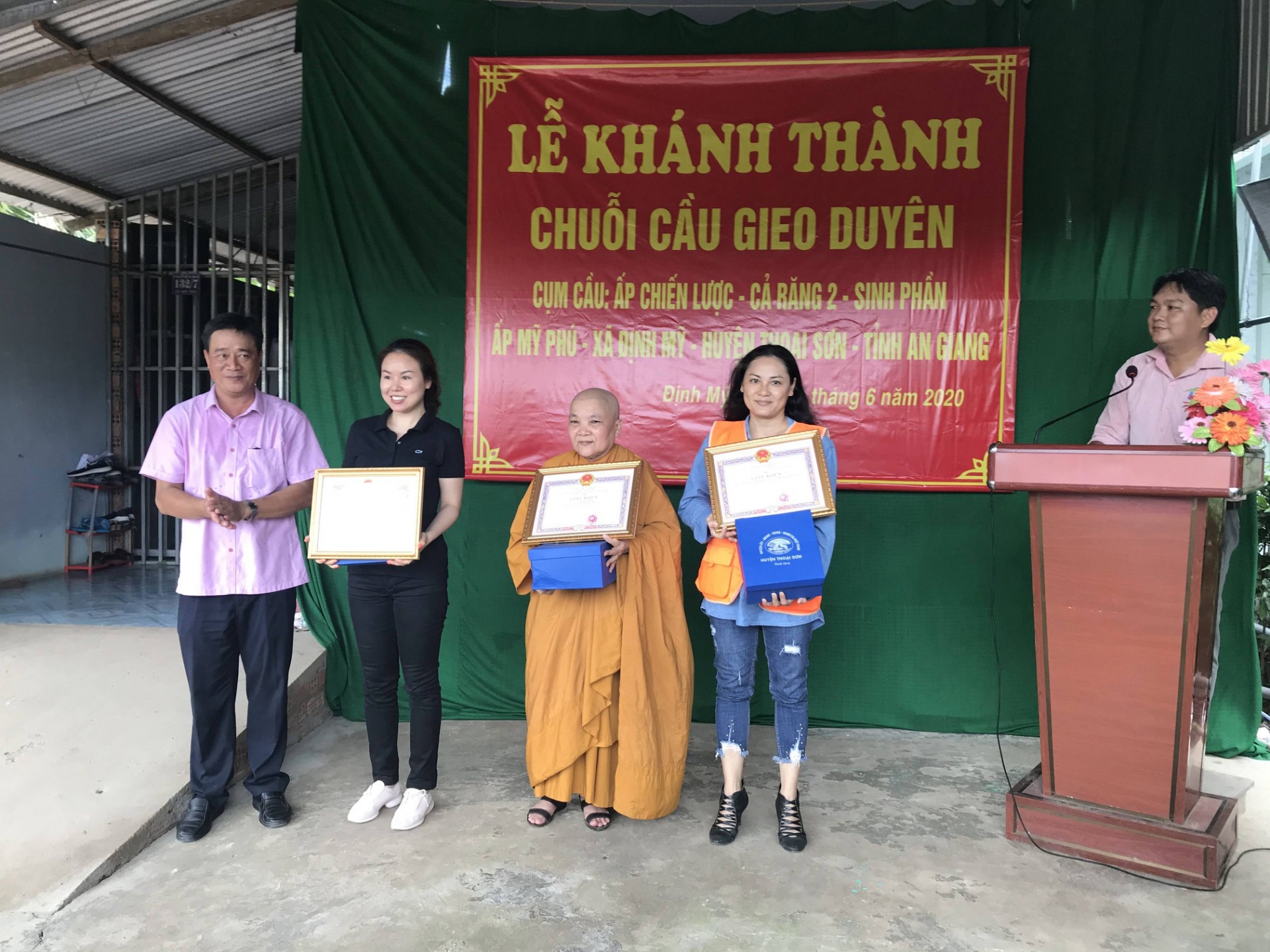 The celebration of a new concrete bridge organized by local authorities
In the first six months of 2020, notwithstanding the negative impacts of the COVID-19 pandemic, CVOVS has been conducting a number of field trips to Dac Nong, Dong Thap, Kien Giang, and Ca Mau in order to collect information and baseline data for new project development. Right in June 2020, 03 more new concrete bridges were completed and put in to use in An Giang and Dong Thap.
In order to have a sufficient budget for new projects, CVOVS has tried its best in mobilizing money from different sources, from applying for funding contests to selling local products. The management team also works with companies to seek more financial support from the business sector.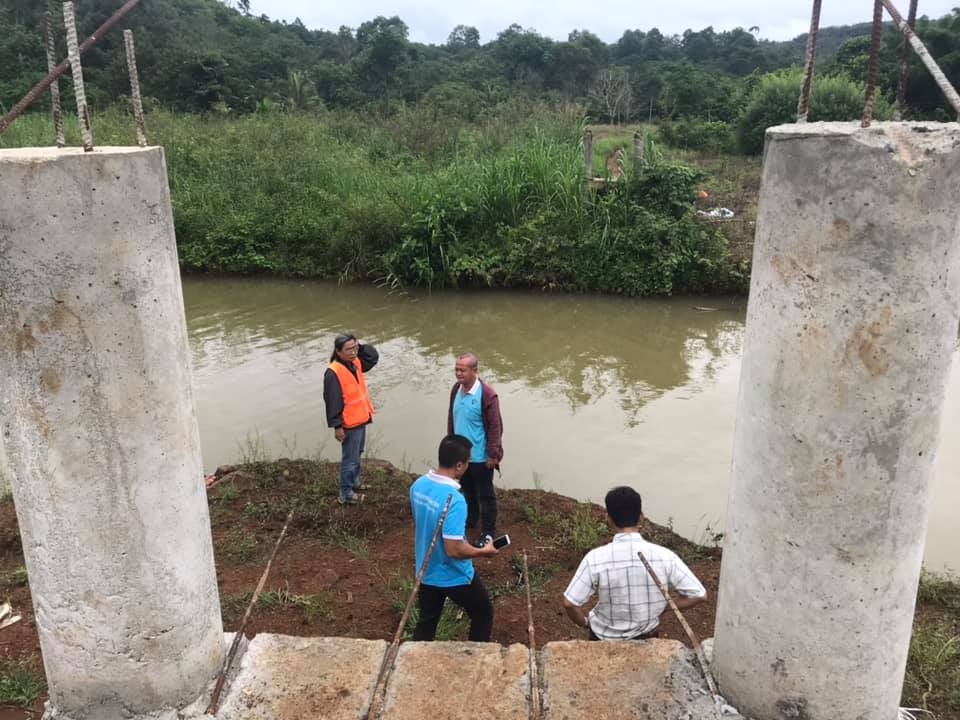 More new concrete bridges to be built in order to improve the lives of poor community
Thanks to the endless efforts and contribution of each individual and the whole team of CVOVS for the community development, Ms. Vu Thi Hong Phuc was awarded the prize "Business initiative for the community 2019" conducted by En Xanh, a community program of Vietnam.
"In the coming time, we at CVOVS are going to implement many more community projects with the ultimate aim of bringing positive and sustainable changes for poor communities in Vietnam", said Mr. Vu Thanh Ha.
CVOVS is aiming to build 10.000 concrete bridges
Tran Anh Quan - Kinh te va Du bao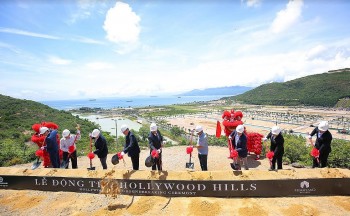 Economy
On October 2, at Hai Giang peninsula (Quy Nhon city, Binh Dinh), Hung Thinh Corporation held the groundbreaking ceremony of Hollywood Hills by YOO Inspired by Starck – a subdivision at MerryLand Quy Nhon. The event marks the first time that the world's No.1 ranked design and branded residence company YOO Inspired by Starck is officially present in Vietnam, with a collection of villas designed by creative director, Philippe Starck.