Hardship can't stop young people from doing good things
A 16-year-old student teaches children in an improvised school she has set up under a tree since they have been unable to attend virtual classes in the low-income neighborhood Realidad de Dios, during the outbreak of the coronavirus disease (COVID-19), in Guayaquil, Ecuador. A similar story from an ethnic minority boy in Vietnam.
Ecuador: Young girl teaches poor children in class under a tree where no internet available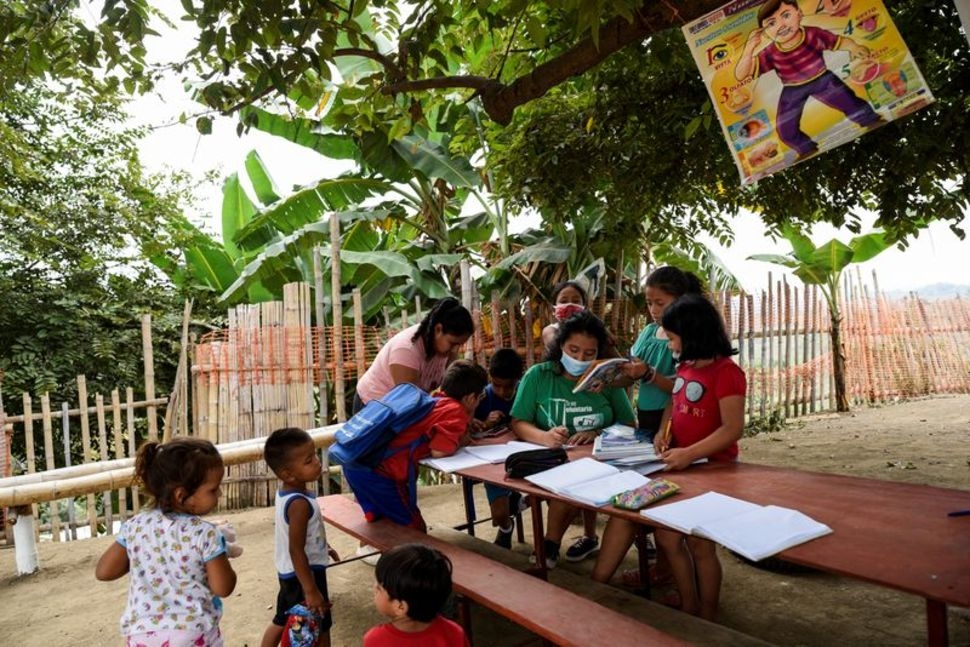 Denisse Toala is helping about 40 children with their study admit the pandemic. Photo: Reuters/Santiago Arcos
An Ecuadorean teenager has set up an improvised school under a tree in a poor neighborhood of northern Guayaquil for some 40 students who haven't been able to study during the novel coronavirus lockdown for lack of internet access, reported Reuters.
Almost nobody in the community has a computer or a cellphone with a data plan, leaving children unable to participate in the online education that has replaced regular schooling under the coronavirus health emergency.
Denisse Toala, a 16-year-old girl, meets with kids and uses her cellphone to check school websites to see what homework has been assigned, which they would be unable to do on their own.
"COVID-19 has caused difficulties on the economic front, but especially in education," said Toala, who in her final years of high school. "They deserve an education."
Under the tree where they meet, she has set up a blackboard, educational posters and a welcome sign that reads: "Learn to teach".
Denisse Toala is teaching poor children in a community where the internet is not available. Photo: Reuters/Santiago Arcos
UNICEF Ecuador in May said only 37% of the country's households have internet access. As a result, it said, "6 out of 10 children cannot continue their studies on digital platforms."
The report said the situation is more serious in rural areas, where only 16% of households have internet access.
The Telecommunications Ministry has acknowledged the problem and says it is working on ways to boost internet availability.
Parents say Toala is helping their children keep up with their studies amid the pandemic, which in March and April overwhelmed Guayaquil's medical services.
"There is no internet, there is no cellular signal and my children would have lost a year (of school) if not for the tree and the teacher," said Gina Perez, whose four children study every afternoon at the makeshift school.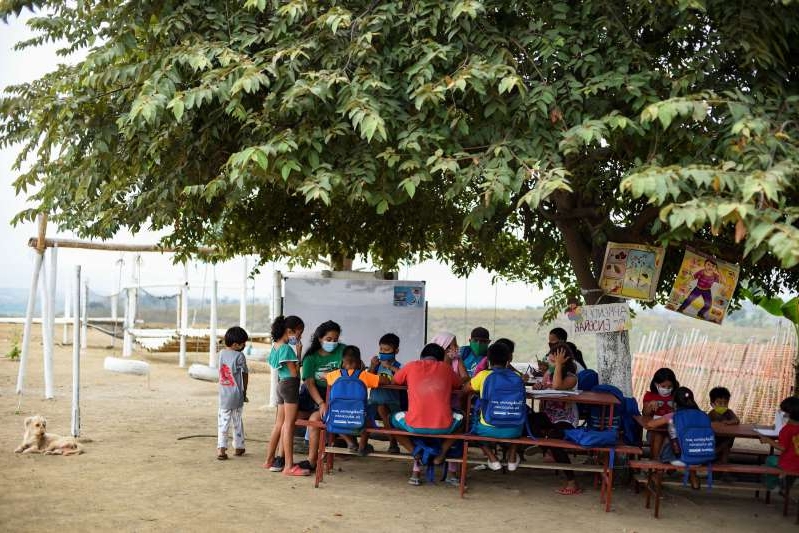 The special class under the tree. Photo: Reuters/Santiago Arcos
Vietnam: Thai ethnic minority student utilizes a makeshift tent for his online study amid the pandemic
Quang The Ha is a Thai ethnic minority student in the north-central Nghe An Province. During the school closure due to the COVID-19 pandemic, like millions of students across the country, Ha had to stay at home and follow compulsory online classes via Zoom and Microsoft Teams per the request of the Ministry of Education and Training. However, this new way of learning became more of a challenge for mountainous students like Ha. No electricity and internet in his village, which means that he could not access the virtual class to receive and submit assignments.
To overcome the technological challenges and adapt to the circumstance, Ha came to a brave decision. Every day, Ha woke up very early in the morning and scaled a hill to catch 3G signal before his online lesson started. He had to climb a hill 10 minutes away on foot to reach a small temporary study hut built by himself for learning purpose. Since then, he did not miss a single lesson. He spent each morning in the hut studying and returned home in the afternoon to complete his homework and help with housework.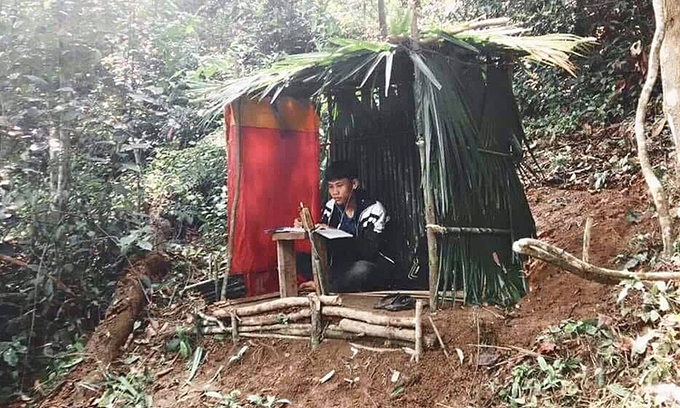 Quang The Ha, a 10th-grade student, in a hut he built on a hill near his home in the central province of Nghe An so he could get 3G signal to study online. Photo: Viet Bac Highland High School.
Quang The Ha is only one among many other good examples of minority students in mountainous areas in Vietnam who overcome hardship to fulfill their studying work.
"In remote areas, students face countless difficulties with online classes because of the lack of hi-tech equipment, slow Internet connection, unstable mobile signals, and more", cited Tuoi Tre Newspaper from the sharing of an official working for a local Northern Upland High School's Youth Union in the northern mountainous province of Thai Nguyen.
"However, thanks to their passion for studying and determination to overcome hardship, the students defeated all the difficulties to pursue their classes," she added.
"They build tents on hilltops to take advantage of the high altitude for cellular signals, live alone at a place 30 kilometers away from home so they could have Internet access, or take time to study during break time on farming days with their parents".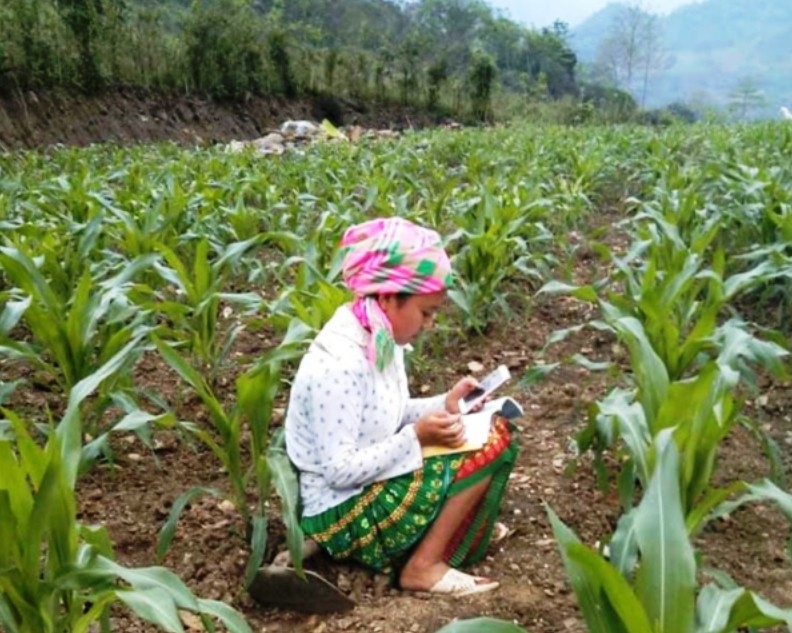 Hoang Thi My, Hmong ethnic, 11A4 grade, in Quang Lam, Bao Lam, Cao Bang. She has to work early on the field and study after a hard working day. Photo: giaoducthoidai
As of July 15, Vietnam's Ministry of Health confirmed cases of COVID-19 remained at 373. In addition, 352 of the affected patients have recovered and been discharged from hospitals. No deaths and no community transmissions. The country is in its new normal condition these days.
Vendors at Me Linh flower market in Hanoi's Ha Loi Village get back to business a day after the village's Covid-19 lockdown was lifted, May 7, 2020. Photo: VnExpress/Giang Huy.
68.459 cases were confirmed in Ecuador
The pandemic caused by the new coronavirus has already spread to 215 countries with 13.444.984 infected. The disease is caused by a new virus that had not been detected in humans until a few months ago.
Ecuador had 68,459 positive cases of the novel coronavirus and 5,063 deaths (data updated on July 15 by worldometers). However, it is believed that the actual death toll is estimated to be much higher than the official one.
Ecuador ranks 28 in countries with reported Covid-19 cases, the viral pneumonia that affects the planet. The list of the top ten is as follows: U.S 3.543.906, Brazil 1.931.204, India 937.487, Russia 739.947, Peru 333.867, Chile 319.493, Mexico 304.435, Spain 303.699, South Africa 298.292 and UK 291.373.
A physician is giving coronavirus advice and lifesaving tips to avoid infection to at-risk Ecuadorians in rural areas. Photo: UNHCR/Jaime Giménez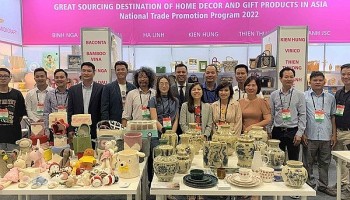 Economy
"Amazing ASEAN 2022 - Discover the flavors of Asia" campaign and the NY NOW exhibition are important events in August 2022 that introduced the rich and diverse goods and products from Vietnam to international markets.