Charitable Activities Connect Vietnamese Community In Czech Republic
Charitable activities are among the bright spots of the Vietnamese community in the Czech Republic, with the charity organization Vietnamese-Czech House making significant contributions to helping needy people in both nations.
The group held a ceremony on November 5 to mark its 10th founding anniversary and held its third congress to elect a new executive board to continue promoting its activities.
At present, the organization boasts a 32-strong executive board and more than 350 members. They have visited and presented gift centers caring for orphans, the elderly, and children with disabilities in the Czech Republic, as well as engaging in a broad range of charitable activities in the homeland.
Upon addressing the event, Ambassador Thai Xuan Dung said that the group's activities had earned plaudits from authorities and people in the host country, as well as in Vietnam.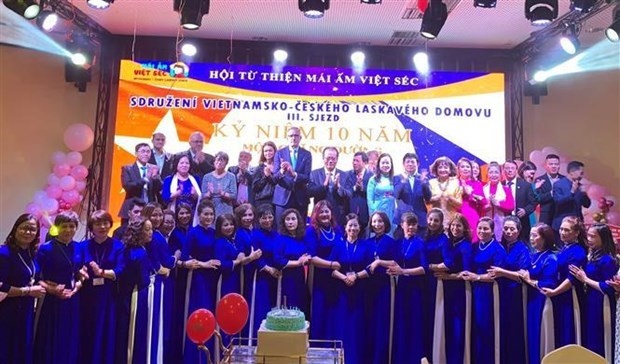 Vietnamese-Czech House celebrates its 10th founding anniversary (Photo: VNA)
As part of the occasion, he presented certificates of merit to outstanding members of the organization in recognition of their contributions to the community.
Since establishing diplomatic relations in 1950, the Czech Republic has helped to train thousands of Vietnamese officials, engineers, and laborers.
As of last year, the Czech Republic had 41 FDI projects in Vietnam with a total capital of $92 million, mainly in the fields of processing, manufacturing, and mining.
The Czech Republic was the first Eastern European country to provide official development assistance (ODA) to Vietnam, accounting for about $20 million in total.
Currently, nearly 100,000 Vietnamese people are living in the Czech Republic.
Vietnam is the Czech Republic's most important partner in Southeast Asia, said Czech Prime Minister Petr Fiala while expressing his desire to promote bilateral cooperation in all fields.
One of the strongest pillars of Czech-Vietnamese relations is economic cooperation. The volume of bilateral trade exceeded US$1.5 billion last year while Czech companies invested more than US$90 million in 30 investment projects in Vietnam.
There is a strong interest on both sides to further increase economic cooperation at government and corporate levels. Strong and steady economic growth and rapid modernization of its economy have made Viet Nam attractive to Czech investors.
The largest Czech car manufacturer, Škoda Auto, has already decided to make Vietnam its production hub for Southeast Asia and is currently taking steps to enter the Vietnamese market.