China continues to stubbornly prohibit fishing in the South China Sea
The China Coast Guard will keep a closer eye on the country's coastal areas to ensure the enforcement of the summer fishing ban starting from May 1, said Xinhua News.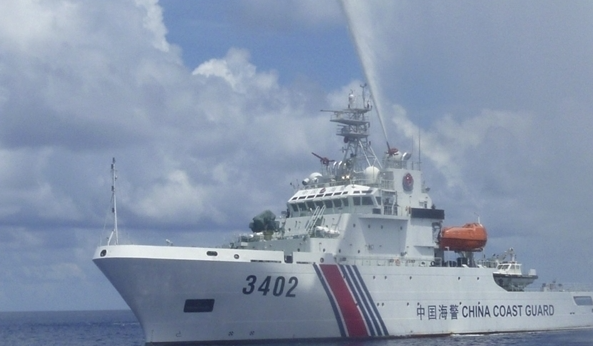 China's Coast Guard vessel. (Photo: South China Morning Post)
On April 27, China's Xinhua News published an announcement that The fishing ban, which will come into force from May 1, covers the Bohai Sea, the Yellow Sea, the East China Sea, and the waters north of 12 degrees north latitude in the South China Sea (Bien Dong Sea). It is part of China's efforts to protect marine fishery resources. The enforcement actions will last through Sept. 16.
According to VTC, the mentioned areas include a part of the Tokin Gulf and Vietnam's Hoang Sa (Paracel) Archipelago.
China began to introduce the fishing ban in 1999. According to the Vietnam Fisheries Society, China has been imposing the ban for many years, hindering the production of Vietnamese fishermen and causing losses to the industry.
The Chinese action has seriously violated Vietnam's sovereignty over the Hoang Sa archipelago as well as Vietnam's sovereign rights and jurisdiction over its waters, running counter to the spirit of the Declaration on Conduct of the Parties in the Bien Dong Sea (DOC).
Vietnam has consistently condemned and rejected the issue of such bans by China. The Ministry of Foreign Affairs has many times repeated that Vietnam has sufficient legal and historical foundations testifying to its sovereignty over the Hoang Sa archipelago (Paracel Islands) and the sovereign rights and jurisdiction over its waters, exclusive economic zone, and continental shelf in line with the 1982 United Nations Convention on the Law of the Sea, according to VN Express.
According to VOV, in May 2020, the Vietnam Fisheries Society strongly opposed China's such actions, in which Vietnamese fishermen are not legally bound to abide by legitimate rights to fish in Vietnam's territorial waters. "China has no right to ban fishing in Vietnamese waters," it said.