China illegally releases official names for East Sea entities
China has once again defied international law by giving names to 80 geographical features in Vietnam's Hoang Sa (Paracel) and Truong Sa (Spratly) Islands in the latest move to assert its territorial claims in the East Sea (internationally referred to as the South China Sea).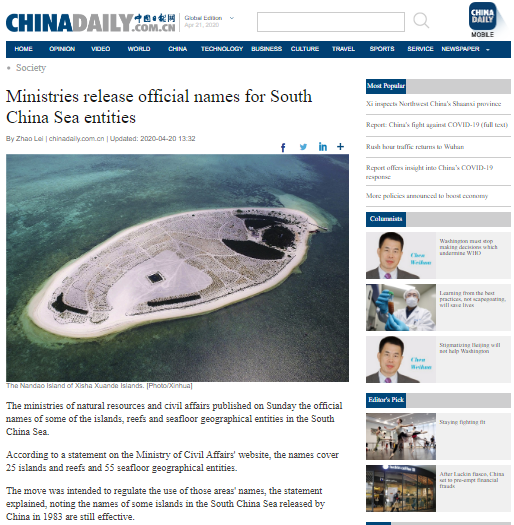 China Daily newspaper reports the statement from the Ministry of Civil Affairs
According to a notice jointly released by China's Natural Resources Ministry and Civil Affairs Ministry on April 19, it has given names to features in Paracel and Spratly Islands. These include 25 islands, shoals and reefs and 55 oceanic mountains and ridges.
The last such exercise was carried out in 1983, when China named 287 features in the area, according to The South China Morning Post.
The statement came a day after China said it had set up two administrative districts under the so-called Sansha city, Hainan province – which it named Xisha and Nansha– to govern the Paracel and Spratly islands.
More specifically, the Chinese Ministry of Civil Affairs said that its State Council has approved the formation of "Xisha District" on Woody Island on the Paracels and "Nansha District" on the Fiery Cross Reef of the Spratlys.
China said the "Xisha District" would manage the Paracel Islands, the Macclesfield Bank, and surrounding sea areas, while the "Nansha District" would manage the Spratly Islands and surrounding sea areas.
China seized the Paracel Islands from South Vietnam by force in 1974 and has since been occupying them illegally. China also formed what's called the "Sansha City" on Woody Island since 2012, with the intention of taking control of islands in the East Sea. China has also been illegally building artificial islands in recent years.
Vietnam has requested China many times to stop its illegal actions, which complicate the situation and threaten peace and stability in the East Sea. Last month, Vietnam sent a diplomatic note to the United Nations to protest China's unfounded sovereignty claims over the East Sea.
After China announced the establishment of what it calls the "Xisha" and "Nansha" districts in Vietnam's Paracel and Spratly Islands on April 18, the spokesperson of Vietnam's Foreign Ministry Le Thi Thu Hang said: "Vietnam has strongly affirmed many times that it has sufficient historical evidence and legal foundation to assert its sovereignty over the Hoang Sa and Truong Sa archipelagos."
Vietnam strongly protests the establishment of the so-called "Sansha city" and related acts as they seriously violated Vietnam's sovereignty, she said.
The Fiery Cross Reef is one of the seven marine features in Vietnam's Spratly archipelago where China has illegally built artificial islands and constructed various civilian and military structures.
China has vowed not to militarise the islands, but the action runs counter to what it has already pledged./.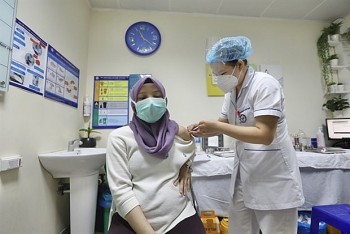 National
Vietnam News Today (September 17): Vietnam, RoK agree to boost defense ties; HCMC on first day of Covid restriction ease; Hanoi offers Covid vaccination for foreigners at two select venues; Vietnam declares reopening of Phu Quoc island at Global Tourism Forum.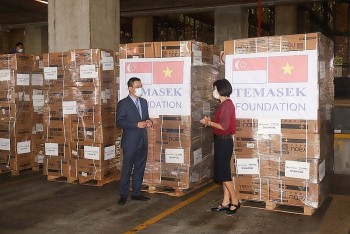 Friendship
Vietnam and its needy groups continue to receive support for Covid-19 prevention.
Friendship
According to leading experts in the water industry in Vietnam and Australia, ensuring water security and water supply safety is of particular importance when climate change and the Covid-19 pandemic have been threatening the economic and social development of many countries.