China, Laos present medical supplies to assist Vietnam's Covid-19 fight
Localities of China and Laos have provided financial aid and medical supplies to Vietnam's to support them in combating the novel coronavirus.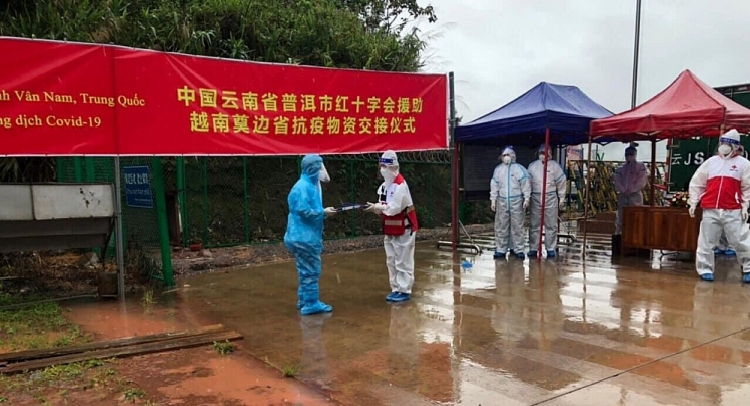 The handover ceremony is held at the A Pa Chai-Long Phu border gate. Photo: Dien Bien Center for Disease Control
Muong Nhe district, Dien Bien province received medical supplies from the Red Cross Society of Pu'er city, Yunnan province, China on June 24.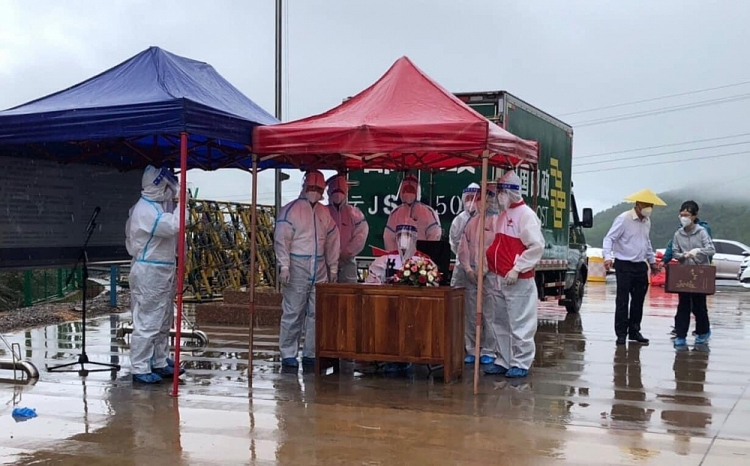 Photo: Dien Bien Center for Disease Control
Medical supplies included 100,000 face masks, 800 sets of medical protective clothing and 350 bottles of hand sanitizer, worth a total of VND 570 million (nearly US$ 25,000).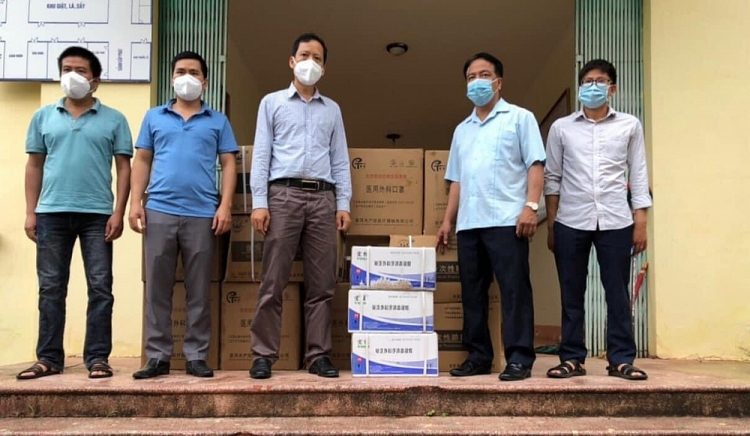 The aid is distributed to Dien Bien localities. Photo: Dien Bien Center for Disease Control
Lo Van Tien, vice chairman of Dien Bien People's Committee expressed his thanks to Pu'er city for its assistance, wishing to continue to enhance exchange and cooperation with the city in restoring the economy.
The delegation of Vientiane capital went to the headquarters of the Vietnamese Embassy in Laos to hand over US$ 30,000 to support Hanoi and Ho Chi Minh City in the Covid-19 fight on June 5.
Anouphap Tounalom, secretary of Vientiane Party Committee, said affirmed the special relations between Vientiane with Hanoi and Ho Chi Minh City, expressing his hope that the two cities would soon stamp out the Covid-19 pandemic and restore the economy, the Vietnam News Agency reported.
The assistance was contributed by Vientiane authorities and people along with the Vietnamese community and enterprises operating in the city, he added.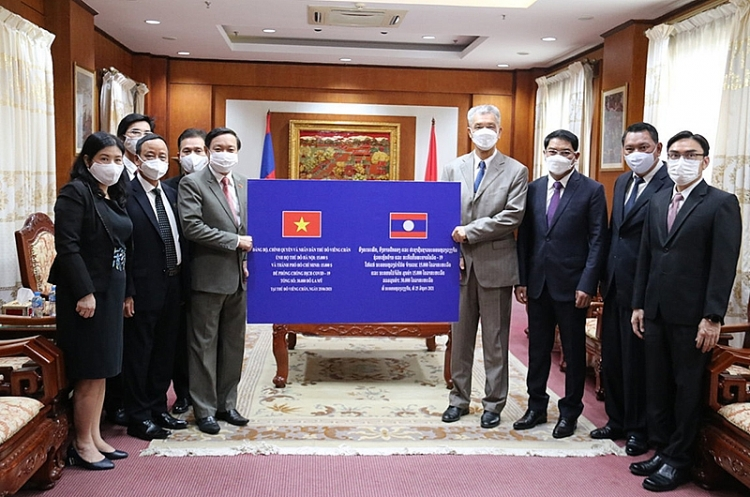 Vietnamese Ambassador to Laos Nguyen Ba Hung (L) receives the gift from Vientiane capital. Photo: Nhan Dan
Vietnamese Ambassador to Laos Nguyen Ba Hung thanked Vientiane for its valuable support even when Laos and the city in particular have grappled with the second wave of Covid-19.
The diplomat believed that Vietnam's cities and Vientiane would continue to beef up the traditional relations and contribute to the great friendship, special solidarity and comprehensive cooperation between two Parties, States and peoples of the two countries.
Earlier, the Vientiane delegation also handed over 100 million kip (about US$ 10,000) to the Vietnamese Embassy in Laos to aid the northern Hai Duong province in fighting against the novel coronavirus.
The Vietnamese Embassy in Laos has so far received about US$ 1.3 million from Lao agencies, organizations and individuals to assist Vietnam's Covid-19 battle, US$ 500,000 of which is medical supplies and equipment.
Vietnam reported 50 new local infections of Covid-19 in the past 12 hours to 6 a.m. on June 27, according to the Ministry of Health.
Among the newly detected cases, 40 were in Ho Chi Minh City, seven in Long An, and three in Bac Giang. Forty-thee were recorded in quarantine sites or sealed-off areas.
The new cases brought the national tally to 15,325, with 1,760 imported and 13,565 domestic ones. As many as 6,137 patients have been given the all-clear so far. The death toll has been 74.
Among the patients being under treatment, 370 have tested negative once for SARS-CoV-2, 125 twice, and 152 three times.
The country has administered around 3.3 million Covid-19 vaccine shots, fully vaccinating 155,488 people with two shots.