China's warning for Washington not to boycott Beijing's Winter Olympics
On Wednesday, China's government gave Washington warning not to boycott Winter Olympics that will be held in Beijing this year, after the Biden administration's talks about a joint approach to complaints of human rights abuses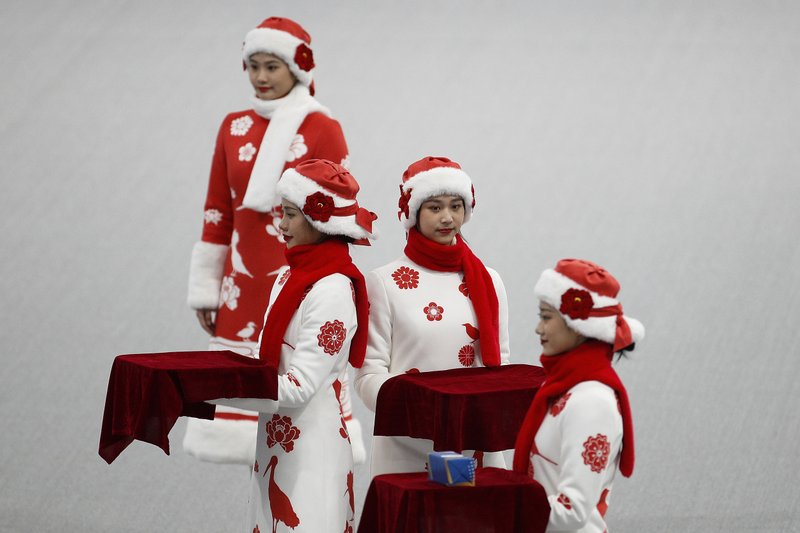 Chinese attendants dressed in winter costumes rehearse the award ceremony of the men's 500-meters race during a test event for the 2022 Beijing Winter Olympics at the National Speed Skating Oval in Beijing, Wednesday, April 7, 2021. The organizers of the 2022 Beijing Winter Olympics has started 10 days of testing for several sport events in five different indoor venues from April 1-10, becoming the first city to hold both the Winter and Summer Olympics. (AP Photo/Andy Wong)
A Foreign Ministry spokesperson rejected accusations of abuses against ethnic minorities in the Xinjiang region. He warned of an unspecified "robust Chinese response" to a potential Olympics boycott.
That opposition was reiterated by Susanne Lyons, chair of the U.S. Olympic & Paralympic Committee board of directors, at a media summit Wednesday, according to AP News.
"We at the USOPC oppose athlete boycotts because they've been shown to negatively impact athletes while not effectively addressing global issues in the past," Lyons said. The committee doesn't wish to "minimize the serious human rights issues that are happening in China," but believes diplomats and trade and other government officials are better equipped to address such concerns and "young athletes should be used as political pawns in these issues," Lyons said.
Boycotts also put "unfair pressure" on corporate sponsors who provide the bulk of financial support for athletes and athletic programs over the long term, not just for specific events, she said.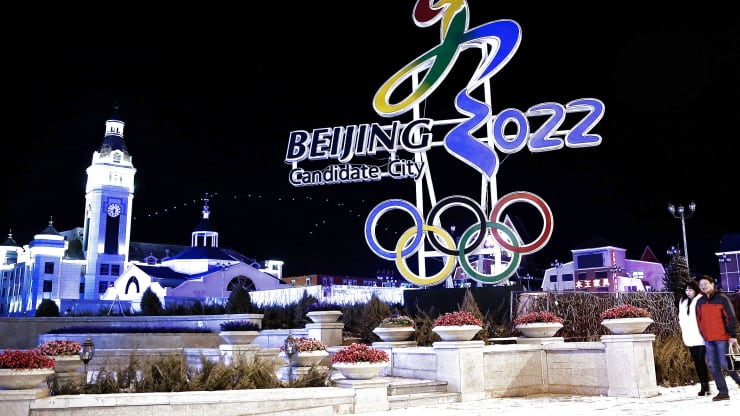 Chinese citizens walks past a sign for Beijing's Winter Olympics in Zhangjiakou, Hebei Province, China. Lintao Zhang | Getty Images
White House press secretary Jen Psaki said Wednesday that the White House is not looking at a boycott of the 2022 Olympics.
"We have not discussed, and are not discussing, any joint boycott with allies and partners," she said.
When asked if the U.S. government would discourage Americans from traveling to China, Psaki said the Biden administration hopes that by the time of the event, "we are at a point where enough people across the country, and hopefully around the world have been vaccinated" against COVID-19.
Analysts warn of retaliation from China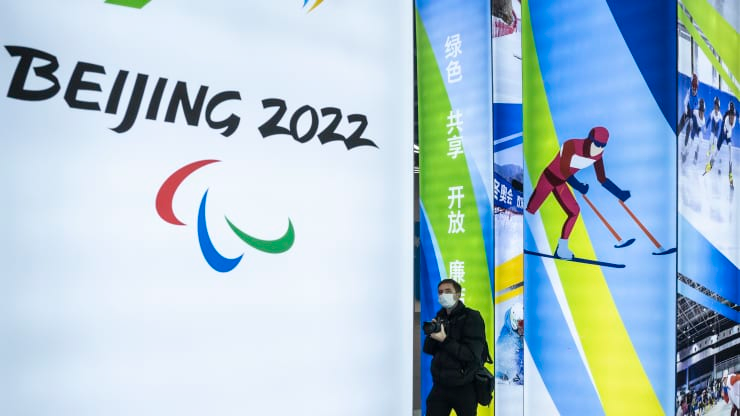 A journalist looks at a display at the exhibition center for the Beijing 2022 Winter Olympics in Yaqing district on February 5, 2021 in Beijing, China. Kevin Frayer | Getty Images
Countries and companies outside China face rising pressure to boycott the Winter Olympics in Beijing next year, but China will not sit back idly in response, says political risk consultancy Eurasia Group.
"Western governments and firms face mounting pressure from human rights advocates and political critics of China to boycott the Beijing 2022 Winter Olympics," according to Eurasia Group analysts.
The Games are due to take place between February 4 to 20.
"China will punish countries that boycott the Games with political sanctions and commercial retaliation, but with much greater severity in the athletic boycott scenario," they said in a report published Thursday, CNBC reported.
"Campaigners have focused on Beijing's targeted repression of Uyghurs in Xinjiang, which some Western governments have called 'genocide,'" the report said. "Calls to shun what activists label the 'Genocide Games' will grow as the opening ceremony approaches, increasing risks for governments, corporates, and investors — whether they decide to boycott or not."
Last month, the governments of Canada, the United Kingdom and United States issued a joint statement accusing the Chinese government of inflicting an "extensive program of repression" on the Uyghur people including detention camps, forced labor and forced sterilizations.
China has repeatedly denied allegations of forced labor and other abuses in Xinjiang. The foreign ministry last month called such claims "malicious lies" designed to "smear China" and "frustrate China's development."
"Beijing will almost certainly retaliate against countries involved in boycotts," the analysts said. "Beijing's direct response to a diplomatic boycott would likely be a reciprocal boycott of Western events and sanctions against prominent boycott advocates."
Businesses have also been caught in the crossfire.
In late March, H&M faced backlash in China over a statement — reportedly from last year — in which the Swedish retailer said it was "deeply concerned" by reports of forced labor in Xinjiang.
Supporters of the Olympic boycott argue that it is "necessary to punish China for its systemic discrimination against ethnic minorities in Tibet and Xinjiang, crackdown on political freedoms in Hong Kong, and hostility to self-rule in Taiwan," the Eurasia report said.
Increasingly, consumer businesses based outside China are attempting a balancing act — projecting an image of concern about human rights to consumers outside China on the one hand, while trying to avoid getting shut out of China's massive market on the other.
"If a company does not boycott the Games, it risks reputational damage with Western consumers. But if it does, it risks being shut out of the Chinese market," the analysts said.
Due to the high international profile of the Games, retaliation in China could be "even worse" than the present removal of H&M's commercial presence on the Chinese internet, they said.
Still, the analysts say that most businesses will likely choose to participate in the Olympics as "the potential cost of losing access to the Chinese market will probably outweigh concerns over a Western consumer backlash," which Eurasia predicts will likely be brief.