TripAdvisor: My Khe Beach in Vietnam voted as top 25 most beautiful beaches in Asia
My Khe beach is one of the most famous destinations that is voted among top 25 most beautiful beaches by TripAdvisor users, and an idealic getaway from the summer heat.
It has been also voted by many international organisations and press as world's top beautiful beaches.
My Khe beach is one of the most beautiful beaches in Vietnam. It has been selected by Forbes magazine as one of the six most attractive beaches in the world. If you are wondering where to stop by on your Vietnam vacation trip, then My Khe beach will be the first choice in the list of places to go in Da Nang.
Where is My Khe Beach Located?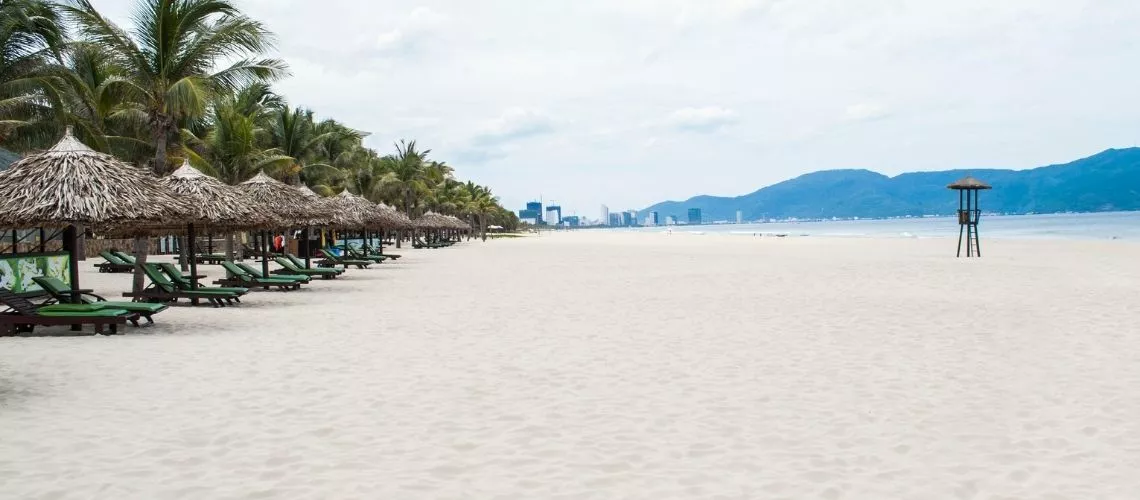 Photo: Origin Vietnam
My Khe Beach is located about 6km east of Da Nang and about 24km north of Hoi An. It is a nine-kilometre stretch of smooth sand with an average width between 50m and 70m. The gradient is gentle, and its sheltered position in the lee of the Son Tra peninsula softens the autumn winds that restrict swimming further down the coast.
My Khe Beach is an ideal and huge beach with smooth sand and a slight slope. Behind the beach is a dark green poplar forest, and beside, the Kinh River carries crystal water to the sea. The beach has coral, abundant plants and creatures along bankside and under sea.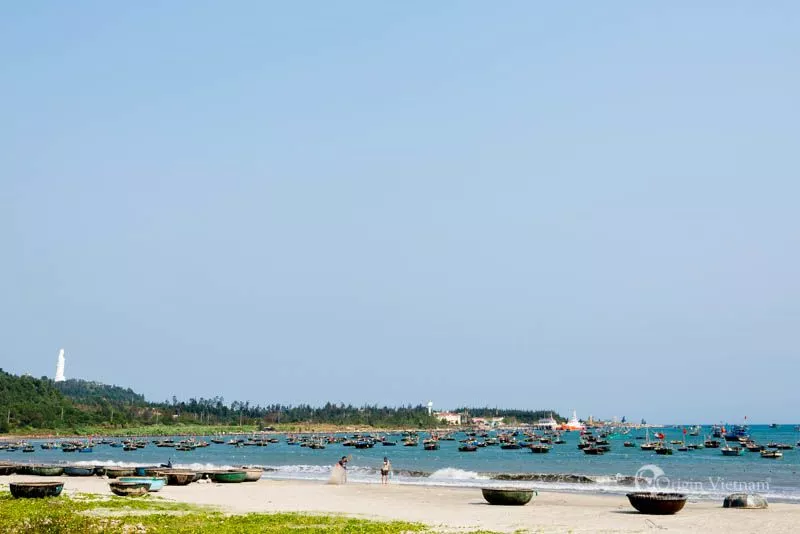 Photo: Origin Vietnam
Especially, the beach is next to the city centre, in roads easy to come and by various means of transport. Sea water in My Khe Beach is cool with little wave so you can bath all year's round, especialy in summer from May to August. The lack of large waves, less than average pollution, and an annual mean temperature around 25oC, makes it a safe place to swim for adults and children alike.
Moreover, the safeguard team of Da Nang seashore work from 5 a.m to 8 p.m every day to guarantee safety for visitors to bath and relax on the beach. There has been a steady increase in the number of tourists visiting the beach.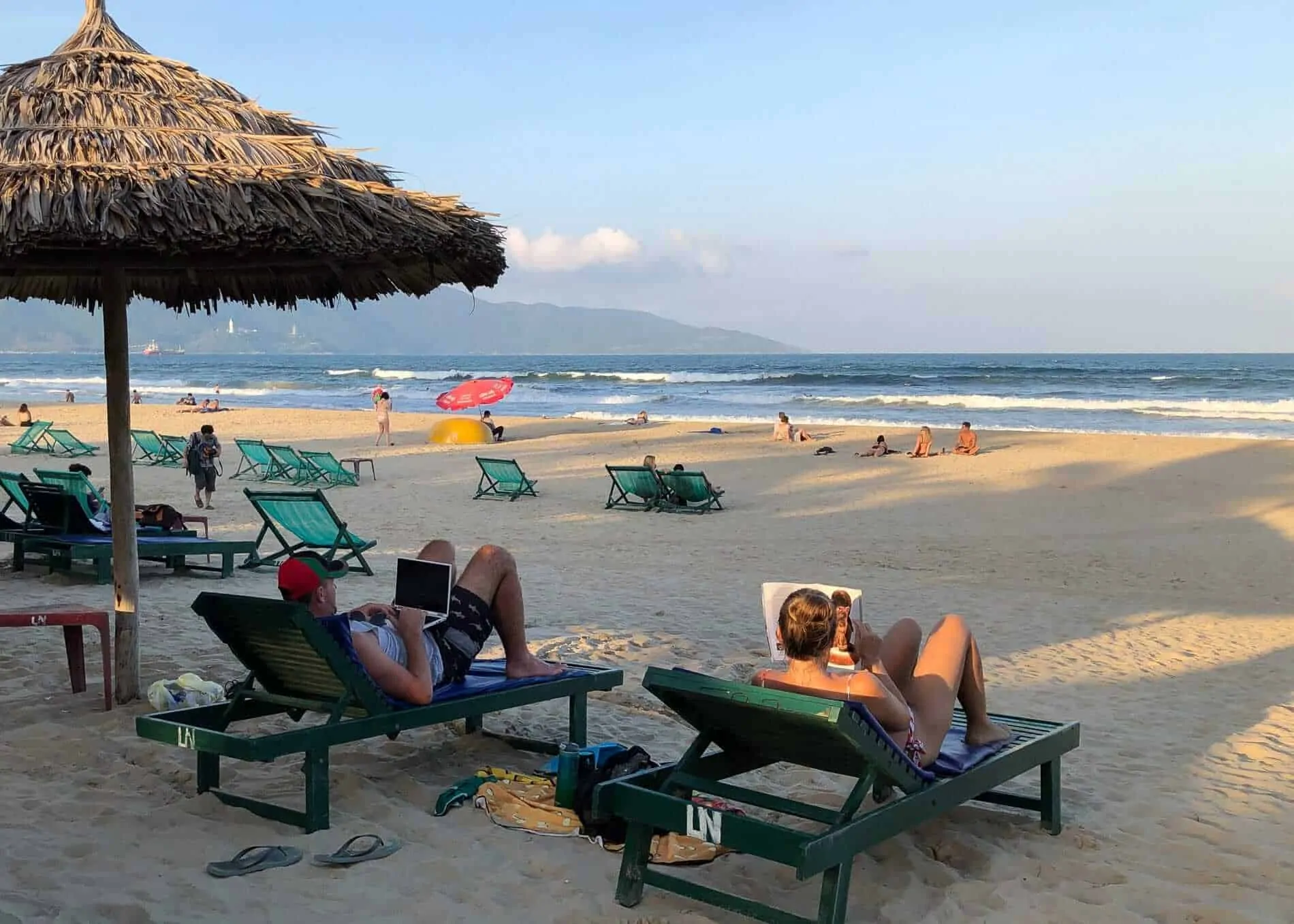 Photo: Vietnam Discovery
How My Khe Beach Is Unique?
My Khe Beach has become one of the symbols for the coastal city of Da Nang. With a wild and charming look, My Khe has become a hot spot for tourists during summertime. And so far, this "hot beach" stills keeps its special attraction to tourists from every part of the world. This is the must place to go in Da Nang for tourists.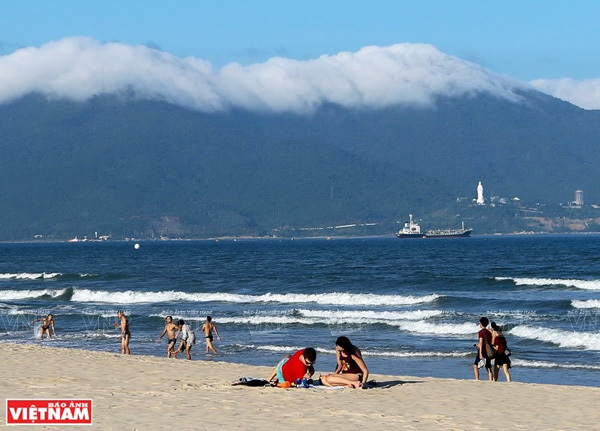 Photo: Vietnamnet
Especially the shore beach with long and flat sand, the sun and the waves are suitable for playing sports, ensuring the safety of visitors. Beside that. There are many luxury resorts, villas of international standards.
Australia's Sunday Herald also noted that. My Khe Beach is one of the top ten most popular Asian beaches in the world.
Danang is home of many beautiful and famous beaches. Such as. Nam O Beach, My Khe Beach, Tien Sa Beach, Non Nuoc Beach … In which, My Khe Beach is about 900m long. It's the most bustling beach and is very familiar to every citizen of the city as well as visitors.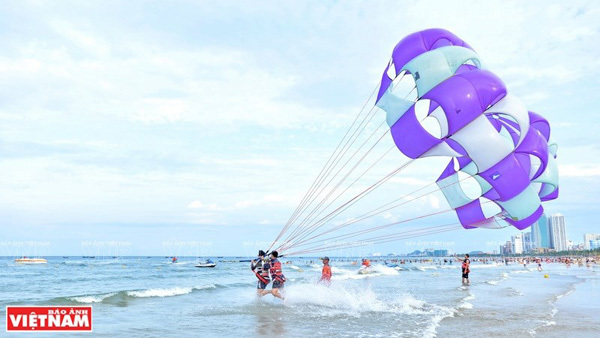 Flying high with the parachutes. (Photo: VNP/VNA)
My Khe Beach is famous for its fine white sand, gentle waves, warm water all year round, and beautiful coconut trees. Tourists can swim almost all year, but most suitable is summer, from May to August. Not to mention, by the coast is not deep, guests will have peace of mind while swimming and just watching the majestic Ngu Hanh Son and Cu Lao Cham island far away from Hoi An.
Like other beaches of Da Nang, My Khe develops quite a variety of services for tourists. Such as fishing, windsurfing, diving, yachting. Beaches have a rescue system including a watchtower, lifesaving buoys, flag swirls and a rescue force on duty day and night, ready to rescue timely victims.
When the sunset, My Khe wears a new coat of color that is quieter, more tranquil, the space of the moment of reconciliation between the day and the night seems to be dense and unknowingly causing the traveler's heart. There is a feeling of sudden sagging. It's wonderful for photographer tour da Nang hunting sunset.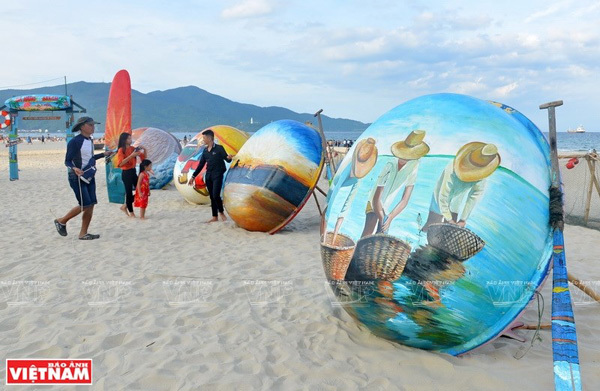 The imprint of the fishing and marine craft village is a highlight on the beach. (Photo: VNP/VNA)
What to Eat in My Khe Beach?
It is a must to try local seafood when you come to My Khe Beach. Besides, Da Nang has a wide variety of local specialties that will please your appetite. You can check out more details here Cho Con Market: An Affordable Food Paradise in Danang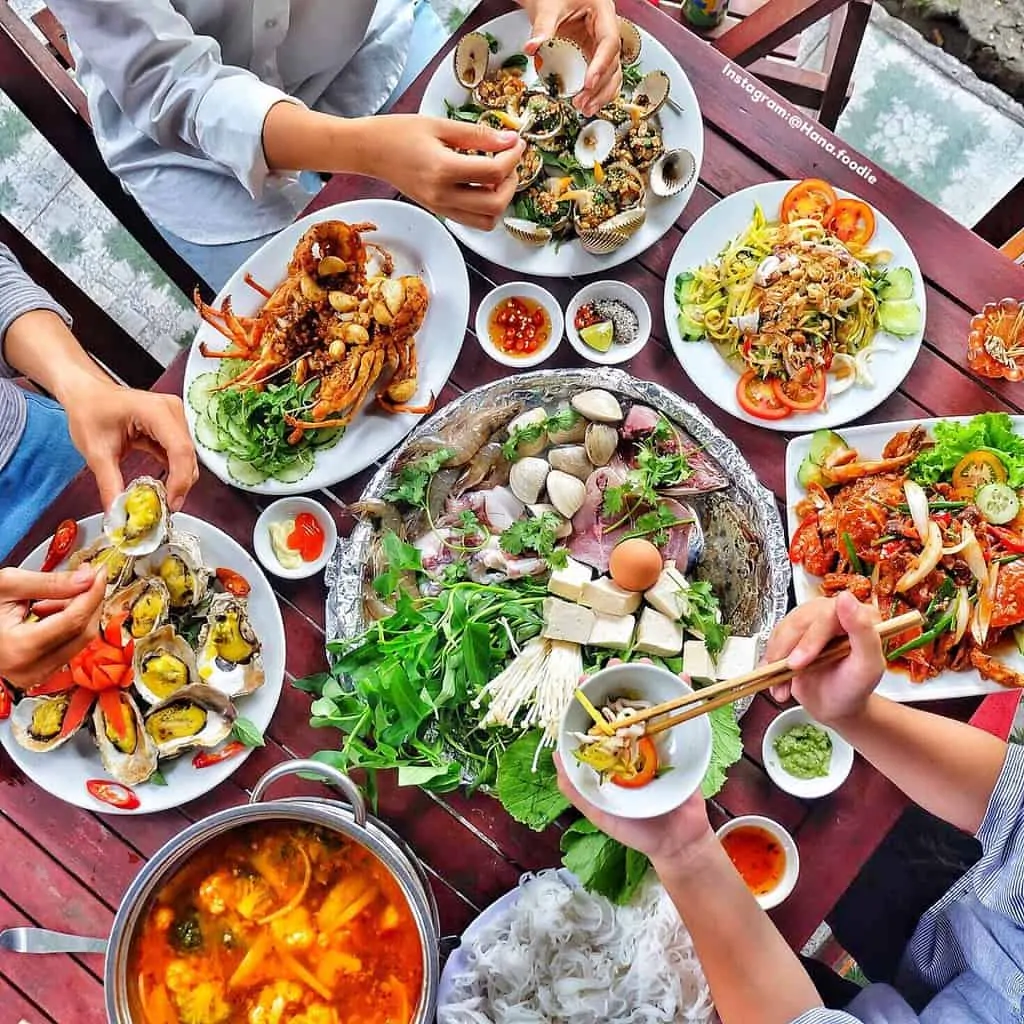 Photo: hana.foodie
A few recommended restaurants near My Khe Beach:
• 4U Seafood Restaurant – Seafood Buffet
Address: Lot 1D Vo Nguyen Giap, Phuoc My, Son Tra, Da Nang
Opening hours: 8am -22 pm
Price: VND200,000 – VND660,000
• Ba Thoi – Affordable seafood restaurant in My Khe Da Nang
Address: 96 Le Dinh Duong, Hai Chau, Da Nang
Opening hours: 8am – 22pm
Price: VND45,000 – VND190,000
• Thoi Co – Family seafood restaurant
Address: 354/1 Vo Nguyen Giap Street, Ngu Hanh Son, Da Nang
Opening hours: 10am – 22pm
Reference price: VND30,000 – VND150,000
• Thanh Hien – Beer drinking and Seafood restaurant
Address: Vo Nguyen Giap, Phuoc My, Son Tra, Da Nang
Opening hours: 9am – 23pm
Price: VND70,000 – VND220,000
Entertaining Activities For Tourists At My Khe Beach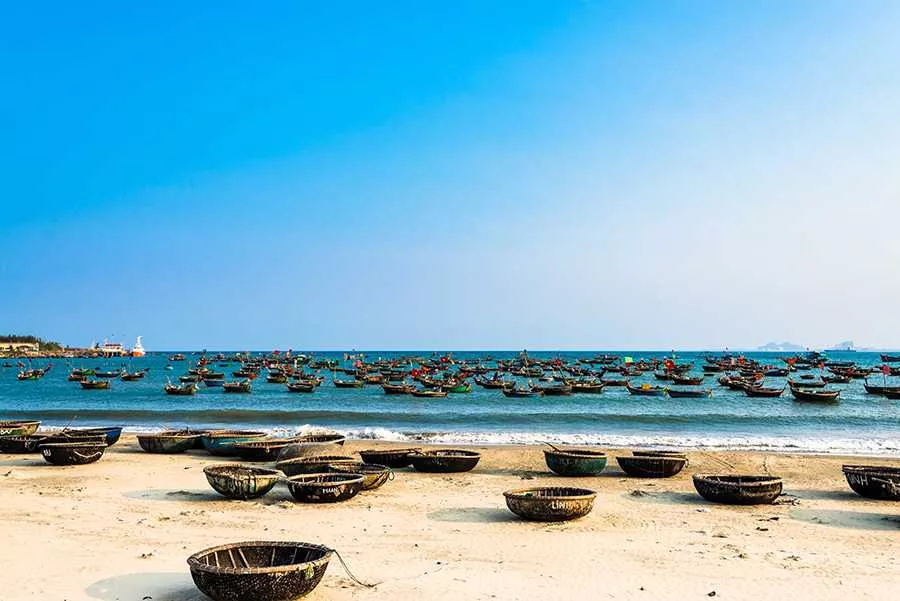 Photo: Origin Vietnam
Like other beaches in Da Nang, My Khe has developed a wide range of services. There are many entertaining activities for tourists such as fishing, windsurfing, diving and yachting. Tourists can also experience swimming at 3 main beaches: Pham Van Dong, T20-T18 and 1-2-3 beach.
The Pham Van Dong Central Park Of Bathing Beach
This beach is located at the junction of Pham Van Dong road. It intersects with coastal road from Son Tra to Dien Ngoc to Hoi An. The beach is quite small because it only serves for park activities. You can stop by here on your trip to Hoi An and enjoy this place.
Beach T20-T18
This beach was formed the earliest. It is a short sandy beach, with deep seawater and often has large waves. Therefore, it is suitable for young people who love the strong feeling of getting involved in entertaining activities here.
Beach 1-2-3
This beach is planned by the city council. So it has become the main beach of My Khe. The beach is fully invested and carefully constructed, from the place for check-rooms to car park, refreshments and fresh water bath. The salvage and environmental sanitation at this beach are strictly managed. So tourists can feel secured when resting at here. Beach 1-2-3 also has a long sandy and wide coast. The beach waves are not high, so it is very safe for children and elderly people to taking bath at this beach.