Suspension of all international flights to Vietnam
Prime Minister Nguyen Xuan Phuc has ordered the suspension of all international flights to Vietnam amidst restricted entry into the country by air, road and sea.
The drastic move follows an increase in the number of new infections to 75 over the past two weeks, 24 of them foreigners and the majority having returned from Europe or passed through pandemic-stricken countries.
The Ministry of Foreign Affairs and overseas embassies should recommend that Vietnamese living abroad not "return home if it is not really necessary," Phuc said.
The government will make a list of overseas Vietnamese and students who need to return home and organize flights for them, he said.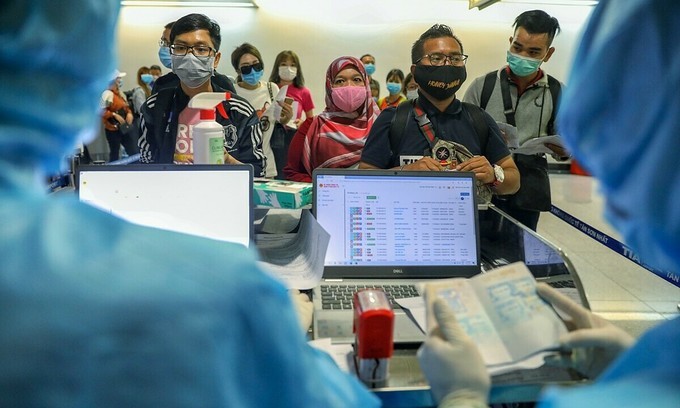 People arrive at Tan Son Nhat International Airport in HCMC, March 18, 2020. Photo by VnExpress/Quynh Tran
Vietnam has 4 more COVID-19 cases, 91 in total
The Ministry of Health announced on March 20 evening that four more people, including three in Ho Chi Minh City and one in Hanoi, have contracted the novel coronavirus, bringing the total number of infection cases in the country to 91.
One of the newly confirmed cases is a 43-year-old pilot from the UK working for Vietnam Airlines, the national flag carrier, according to the ministry.
A medical worker disinfects the cabin of a Vietnam Airlines plane, February 4, 2020. Photo by VnExpress
The pilot, who lives in HCM City's District 2, tested positive for the virus on March 18 at the HCM City Hospital of Tropical Diseases and test results were confirmed again by the HCM City Pasteur Institute on March 20.
As of March 20, Vietnam has detected a total of 91 cases of COVID-19 infection, of which 17 have fully recovered and been discharged from hospital. Most of the patients came from Europe and the US.
Italian ambassador hails Vietnam initiative to assist COVID-19 hit country
A letter by Ambassador Alessandro published on the embassy's website in Hanoi states his joy regarding the initiative, adding that the embassy stands ready to carry out all procedures necessary in order to ensure that this "beautiful example of solidarity" is conducted in a quick and effective manner.
"I would like to thank from bottom of my heart all the Vietnamese who participate in the initiative for your kindness and heart warming gestures you shown to the people of Italy. Your actions one again proven the importance of the people-to-people diplomacy that connect Italy and Vietnam, particularly between Vietnamese and Italian youths and students, whose extraordinary capacity to create sincere bonds that are forged by affection, appreciation and cooperation which is stronger than ever in the time of need."
Coronavirus (COVID-19) latest news, headlines
*Norway's Olympic committee said Friday it has asked the International Olympic Committee not to hold this summer's Tokyo Olympics until the new coronavirus pandemic is under control.
*The total number of people who have been infected with the new coronavirus in Japan, excluding those who contracted it aboard a cruise ship, topped 1,000 on Friday
*Japanese and U.S. foreign ministers on Friday agreed to closely cooperate in dealing with the coronavirus outbreak, recognizing the need to enact border controls for a certain period of time to address the global health crisis
*Australian coronavirus cases pass 1,000. There are 1,049 confirmed cases of COVID-19 in Australia. The figures come from state and territory databases of confirmed COVID-19 cases. The latest update was at 2:20pm AEDT on Saturday, March 21.
*The number of deaths in Italy from the new coronavirus has risen to 3,405, the Italian government said, surpassing for the first time that of mainland China where COVID-19 was initially reported.
*New numbers from the Covid-19 outbreak in Italy show more men are dying from the virus than women, the White House's coronavirus response coordinator told CNN.
*International Olympic Committee President Thomas Bach said the IOC is "considering different scenarios" for this summer's Tokyo Games amid the outbreak of the new coronavirus, The New York Times reported Thursday.
*The State Department on Thursday advised Americans to avoid all international travel, raising its global health warning to the highest level of 4 amid the worldwide spread of the new coronavirus.
*U.S. infections exceed 17,000, fatalities top 220
*Spain, Iran cases rise to almost 20,000
*Italy had 627 deaths in one day, the most anywhere
Returning expats see China's cases rise
There are fears of a second wave of infections in China as expats return home from the US and Europe.
All 41 of the new confirmed cases in China were imported from overseas, the country's National Health Commission said on Saturday.
But there were no locally transmitted cases for the third day running.
While there has been no reported transmission of the virus from people arriving from abroad to local communities, authorities across China are tightening public health measures.
Beijing and Shanghai have set up stringent testing and screening protocols for all international arrivals, while travellers who enter Guangdong province from abroad will be subject to a 14-day quarantine on arrival.
The total number of confirmed cases in mainland China stood at 81,008 at the end of Friday, health authorities said.
China's death toll was 3,255, up by seven — which is a much slower rate than at the height of the crisis.
This lack of locally transmitted cases for the third day running prompted officials to relax restrictions, even in the virus epicentre of Wuhan.
Meanwhile, the initial phase of a clinical trial of a vaccine has begun, state media reported on Saturday.
The first batch of 36 volunteers, comprising Wuhan residents aged between 18 and 60, will undergo a 14-day quarantine at a centralised location.
Italy death toll: Soaring numbers
Italy, the European country hardest-hit by COVID-19, has reported 627 new deaths, its biggest day-to-day increase since the outbreak began.
It has recorded over 4,000 deaths — more than China — and 47,000 infections.
The soaring numbers have come despite a nationwide lockdown.
The World Health Organisation has noted the dramatic speed of the virus's spread, pointing out it took more than three months to infect 100,000 people but only 12 days to reach another 100,000.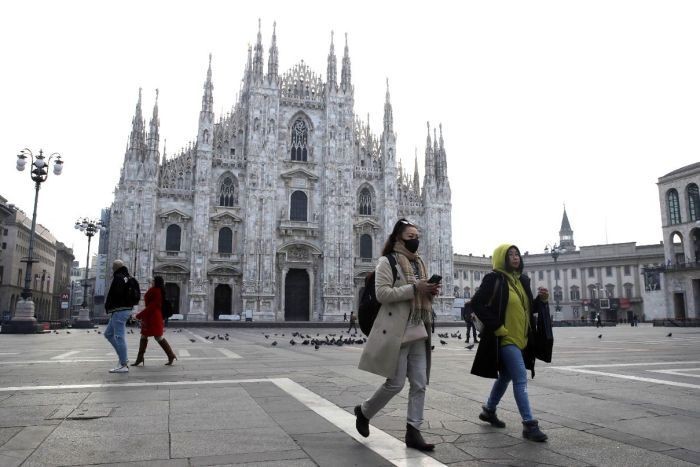 627 new deaths in Italy
British Govenment to help pay salaries (5,000 USD a month)
With cafes, pubs, restaurants, gyms and cinemas across the UK ordered to shut, the British Government has said it will help employers pay workers' wages.
British employers will be able to access a grant aimed at covering up to 80 per cent of an employee's wage to prevent them being laid off.
The grants are worth up to 2,500 pounds ($5,000) a month.
Treasury chief Rishi Sunak called the economic intervention an "unprecedented" response by a British Government.
Two Pentagon cases confirmed
The Pentagon has confirmed its first two cases of coronavirus.
One of the infected individuals was an active-duty airman who worked at the Defence Health Agency in Falls Church, Virginia, and had been inside the Pentagon on Monday, the US Air Force said.
The other infected person is an Air Force defence contractor who works in the Pentagon. He has been self-quarantined since March 7, according to the Air Force.
Cuba will close its borders to combat the spread of coronavirus
Cuban President Miguel Díaz-Canel announced on Friday that the country will be closing its borders to everyone attempting to enter the island, with the exception of residents of the communist-run island.
The measure will go into effect on Tuesday and will last 30 days, the President said during a live televised address to the nation.
Commerce would still continue with other countries. However, tourism will no longer be permitted for at least 30 days, and all foreign visitors who are not residents need to depart the island, Diaz-Canel said.
Cuban health authorities have reported 21 cases of coronavirus and one death.
U.S closes borders, New York locks down
There are over 17,300 diagnosed cases in the U.S., spanning all 50 states, Washington, D.C., and Puerto Rico, and at least 228 of those people have died, according to ABC News' count.
The United States borders are closing to combat the coronavirus pandemic.
President Trump on Friday announced all nonessential travel will be barred between the US and Mexico, following a similar policy announced for Canada earlier in the week. The restrictions, which exclude trade, will take effect on Saturday.
The measures come as New York joined California in issuing a statewide lockdown, with Gov. Andrew Cuomo ordering all nonessential businesses to close by Sunday night.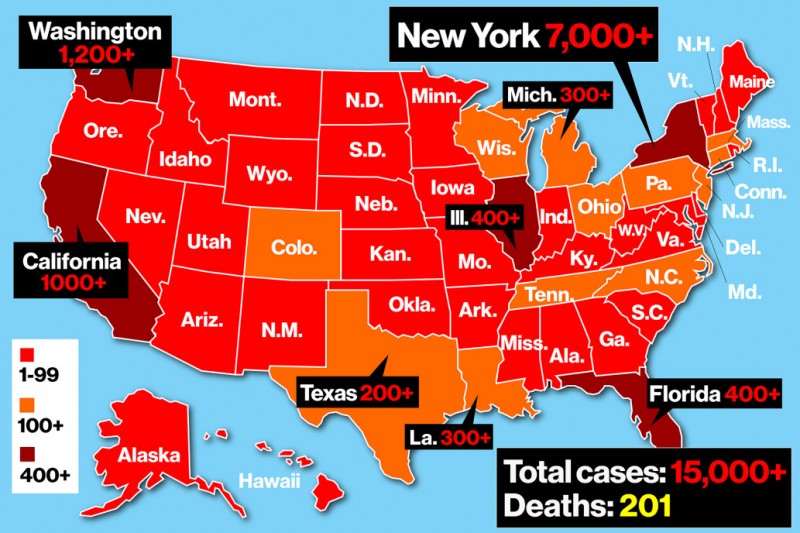 Coronavirus outbreak US map for March 20, 2020.
Chinese: Zero increase in indigenous COVID-19 cases
No new domestically transmitted cases of the novel coronavirus disease (COVID-19) were reported on the Chinese mainland for the third day in a row on Friday, the Chinese health authority said Saturday.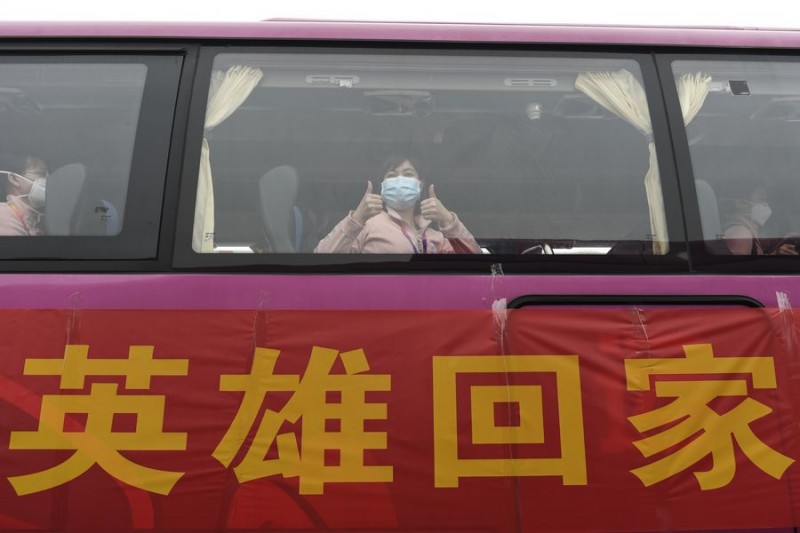 A vehicle carrying medics supporting virus-hit Hubei Province leaves Nanning Wuxu International Airport in Nanning, south China's Guangxi Zhuang Autonomous Region, March 20, 2020. The second batch of the medical assistance team from Guangxi, which consist of 136 members, had left Hubei Province, as the epidemic outbreak in the hard-hit province has been subdued. (Xinhua/Cao Yiming)
The National Health Commission received reports of 41 new confirmed COVID-19 cases on the Chinese mainland on Friday, all of which were imported.
Wuhan, the epicenter of COVID-19 outbreak in China, provides hope for the rest of the world that even the most severe situation of COVID-19 can be turned around, the World Health Organization (WHO) chief said Friday.
Calling it a "success", WHO Director-General Tedros Adhanom Ghebreyesus noted Wuhan, capital of central China's Hubei Province, reported no new cases for the first time since the epidemic outbreak started.
Michael Ryan, executive director of the WHO health emergencies program, said it's a message of hope from China that the coronavirus can be suppressed, whose transmission chains can be broken through huge all-society effort, coordination, solidarity, commitment and workable supply chains, as well as engagement of activated communities and brave health workers.
All incoming travelers to Vietnam shall be quarantined for 14 dayssince Marth 21
All incoming travelers to Viet Nam shall be subject to mandatory centralized quarantine for 14 days, applicable since March 21 at the request of the Steering Committee for COVID-19 Prevention and Control, said Deputy Minister of Transport Le Anh Tuan.
The above measure shall NOT be applicable to entrants for diplomatic and official purposes but they shall have to isolate themselves at places of residence under the supervision of local authorities, Tuan said.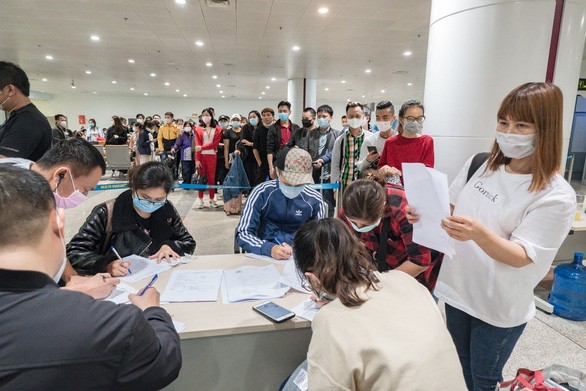 All incoming travelers shall be subject to mandatory centralized quarantine since March 21
The Civil Aviation Authority of Viet Nam shall be responsible for informing international airlines that incoming flights to Viet Nam have to land at Van Don (Quang Ninh province), Can Tho (Can Tho city), and Phu Cat (Binh Dinh province) and other airports due to limited capacity of Noi Bai and Tan Son Nhat international aiports.
All passengers shall have to complete mandatory medical declaration form before arriving in Viet Nam and shall be subject to body temperature screening before entering terminals.
As planned, on Friday Noi Bai International Airport is expected to welcome around 2,585 passengers on 25 flights, including 1,183 passengers from COVID-19 stricken areas.