Coronavirus Vaccine: Global Competition
The United States, China and Europe are battling to be the first finder a cure, bringing a nationalist element to a worldwide crisis that could have created a chance of favoring the winner's population and potentially gain the upper hand in dealing with the economic and geostrategic fallout from the crisis.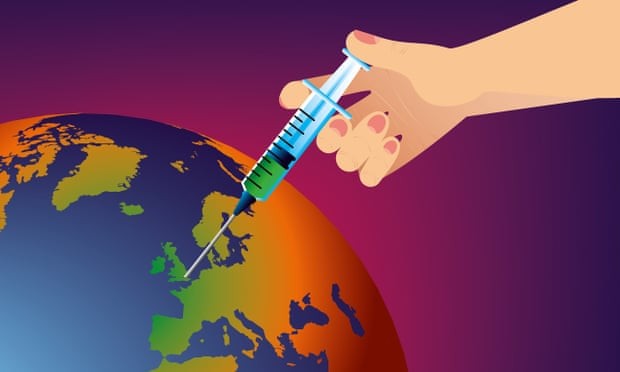 When will a coronavirus vaccine be ready?(Illustration: James Melaugh/The Observer)
What began as a question of whom would get the scientific accolades, the patents and ultimately the revenues from a successful vaccine is suddenly a broader issue of urgent national security. And behind the scramble is a harsh reality: Any new vaccine that proves potent against the coronavirus — clinical trials are underway in the United States, China and Europe already — is sure to be in short supply as governments try to ensure that their own people are the first in line.
In China, 1,000 scientists are at work on a vaccine, and the issue has already been militarized: Researchers affiliated with the Academy of Military Medical Sciences have developed what is considered the nation's front-runner candidate for success and is recruiting volunteers for clinical trials.
China "will not be slower than other countries," Wang Junzhi, a biological products quality control expert with the Chinese Academy of Sciences, said Tuesday at a news conference in Beijing.
The effort has taken on propaganda qualities. Already, a widely circulated photograph of Chen Wei, a virologist in the People's Liberation Army, receiving an injection of what was advertised to be the first vaccine, has been exposed as a fake, taken before a trip she made to Wuhan, where the virus began.
China has made clear it is looking for a national champion — an equivalent to the role that Huawei, a Chinese telecommunications giant, plays in the race to build 5G networks around the world. If the Huawei pattern holds, China could make deals to increase its influence over poorer or less developed countries, which might otherwise might not get affordable access to a vaccine.
There are already signs that China is using the moment for geopolitical advantage, delivering help to countries that once would have looked to Europe or the United States. Its decision to ship diagnostic kits to the Philippines, an ally of the United States, and to help Serbia was a leading indicator of what may come with drugs and vaccines, when they are available.
President Trump has talked in meetings with pharmaceutical executives about making sure a vaccine is produced on American soil, to assure the United States controls its supplies. German government officials said they believed he tried to lure a German company, CureVac, to do its research and production, if it comes to that, in the United States.
The company has denied it received a takeover offer, but its lead investor made clear there was some kind of approach.
The same day, a Chinese company offered $133.3 million for an equity stake and other consideration from another German firm in the vaccine race, BioNTech.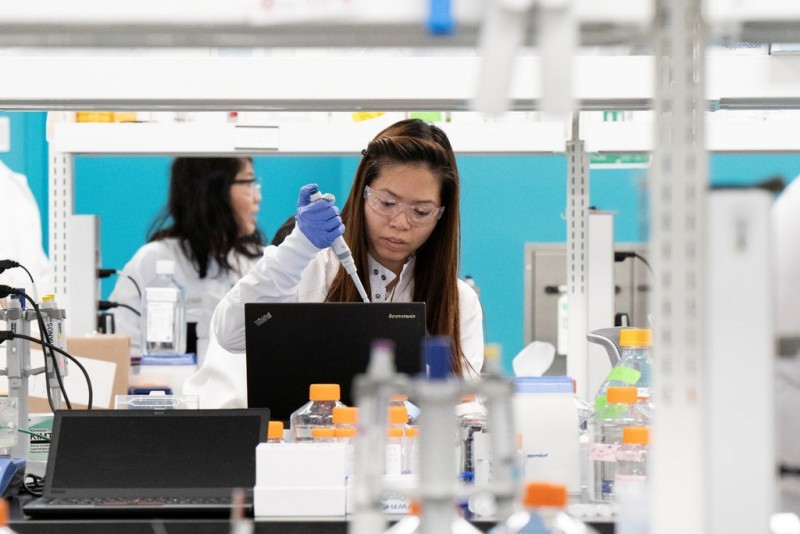 Phuong-Danh Tran, a research associate at the RNA medicines company Arcturus Therapeutics in San Diego, conducting research on a vaccine for the coronavirus. (Photo: Reuters)
Mindful of those dangers, though, several European governments and nonprofit groups have already taken steps to prevent either the United States or China from capturing a monopoly on a potential vaccine against the coronavirus.
In the past two months, the coalition has funded research into eight of the most promising candidates to block the coronavirus — including CureVac, the Germany company.All of which left unclear exactly what Mr. Trump sought from CureVac, if anything, and why the company ousted its American chief executive, Daniel Menichella, days after he met with the White House coronavirus task force, in a session where Mr. Trump dropped by. The White House declined to comment.
The company itself has issued carefully drafted denials of a takeover offer. "Maybe someone said something," Mr. Von Bohlen said. "But there is no written offer from the United States."
There did not need to be. The mere hint of it was enough to get European officials to offer more funding.
"The fact that other countries tried to buy that company shows that they are the front-runner in the research," said Ursula von der Leyen, the president of the European Commission. "It is a European company — we wanted to keep it in Europe, it wanted to stay in Europe. It was very important to give it the necessary funding, and that has happened."
Executives of the world's leading pharmaceutical companies said on Thursday that they were working together and with governments to assure that a vaccine is developed as quickly as possible and distributed equitably. But they implored governments not to hoard a vaccine once it is developed, saying that to do so would be devastating for the broader goal of stamping out the coronavirus pandemic.
Speaking in a teleconference on Thursday, executives from the five biggest pharmaceutical companies said they were working to increase the industry's manufacturing abilities by sharing available capacity to ramp up production once a successful vaccine or antiviral is identified. They argued for multiple testing programs to increase the chances of success, and then for immediate licensing to allow a quick scaling up of production.
Once a vaccine is approved, "we'll need to vaccinate billions of people around the world, so we are looking at alternatives to where and how we produce," Mr. Loew said.
But it is governments that get to decide how a vaccine is approved, and where it can be sold.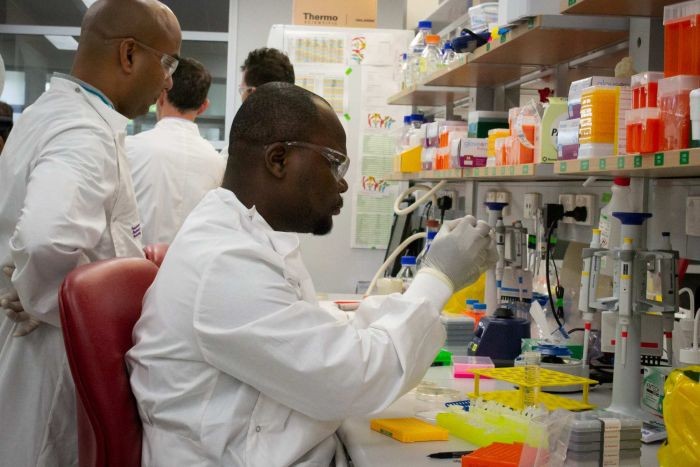 University of Queensland researchers are one of the groups worldwide working on a potential vaccine for COVID-19. (Photo courtesy of University of Queensland)
When will we get a vaccine for COVID-19?
Lots of different groups around the world are working on possible COVID-19 vaccines.
"There are now 15 potential vaccine candidates in the pipeline globally using a wide range of technolog[ies]: mRNA, DNA, nanoparticle, synthetic and modified virus-like particles," said microbiologist Ian Henderson of the University of Queensland.
mRNA-1273 (The US)
The US National Institutes of Health announced that they have funded phase 1 clinical trials of a potential COVID-19 vaccine, called mRNA-1273, which began this week.
The vaccine was able to be brought to clinical trials so quickly because researchers had already been working on a vaccine to protect against another coronavirus, which causes Middle East respiratory syndrome (MERS).
While results from this first trial may be available within three months, it will still take at least a year and likely longer for a resulting vaccine to be widely available to the public.
Closer to home, last month Queensland researchers were ready to begin testing another potential COVID-19 vaccine on animals, and hope to then start human trials of it by the middle of the year.
But getting to clinical trials, and proving your vaccine is both safe and effective, isn't the only challenge scientists developing these vaccines face.
"The next challenge will be finding enough production capacity globally to produce these competing vaccines, at a scale that millions or even billions of people can be vaccinated," Professor Henderson said.
Which is why we're still hearing it will take at least 12 to 18 months, for a COVID-19 vaccine to be widely available.
New York-based Regeneron Pharmaceuticals' REGN3048-3051
All coronaviruses have a protein called a spike protein on the surface of the virus cell, which bonds the virus to the host cell. This drug aims to target the spike protein to block it from interacting with the host cell and thus neutralize the virus.
Regeneron's drug could be used as a treatment for those who are already infected, but according to the company it could also be used as a preventive measure for the healthy, like a vaccine. Such drugs are sometimes referred to as "passive" vaccines.
Regeneron used the technology to develop a drug for the Ebola virus, which is under review by the FDA.
The company hopes to have doses of its coronavirus drug available for human testing by the beginning of the summer.
Inovio's INO-4800
Three hours after China published the sequence of the virus online, Inovio Pharmaceuticals of Plymouth Meeting, Pennsylvania developed INO-4800.
Inovio uses something called DNA medicine, which is made up of optimized DNA plasmids. These are small circles of double-stranded DNA that are reorganized by a computer-sequencing technology and designed to produce a specific immune response in the body. Inovio delivers the optimized plasmids directly into the cells, where they begin replicating and strengthening the body's natural response mechanisms.
Inovio has already developed a vaccine using this method for MERS, a different type of coronavirus. It is in Phase II of testing.
The company has begun preclinical testing of its COVID-19 vaccine in animals that have shown the desired immune response. It hopes to begin human trials in April starting with introduction in 30 healthy people.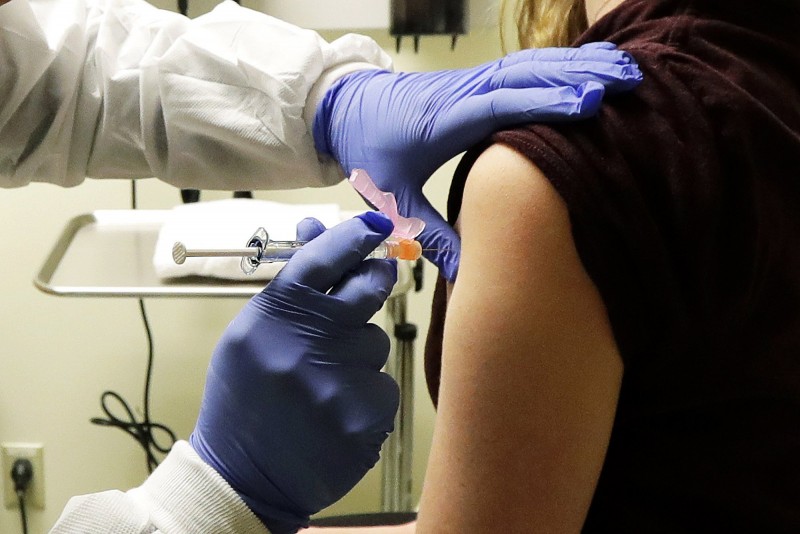 Pharmacist Michael Witte gives Rebecca Sirull a shot in the first-stage safety study clinical trial of a potential vaccine for COVID-19, the disease caused by the new coronavirus, at the Kaiser Permanente Washington Health Research Institute in Seattle on Monday, March 16, 2020. (Photo: NBC News)
Could existing drugs treat COVID-19 infections?
Early signs are promising, after Australian researchers this week revealed they are ready to begin clinical trials of a potential treatment for COVID-19 — using two existing drugs.
The drugs in question are an older HIV drug and an anti-malaria drug called chloroquine, which is rarely used now as the malaria pathogen has become resistant to it.
"There's certainly positive signals either this HIV drug or this anti-malaria drug actually work really well against COVID-19," David Paterson, director of the Centre for Clinical Research at the University of Queensland, told The Project.
"We know that in the test tube and in the patients that have been studied so far they've been able to recover and there's no more evidence of virus in [their] system," Professor Patterson said.
The next step for this research is to compare the HIV, the malaria drug, and a combination of the two, to see what treatment is most effective.
This phase of the trial could be as short as three months, Professor Paterson said, but it would take longer to roll the treatment out in the community, if it did prove effective.
Worldwide, Chinese doctors are completing clinical trials looking at the effectiveness of a combination of two HIV drugs, lopinavir and ritonavir, at treating COVID-19, New Scientist reported.
They are also soon to start testing a drug called remdesivir which was originally developed for Ebola.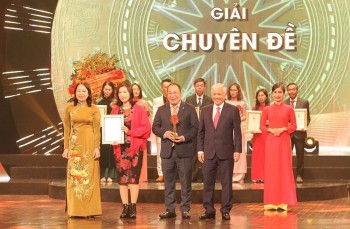 Overseas Vietnamese
VietnamTimes (Viet Nam Union of Friendship Organizations) is a reliable address for overseas Vietnamese to quickly and objectively update political, economic, cultural, and social news. The agency has created a helpful forum and connection between expatriates and the motherland.