Coronavirus live updates: Wuhan's COVID-19 death toll raised by 50%, Indonesia becomes ASEAN's biggest epicenter
Coronavirus today updates April 18 sees China's Wuhan added nearly 1,300 fatalities, reflecting incorrect reporting, delays and omissions. Meanwhile, Indonesia overtook the Phillipines to become the hardest-hit nation in Southeast Asia.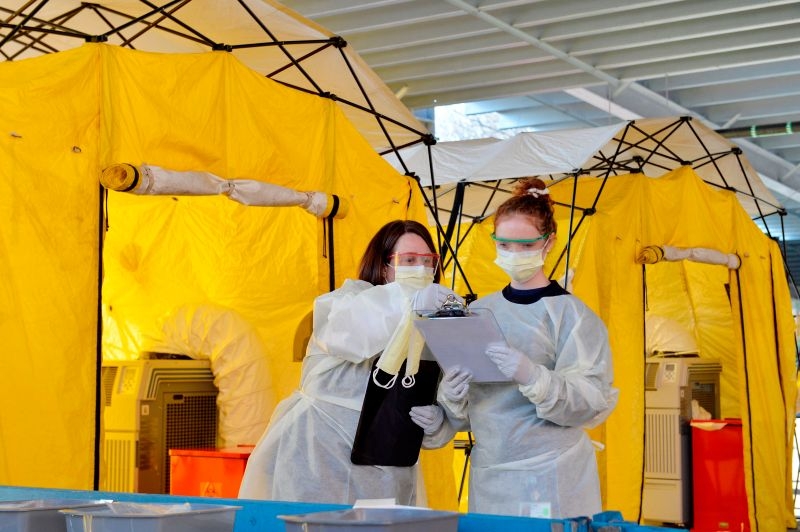 Worldwide total infection is surpassing 2.2 million, with at least 154,996 deaths reported. (Photo: Getty Images)
Coronavirus today updates:Worldwide total infection is surpassing 2.2 million, with at least near 155,000 deaths reported.
The US: As of April 18, the US reports a total of 710,021 cases and at least 37,158 fatalities.
New York is the No.1 state with the highest number of infections, over 223,690 cases in total, which has surpassed Spain, the second worst-hit country in the world and 14,832 deaths.
New Jersey comes second with 75,317 cases and 3,518 deaths. Connecticut is the third vulnerable state with 15,884 infections, 971 deaths have been reported.
Crowds of protesters swarm Michigan, North Carolina, Ohio, Utah and Wyoming to demonstrate lockdown orders
Protesters have continued to gather across the United States, ignoring social distancing rules, to demonstrate against lockdown orders they call 'tyrannical' and 'worse than the virus', according to News feeds Media.
Thousands in cars and on foot have flouted Michigan's stay-at-home orders to demand the state reopened. 'It's time for our state to be opened up' said one protester in her car. 'We're tired of not being able to buy the things that we need, go to the hairdressers. It's time to open up', the Guardian reported.
Democratic governor Gretchen Whitmer was the main target of armed pro-Trump protesters, with some chanting 'lock her up' on the steps of Lansing's town hall. Whitmer responded hours after the protest saying she understood the frustration but the 'sad irony' about the demonstration was that it could have further spread the virus and therefore created the need to extend Michigan's stay-at-home order. So far, 1,900 Michigan residents have died due to the coronavirus
Coronavirus today updates: Spain confirmed 5,252 new cases, raising total to over 188,000 cases, in which nearly 20,002 people have died.
New cases increased slightly compared to yesterday. On the peak day on June 23, the number of new infections reached nearly 8,300. Another 585 new deaths, a slight increase from 551 yesterday, bringing the total to 19,478, according to the Spanish Ministry of Health.
With 190,839 cases, Spain is the largest epicenter in Europe and the second in the world after the US. The number of deaths in this country is the third highest in the world, after the US and Italy.
Coronavirus today updates: Japan has around 9,787 confirmed cases, in which 8346 stay active, 193 are in critical condition. 190 deaths are reported.
Tokyo's emergency package, which offers up to ¥1 million in cash (around USD 9,261) for small businesses that comply with anti-virus measures, is on a scale no other prefecture could possibly match, highlighting the capital's unique financial clout, writes Ryusei Takahashi.
Rising instances of in-hospital transmission have been recorded across the country from Tokyo and Kobe to Fukuoka, with consequences for the treatment of diseases unrelated to the virus, according to Japan Times.
People who suspect they may have caught the virus are checking into hotels in Japan to self-isolate. However, many are finding it impossible to get tested for the virus. And as the cost of hotel stays mounts up, calls for government aid are growing, Kyodo reports.
The UK: sees a surge in new infections (5,600), raising total to 108,692. Meanwhile, the death tolls rises to 14,576 after an addition of 847 deaths.
World's biggest trial of drug to treat COVID-19 begins in the UK at unprecedented speed.
The Recovery trial has recruited over 5,000 patients in 165 NHS hospitals around the UK in a month, ahead of similar trials in the US and Europe, which have a few hundred, which commented as "by far the largest trial in the world", the Guardian reported.
German: As of April 18, German has 138,369 infections and 4,105 deaths.
COVID-19 pandemic is under control in German
German health minister, Jens Spahn, said on Friday that the virus was under control in Europe's largest economy, thanks to confinement measures imposed after an early surge in cases. "The infection numbers have sunk significantly, especially the relative day-by-day increase," the Guardian quoted the Minister as saying.
Smaller shops in Germany are due to reopen from Monday with some pupils set to return to school on 4 May, although other restrictions will remain in place including bans on gatherings of more than two people in public and on large public events.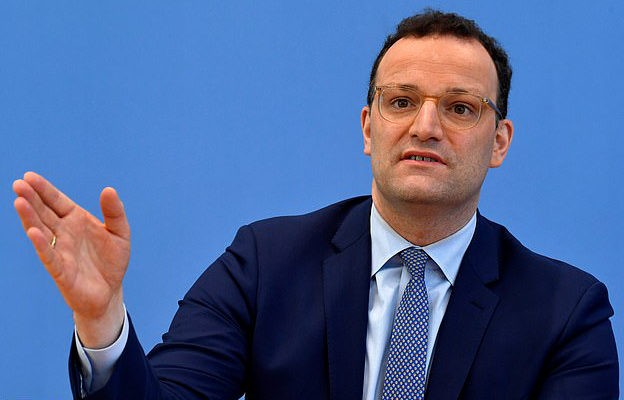 German health minister, Jens Spahn (photo: Reuters)
China: the country reports a total of 82,692 infections, and 4,632 deaths. Over four months into the novel pandemic, China – the first epicenter of the world – now ranks 7th on the worldwide list and worst-hit country in Asia.
China's Wuhan raises COVID-19 death toll by 50%, citing early lapses
With over 1,000 more deaths reported, Wuhan's total is raised to 3,869, amid doubts about the accuracy of China's data on the disease as global cases mount, according to Reuters.
The city where the virus first appeared in humans late last year added another 1,290 fatalities to the 2,579 previously counted as of Thursday (April 16), reflecting incorrect reporting, delays and omissions, according to a local government taskforce in charge of controlling the disease.
Reflecting on the additional deaths in Wuhan, China revised up its national death toll later on Friday to 4,632.
Wuhan's total number of cases was revised up by 325, suggesting that some of the new deaths had been recorded as cases but not confirmed as fatalities, taking the total number of cases in the city of 11 million people to 50,333, or about 60% of mainland China's total.
Suspicion that China has not been transparent about the outbreak has risen in recent days, with U.S. President Donald Trump on Wednesday (April 15) expressing skepticism about its previously declared death toll of about 3,000.
Coronavirus today updates in ASEAN countries: Indonesia becomes the region's No.1 hardest-hit country, new infections in Singapore surges.
ASEAN countries report a total of top 24.827nCoV patients, an increase of 1,450 cases within 24 hours. 1,055 lives have been claimed.
On April 18, Indonesia has taken over the Philippines' first place to become the hardest-hit nation in the region by the novel virus. The country reported more 407 new cases within 24 hours, and currently has the highest number of infections. Its total infections stand at 5,923 while death tolls is 520.
The Philippines ranks second after four consecutive days stand in the first place. It has 5,878 cases, 387 deaths, an increase of 218 and 25 cases respectively. 487 patients have recovered.
Malaysia has 69 new cases, the lowest since its government issues the nationwide lockdown since March 18. The country, which used to be the biggest epicenter of ASEAN, now has 5,251 cases, 86 deaths, only 2 more deaths reported within 24 hours.
Singapore reports 4,427 cases, with 728 new cases, the biggest increase in the region today. Thailand reports 2,700.
Vietnam, Brunei, and Campuchia are the three ASEAN countries with three-figures cases, which are 268, 136, 122 respectively, all three report no new infection.
Timor-Leste has 18 infections in total, the lowest in the region, no death reported.
Regarding death tolls, Indonesia still has the highest (520), the Philipines (387), Malaysia (86), Thailand (47), Singapore (10).
Four countries with no deaths reported since the outbreak are Vietnam, Campuchia, Laos, and Timor-Leste.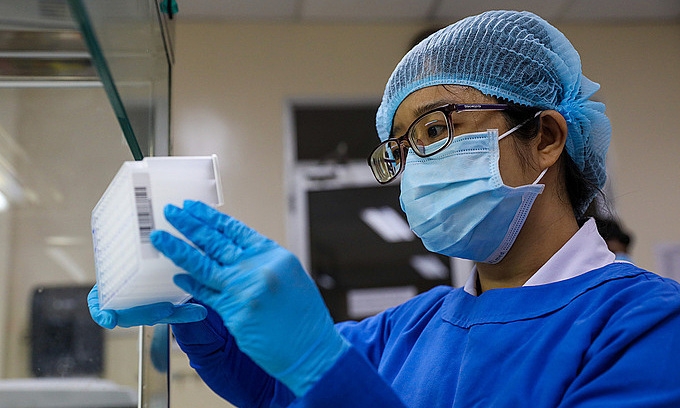 A lab technician holds up vials containing samples to be tested for the novel coronavirus (Photo: VNE)
Coronavirus today updates: Vietnam reports no new COVID-19 cases for 36 hours
There were no new nCoV cases on Friday, meaning Vietnam has gone 48 hours without one.
The total of cases stays at 268 with no deaths and 70 people now in hospital.
Also on Friday 21 patients were discharged after recovering, 17 in Hanoi, three in the southern province of Tra Vinh and one in the northern province of Ninh Binh, raising the total discharged numbers to 198.
Thirty nine people are currently being treated in Hanoi, 10 in Ninh Binh, nine in Ho Chi Minh City and the rest in several other provinces.
Of the 70 still in hospital, 13 have tested negative once and four others, twice.
The government decided on Wednesday that the social distancing campaign will continue until April 22 in Hanoi, Ho Chi Minh City and 10 other localities deemed to be at high risk of Covid-19 spread.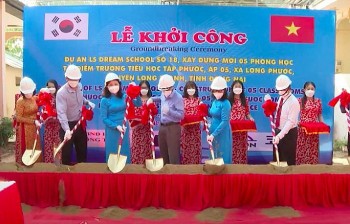 Friendship
The Union of Friendship Organizations of Dong Nai Province and COPION (Co-operation & Participation In Overseas NGOs) kicked off another LS Dream School project in the southern province.