Coronaburger, Vietnam
If COVID-19 is getting you down, why not pick yourself up with a Coronaburger? That's right, a burger with its bun shaped like the virus itself. (Video: VNS)
Hoang Tung, the restauranteur, came up with the idea of updating the fast-food stable into a creative, playful version, hopefully to lift people's moods during gloomy COVID-19 days.
"I want everyone to stay optimistic, enjoy life like before, along with stay alerted and careful as the novel virus is going rampant as day goes by", Tung told Dan Tri News. "The COVID-19 epidemic is terrible. Thus, caution is needed, but there's no need to panic".
I also hope that scientists will come up with effective treatment against coronavirus as soon as possible", he added.
The CoronaBurger caught Internet users' attention immediately after being shared on social media. He sold out all 50 Coronaburgers on the first days, many customers had to leave in regret.
Each CoronaBurger is sold at VND 85,000 (US dollars 3.6).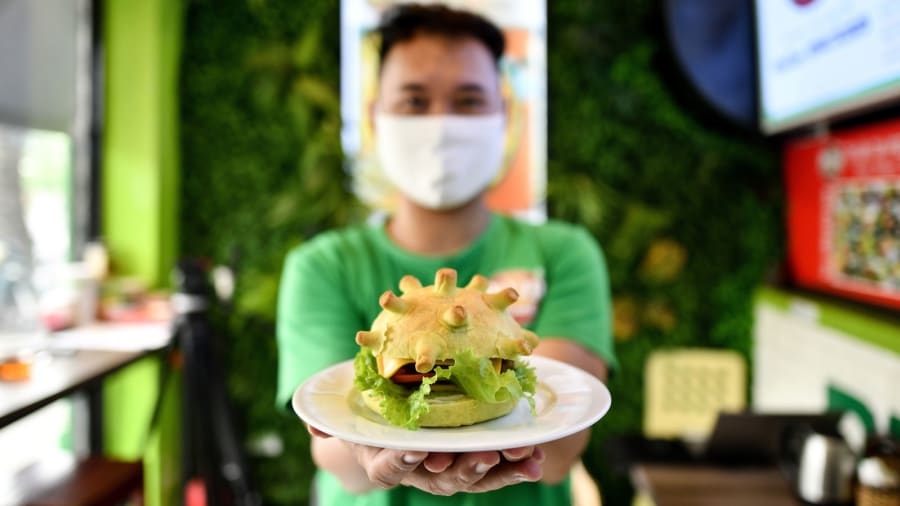 Vietnamese coronaburger is a food twist for burger lover (Photo: CNN)
Coronavirus Easter eggs, France
French pastry chef and chocolatier Jean-François Pré recently showed off his newest creation, chocolate Easter eggs modeled after the novel coronavirus, according to Le Telegramme.

The Easter eggs consist of milk chocolate that's been painted black and red-coloured almonds for a crunchy exterior.
Pré told French news outlet Le Telegramme in an interview that the idea came from his frustration with the issue. He created the Easter egg as a way to release the air out of the situation.
"I'm a little tired of hearing about it," Pré told Business Insider. "I tried to take it as a joke."
The chocolate concoctions can be found proudly on display in Pré's shop in Western France and though sales haven't been going viral, the chocolatier had sold at least four as of March 4.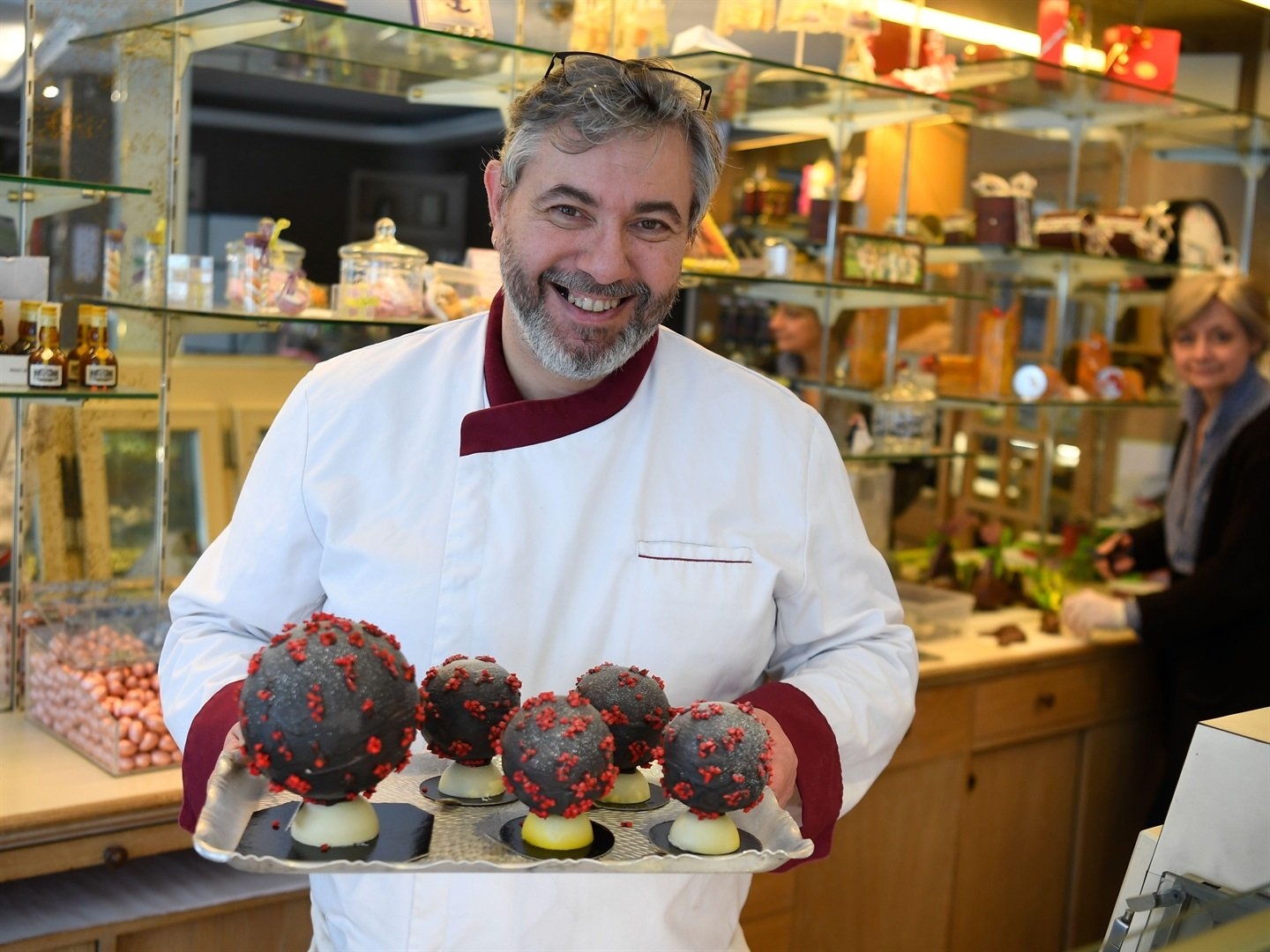 Jean-François Pré and his creative coronavirus Easter Eggs (Photo: Getty Images)
Toilet humor, Germany
Meanwhile in western Germany, the Schuerener Backparadies bakery has added two different coronavirus-themed creations to its selection, KMBC News reported.
Not only can customers buy biscuit versions of the face mask emoji, the establishment, owned by Tim Kortuem, is also offering toilet roll-shaped cakes.
A nod to the well-documented toilet paper shortage that's occurred across the world as consumers frantically buy up huge quantities, the marble cakes are wrapped in white fondant etched with tiny diamond shapes in the style of quilted toilet roll.
The novel cakes were an instant hit with customers, and the team at the bakery, situated in the city of Dortmund in Germany's North Rhine-Westphalia region, are currently making at least 200 a day.
In fact, Kortuem told Reuters Television the toilet roll cakes are helping to keep the Schuerener Backparadies in business during these difficult times.
"The customers are totally crazy about it," he says. "Most people just like it as it adds some fun to these times."
Like France, and many countries around the world, Germany has imposed extensive restrictions and many non-essential businesses have been forced to close.
However, restaurants and eateries that offer food delivery and pick-up are allowed to remain open.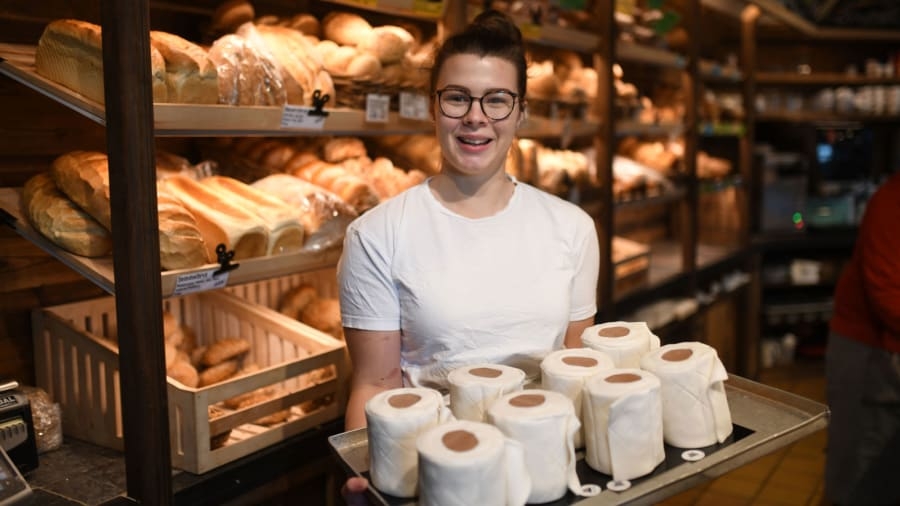 Toilet roll-shaped cakes (Photo: CNN)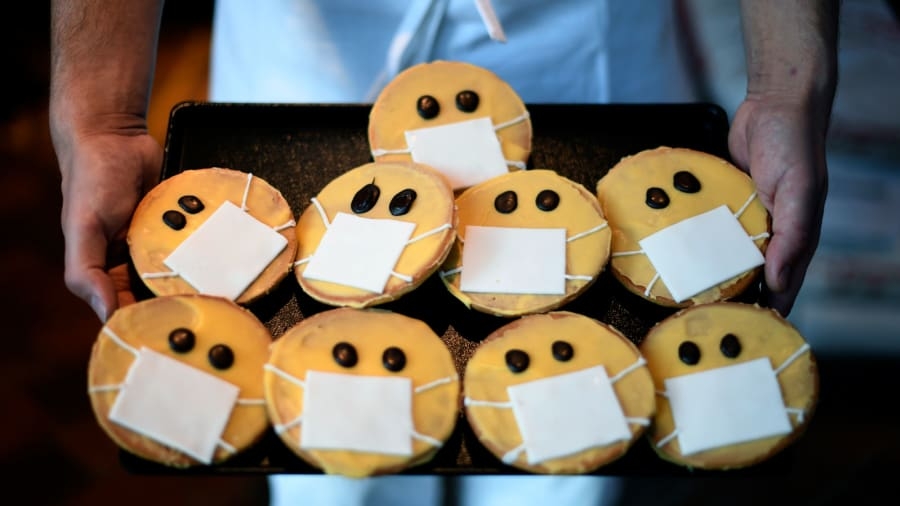 Customers can also try the biscuit versions of the face mask emoji (Photo: CNN)
Fauci factor, The US
Over in the U.S., a New York doughnut shop has dedicated its latest offering to infectious disease expert Dr. Anthony Fauci, a member of President Donald Trump's coronavirus task force who's won the public over with his straight-talking approach, according to KMBC News.
The team at Donuts Delite in Rochester decided to make Fauci the "face" of one of its doughnuts as a way of lifting the mood.
"We wanted to find a way to cheer up the people in our neighborhood," owner Nick Semeraro told CNN in a statement.
The team was impressed by Dr. Fauci's handling of the situation so far. "We loved his message and how thorough he was, and how he kept everyone informed during the crisis ... so we wanted to give back and say thanks."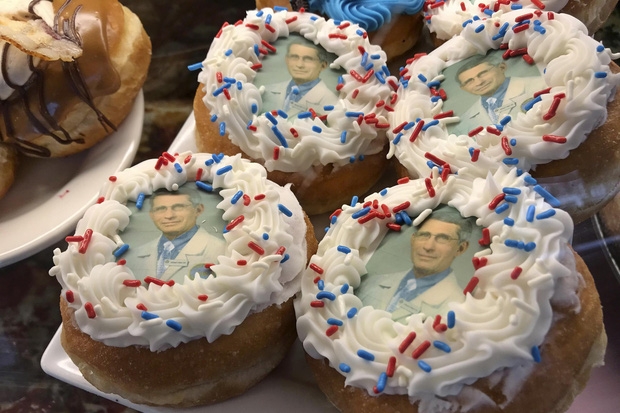 Fauci factor doughnuts are selling like hot cakes in the US(Photo: ValuBit News)
According to Semeraro, the shop has sold thousands of the buttercream-frosted doughnut, which features Fauci's face printed on edible paper, with customers asking for the treat to be sent to various cities and states.
"We had no idea it was going to blow up this big," he said. "We didn't know everyone else felt the same way we did."
There's no word on a coronavirus-themed pizza yet, but we suspect it won't be far off.
Jasmine Le